Whether you are a first time bridesmaid or an old pro, you will know there is lots that goes into planning the perfect hen party. Goody bags are a great way to start the party of right.
But what do you actually put in them?
We've got you covered with a fabulous guide to crafting trendy and unforgettable goodie bags that will take your hen party to the next level.
From chic essentials to quirky surprises, we'll help you curate the perfect collection of goodies to delight your lovely guests. So, grab your confetti cannons and let's get this party started!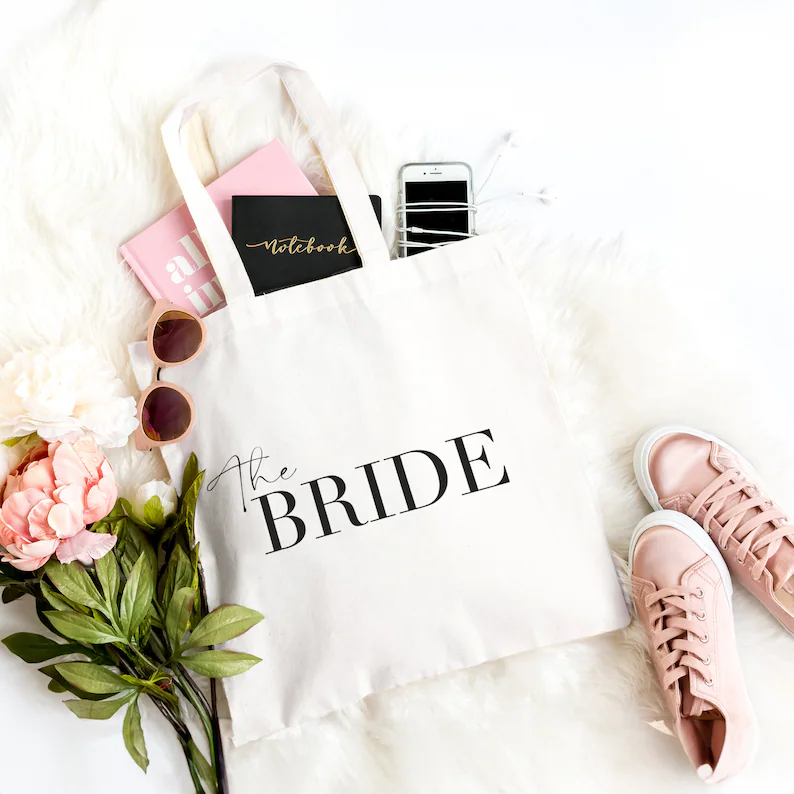 Why have goody bags?
I hear you, just another thing to add to the hen party planning list! But I think they are a really important part, especially if you are doing a full weekend.
They are a great way to start the event off right. Saying thank you for attending and getting everyone in the celebrating mood.
You can include a hen party itinerary so everyone knows what to expect. Any accessories or props for them for during the hen do.
Hen party goody bag themes
Think about the overall theme of the hen party and carry this through with the bags themselves.
Whether you're going for a boho-chic vibe, a glam Hollywood affair, or a tropical paradise, infusing your theme into the goodies adds that extra touch of pizzazz. Think coordinating colours, cute slogans, or even personalized items to make each guest feel extra special.
We are committed to providing unbiased, credible reviews so you can choose with confidence. We may earn commissions on purchases made from visiting our partner stores. Please see our policy here.
What items to include in your hen party goody bags
Now, let's dive into the exciting part: deciding what to include in your hen party goodie bags!
We've curated a list of must haves and nice to haves that will leave your guests giddy with delight. From practical and pretty to fun and frivolous, these goodies are sure to leave a lasting impression: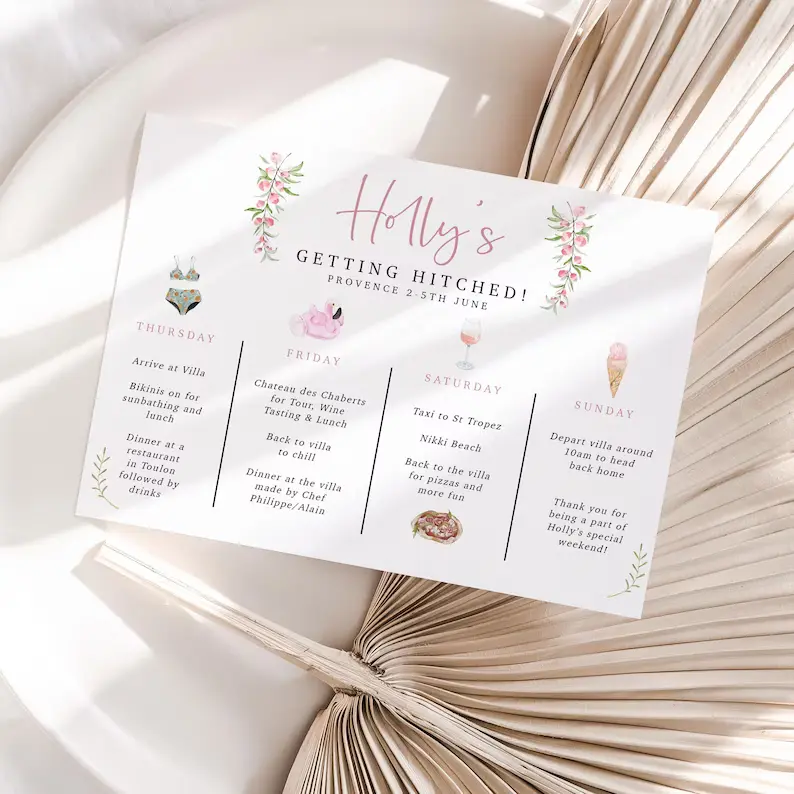 Must Have items
This will depend on the event but try to make sure each guest has all the information they could possibly need at hand. Think about convenience and emergencies.
Itinerary
Contact detail & important details
Welcome and thank you card or note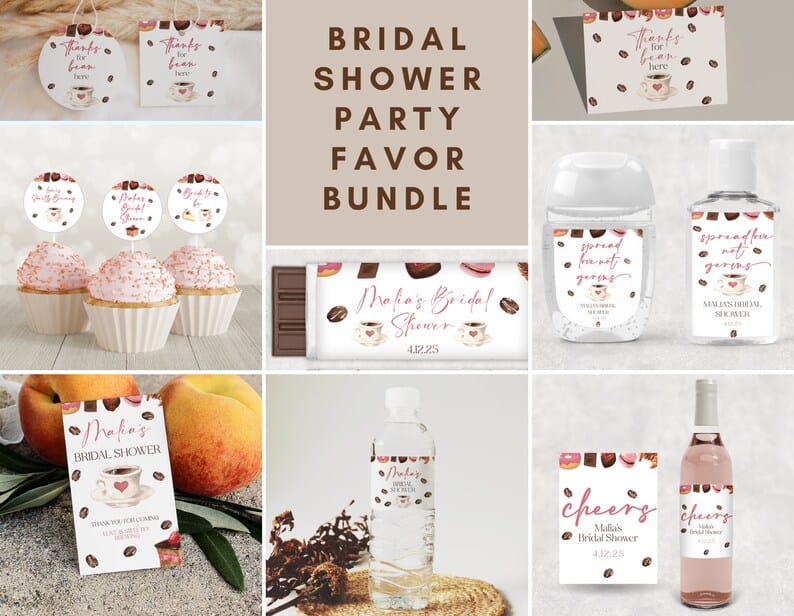 Edible items
Think about what the bride would like and include some of her favourites. Consider the guest and their dietary requirements also. Personalising each item is the best way to upgrade the overall feel of the bag. You can buy templates on Etsy and it is a cheap but effective DIY.
Small Bubbly bottle: Even cuter if personalised
Mini spirit bottle: Add a mixer also for a complete drink
Mini Cocktail Kits: Take the party on the go with mini cocktail kits that include small bottles of mixers, garnishes, and instructions for creating a signature cocktail.
A nice can of fizzy drink: Good for a dry hen party
Bottled water: Great for the morning after
Herbal Tea: For non-alcoholic options, including a variety of herbal tea or infusion bags in different flavours.
Bag of crisps: Again get a template to personalise them
Bag of sweets: Everyone loves sweets
Chocolate Bar: Personalised chocolate bars are always a hit
Cookie or cupcake: Personalised cookies, biscuits or cupcakes are a yummy addition with a personal touch.
Gourmet Snacks: Include a selection of gourmet snacks such as flavoured popcorn, gourmet chips, pretzels, or mixed nuts. Opt for the bride's favourite snacks.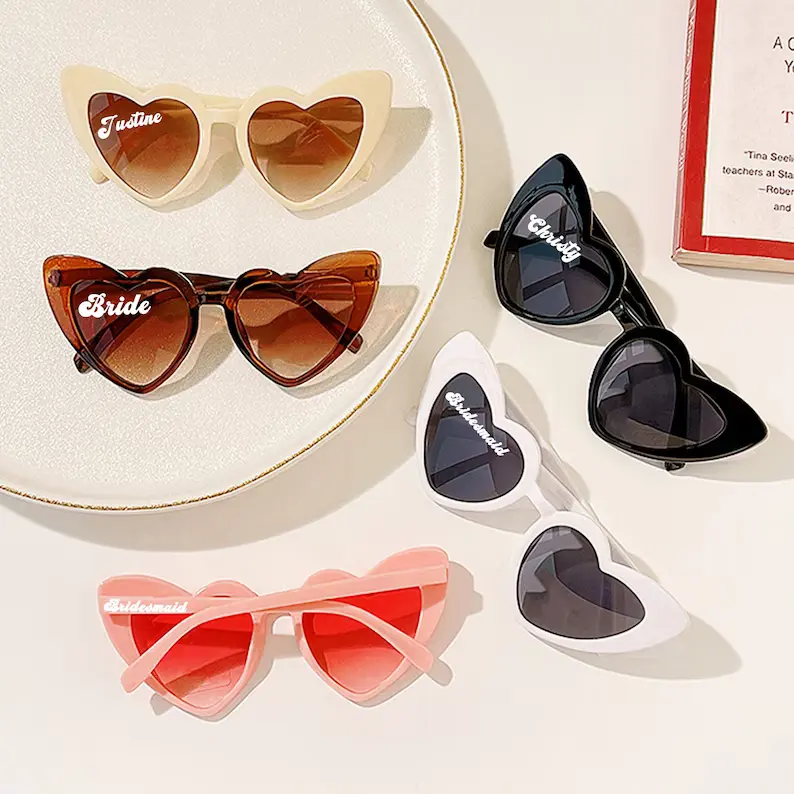 Gifts
Think about nice treats that people will actually use, either for the hen do or after.
Glass: Match it with the drink if adding one
Drink pouch: These are a fun way for matching items for night out
Straw or stirrer
Lip Balm
Nail polish
Scrunchies
Bookmark
Pen or pencil
Samples: Head to the department stores and see if you can get some make up or perfume samples
Keyring: You could make them yourself or get some personalised ones
Handmade Soap
Bath Bomb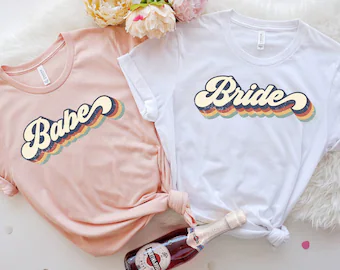 Wearable items
This will depend on the guest list size and budget and also the location of the hen party. You can do matching items to wear out or in for a party. Or make nice personalised gifts
T-shirts
Lanyards
Pyjamas: This would be good for a small overnight event
Sashes
Ponchos
Head-ware: This can be flower crowns or hats
Badges
Sunglasses: Great for a sun filled hen do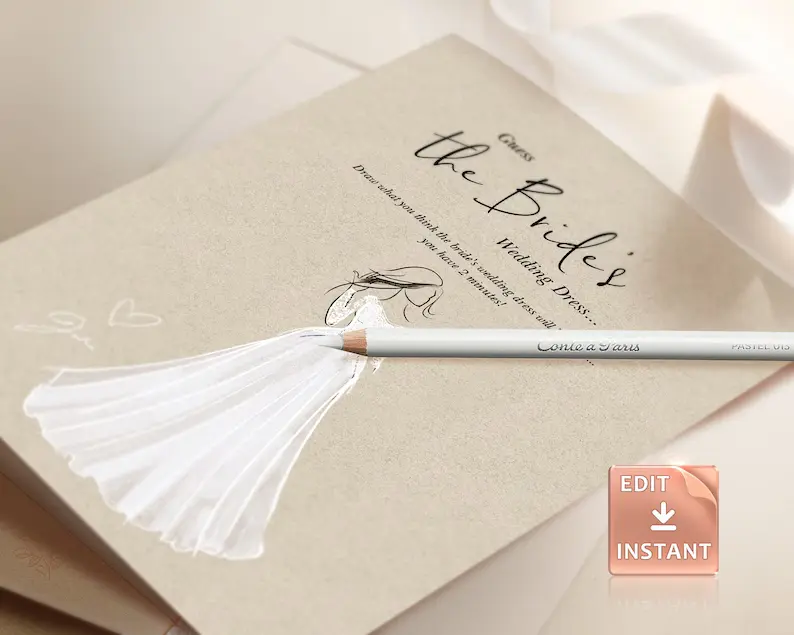 Games
Adding some printable games to goody bags is a great way to get guests active and involved. Think about the overall feel of the day/weekend and what games will help. Icebreakers can help get people comfortable and ready to mingle. Find out what games guests actually want to play in this post.
Scavenger Hunt: This can be good for a weekend stay for people to find the items/place throughout
Wordsearch/crossword: These could be full of facts about other guests so you get to know everyone
Guess the bride's dress: A little card and white pencil for them to draw a dress
Would she rather: They can fill in in their own time and then see all together who got the most right
How well do you know the bride: Same as above, prefill and see all together
Advice for the Bride: Nice cards to fill in and for the bride to read after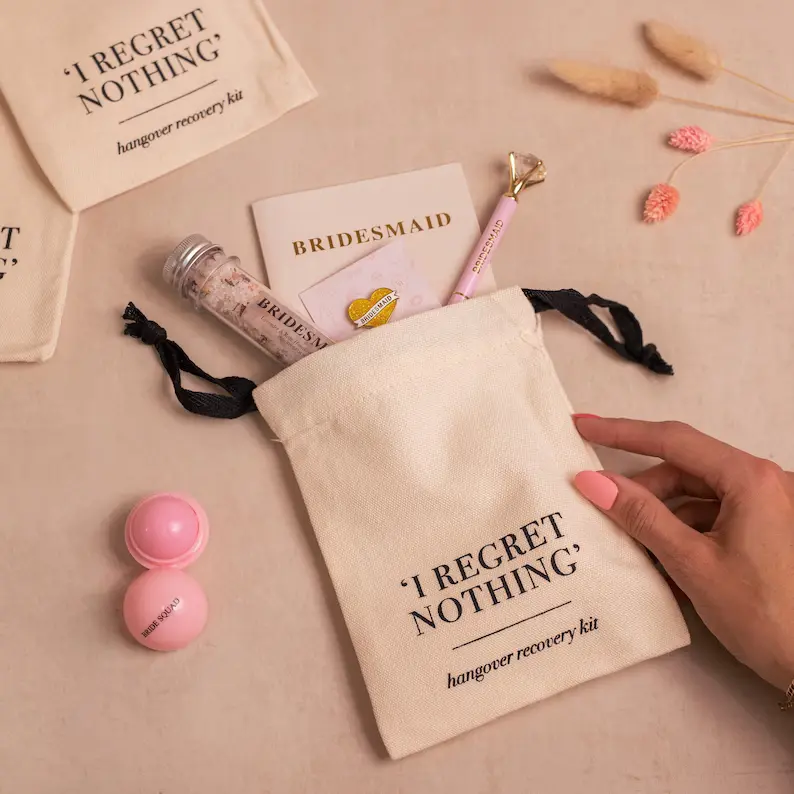 Hangover kits
If you are planning a night out or in with lots of drinking then a hangover kit is the gift everyone will appreciate.
Pain Relief Medication: Include a few individually wrapped packets of over-the-counter pain relievers like ibuprofen or aspirin to help ease headaches or body aches.
Rehydration Sachets: Add rehydration sachets or electrolyte powder packets that can be mixed with water to replenish lost fluids and minerals.
Energy Snacks: Include energizing snacks like granola bars, trail mix, or energy gummies to provide a quick boost of nutrients and satisfy hunger pangs.
Breath Mints or Chewing Gum: Help freshen up your guests' breath with individually wrapped mints or chewing gum to combat any lingering effects from the previous night.
Vitamin C Supplements: Include vitamin C tablets or effervescent drink mixes to support immune health and provide an additional energy boost.
Eye Masks: Provide soothing eye masks to help alleviate eye strain or sensitivity to light and promote relaxation.
Facial Mist or Refreshing Wipes: Include facial mists or refreshing wipes to help guests feel refreshed and revitalized after a night of partying.
Lip Balm: Add moisturizing lip balm to combat dry or chapped lips, which can be a common side effect of alcohol consumption.
Personalized Hangover Kit Instructions: Include a small card or note with humorous or playful instructions on how to use the hangover kit items, adding a fun touch to the package.
Top Tips for creating hen do goody bags
Every hen party is unique so creating the perfect goody bags are ones that work for your event and bride. Here are my top 10 tips to create the perfect goody bags your guests will love.
Personalize the Bags: Consider customizing the goody bags with the guest's name, the date of the event, or a fun phrase related to the occasion. This adds a special touch and makes each bag feel unique.
Theme Consistency: If you have a specific theme for the hen party, try to incorporate it into the goody bags. Choose items, colours, and designs that align with the theme to create a cohesive and visually appealing package.
A mix of Practical and Fun: Strike a balance between practical and fun items in the goody bags. Include useful essentials like pain relievers, hand sanitisers, and mini sewing kits, along with entertaining items like confetti poppers, temporary tattoos, or personalized accessories.
Tailor to Guests' Preferences: Consider the preferences and interests of the guests when selecting items for the goody bags. Think about their personalities, hobbies, and tastes to ensure the gifts are well-received and enjoyed.
Quality over Quantity: Instead of including a large number of inexpensive items, focus on selecting high-quality and meaningful gifts. A few thoughtful and well-chosen items will have a greater impact than a bag filled with generic trinkets.
Add Personalized Touches: Include personalized items or details in the goody bags to make each guest feel special. This could be customized keychains, monogrammed accessories, or handwritten notes expressing your gratitude.
Include Edible Treats: Food and drink items are always a hit. Consider adding gourmet chocolates, custom cookies, or small bottles of champagne or flavoured water to tantalize taste buds and add a touch of indulgence.
Reusable Bag: Choose practical and reusable bags for the goody bags, such as sturdy tote bags, cosmetic pouches, or small storage containers. This way, the guests can continue using the packaging long after the event.
Surprise Element: Include a surprise element in the goody bags, such as a raffle ticket for a special prize, a scratch-off card with fun messages, or a small game that the guests can play during the party.
Attention to Detail: Pay attention to the presentation of the goody bags. Use colourful tissue paper, ribbons, or stickers to enhance the visual appeal. Thoughtful packaging adds an extra layer of excitement and anticipation.
More blogs you will love!