Hope Mill Wedding Manchester
Today on the blog we have the fun and fabulous Hope Mill Theatre wedding. Manchester is full of amazing wedding venues & spaces, and some you wouldn't have even thought of. We love Hope mill theatre. It's one stunning unique wedding venue, it enables you to get creative and stamp it with your personality.
So, imagine our delight when we are sent this super cool wedding by "London wedding Photographer Jordanna Marston." She had the pleasure of photographing Mel & Nick on their wedding day in Manchester, we are super pleased to have it on our blog!!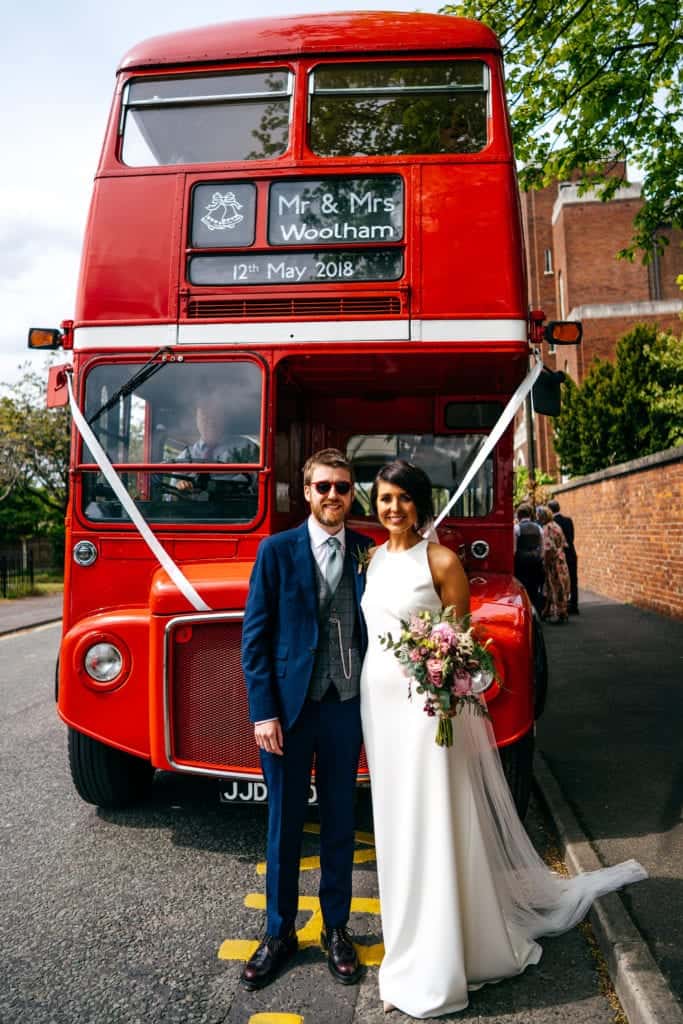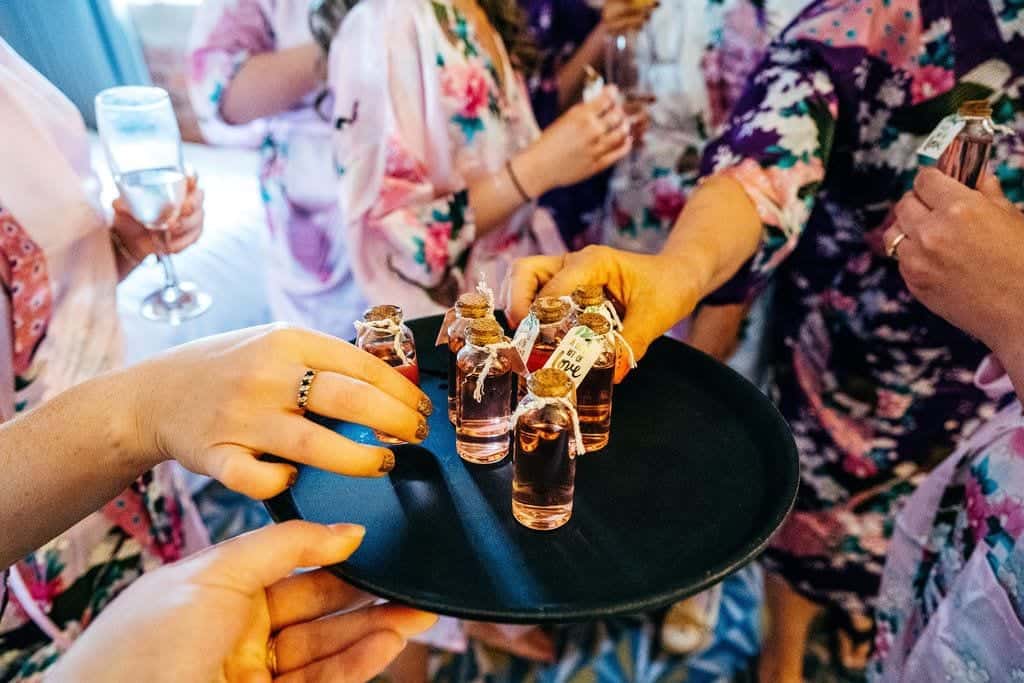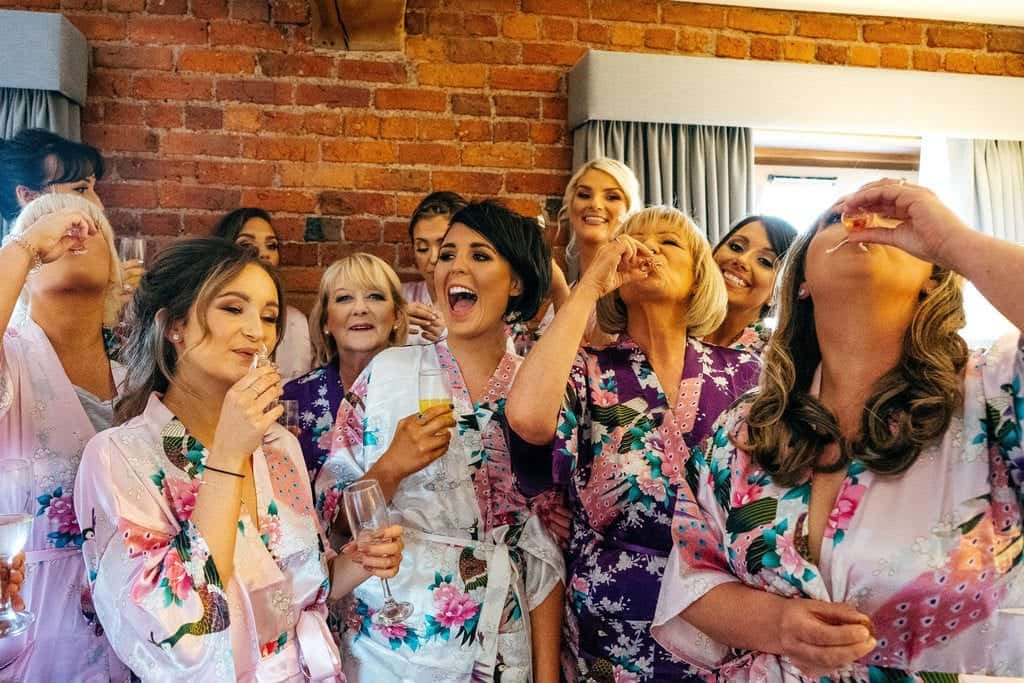 The Venue 
Mel and Nick were married in May 2018. They had a full catholic ceremony at St Patricks Catholic Church in Manchester. After that, they all hopped on a red bus to Hope Mill Theatre Manchester city centre for their reception.
Hope Mill Theatre is a grade II listed building and an old Cotton Mill, which has been converted to a Theatre.
It is a blank canvas venue ready for you to put your stamp on. The bar room is full of fun unique vintage furniture for a relaxed vibe. The main room is literally a black box. There are no windows but nothing some creative lighting won't fix!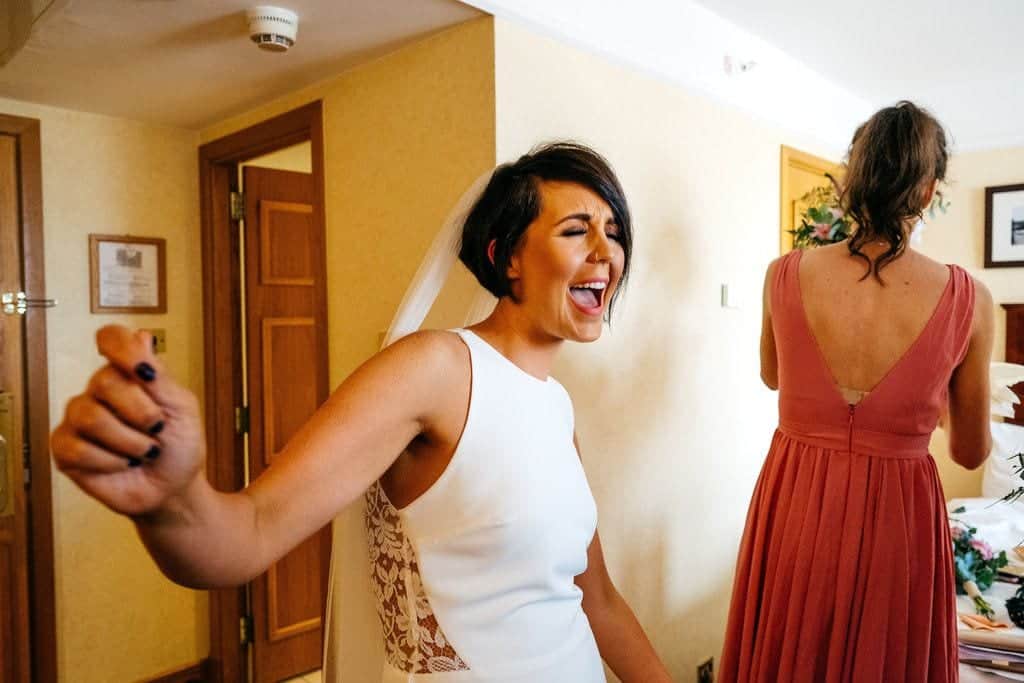 Mel & Nick chose this venue for its ease in the city and the fact it was on "the same street that they had first lived together" says mel.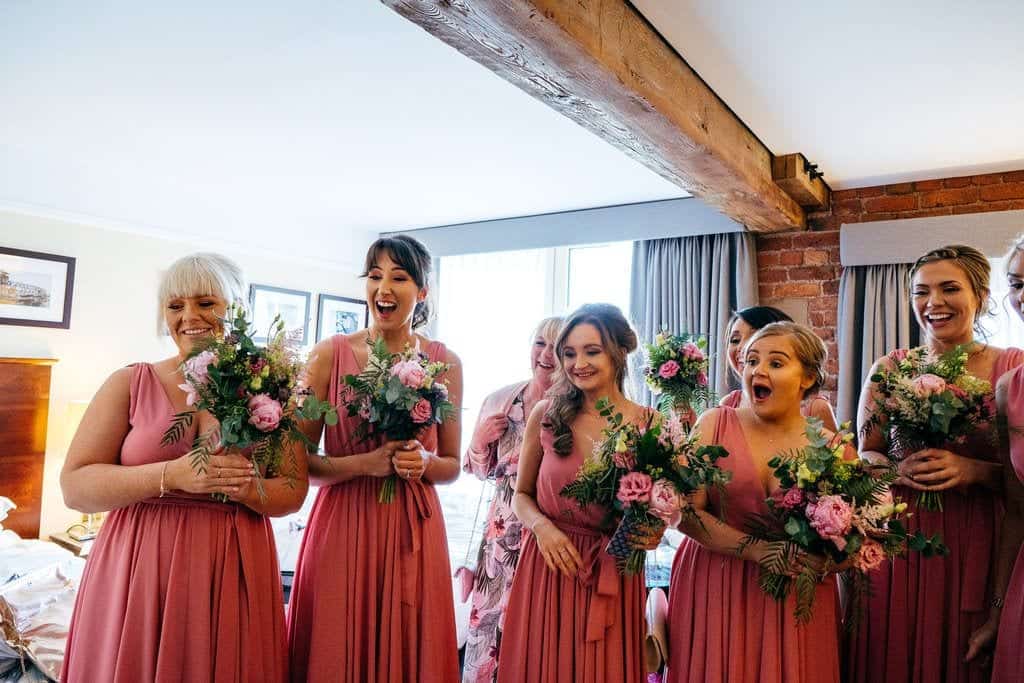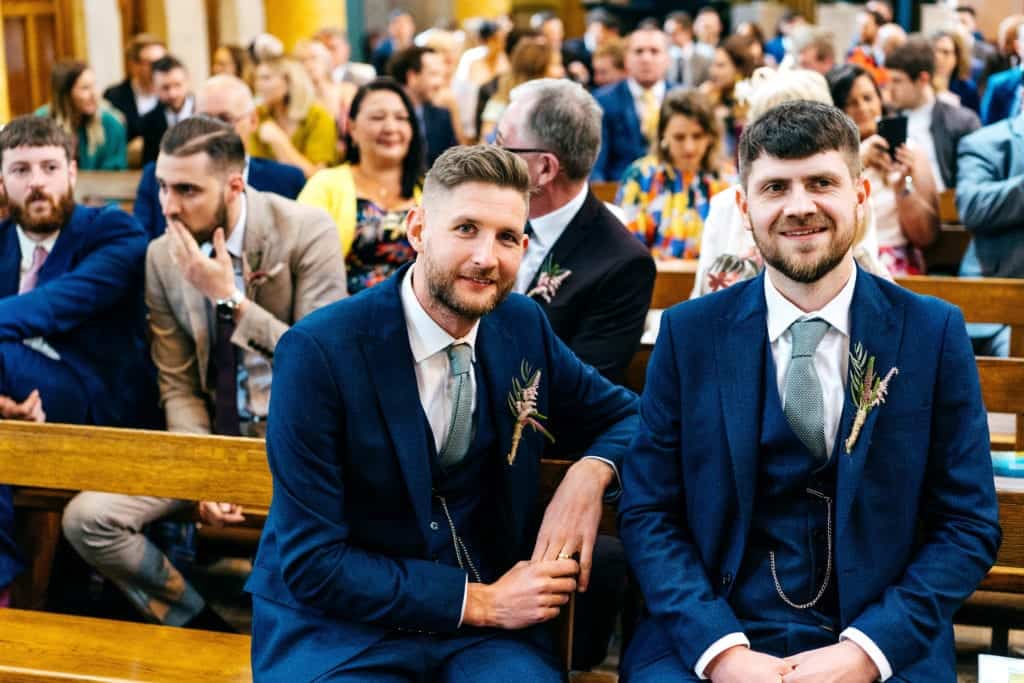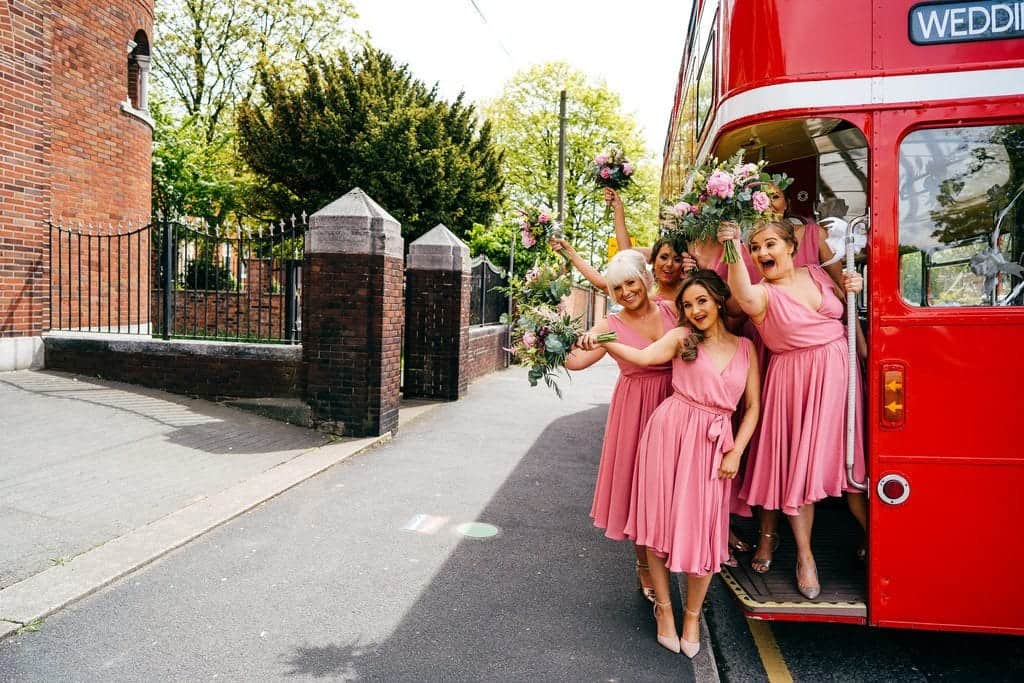 what did the bridal party wear?
Mel chose a stunning dress from Sarah Seven called Piedmont. It fitted her beautiful slim figure perfect and we know you will agree she looks absolutely stunning!
Mel had 8 bridesmaids! They all wore the same Bridesmaid dress ASOS. We have seen an increase in the online retailer now doing bridal wear. Even though we have our own favourite designers, we are loving these and that colour is gorgeous!
​​what did the groomsmen wear?
Well, we think Nick and his groomsmen look amazing in their blue suits from Moss Bros. Blue is one of our favourite colours for suits at the moment.
They look so stylish with their pocket watches too!!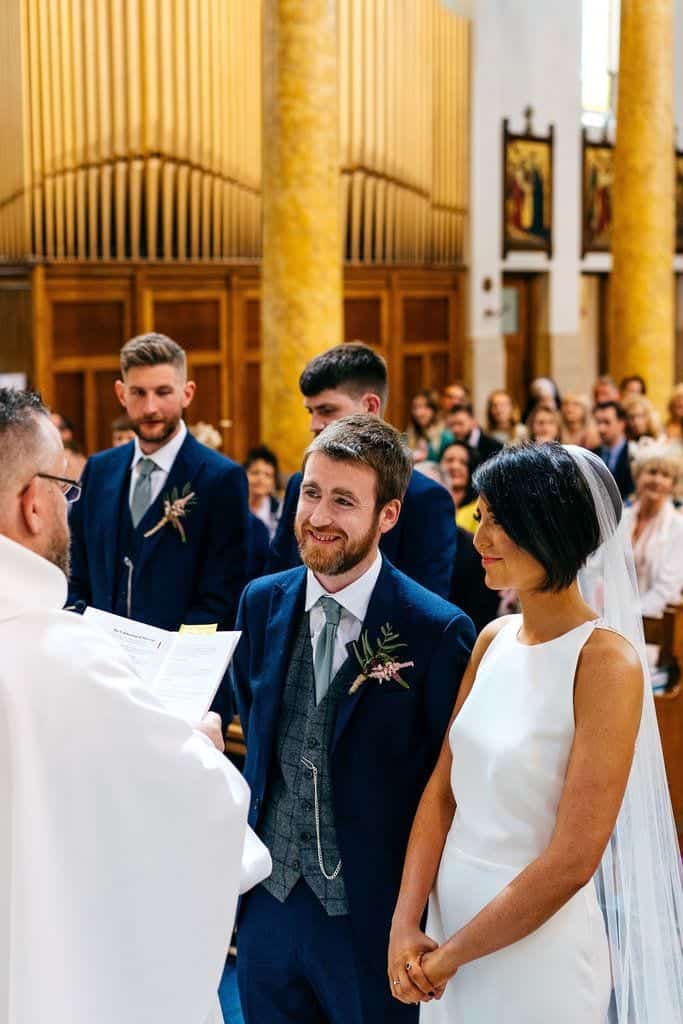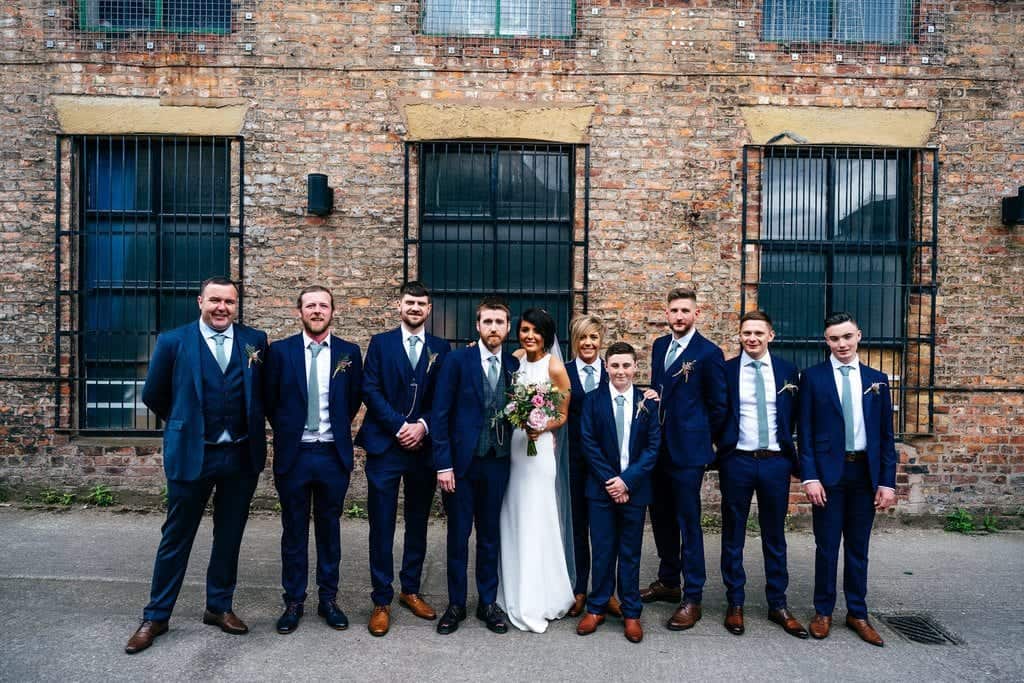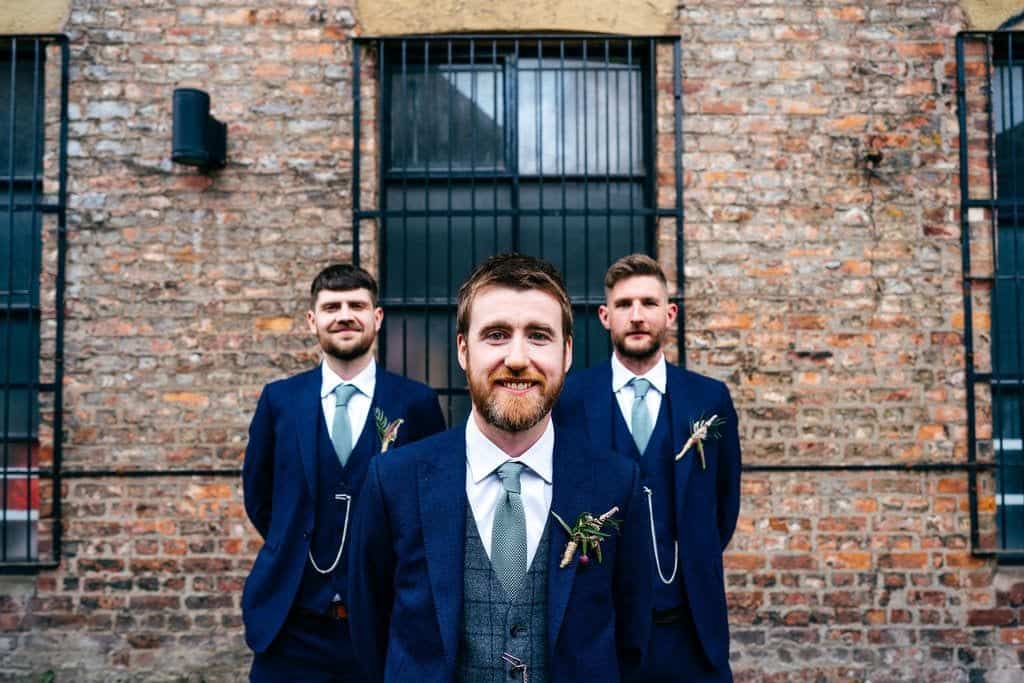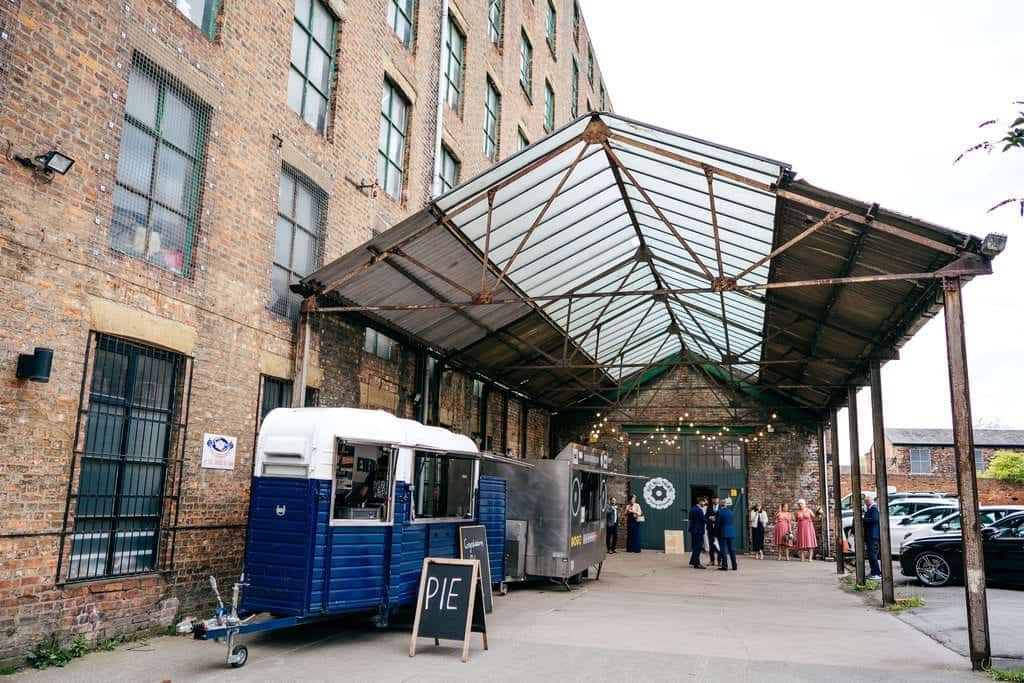 wedding details
Mel and Nick wanted a relaxed wedding with all of their closest family and friends around them.  For them, the most important bit was for them to have everybody they love there celebrating their special day.
Nick is from North Manchester and Mel is from South Manchester. They picked the city as it would be more accessible for everybody to travel into, of course, we agree!
They say the biggest difficulty they found was finding a city-centre venue big enough to accommodate them.
Mel said "When we initially viewed Hope Mill Theatre, we knew straight away it was perfect for us.  It is located on the road where we first lived together."
"The day itself was without a doubt the most amazing day of our lives. We felt incredibly lucky to have all of our loved ones there with us. The amount of love and warmth that we felt from everyone was incredible and overwhelming. We were absolutely buzzing for weeks after."
Alternative wedding food
Mel & nick decIDED NOT TO HAVE A TOP TABLE, this is something we are seeing more and more of in modern weddings. "WE WANTED TO BE AMONGST OUR GUESTS AS OPPOSED TO WATCHING THEM FROM THE END OF THE ROOM."  Said Mel.
They had opted for THREE LONG TABLES FOR ALL 144 guests. They decided to sit WITH their IMMEDIATE FAMILIES, BRIDESMAIDS AND GROOMSMEN, which they say felt MORE COMFORTABLE.
Another thing we love about this wedding is the fact they DIDN'T WANT TO HAVE A THREE COURSE MEAL. Something we are absolutely seeing more of, and we absolutely know why!! Instead, they WANTED GUESTS TO BE UP ENJOYING THEMSELVES DANCING.
so they HAD CANAPES, PIE AND MASH FOR THE MAIN. THEN FOR DESSERT, they SERVED their WEDDING CAKE, DOUGHNUTS AND A CHEESECAKE WITH VARIOUS CHUTNEYS ETC. YUM!!
"THE PIE AND MASH were SERVED FROM A HORSEBOX AND WE FELT THE INFORMAL MEAL SUITED US AND THE VENUE. for the evening WE OPTED FOR HIP HOP CHIP SHOP. THEY ROCKED UP TO THE VENUE WITH THEIR 'BOOMBOX TRAILER' AND SERVED FISH AND CHIPS TO GUESTS, WHICH SEEMED TO GO DOWN WELL," they added.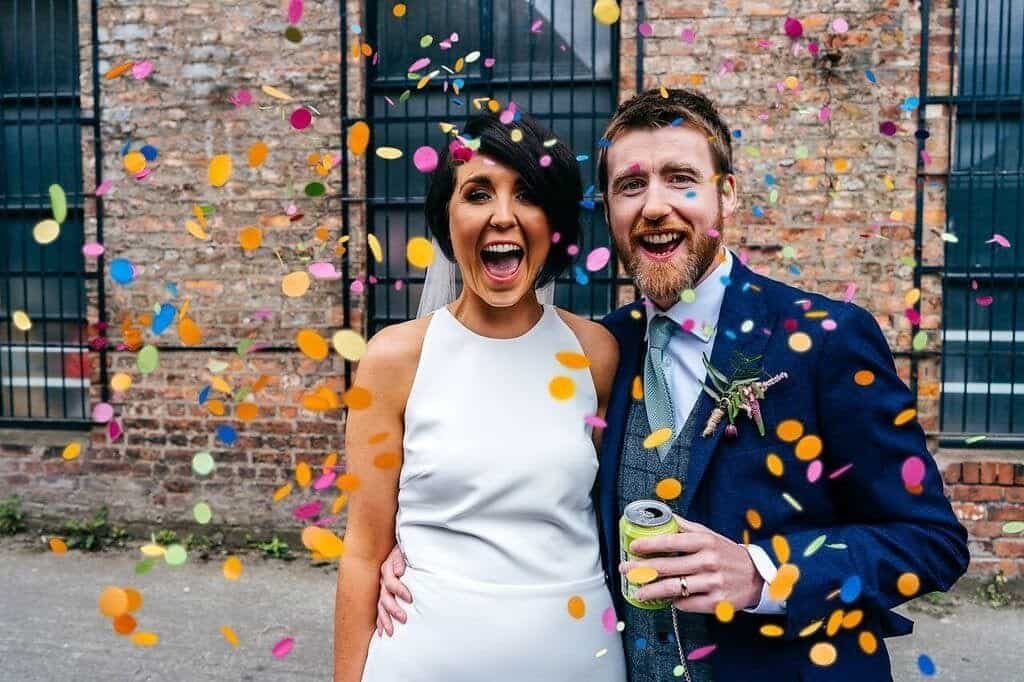 A wedding with personality
Mel and Nick opted for a full Catholic mass at St Patrick's church, and go on to say "even this was relaxed despite the usual formalities." Nick's friend, Mat Lomas played Stone Roses – Waterfall on his acoustic guitar as Mel walked down the aisle. He then went on to play some of their favourite songs whilst they signed the register.
Mel & Nick DECIDED TO HAVE FAMILY PHOTOGRAPHS AT THE CHURCH AND THE OTHER GROUP SHOTS AT THE VENUE, "WE LOVED THE INDUSTRIAL URBAN VIBE AROUND THE MILL. WE ALSO OPTED FOR OUR PORTRAITS CLOSE TO THE MILL, AGAIN BECAUSE WE LOVED THE URBAN VIBE BUT ALSO BECAUSE WE DIDN'T WANT TO MISS MUCH BEING AWAY FROM OUR GUESTS FOR SO LONG." 
"ALL IN ALL WE HAD THE MOST AMAZING DAY. WE DIDN'T FEEL NERVOUS BEFOREHAND, AS WE KNOW WHAT OUR INCREDIBLE FAMILY AND FRIENDS ARE LIKE AND KNEW WE WOULD HAVE THE MOST WONDERFUL DAY. IT ABSOLUTELY EXCEEDED BOTH OF OUR EXPECTATIONS AND WE FEEL EXTREMELY FORTUNATE TO BE SURROUNDED BY SUCH BRILLIANT PEOPLE THAT MADE OUR DAY WHAT IT WAS."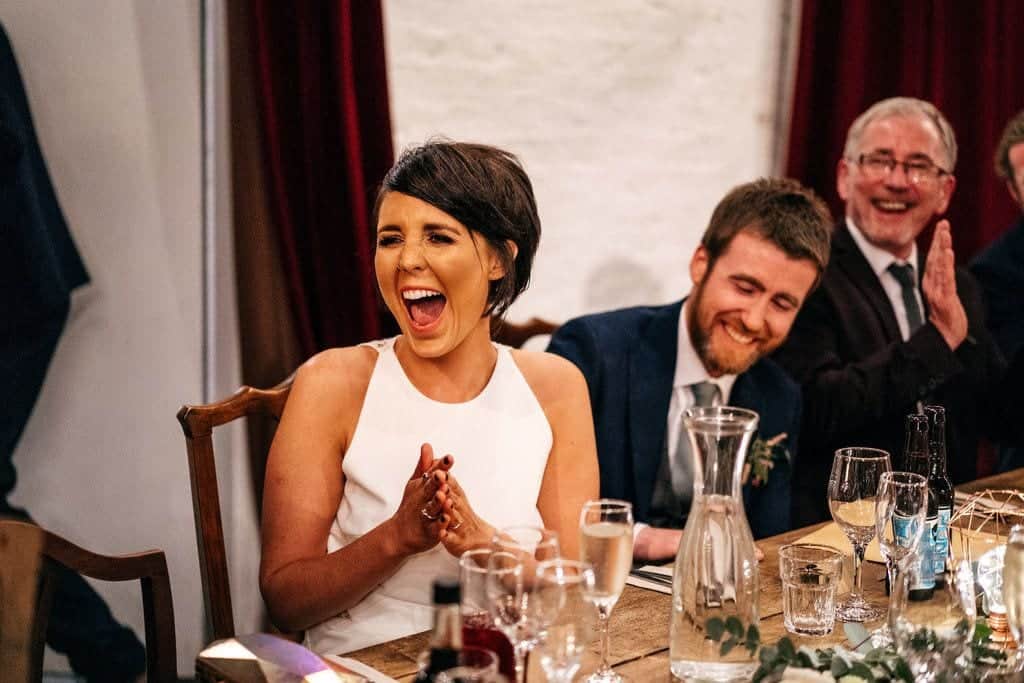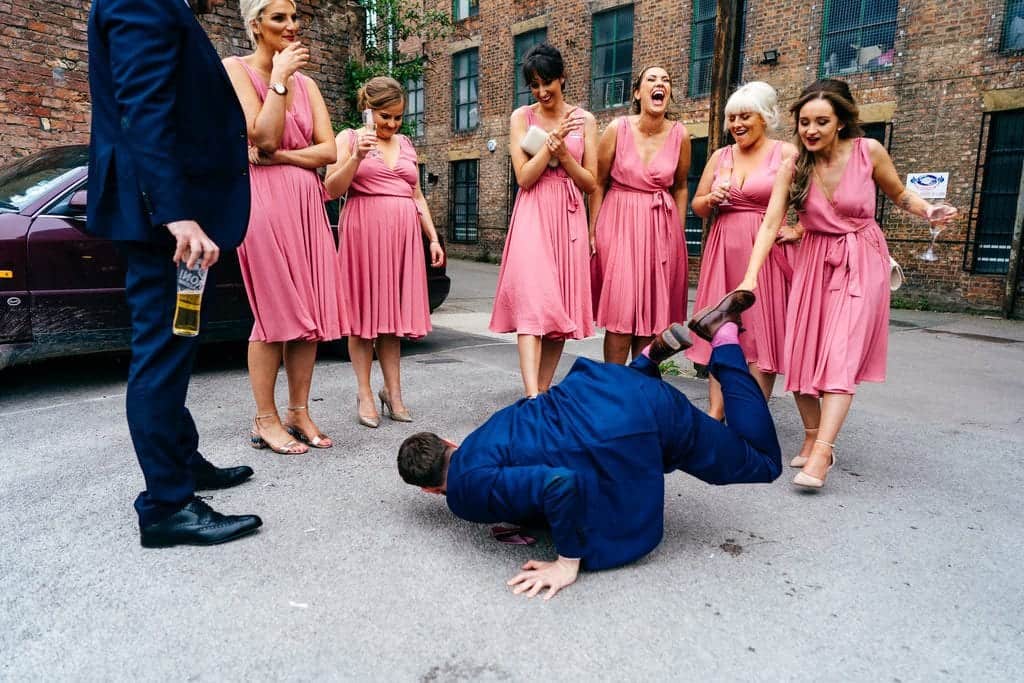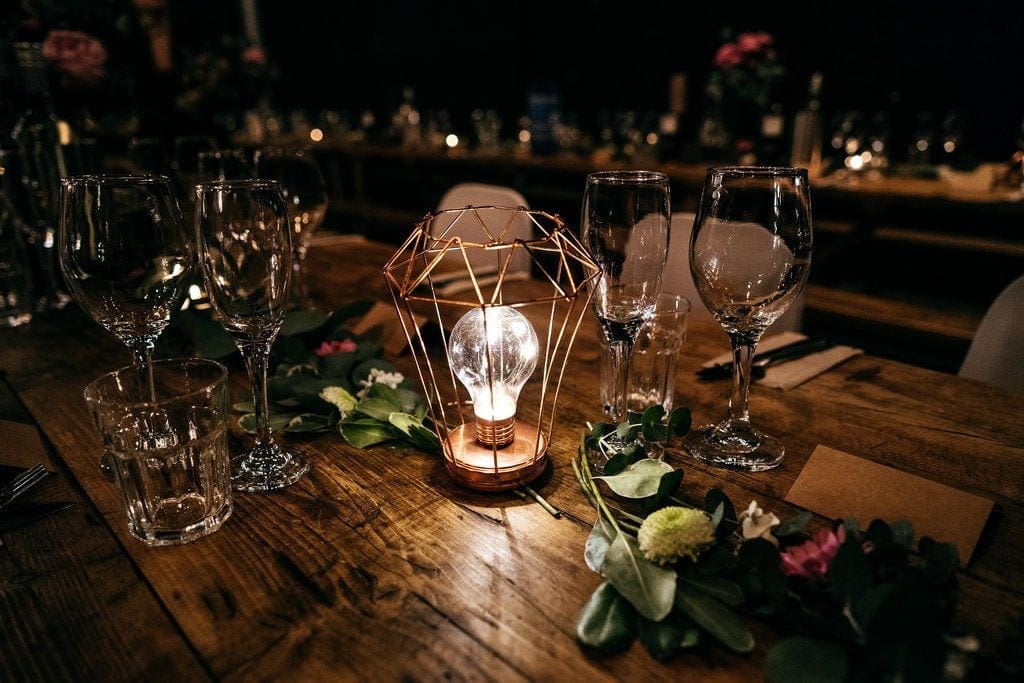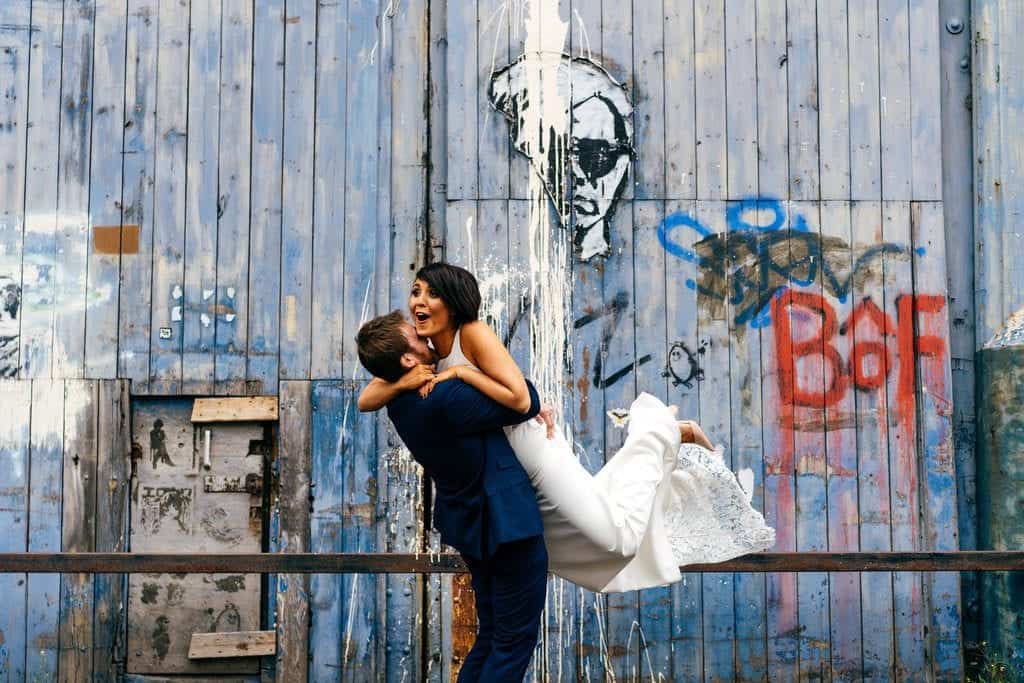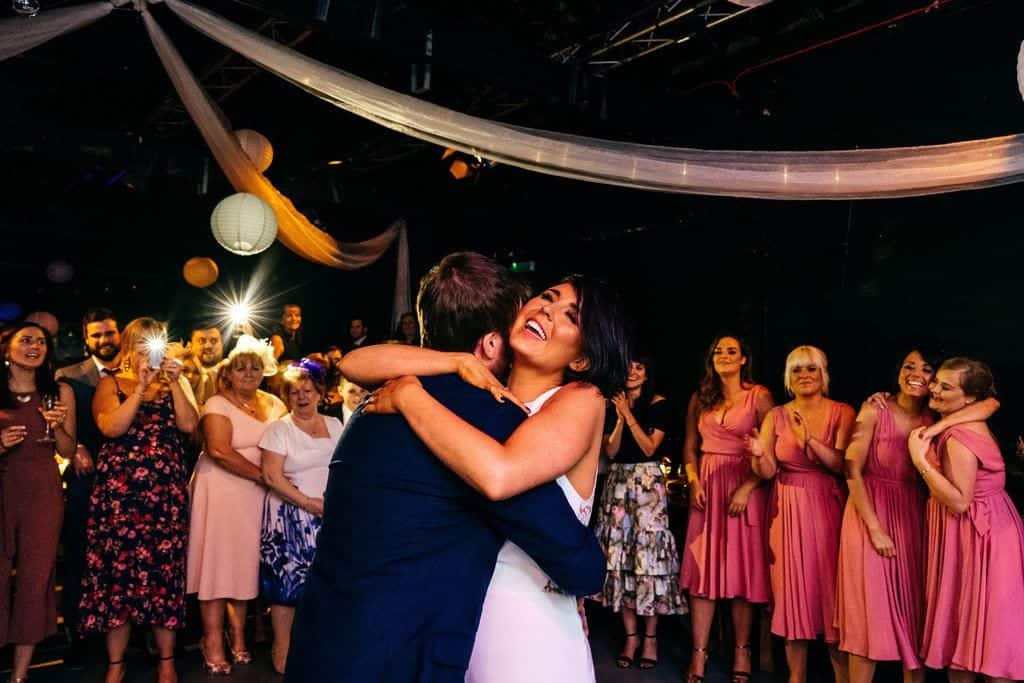 Hope Mill Threatre Wedding venue
Ceremony Capacity:

 

100
Reception Capacity:

15

0
Licensed for Marriage:

 

Yes
Catering:

 

Preferred supplier
Bar:

 

Venue
Accommodation:

 

No
Parking: Yes
Child Friendly:

 

Yes
Pets Welcome:

 

No
Late License:

 

Yes
Exclusivity:

 

Yes
Check out our latest real wedding blogs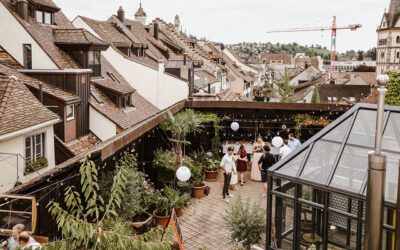 Switzerland Wedding Today on the blog we have a wedding in the picturesque old town of...