Satin is definitely the bridal fabric of 2023! It is everywhere right now and we are loving it.
Satin bridesmaid dresses are a huge trend and can look super stylish when done right. I personally think that they can be tricky to get right, especially if you have lots of shapes and sizes to cater for.
Head to the end of the blog for all our expert tips on choosing the right satin bridesmaid dresses and how to style them.
In this blog post, we are talking about all satin bridesmaid dresses. If you are after that cool 90s vibe then head to our bridesmaid slip dress blog.
Where to buy satin bridesmaid dresses and outfits
| Shop | Best for | Price Range | UK Sizes |
| --- | --- | --- | --- |
| Coast | Modern affordable pieces | £100 – £300 | 4 – 26 |
| Reformation | Sustainable and stylish pieces | £300 – £500 | 4 – 28 |
| Asos | Budget and great sizing choices | £30 – £200 | 2 – 30 |
| Selfridges | Luxury brands | £70 – £500 | 6 – 24 |
| Oasis Fashion | Modern high-quality pieces | £80 – £200 | 6 – 24 |
| Ghost London | Fashion forward pieces | £150 – £250 | 6 – 16 |
| Needle & Thread | Embellished and pretty prints | £300 – £600 | 4 – 20 |
| Pretty Lavish | Affordable and lots of variety | £60 – £100 | 8 – 18 |
The most stylish sATin bridesmaid dresses for 2023
We are committed to providing unbiased, credible reviews so you can choose with confidence. We may earn commissions on purchases made from visiting our partner stores. Please see our policy here.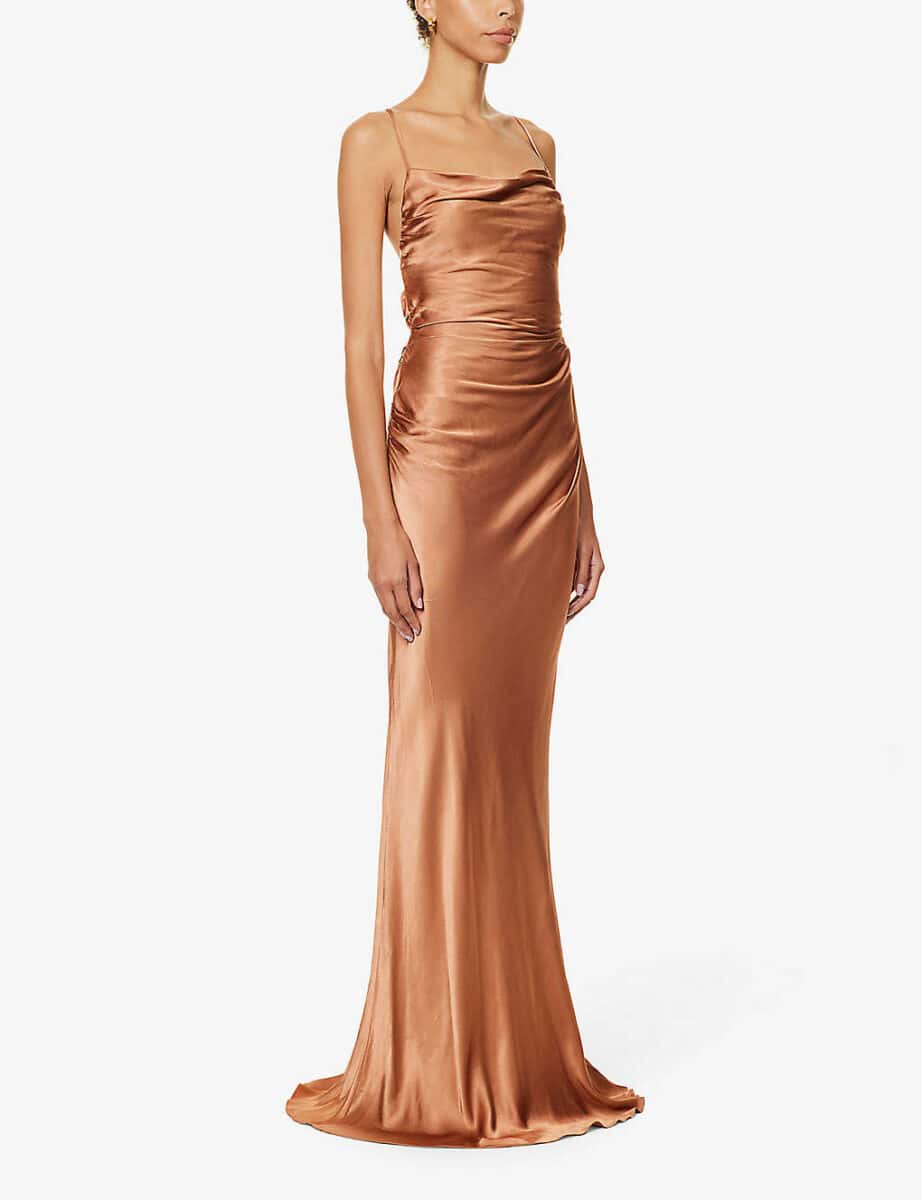 1. BEST COPPER satin bridesmaid dress – SHONA JOY
This light copper slip dress is super stylish and the perfect modern choice.
The ruching is great to hide any tummy concerns.
Size: 8 – 18 | Fabric: Satin | Length: Floor | Color: Copper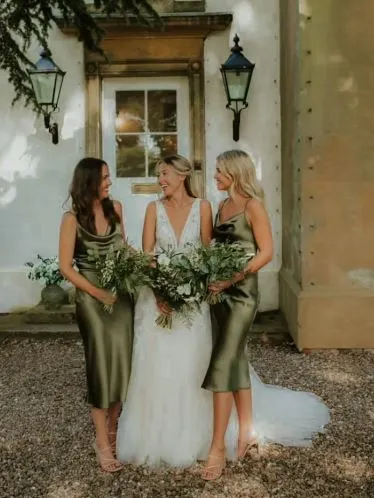 2. For a minimalist look – Magaya Bali
How gorgeous are these? Simple and stylish is definitely the way to go for a modern minimal bridesmaid look.
Sizes: 6 – 22| Fabric: Satin | Colour: Dark Green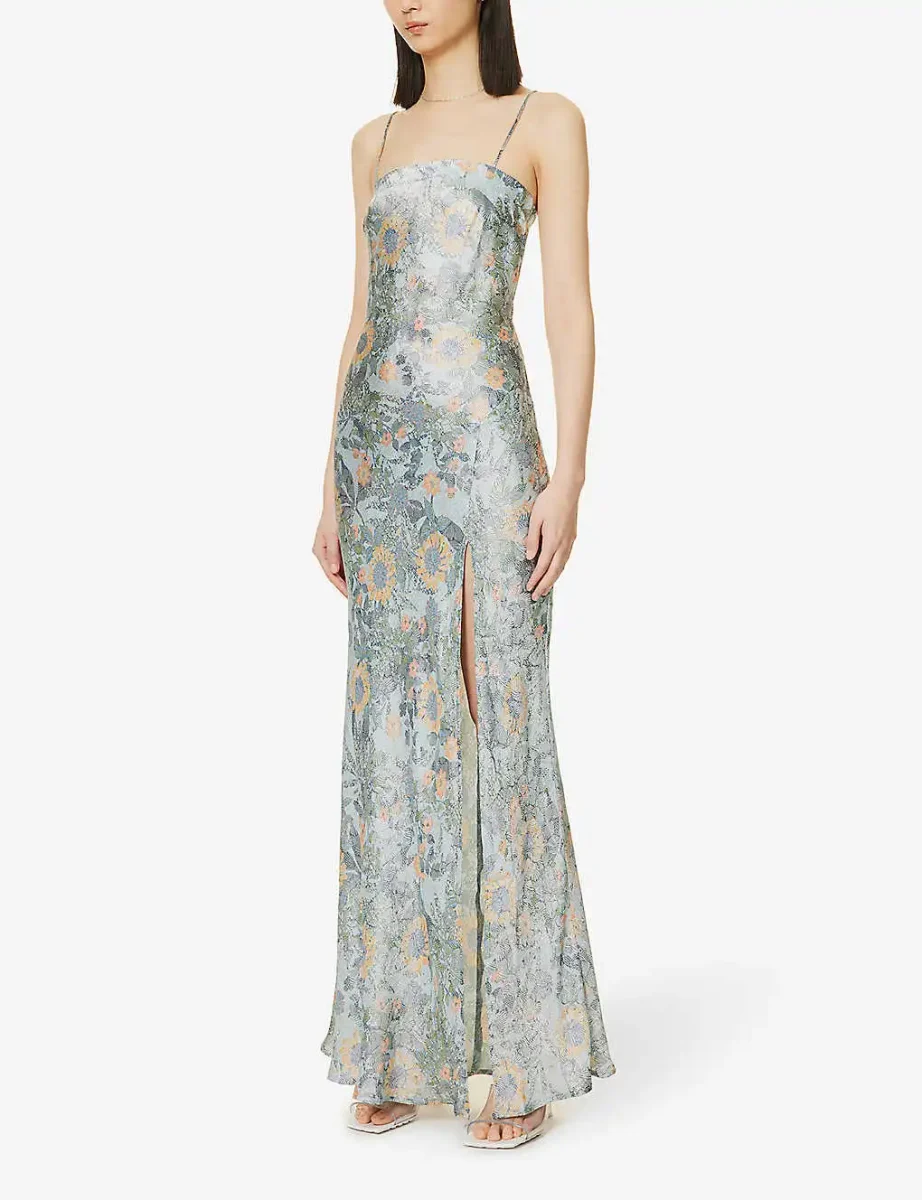 3. Best Patterned bridesmaid slip – Bec & Bridge
I love the subtle pattern of this slip bridesmaid dress. Bec & Bridge have a great selection of slip dresses so you can create a lovely mismatched bridesmaid look.
Sizes: 6 – 14| Fabric: Satin| Colour: Blue Jacquard
4. For a formal wedding – ASOS
This dress is perfect for a formal or black-tie wedding.
Sizes: 16 – 30 | Fabric: Satin| Color: Dusky Blue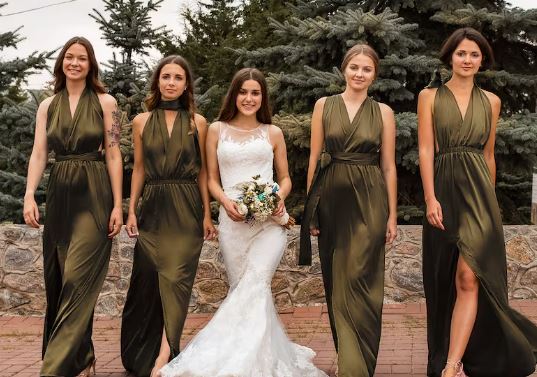 5. Best olive green multiway dresses – Identity Lingerie
Multiway dresses are great for all wearing them in a way that suits their style. I love that these are the same and the low waist tie looks very modern.
Sizes: Custom | Fabric: Satin| Colour: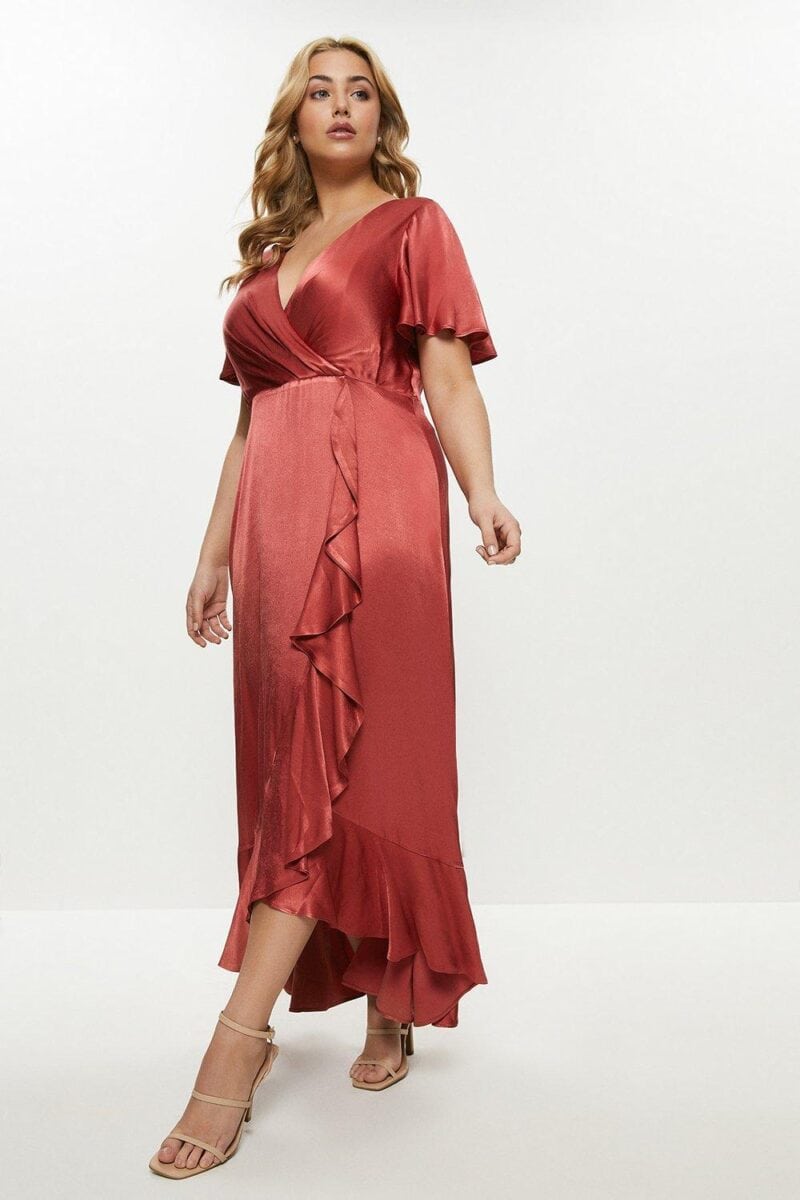 6. Best Wrap plus size bridesmaid dress- Coast
I love a wrap dress! This comes in two stunning colours and just feels amazing on.
Sizes: 18 – 26 | Fabric: Satin| Color: Rose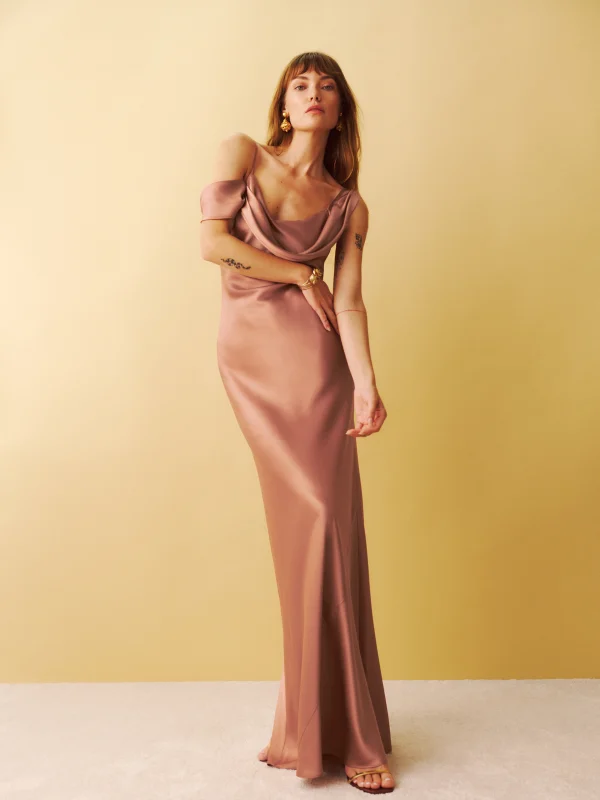 I love how simple this dress is. The sweeping one shoulder arm adds just enough drama to make this dress stunning!
Size: 4 – 16 | Fabric: Silk | Length: Floor | Color: Praline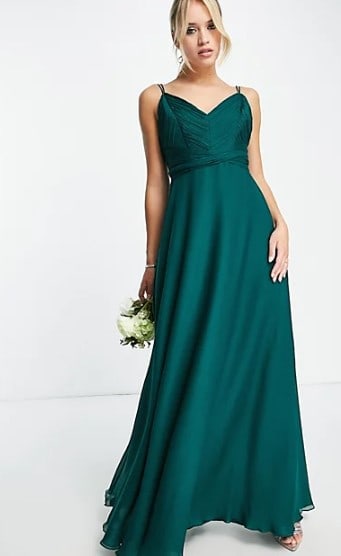 8. Best green satin dress – ASOS
This dress is simple and stylish. It will never go out of fashion so perfect for a timeless look.
Size: 8 – 18 | Fabric: Satin | Length: Maxi | Color: Forest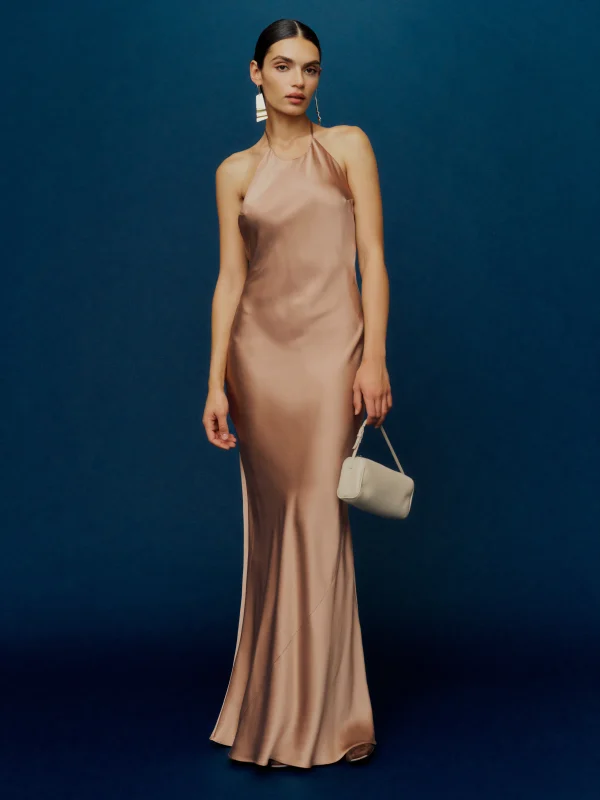 9. Best Brown satin bridesmaid dress – Reformation
Oh, this dress is just so stunning! Simple, modern and sustainable!
Size: xSmall – xLarge | Fabric: Silk | Length: Maxi | Color: Croissant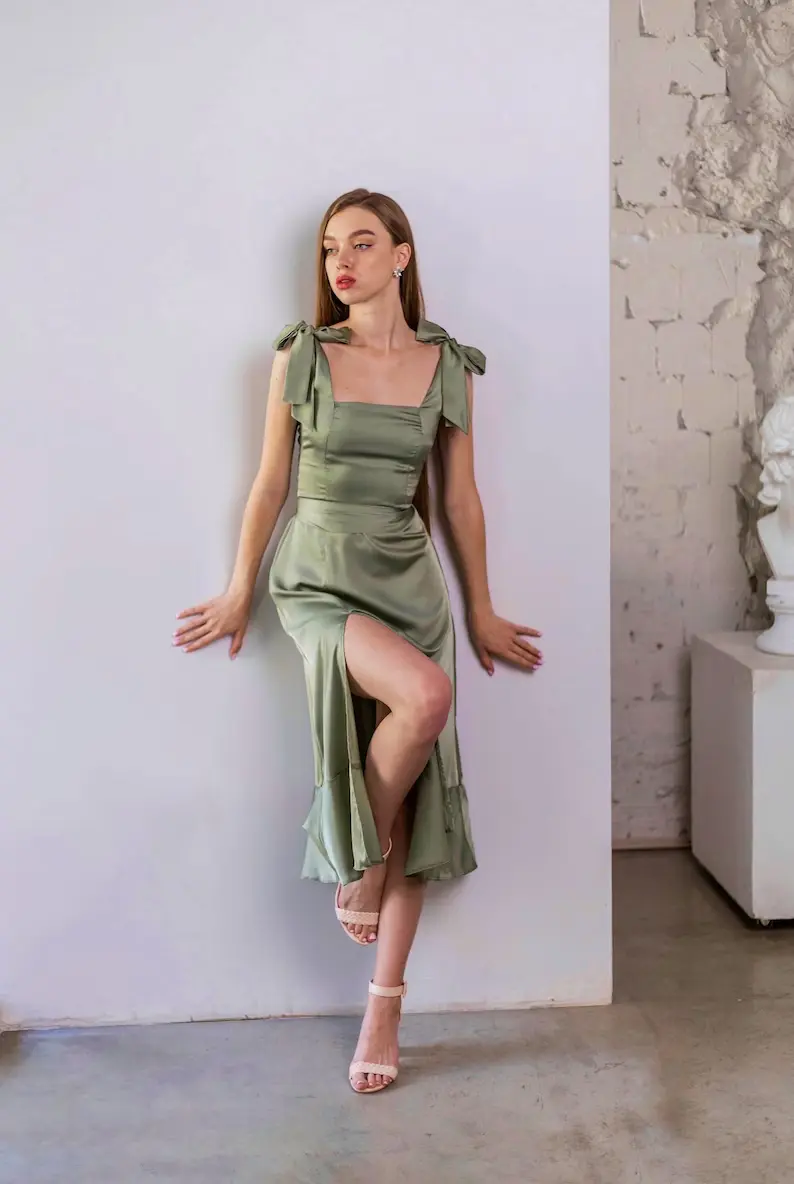 I just love the square neckline of this dress. The cute bow detail on the sleeves just adds enough detail.
Sizes: xSmall – xxLarge | Fabric: Satin | Colour: Pale Olive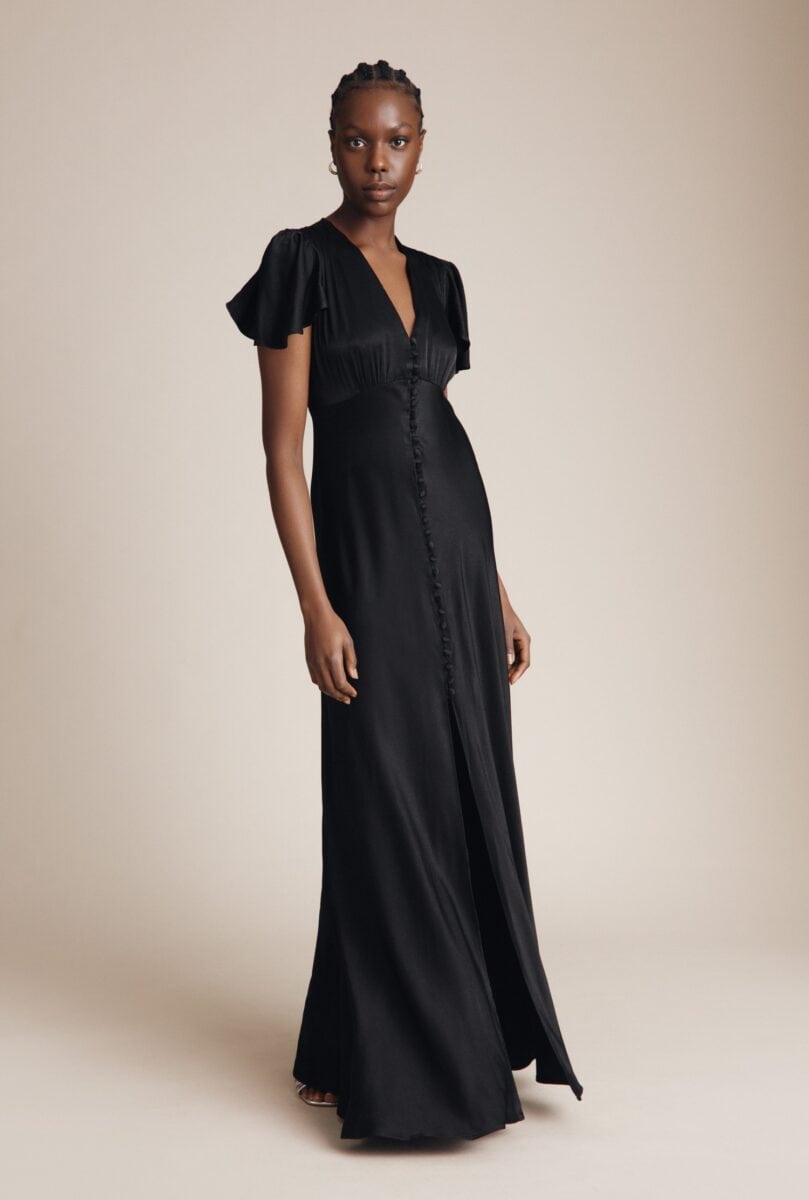 11. FOR THE VINTAGE LOVERS
This dress is super pretty and easy to wear! The silhouette gives it a vintage vibe.
sizes available: 6 – 16
12. FOR THE FASHION-FORWARD BRIDESMAID – OASIS
This dress is simple and fun. I love the skirt detail. It just makes you want to dance the night away when on.
THIS IS ON SALE FOR £22 AT THE MOMENT! (26/05/23)
Size: 6 – 18 | Fabric: Satin | Length: Midi | Color: Copper
Satin bridesmaid dress styling and buying guide
Things to consider when buying satin bridesmaid dresses
Fit: Satin is a fabric that tends to cling to the body, so it's important to choose a dress that fits you well. Pay attention to the size and silhouette that flatters your body shape.
Underwear: Choose the right underwear with your satin dress. Opt for seamless, nude-colored underwear to avoid visible panty lines. Consider wearing shapewear if desired for a smoother silhouette.
Static electricity: Satin can generate static electricity, causing the dress to cling to your body or stick to other fabrics. To minimize static, you can lightly spray an anti-static spray on the dress or use an anti-static dryer sheet.
Wrinkles: Satin fabric is prone to wrinkling, so be careful when sitting or moving around to prevent creases. Hanging your dress on a padded hanger before wearing it can help reduce wrinkles. A steamer when getting ready is a must!
Care: Satin requires special care when cleaning. Check the care instructions on the dress's label to ensure you handle it appropriately. Satin is often recommended for dry cleaning, but some satin fabrics may be hand-washable.
Season: Consider the weather conditions when wearing a satin bridesmaid dress. Satin can be quite delicate and may not fare well in extreme heat or humidity. If you anticipate sweating or being in hot weather, consider choosing a different fabric or opting for a breathable lining in the dress.
Alterations: Probably one of the worse fabrics for alterations. Have you ever tried sewing silky fabric? Try to find the best fit with minimal alterations and be aware you may pay more for satin alterations.
Styling a satin bridesmaid dress
Accessories
Satin has a luxurious and glossy appearance, so choose accessories that complement rather than compete with the fabric. Keep it super simple and stick to one matt colour or metal.
Pearls work really well for jewellery, a matt gold or nude tone is always a winner with any colour satin bridesmaid dress.
Shoes for satin bridesmaid dresses
I would stick with nude colour and a matt finish. Unless you are trying to incorporate certain colours nude and neutral tones are the perfect choice for satin dresses.
Bridesmaid dress FAQs
WHO PAYS FOR BRIDESMAID DRESSES?
This is different depending on the country and also culture. In the UK is more common that the couple pays for the bridesmaid dresses. Usually, then the bridesmaid may be expected to pay for their makeup and accessories. A lot of the time the couple covers all expenses. I always say to my couples to offer what they can afford and be honest upfront when asking bridesmaids. Head here for all the details.
HOW MUCH DO BRIDESMAID DRESSES COST?
Again this depends, if you are budget minded or looking for the best quality you will find dresses for all price ranges. You can look at china or sale options for around £50, I would say the average cost is around £150 and if you are looking for high quality then around £300. Head here for some saving tips.
WHEN TO ORDER BRIDESMAID DRESSES?
If ordering from a boutique or made-to-measure you do need to give more time, 3 to 4 months. If ordering ready-to-wear dresses online I would still do it as early as possible. Do keep in mind if you have a pregnant bridesmaid you may need to order sooner or later for them.