Today's blog definitely has love in the air with this alternative rock wedding styled shoot.
A couple who threw all the rules out the window and did things their way! LOVE IT! It's full of alternative inspiration, showing you how you can totally have your own personality showing through.
Check out the red veil, i don't think we've ever seen a red veil before. It may not be everyone's cup of tea, but be unique, be you!
If you are planning an alternative wedding head to our complete alternative wedding guide!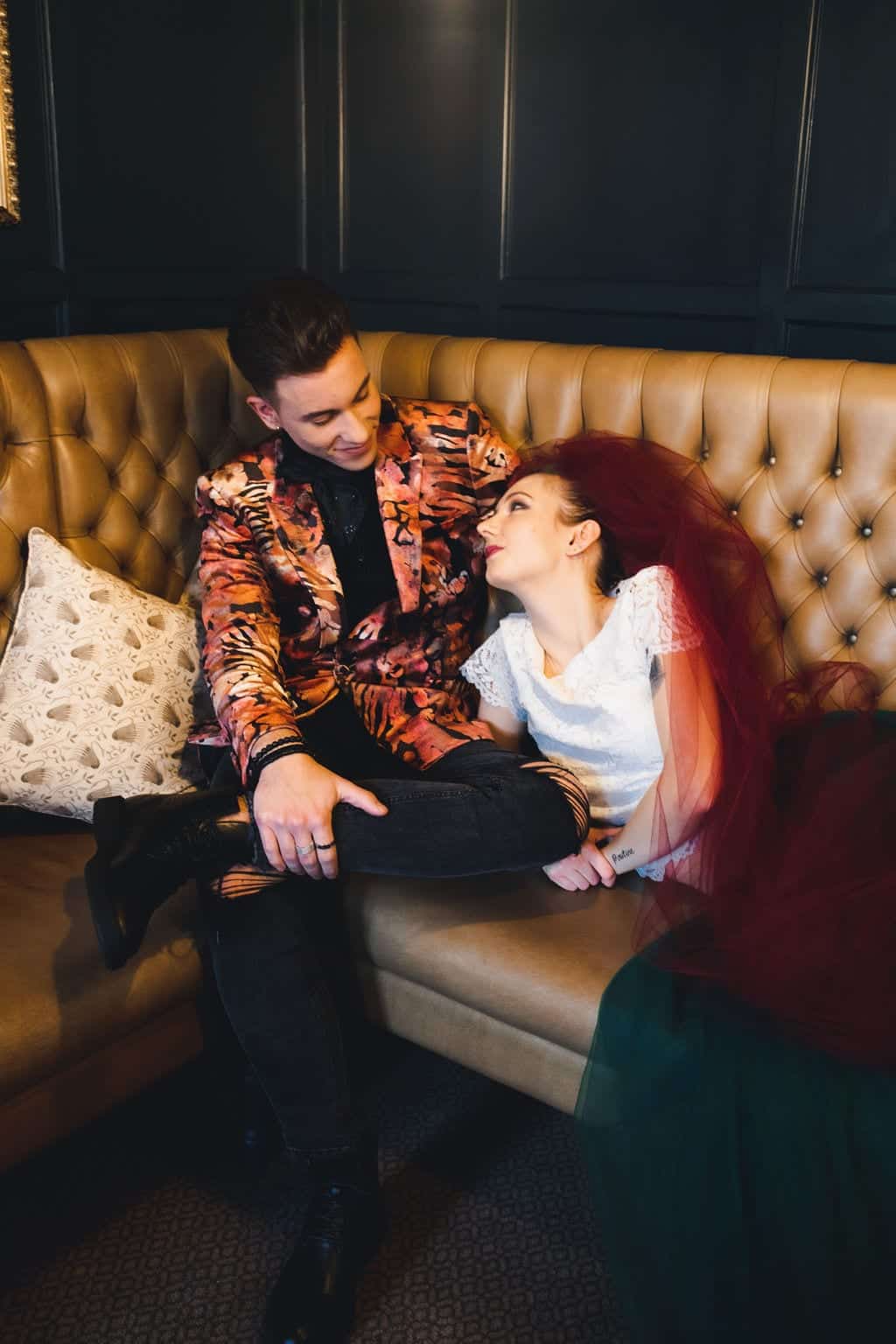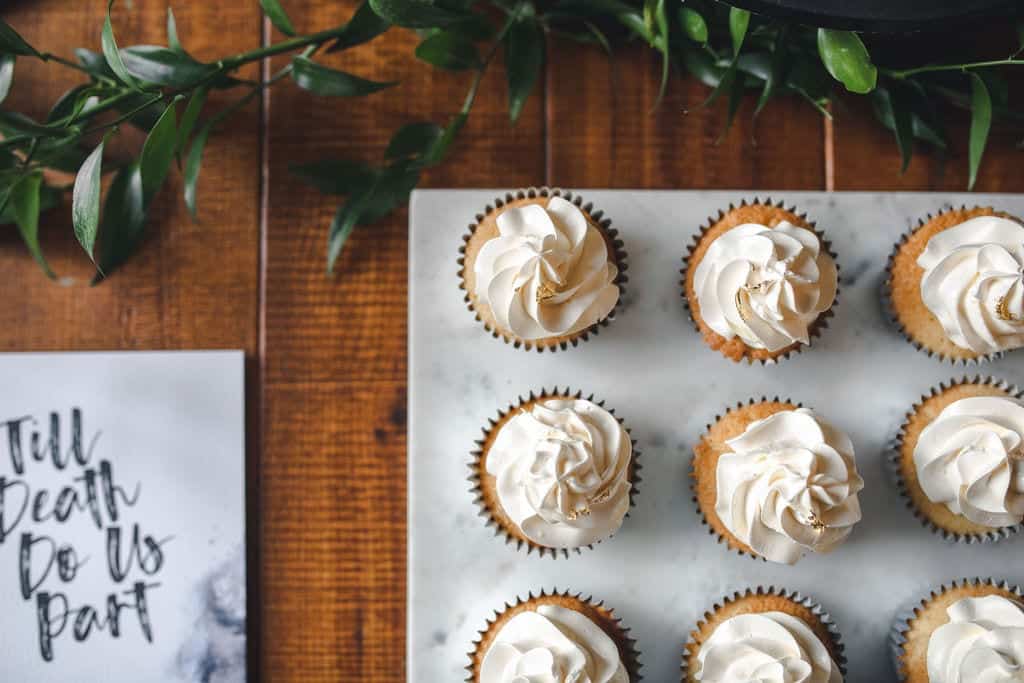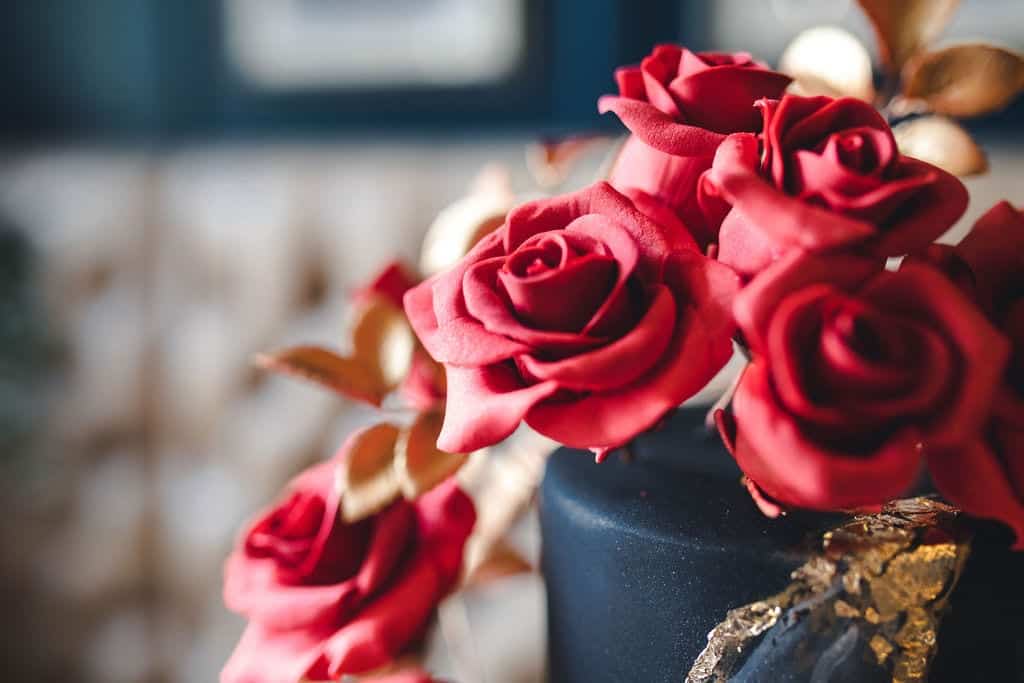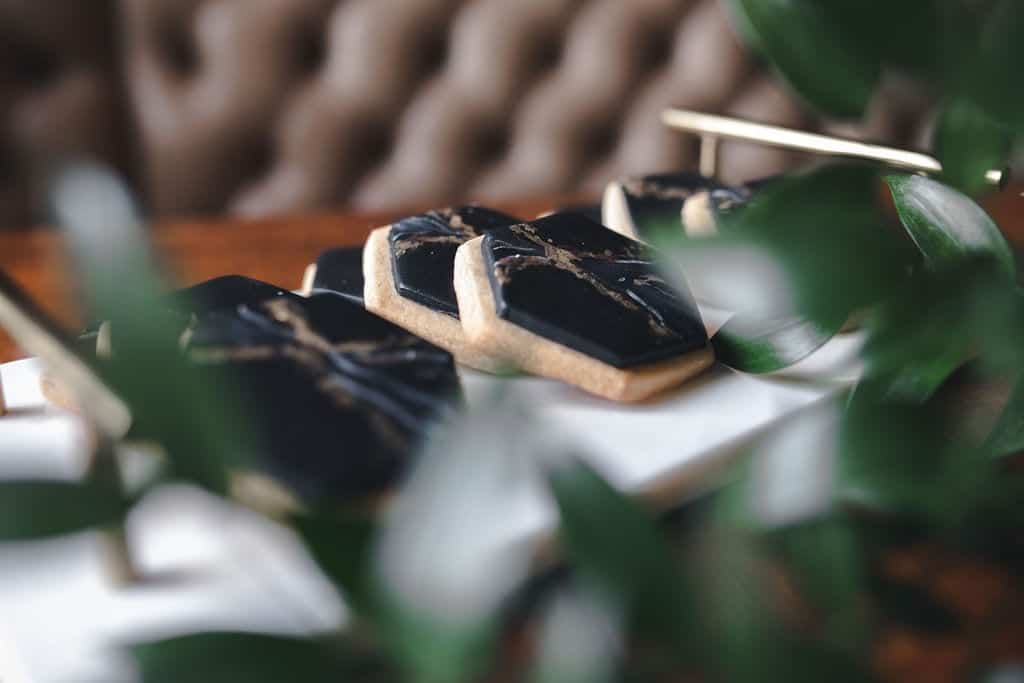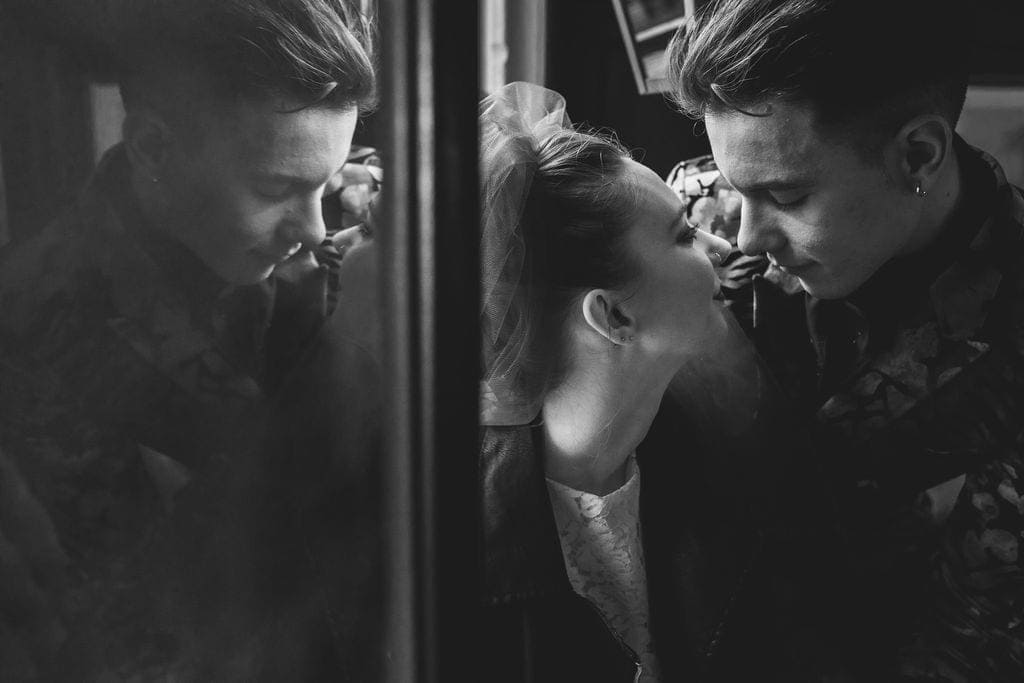 What made you decide to do the Shoot?
The idea of the shoot was born from a concept I have always wanted to develop. Focusing on an idea that will allow a young couple to express their self in an
alternative and unique way. Getting rid of the etiquette and putting the character and the freedom at the centre of their big day. In that way, whimsical outfits meet unconventional venue and cake, the result was exactly what I was looking for!
As a teenager I used to be obsessed with Rock music and everything was connected to it – the outfits, OH THE OUTFITS – ripped jeans, Dr. Martens and loose T-shirts, my eternal loves!
Young kisses and mind freedom – that's the core of the shoot!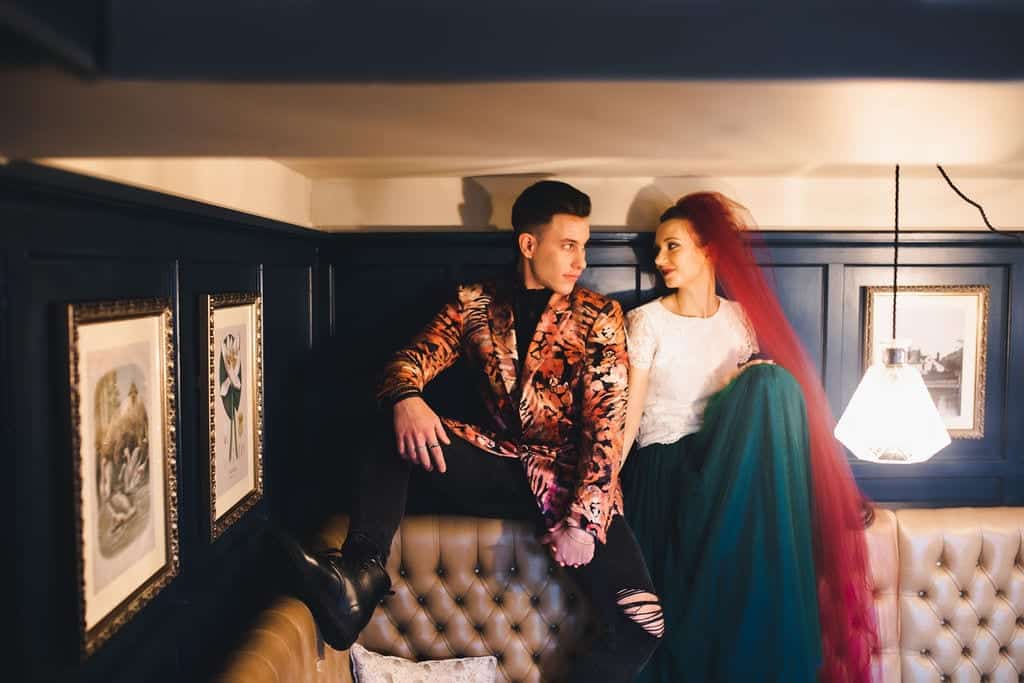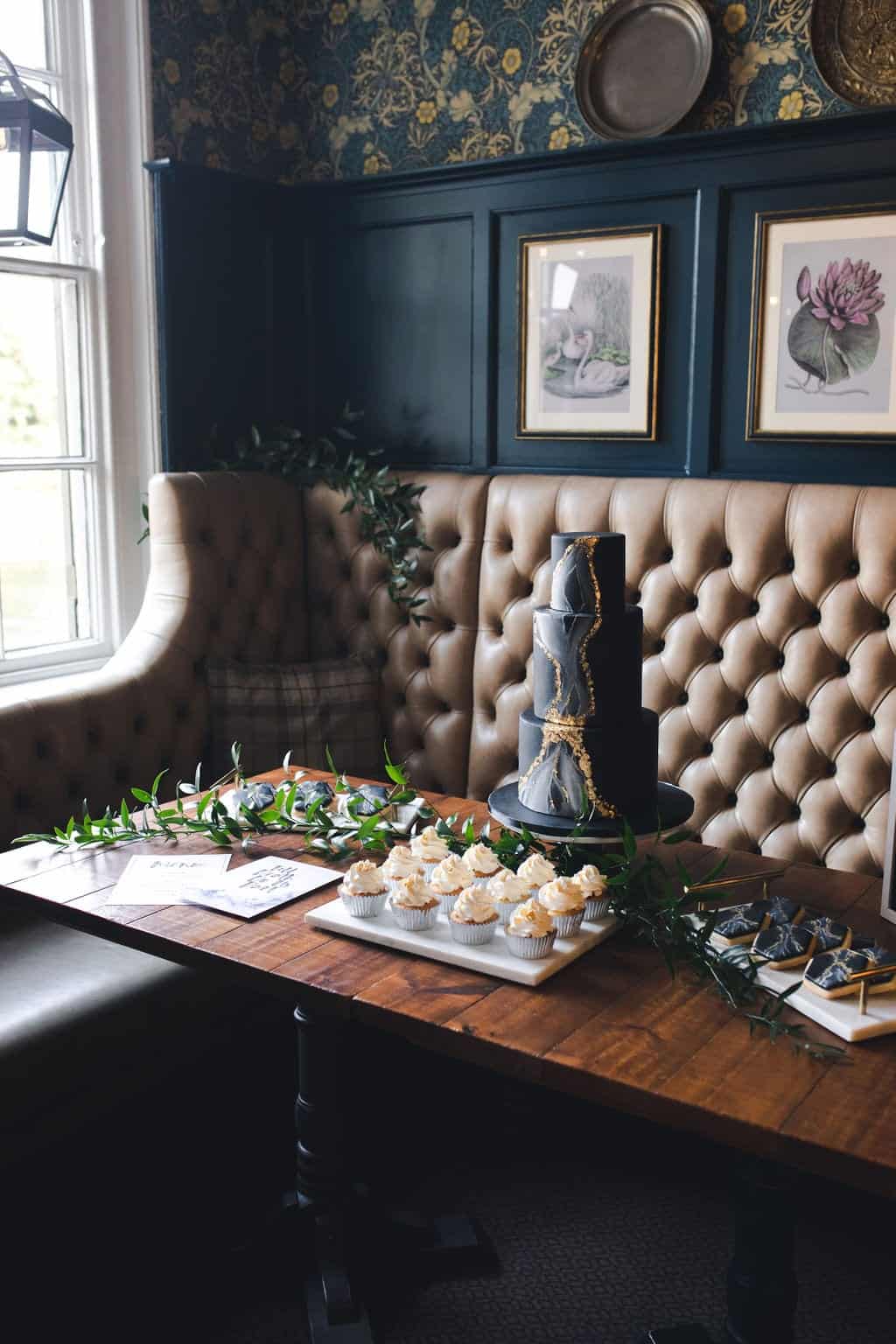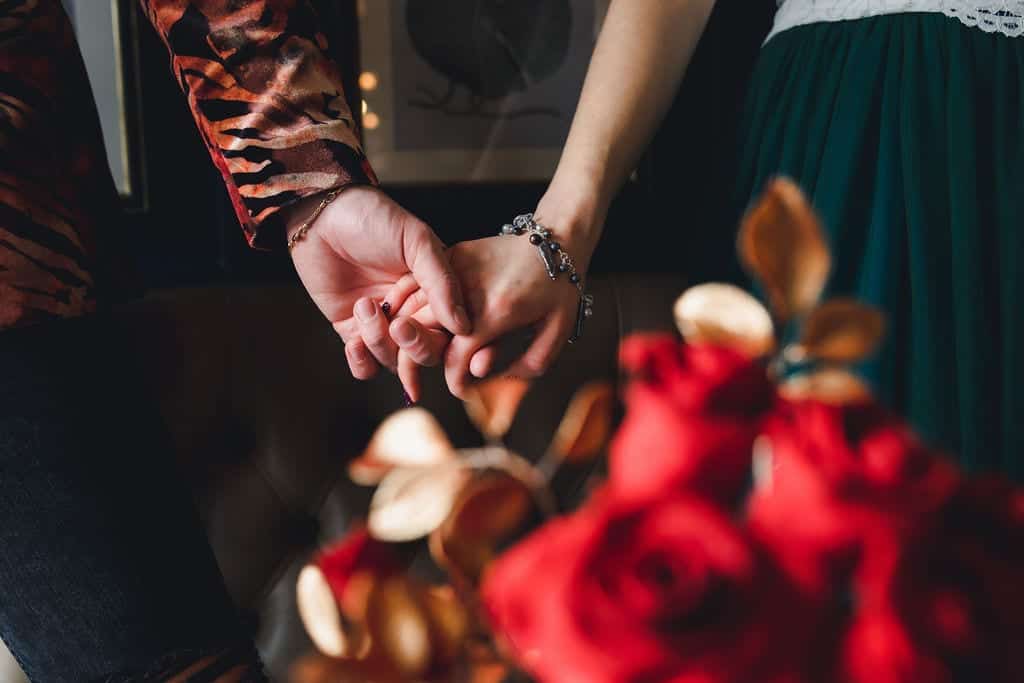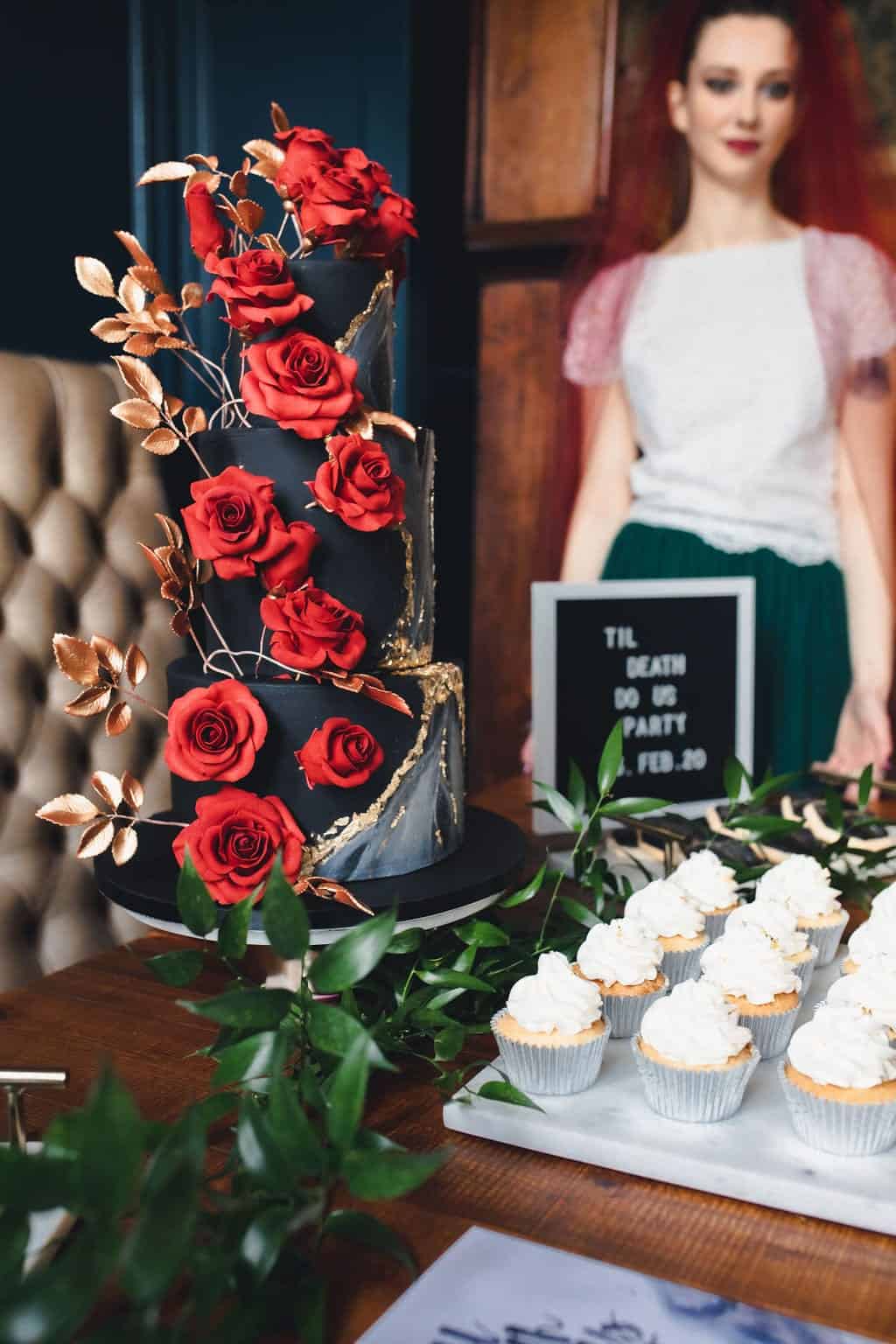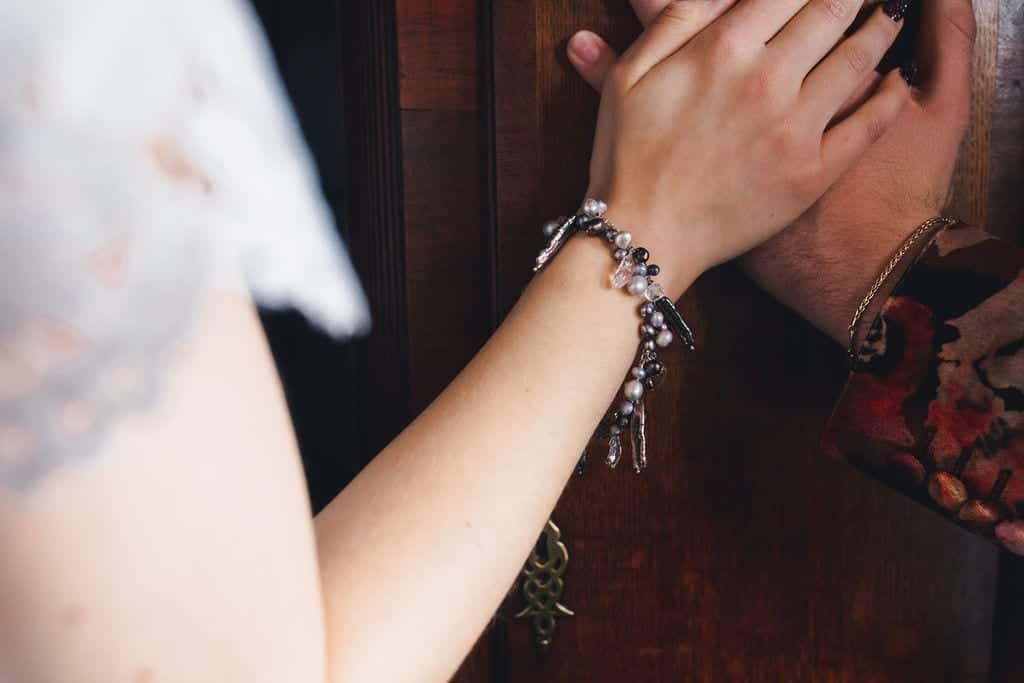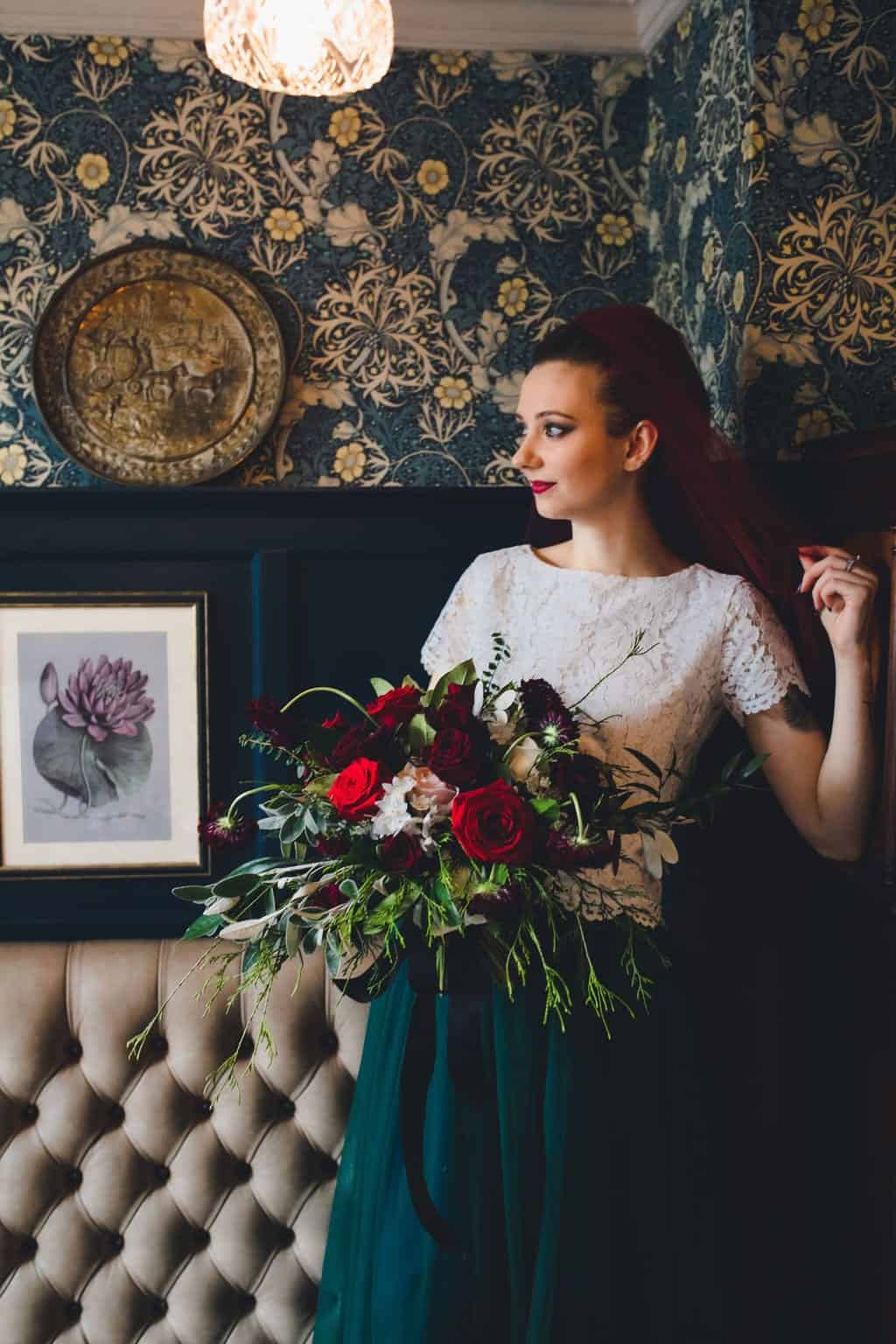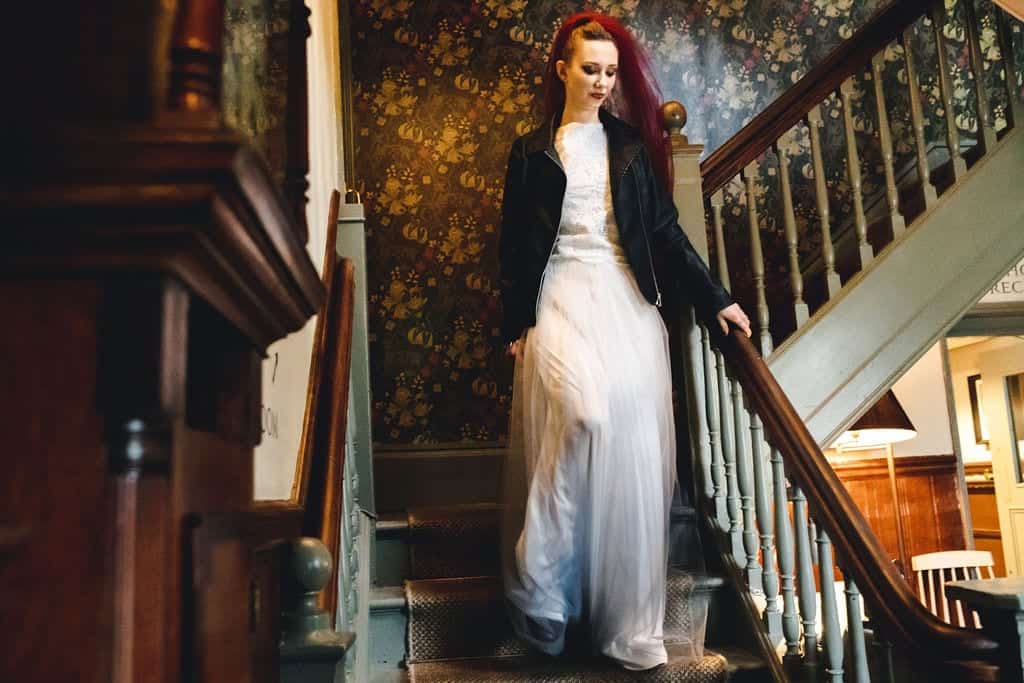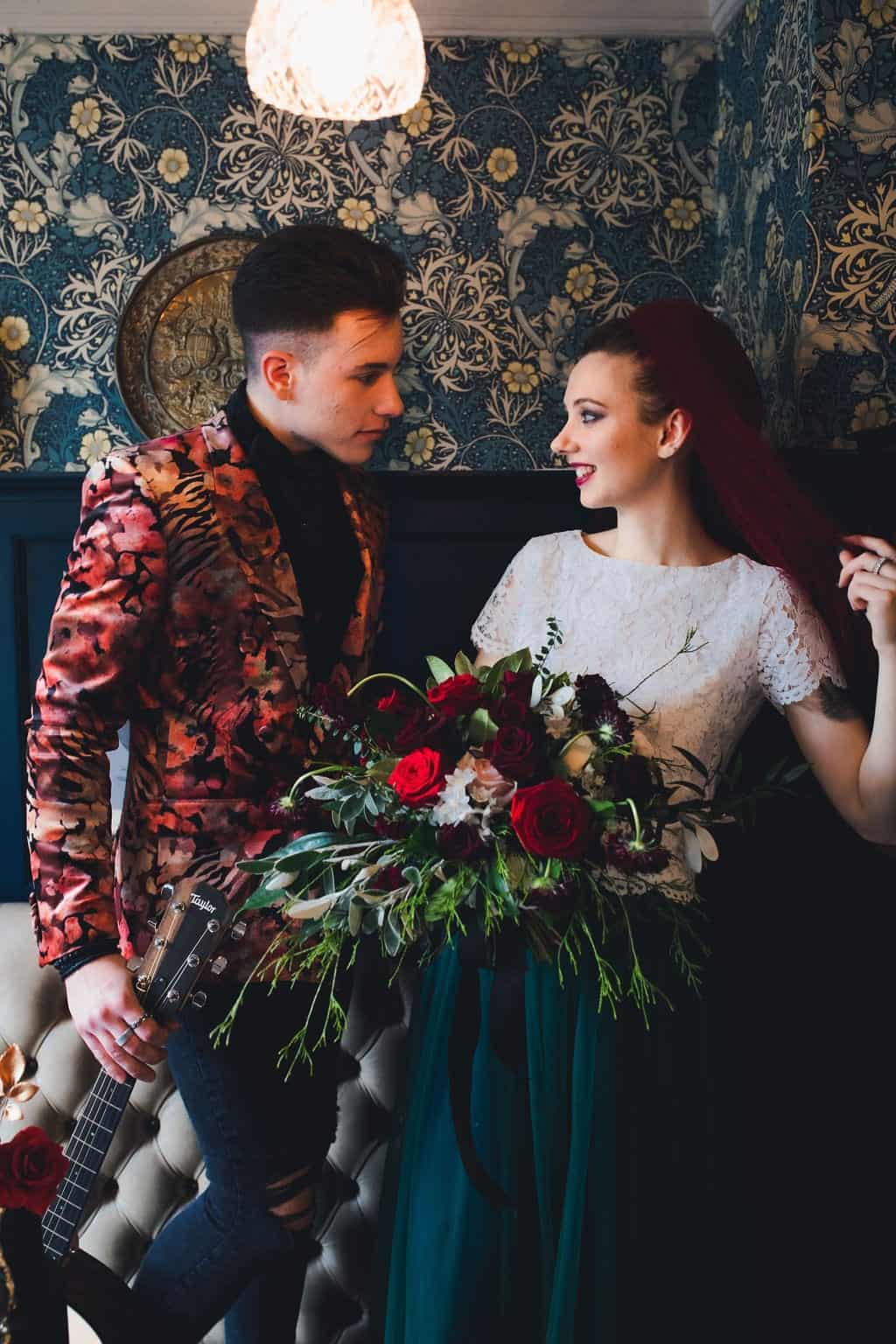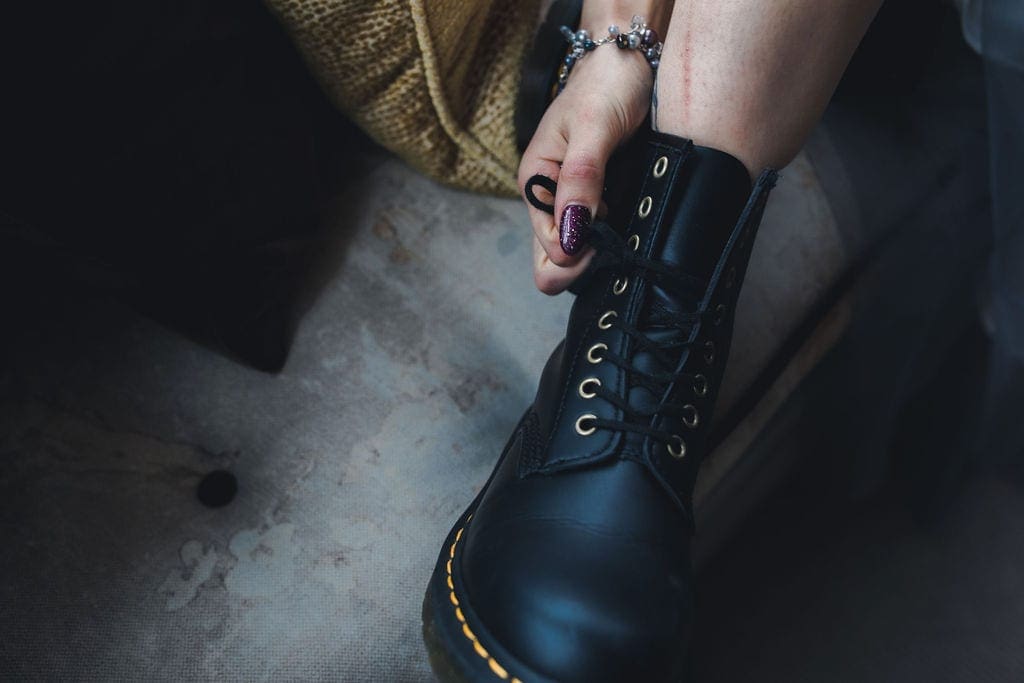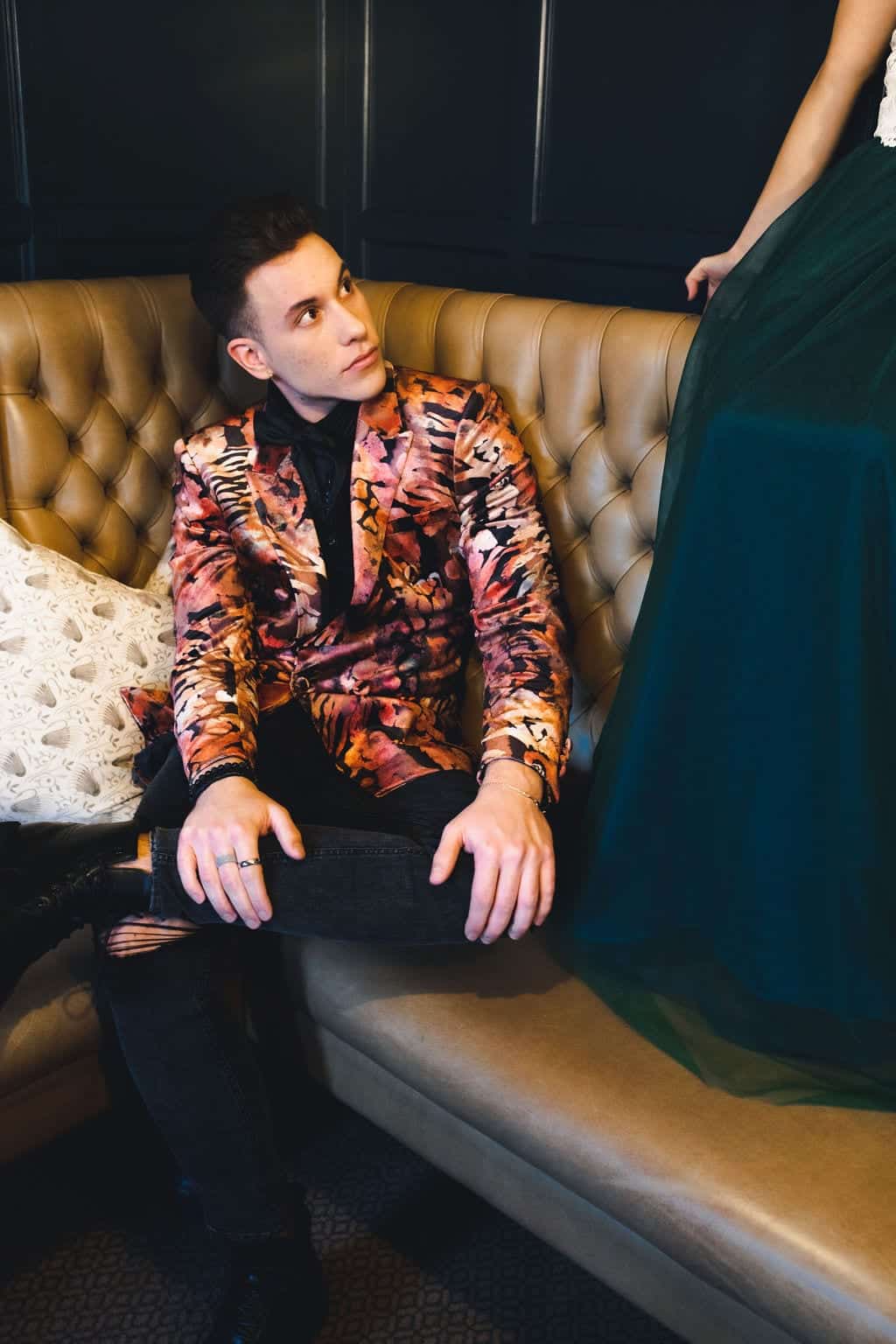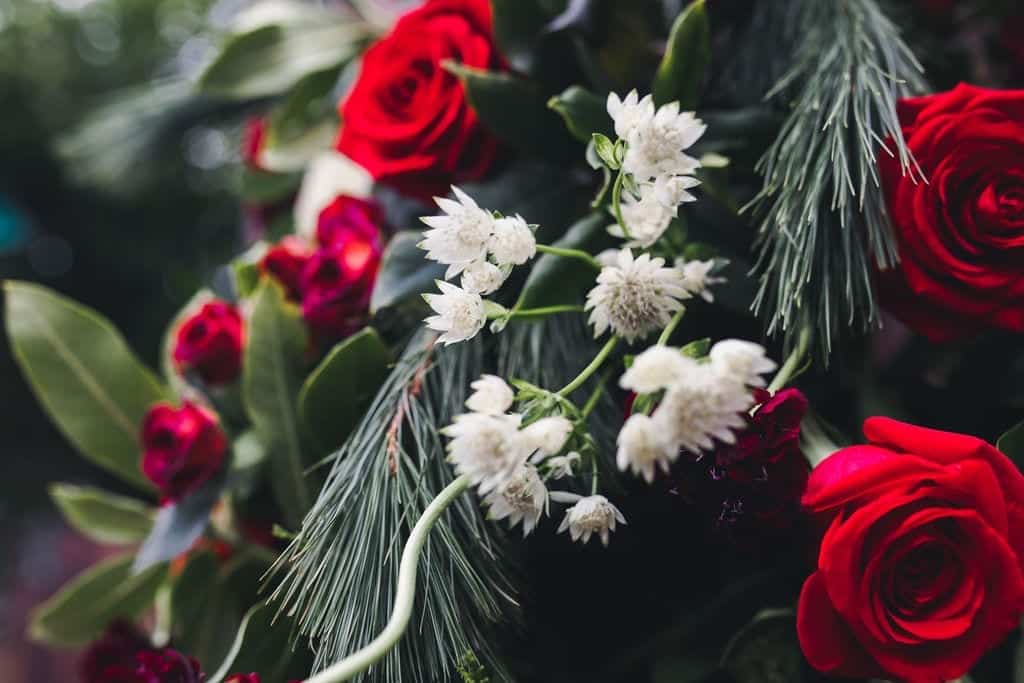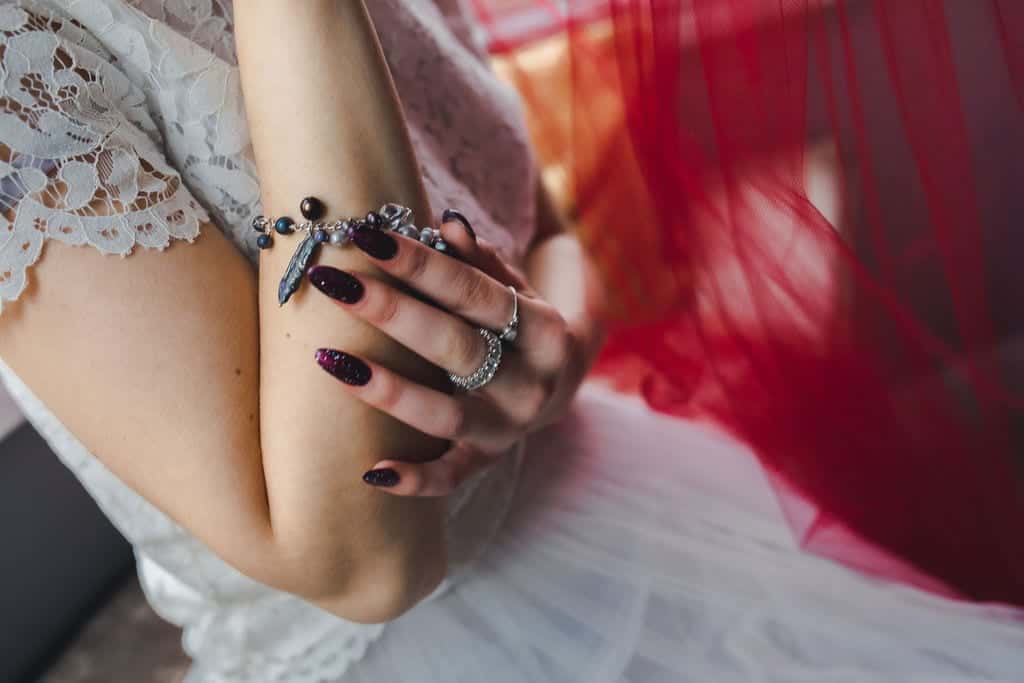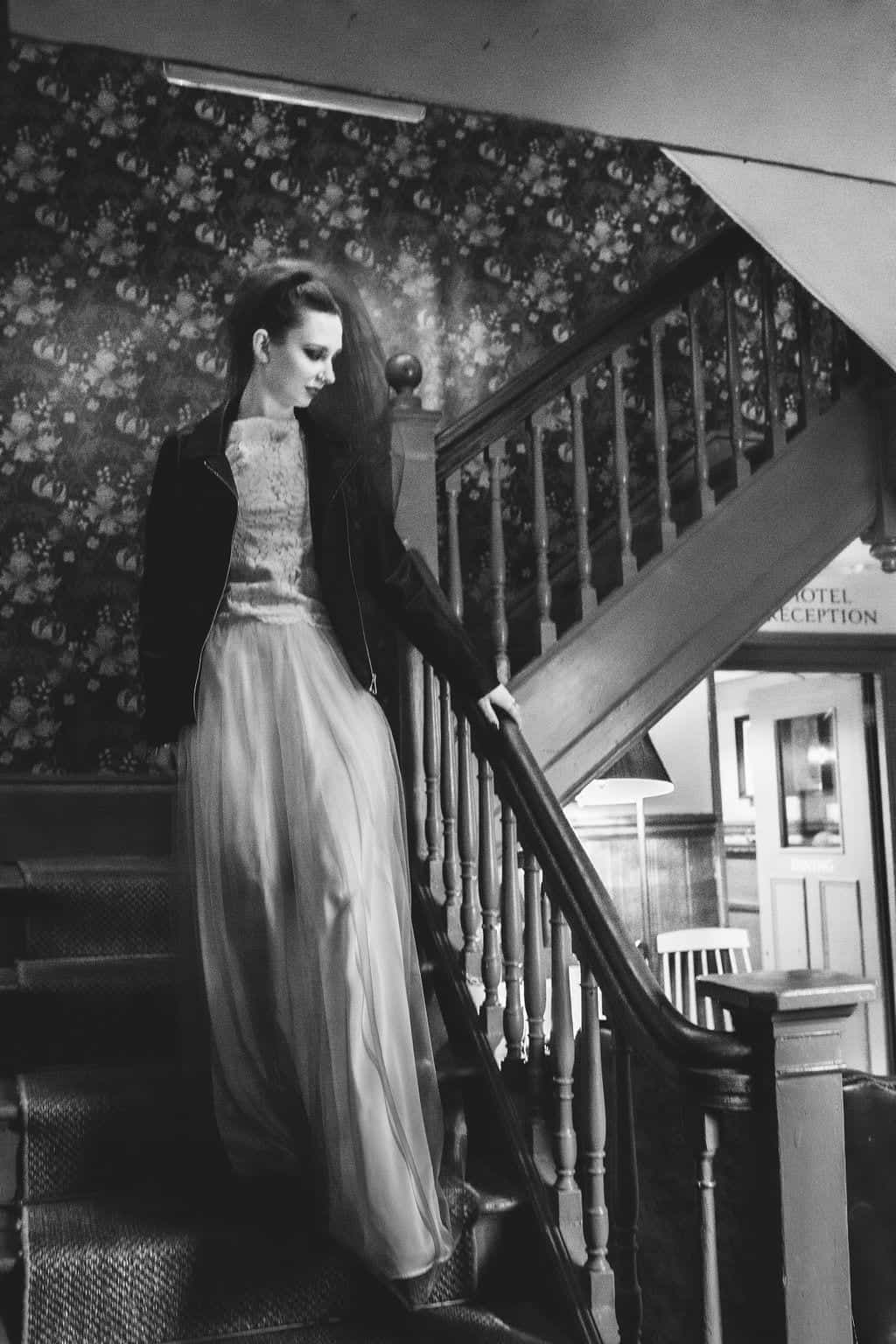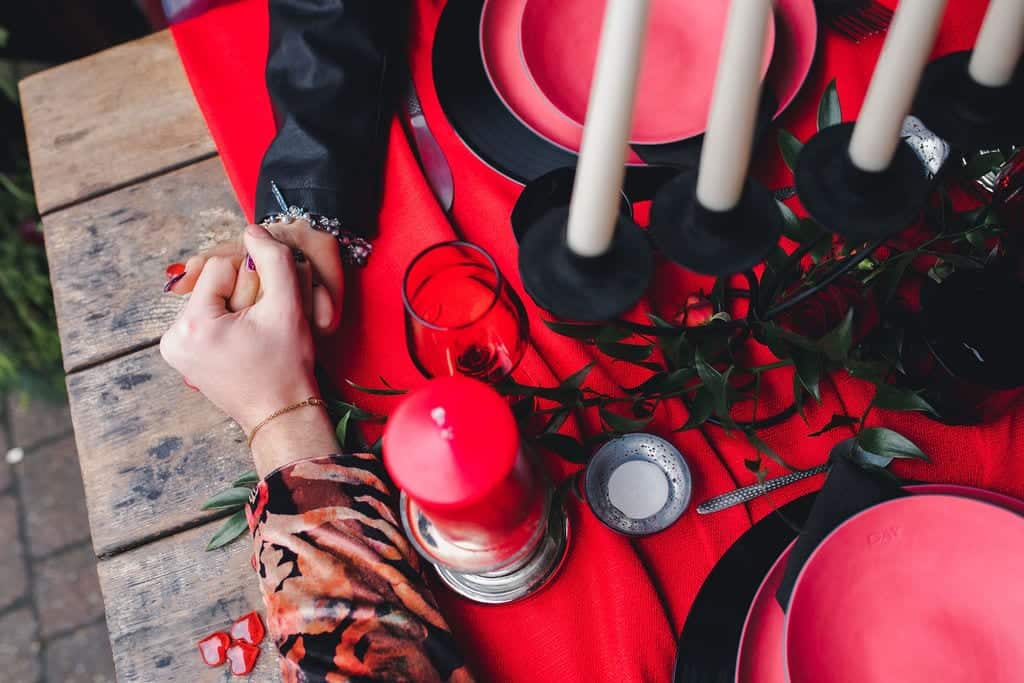 What was your inspiration behind the alternative rock shoot?
The willingness to give the wedding reception a young and free-spirited twist, out of the box and against the rules.
A wedding doesn't necessarily need be totally white and full of traditions. In my point of view every single celebration needs to be unique and bespoke, the couple needs to feel it like THEM.
If that means adding a guitar to the contest, well, let's do it! 😉
We totally agree and love a non traditional wedding!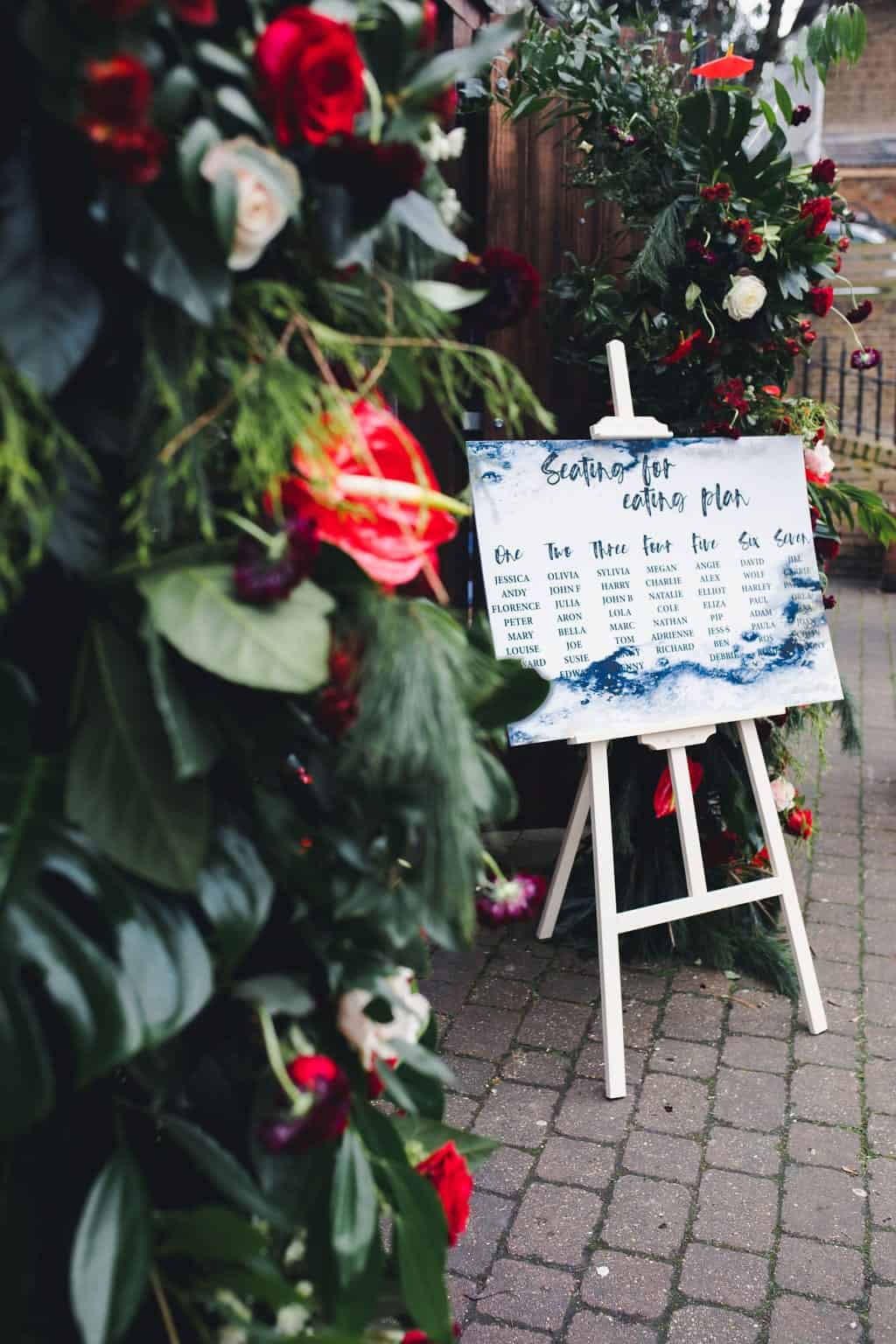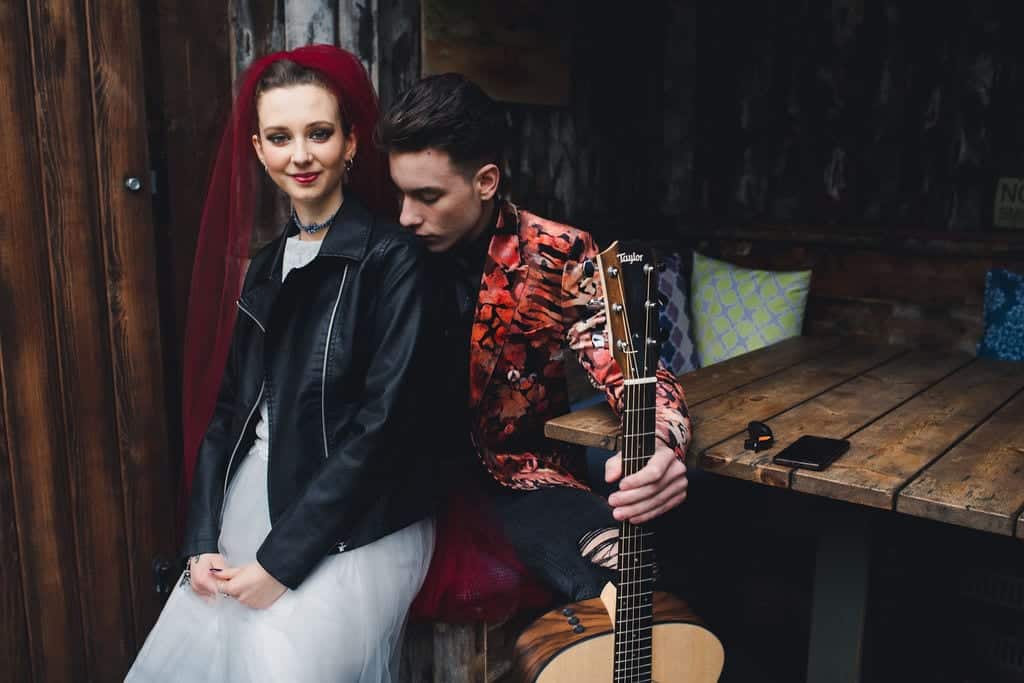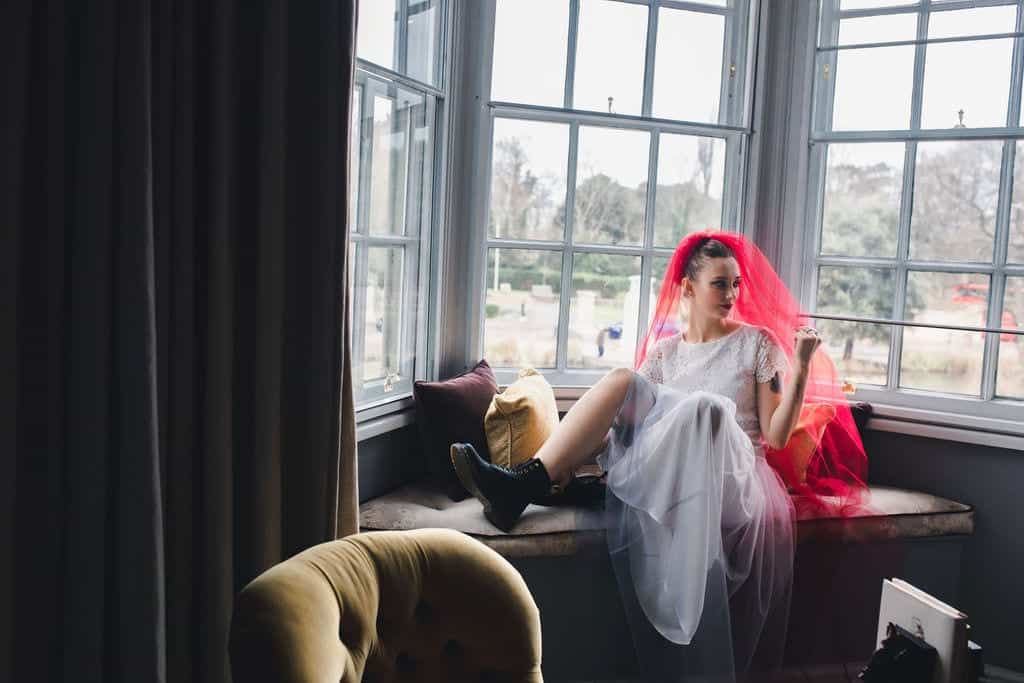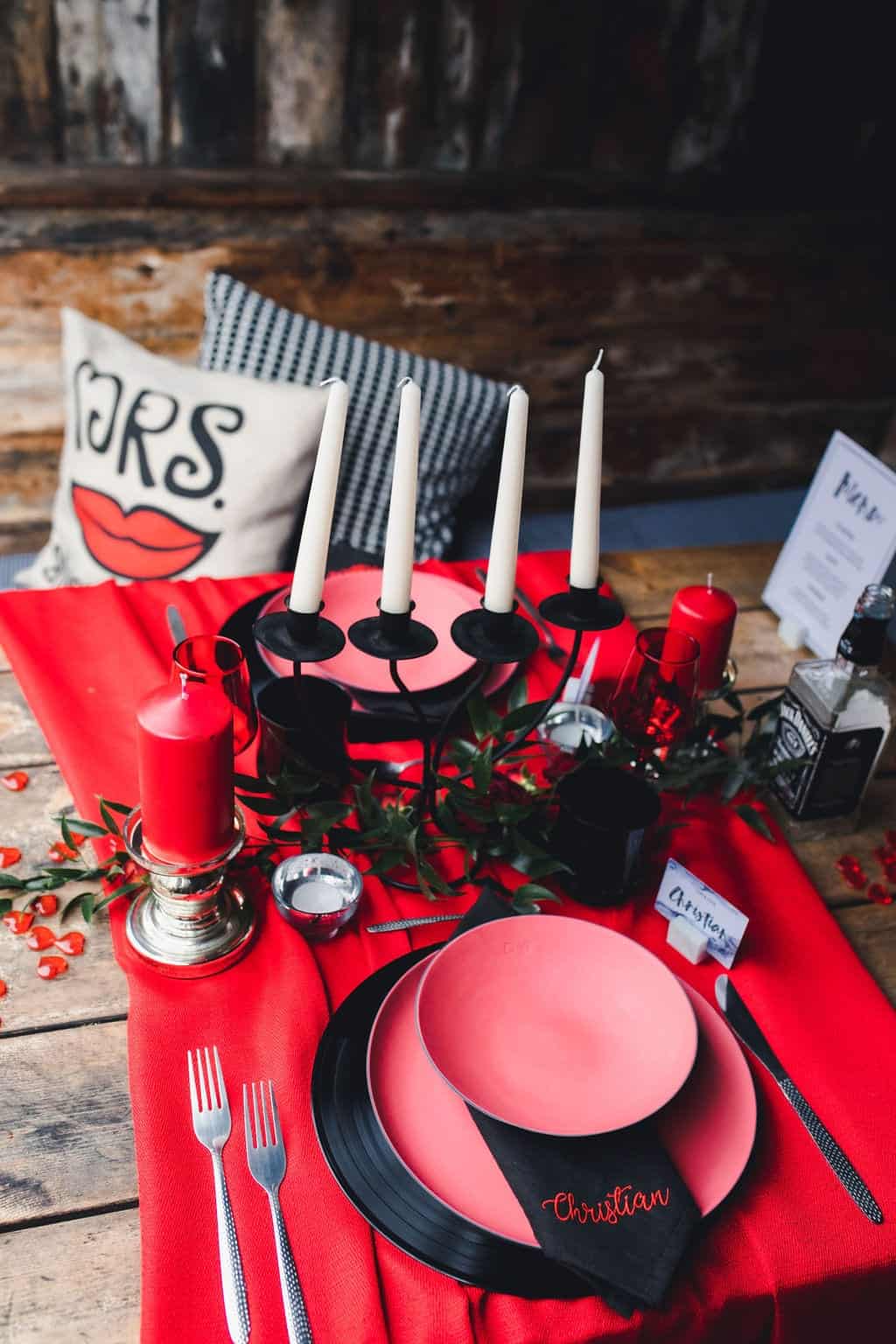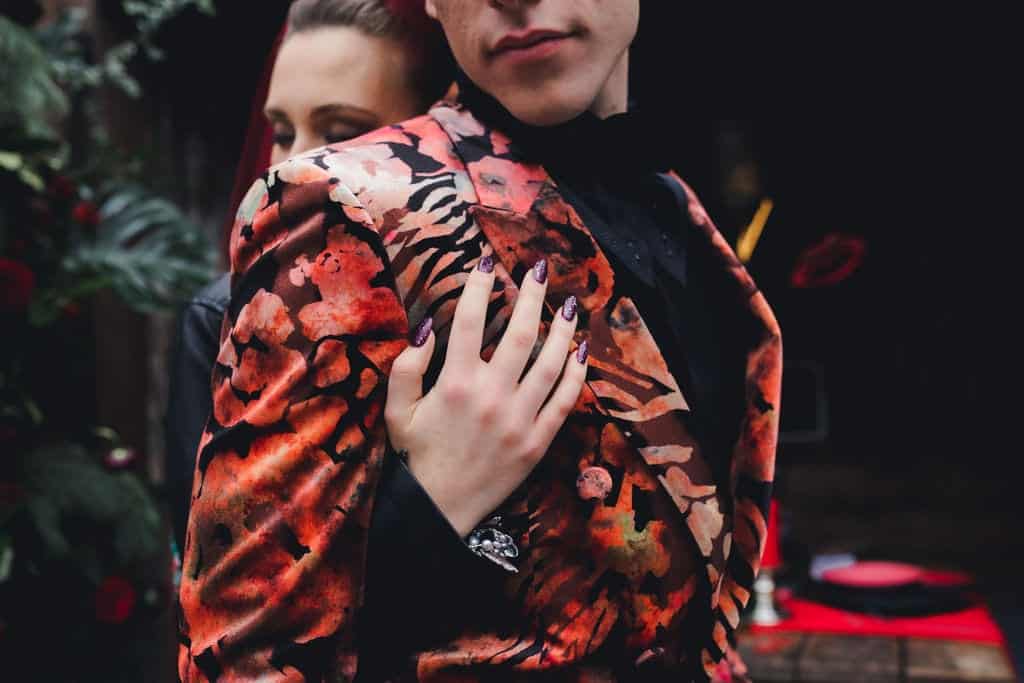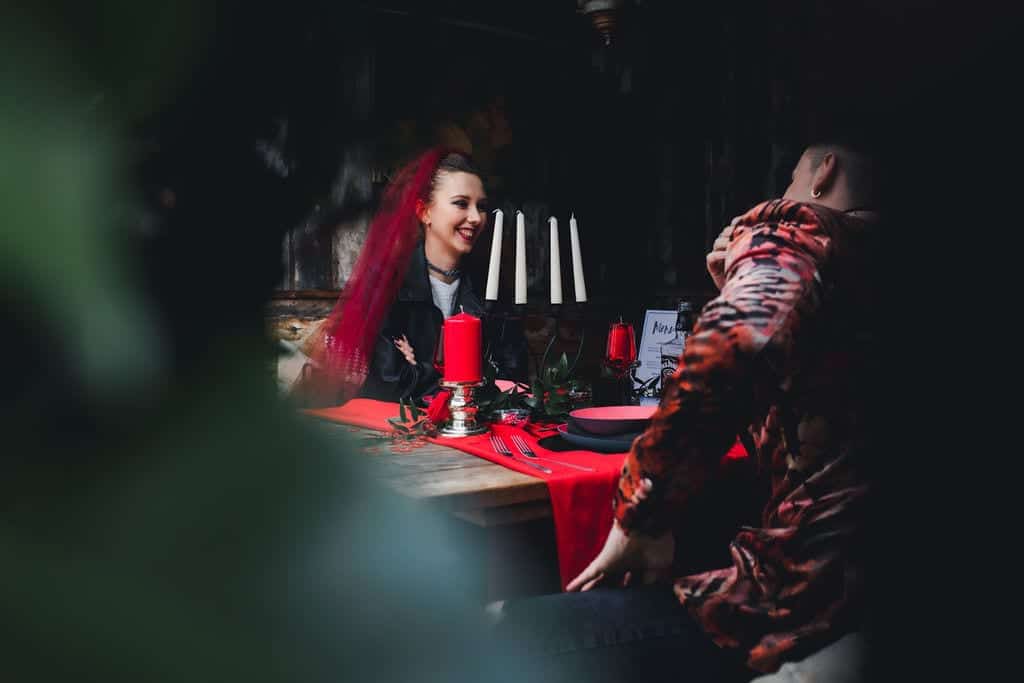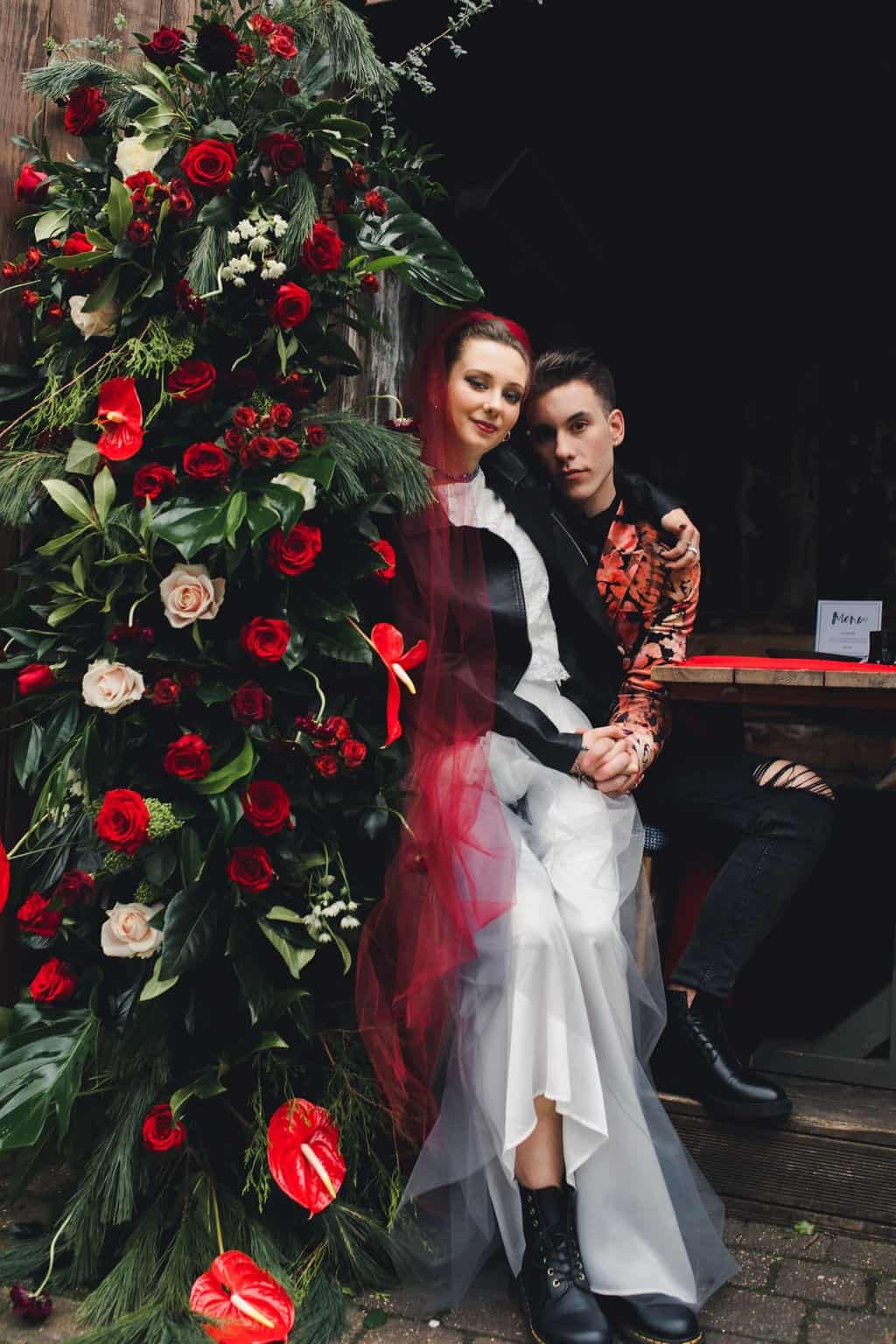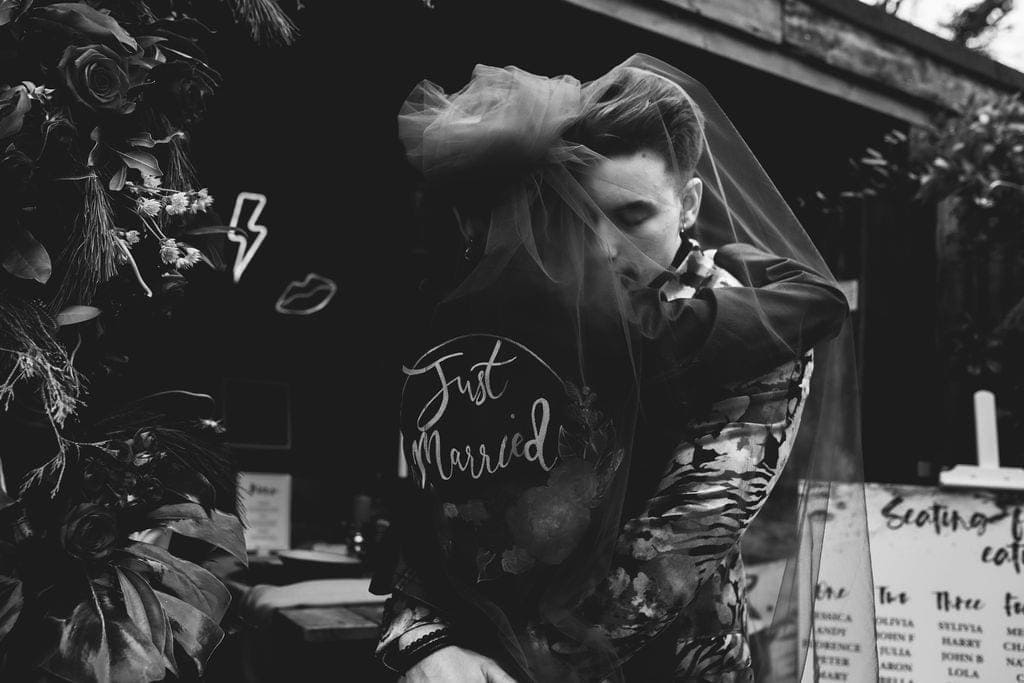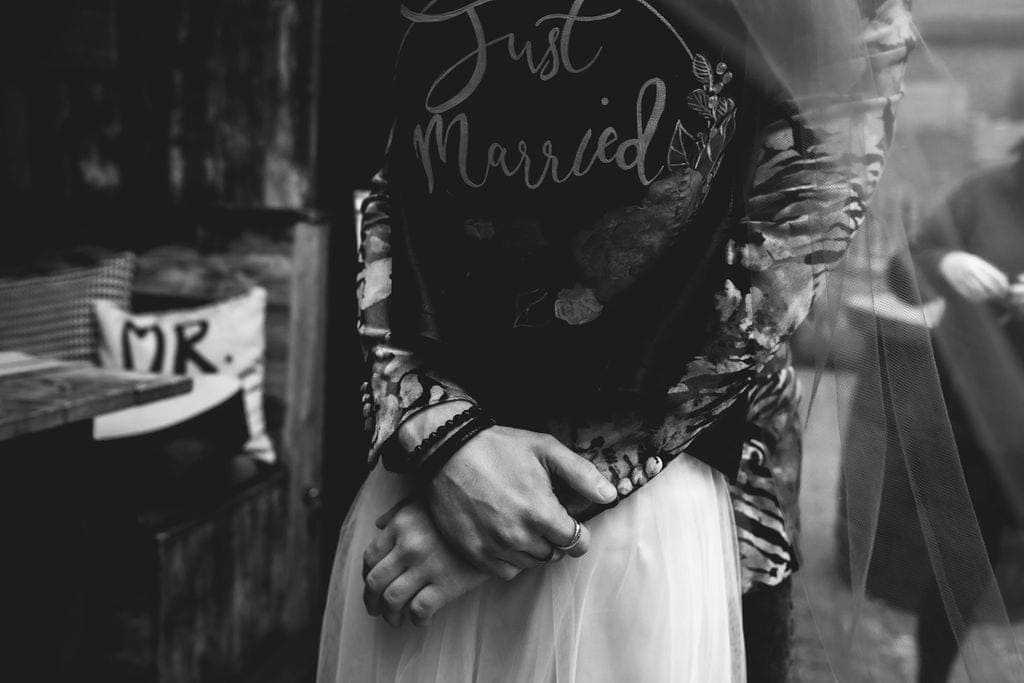 rock wedding styled shoot
Young at heart
The concept was born from the idea of focusing on young and wild-at-heart couples. Those ones who don't want to follow the rules but rather create their new ones.
Those ones that prefer a pair of Dr. Martens to a painful high heel, the ones that go for quirky suit patterns. So we grabbed a guitar (literally!) and we rocked this shoot!
The shoot took place at The Greyhound Pub in South West London, where an amazing team of suppliers came together keen to stretch their creative wings and try something a little different.
A stunning black marble cake with handmade sugar red roses is popping out from the rich wallpaper of this gorgeous Pub. While the bouquet and the flower installation are bold and full of life, as much as this beautiful young couple passionately sharing their love for each other.
Dark and dreamy tones are the ones we choose for this alternative rock wedding shoot. Where a red bridal veil on colourful separates, a hand-painted leather jacket and a patterned groom suit are key for this wedding inspiration. Thrown with a modern, urban and offbeat edge.
The fact of using a real couple allowed us to get some beautiful authentic intimate shots, plenty of emotion but fun at the same time – some of them with a very fierce attitude and a relaxed vibe!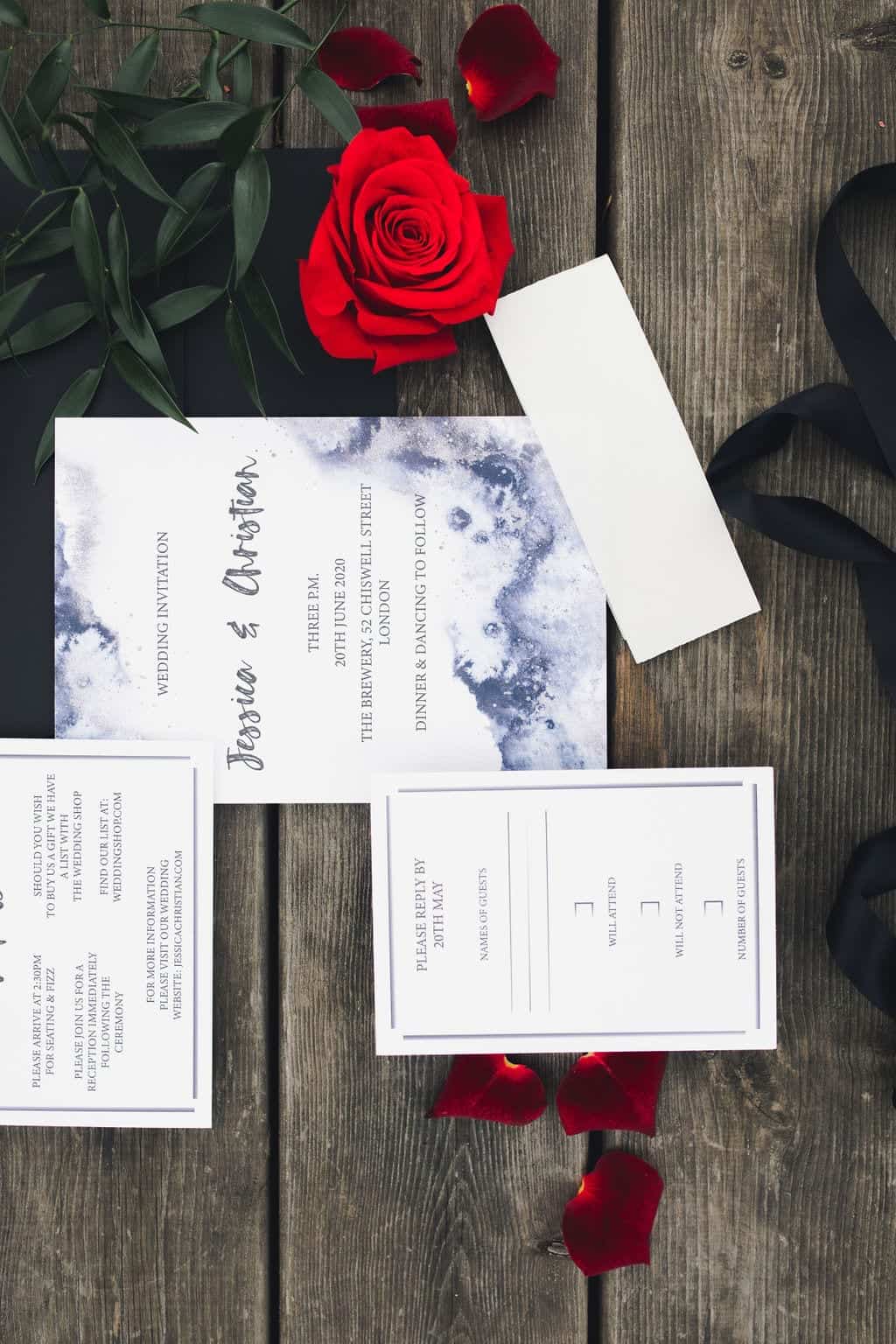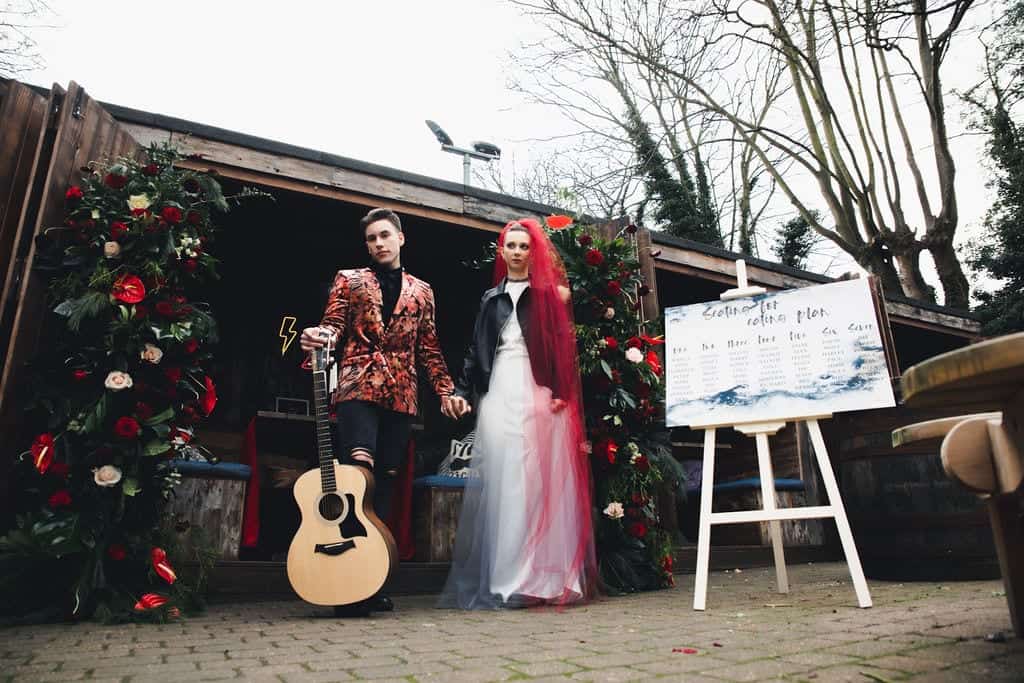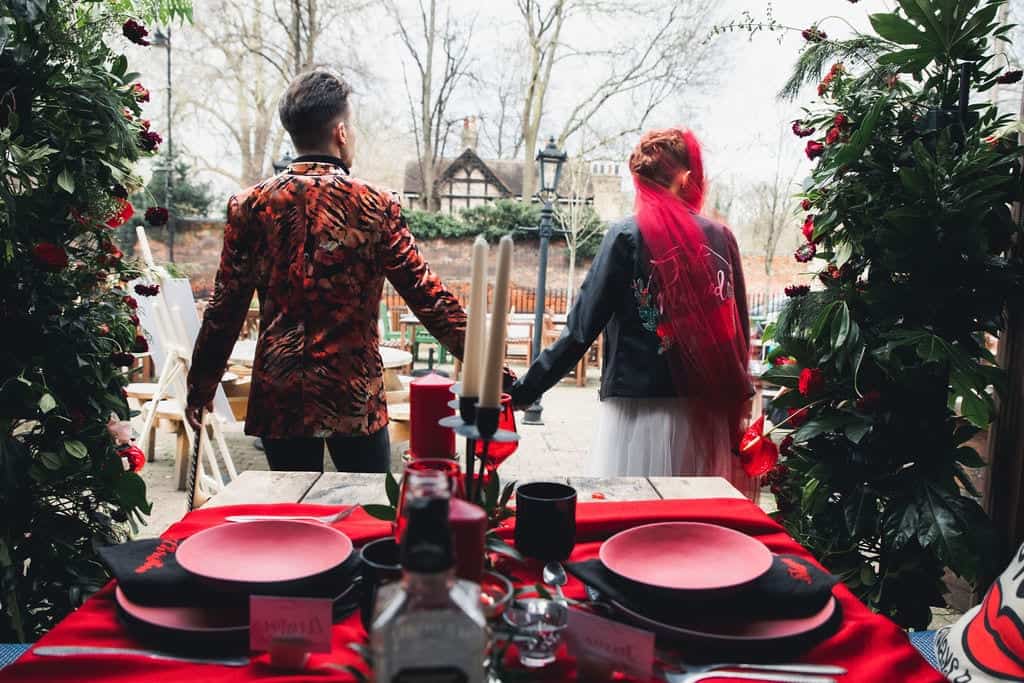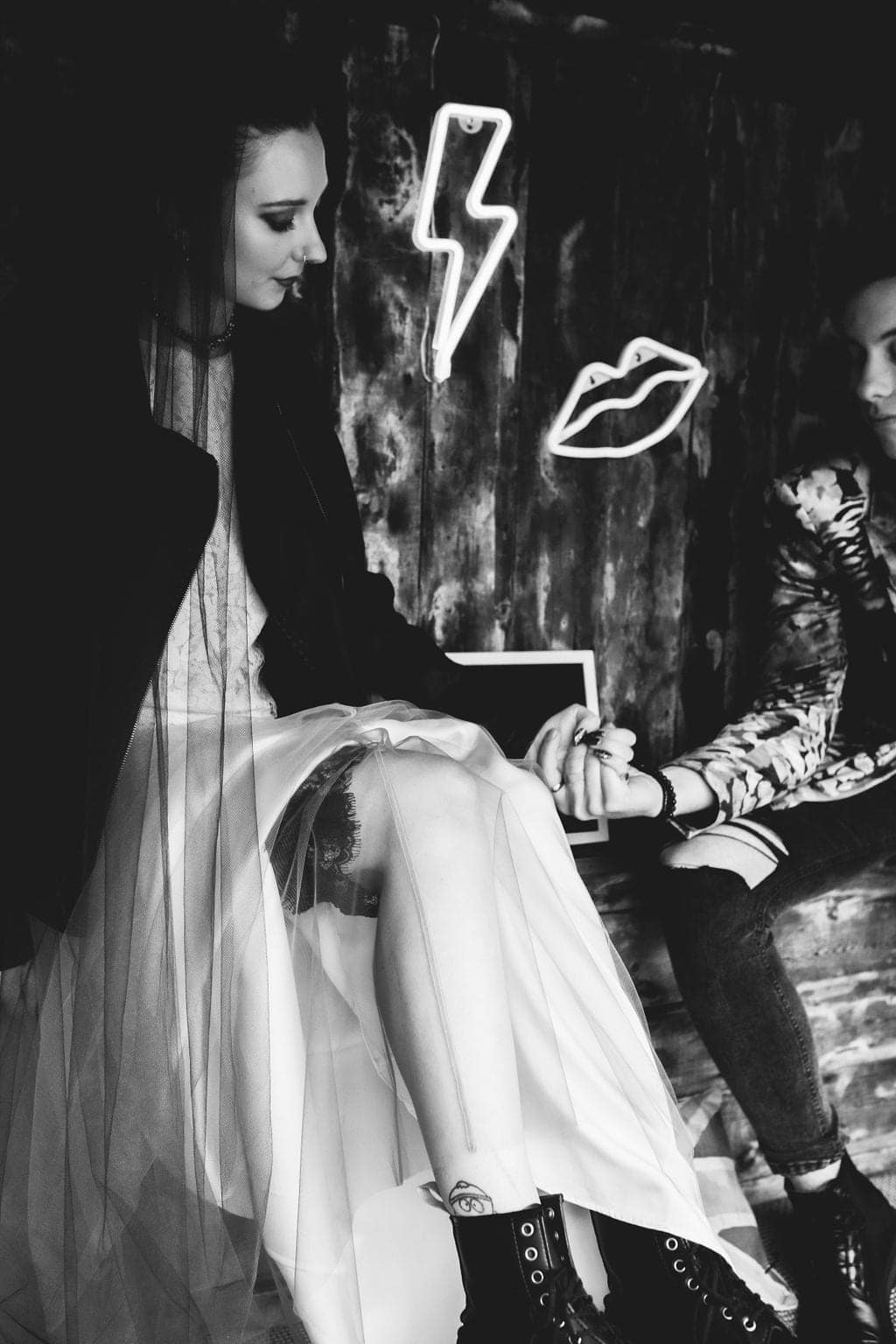 Credits
Planner – The Italian Dream, Photography- Claire Bemister Photography, Cake – Alchemy of Sugar, Bridal Wear – Matchimony, Flowers – The Botanical Company Ltd, Jewellery – Bish Bosh Becca, Jacket – Alexandra Bespoke, Makeup – Toni Searle Beauty, Stationary – London Paper Crafts, Venue – The Greyhound, Carshalton, Veils – Quinlan Couture Bridal, Linen – The Embroidered Napkin Company, Dinnerware – Febbieday Ceramics, Models – Maddie Stavrinou & Nicoló Fasciano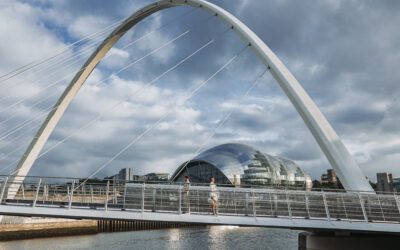 Newcastle elopement Today on the blog we have a graffiti wall, fun-filled city centre elopement...