Planning a City Wedding?
ARE YOU PLANNING A CITY CENTRE WEDDING? THEN YOU ARE IN THE RIGHT PLACE! THE URBAN WEDDING BLOG IS NOT ONLY BRINGING YOU THE MOST STYLISH CITY CENTRE WEDDINGS TO FEAST YOUR EYES ON. WE ARE ALSO BRINGING YOU GUEST EXPERTS, CITY VENUE REVIEWS, CITY WEDDING FASHION, CITY CENTRE HENS & STAGS AND DIY TIPS FOR ADDING THAT PERSONAL TOUCH TO YOUR CITY WEDDING!
THIS BLOG IS FOR ALL YOU COUPLES LOOKING FOR HINTS AND TIPS TO MAKE YOUR CITY WEDDING PERFECT. OR FOR COUPLES WANTING TO ADD AND INDUSTRIAL TWIST TO THEIR DAY. SO GET IN TOUCH AND LET US KNOW WHAT YOU WANT TO SEE UP ON THE BLOG, WHAT YOU ARE LOVING OR WHY NOT GET FEATURED AND SUBMIT YOUR CITY WEDDING TO US.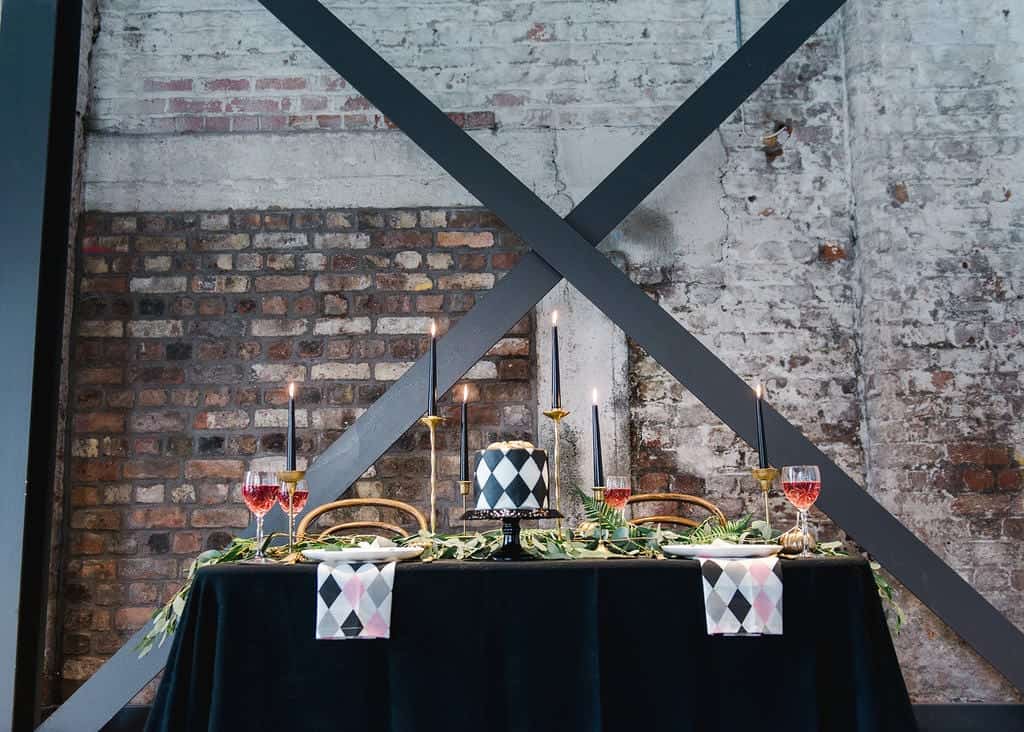 This week on the blog we have this gorgeous shoot for you with a with subtle and stylish nod to halloween, do you do anything for halloween? Do you go all out and decorate the house in anticipation for the little trick or treaters? Or do you just hide away in your house away from them?
Have you had a halloween wedding?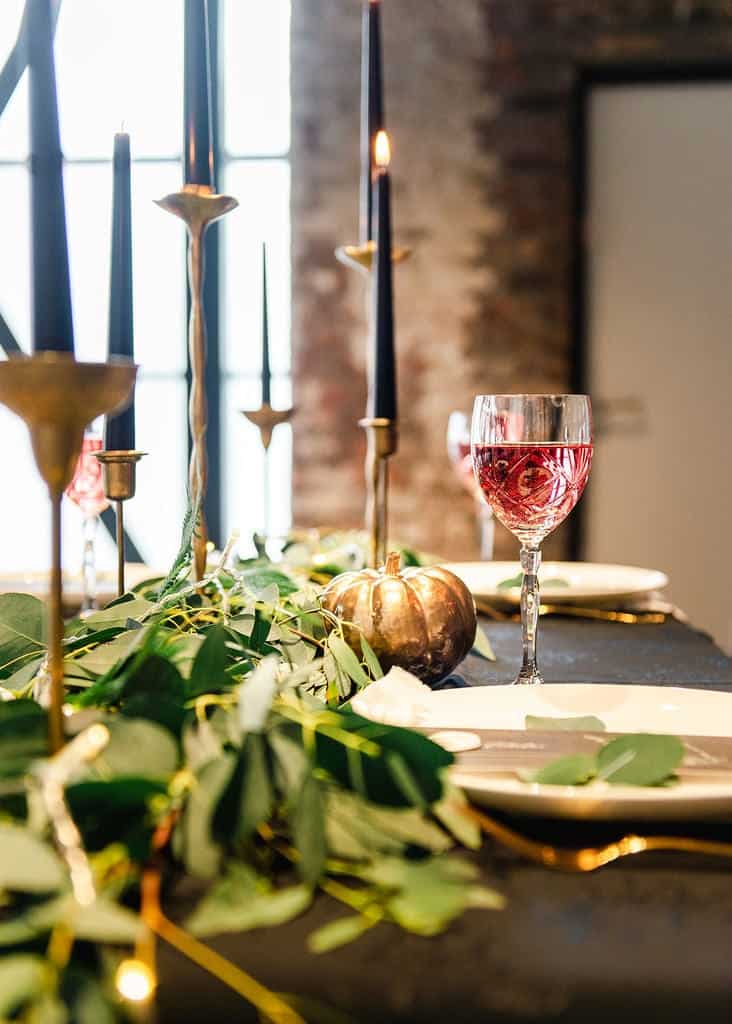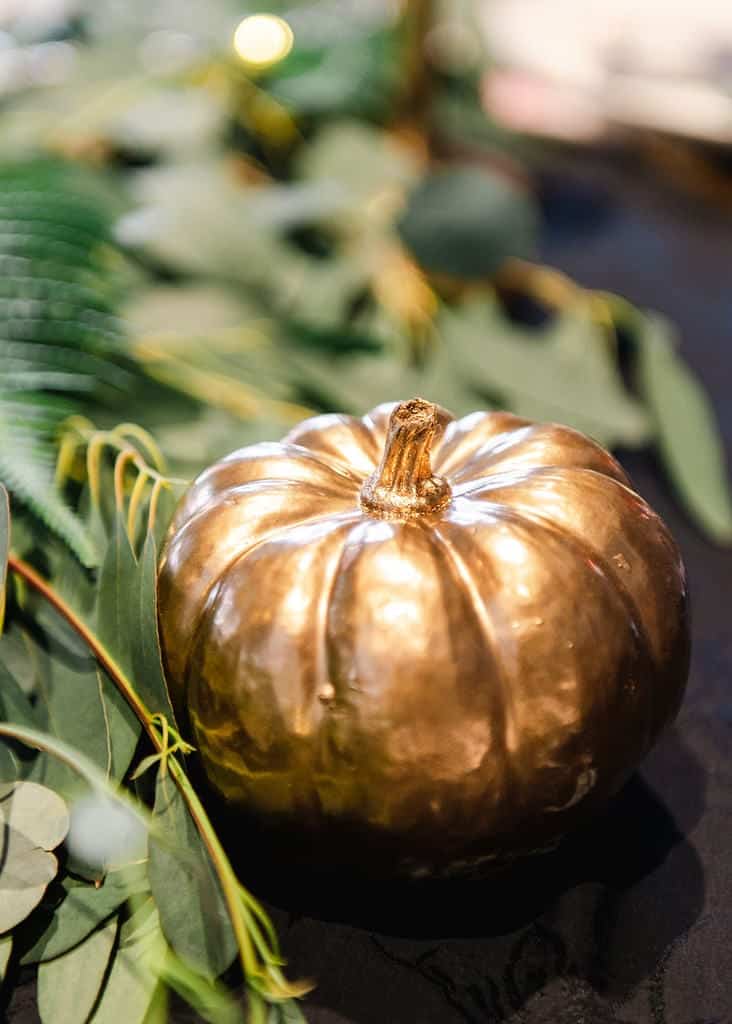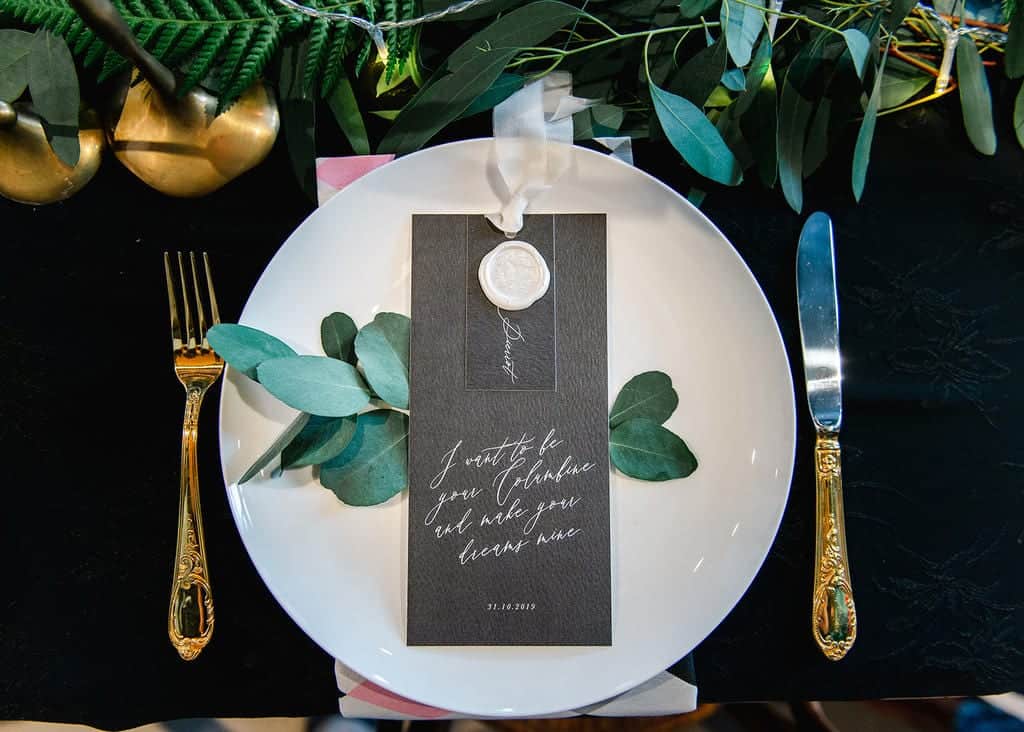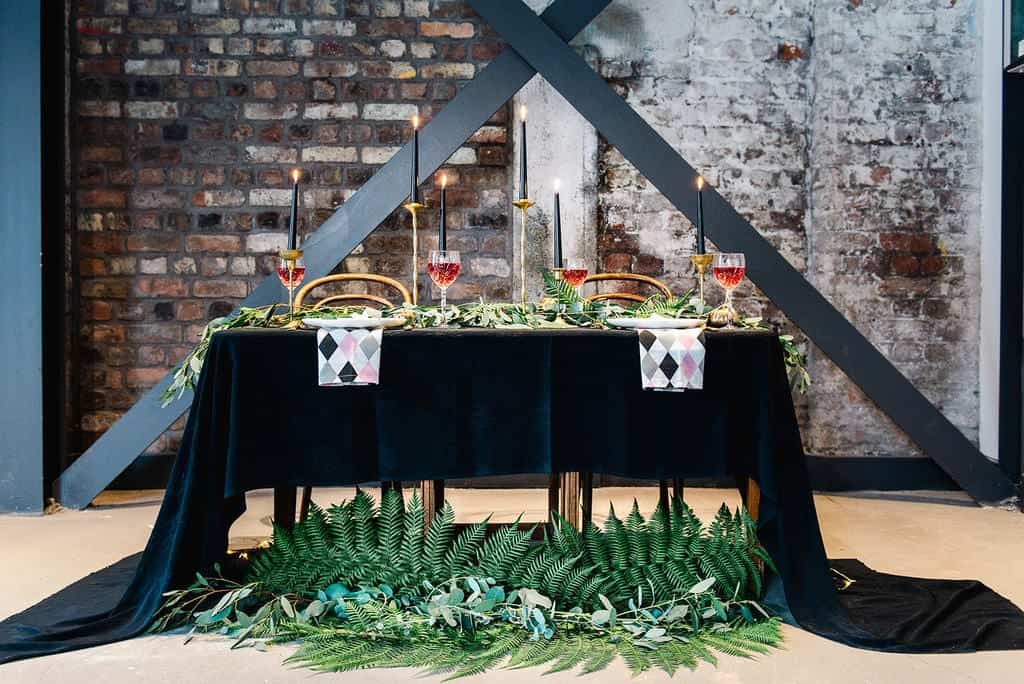 where was this halloween wedding shoot?
this shoot was in Liverpool's Baltic Triangle. A creative and digital quarter based in the City Centre at the heart of the indie Liverpool scene. Baltic Creative Digital House is a newly opened former Victorian warehouse converted by Baltic Creative CIC into state of the art studios for digital/tech businesses.
We utilised the ground floor space designated for a café/break out hub because I immediately fell in love with the high ceilings and huge windows so lots of natural light.  The warmth of aged bare brick juxtaposed against modern industrial steel girders and concrete was the perfect backdrop for bringing an old story bang up to date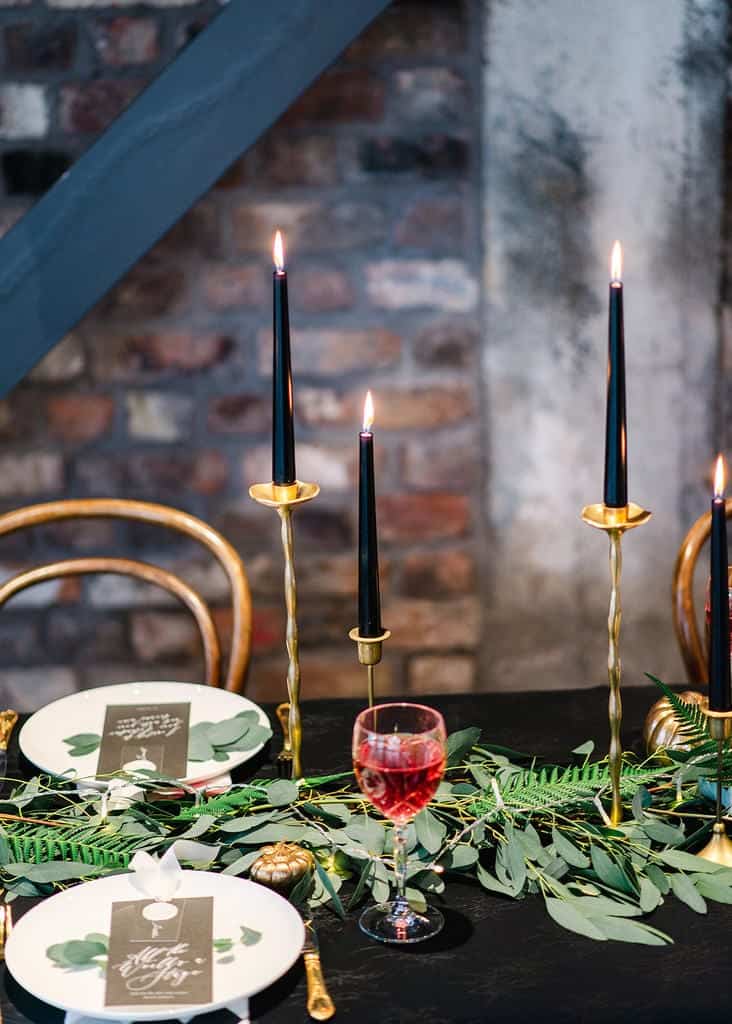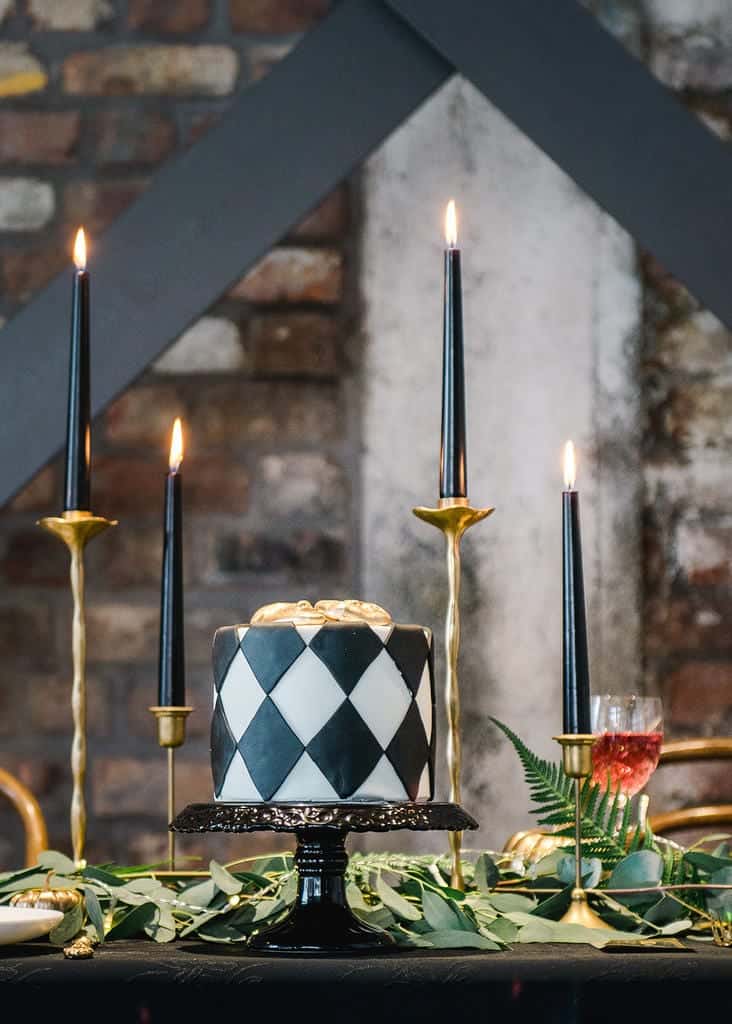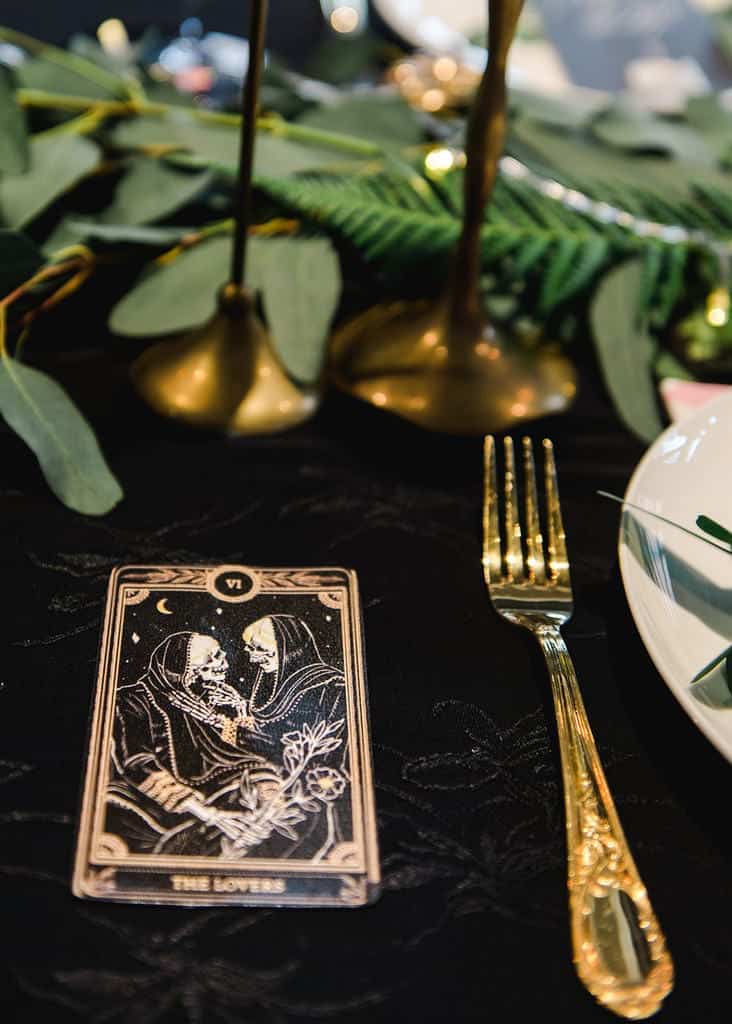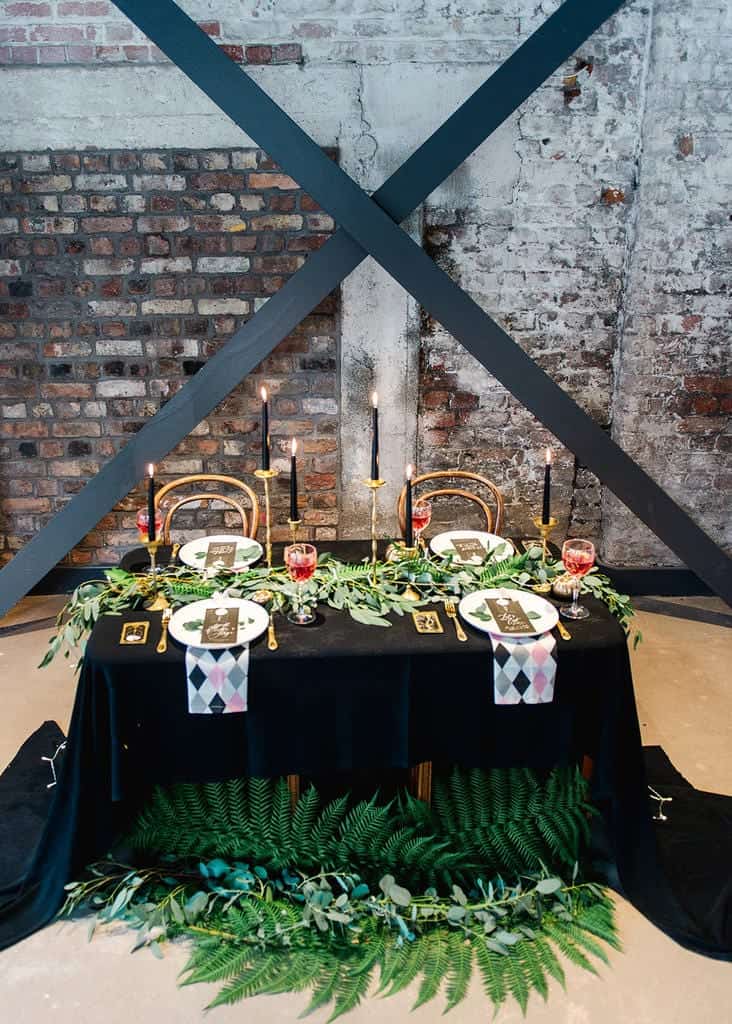 MY FAVOURITE BEING A TONGUE IN CHEEK MENU FOR HARLEQUIN WHICH READS 'LET'S EAT! … HUMBLE PIE. REVENGE IS A DISH BEST SERVED COLD'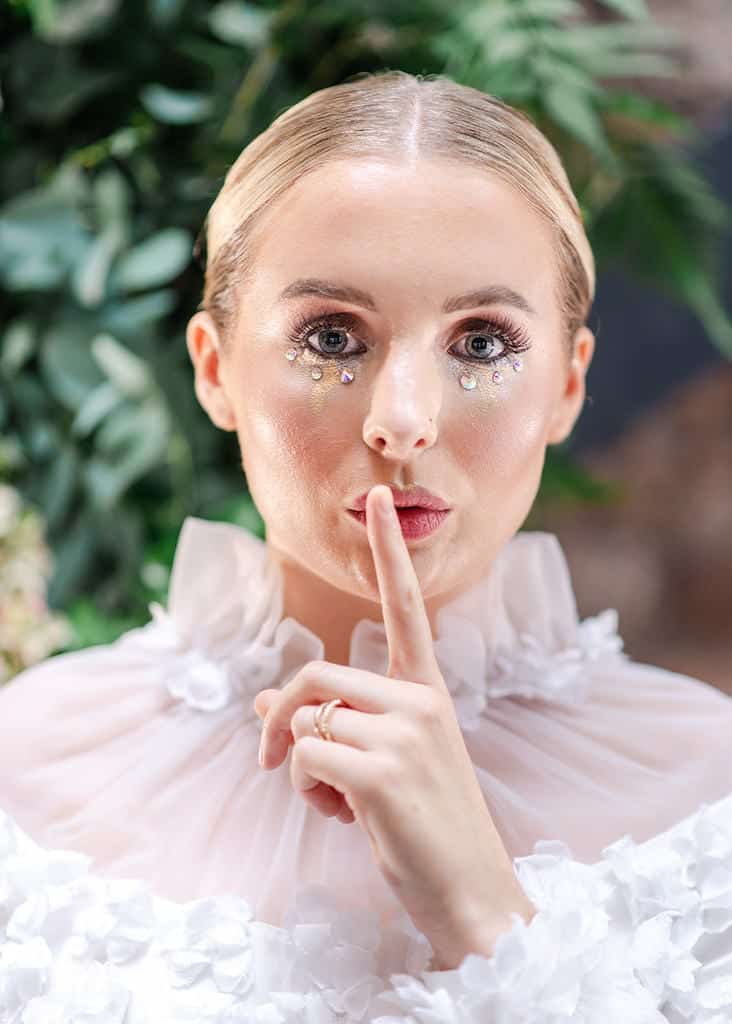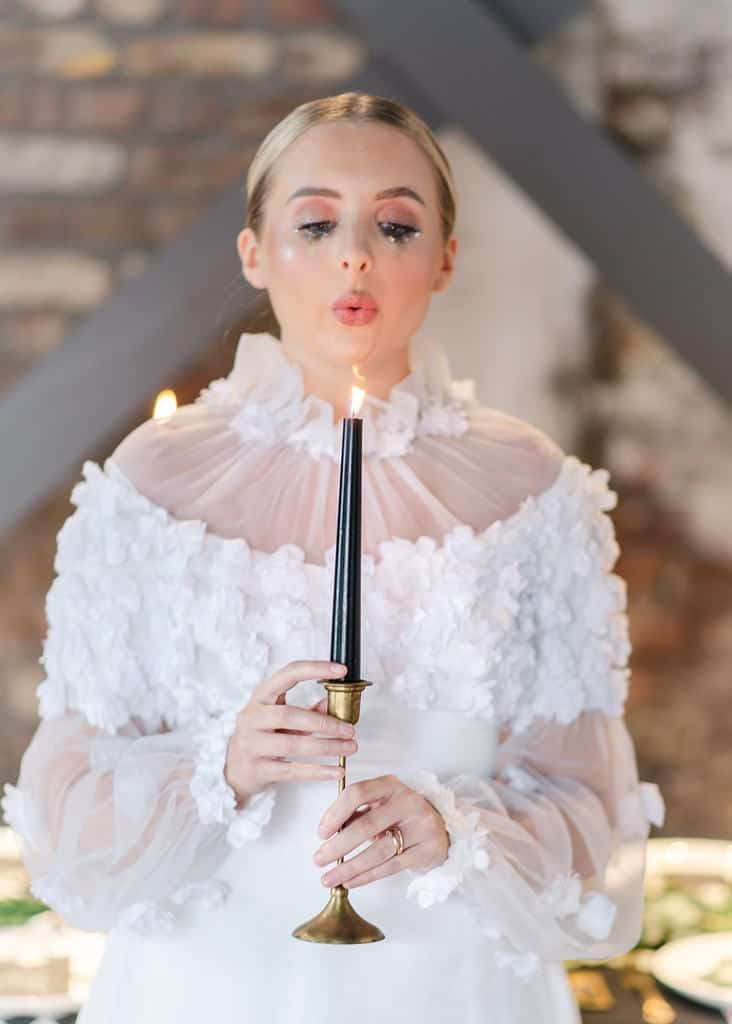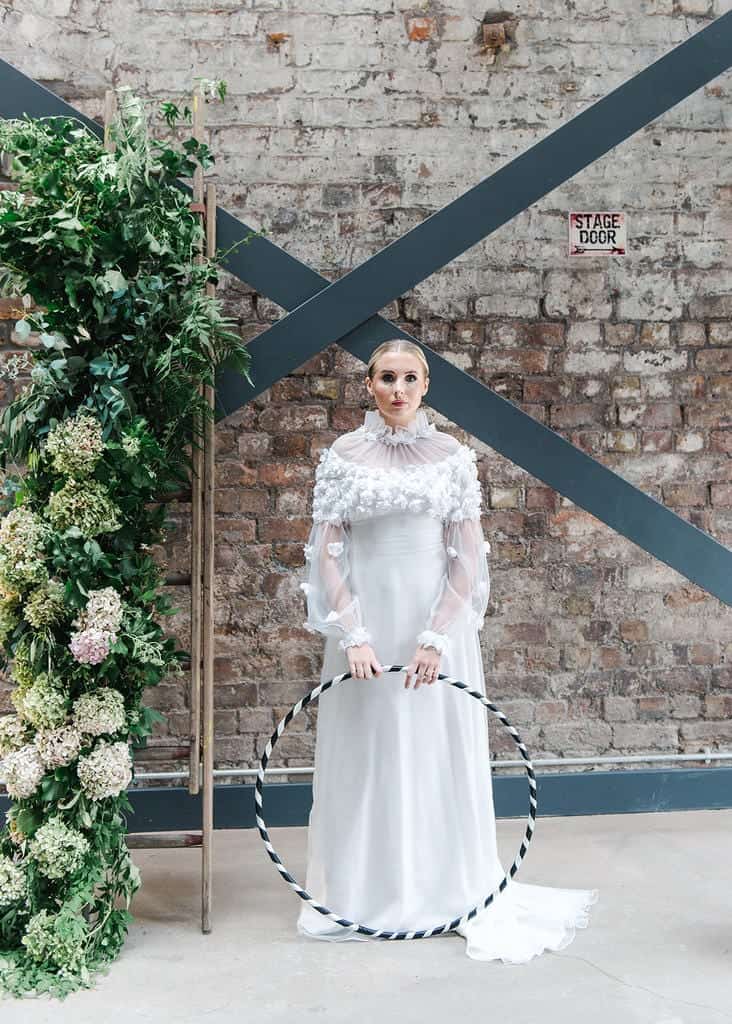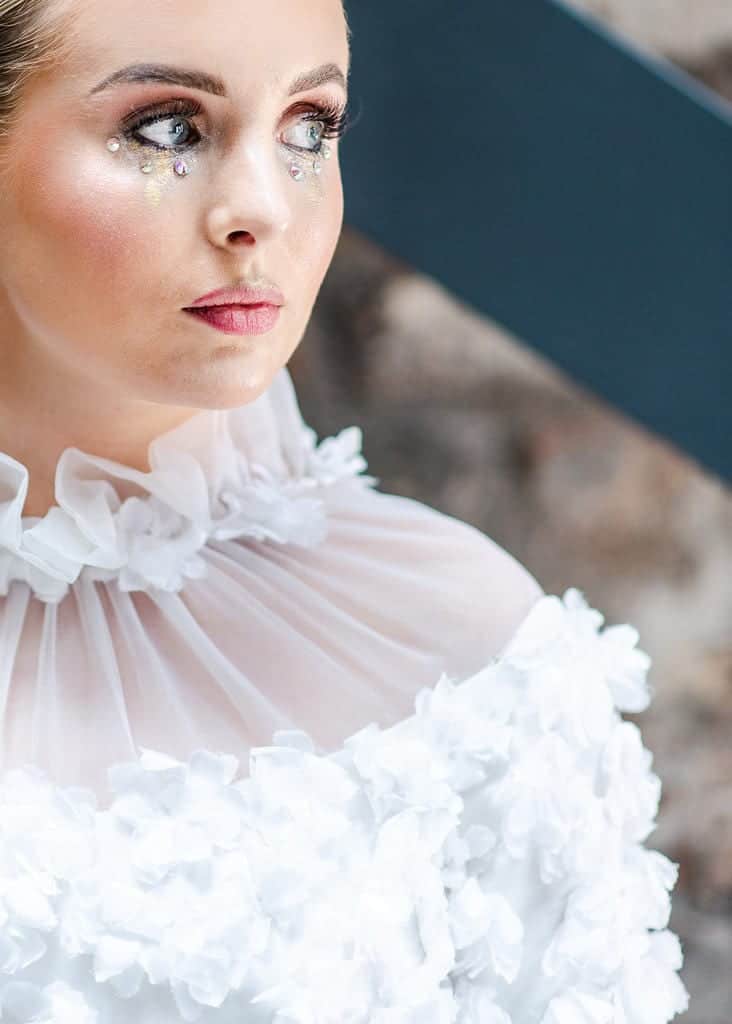 What made you decide to do the halloween wedding shoot?
Although I'd been involved in lots of fabulous shoots, loaning dresses and accessories to some amazing suppliers, I'd never coordinated a shoot myself. The camaraderie between suppliers, working together to bring an idea to life is incredibly addictive, not to mention a lot of fun and so I decided to take the plunge.
YES!! We love this as we are huge on collaborations and so love that other people do too!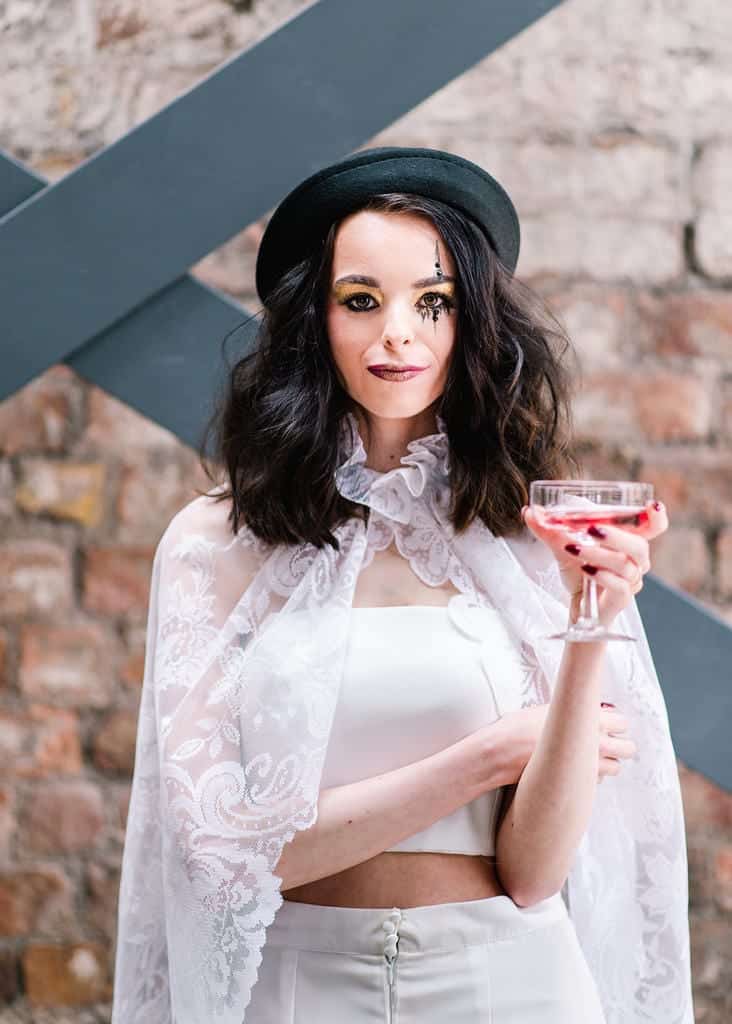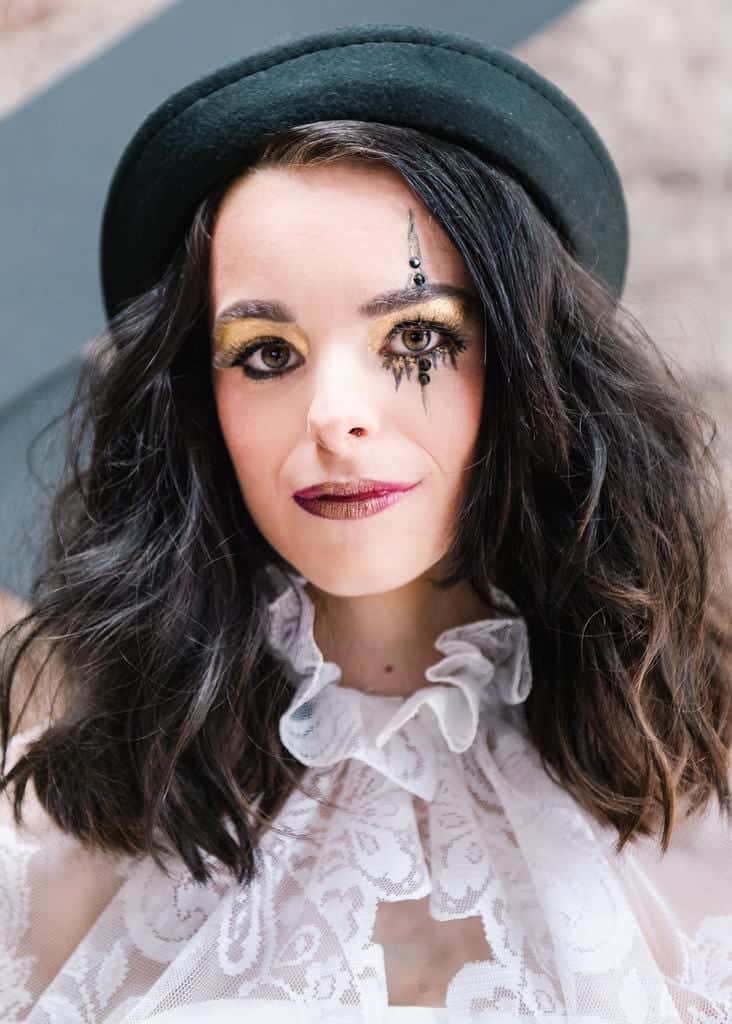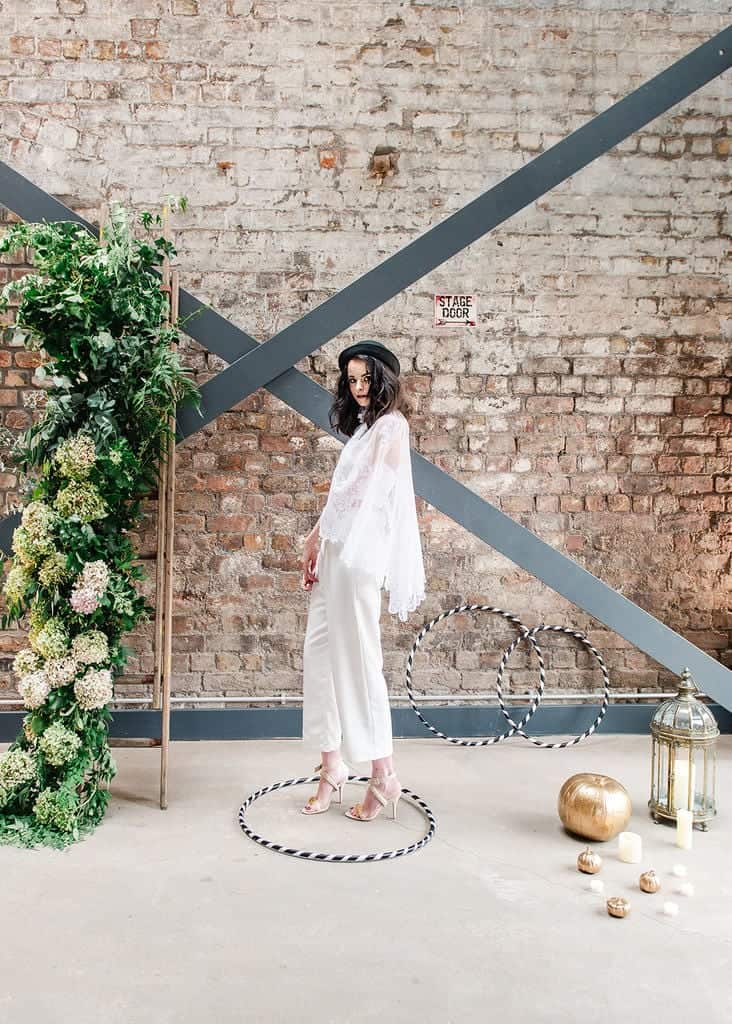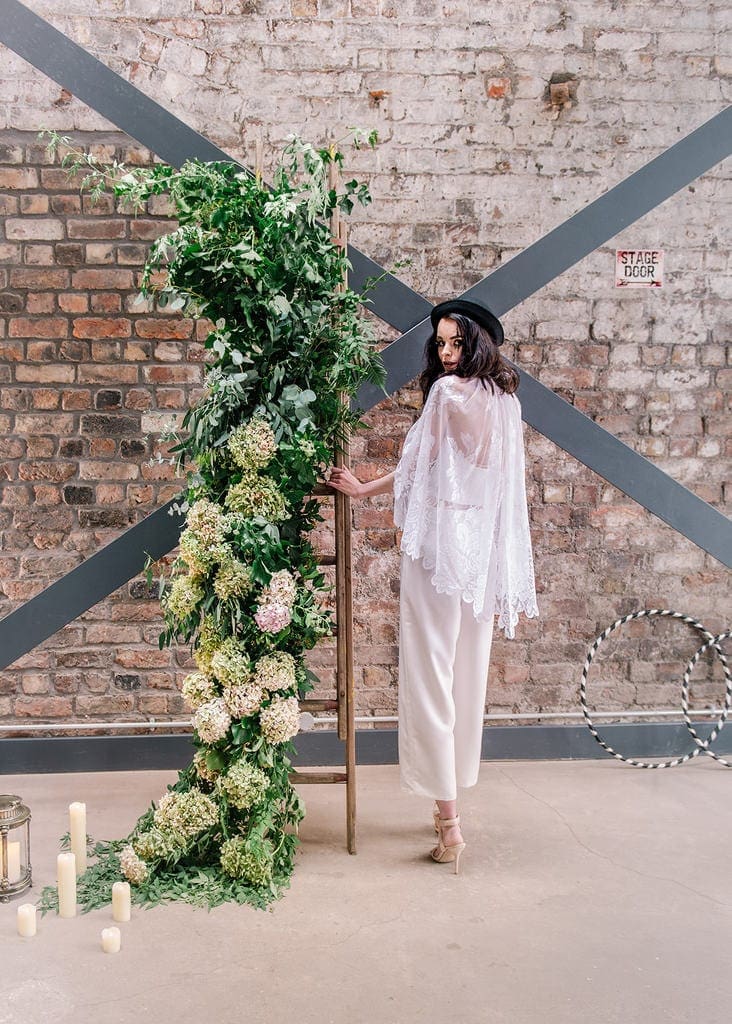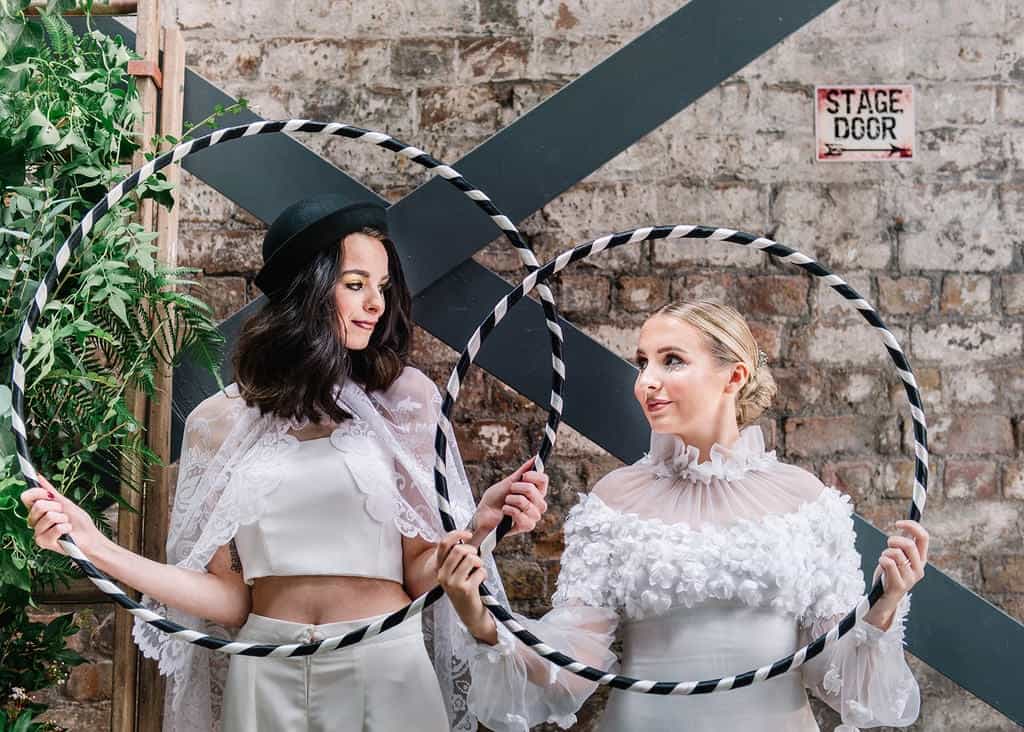 Foraged Foliage
The lush foliage which included eucalyptus, ferns, jasmine and faded hydrangea were freshly foraged from the garden the night before. on shoot day florist Anna was greeted with a carpet of greenery which she expertly arranged into a table runner and show-stopping swag down a set of vintage wooden library ladders from Sara A at Lovely Lending.
The original story sees Columbine falling for the charms of the handsome, smooth talking Harlequin so I've made reference to this in the harlequin inspired cake complete with a gold comedy/tragedy mask cake topper and napkins.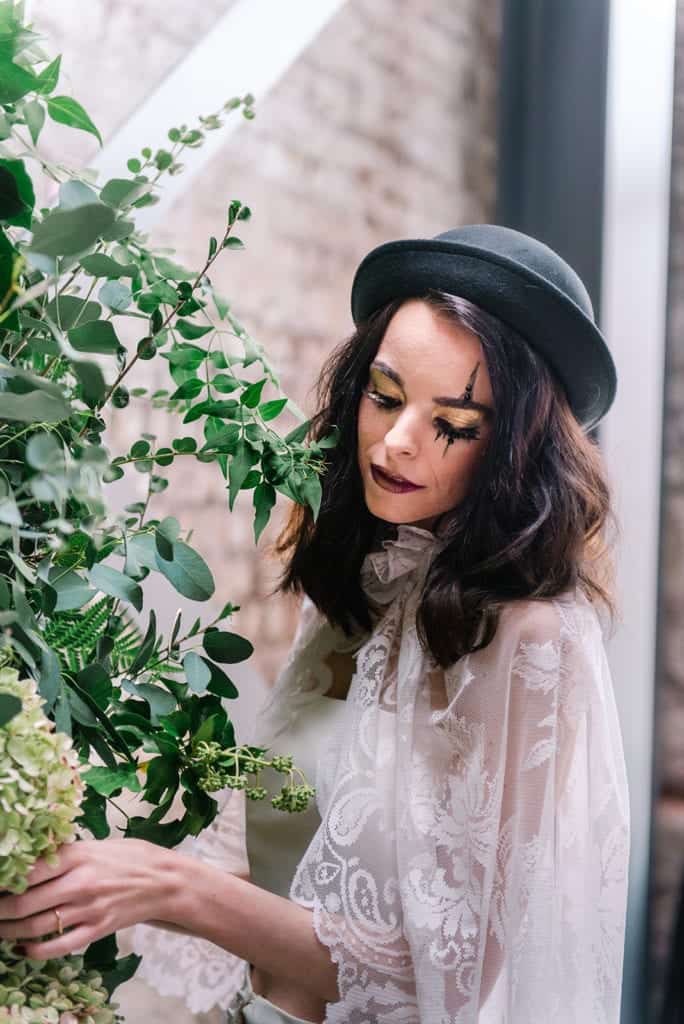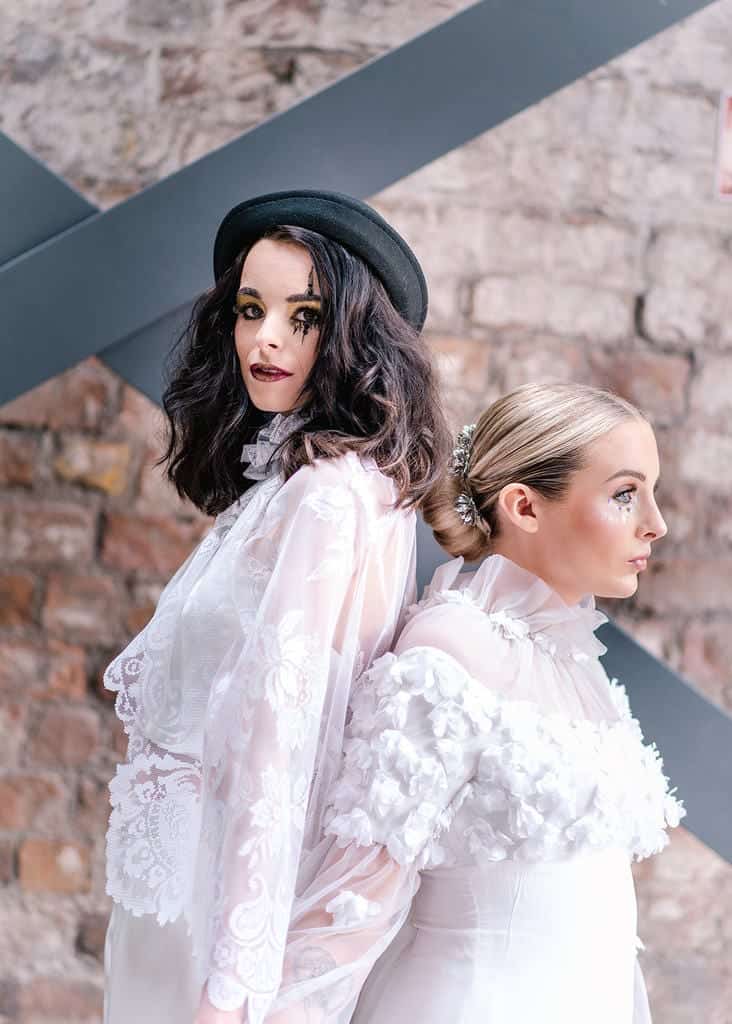 What was the inspiration behind the shoot?
A beautiful 1970s vintage wedding dress with a high collar in the style of Pierrot and my love of the two Tims – Walker and Burton. It was nearing Halloween after all so I decided to take Pierrot, the sad clown out of the 17th century Italian pantomime where he'd been languishing all these years and reunite him in the 21st century with his long lost love, Columbine, A testimony that true love will last throughout the years., it was a lovely nod to a halloween wedding.
I'd been friends with Barb ever since we met at The Women's Organisation in Liverpool six years ago when we were both starting out in the wedding industry, loved her work and knew she'd be the ideal photographer for this shoot. In fact all the suppliers were hand-picked for their unique style and creativity so I was confident that they would deliver the goods!
I'd shared a Pinterest mood board prior to the shoot so everyone had a good idea of what was required on the day and once the kettle was on things started to take shape…
TAG TEAM ANDREA AND SARA WHISKED AWAY MODELS HAYLEIGH AND HEATHER. Together USING THEIR ARTISTIC SKILLS WITH STRIKING MAKE UP AND HAIR TO TRANSFORM THEM INTO THE LOVELORN PIERROT AND FEISTY COLUMBINE (WHO OBVIOUSLY HAD TO WEAR THE TROUSERS!) THE STYLISH TWO PIECE SET IS FROM THE TALENTED GINA WHO DESIGNS BESPOKE, MODERN BRIDAL WEAR FROM HER STUDIO IN DERBYSHIRE.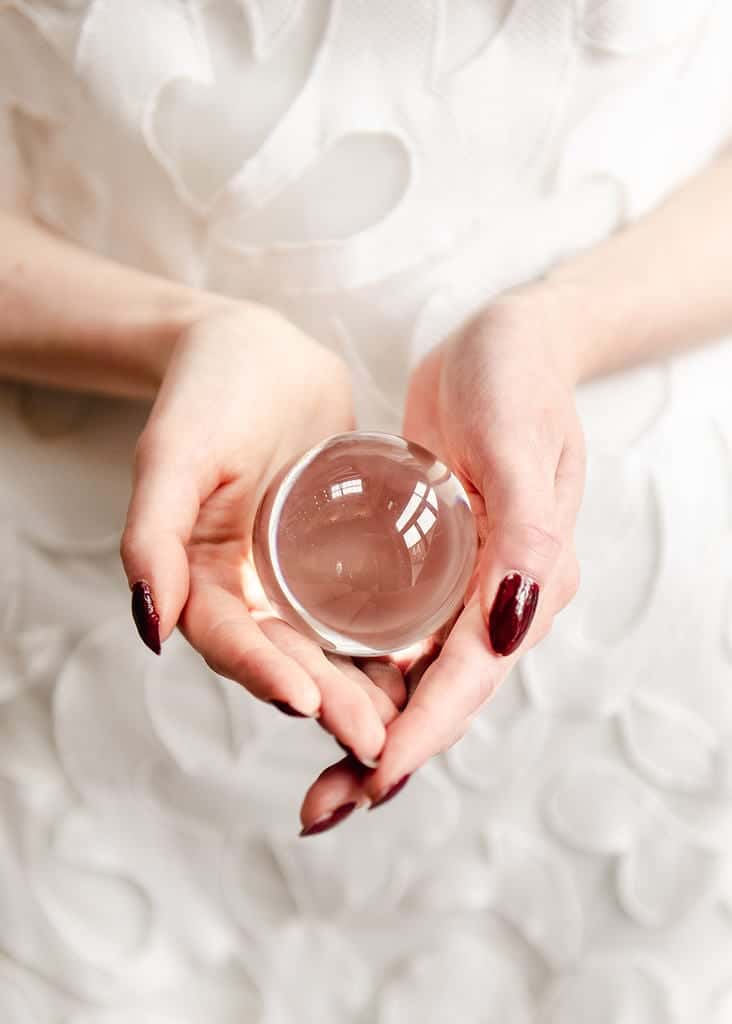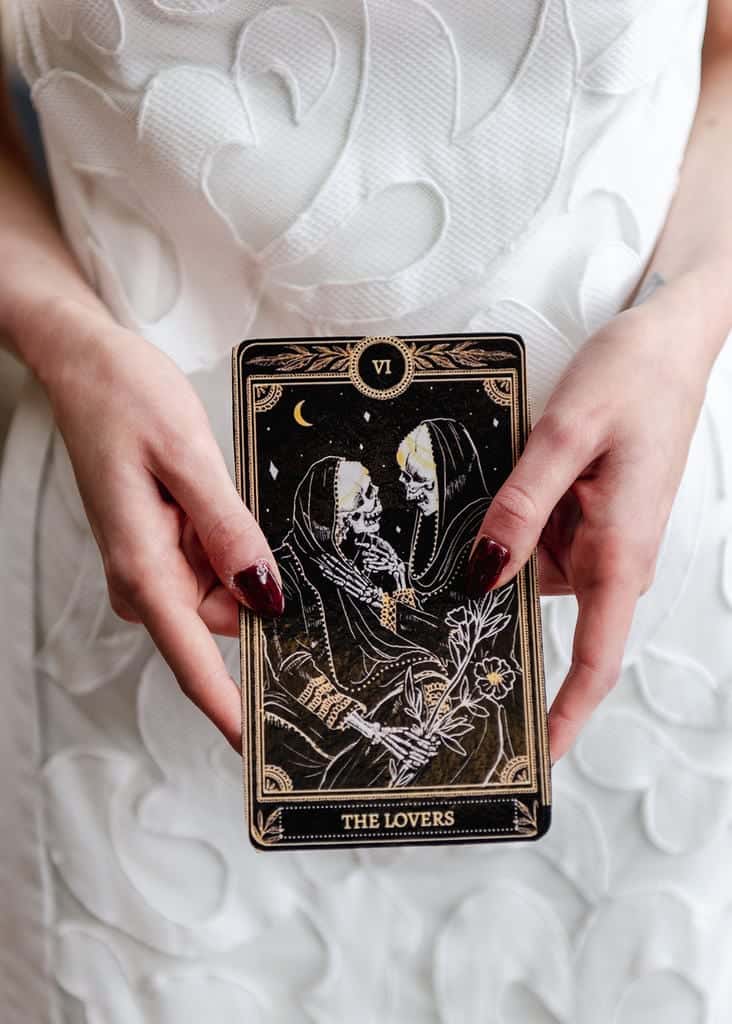 The cutest addition to the shoot was Andrea's puppy, Cannoli, a Pembrokeshire Corgi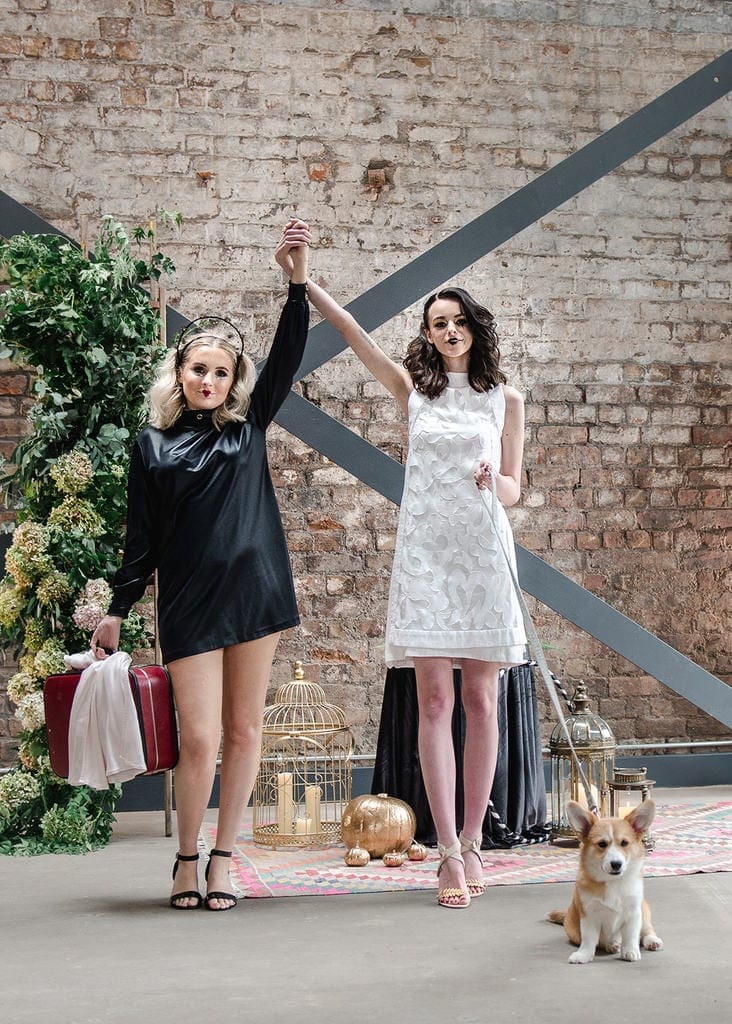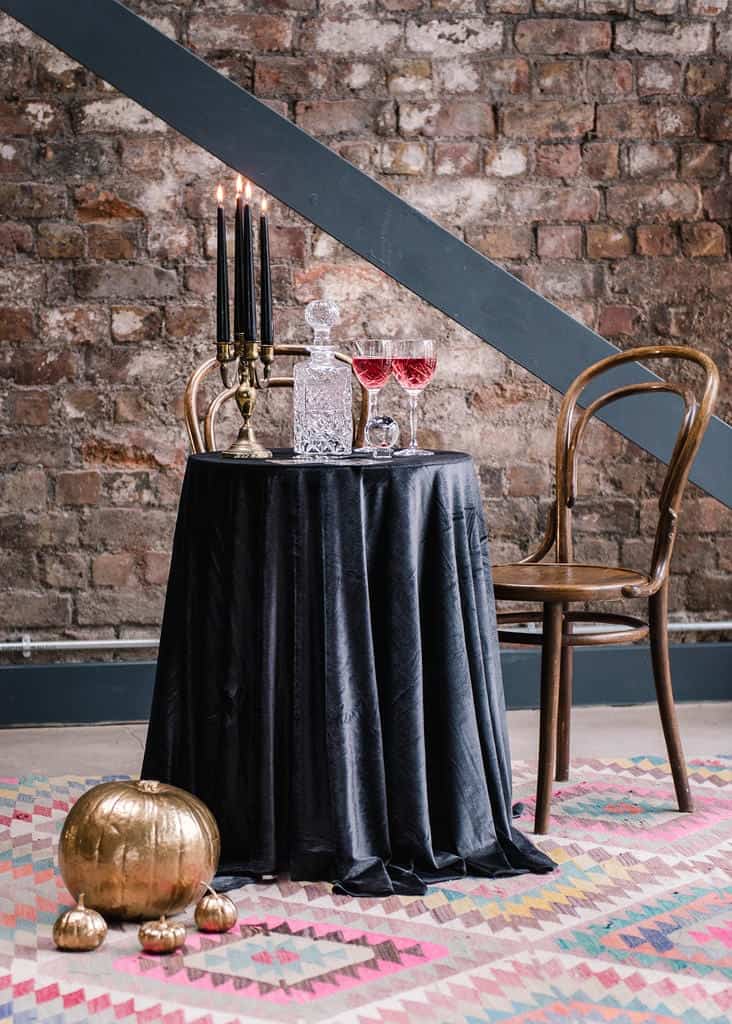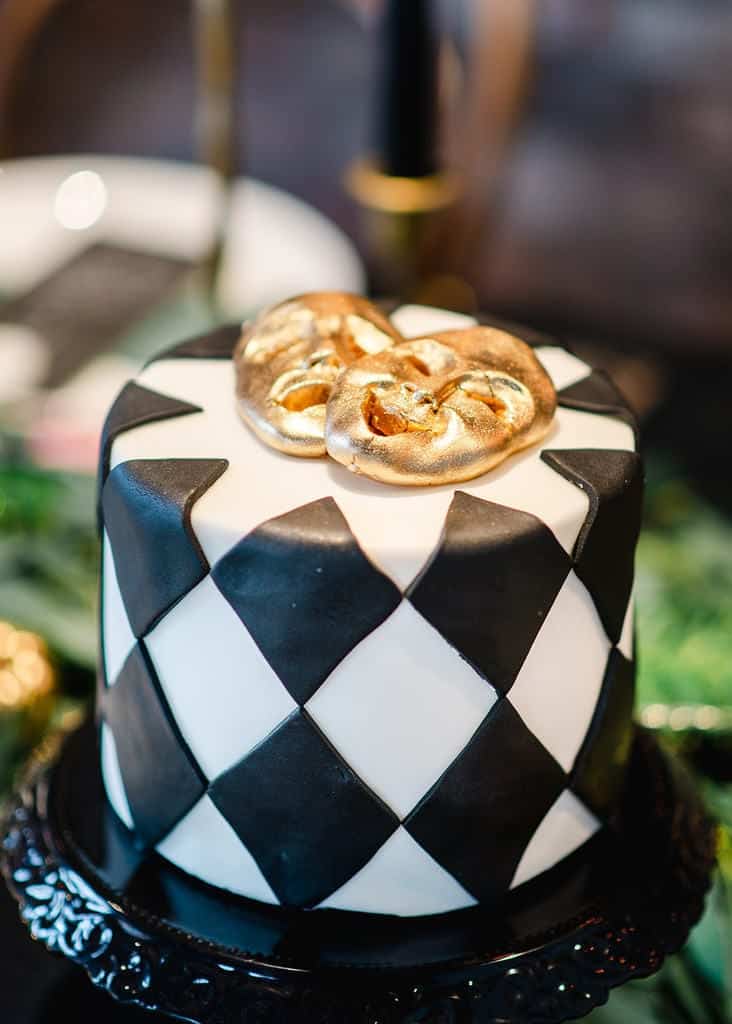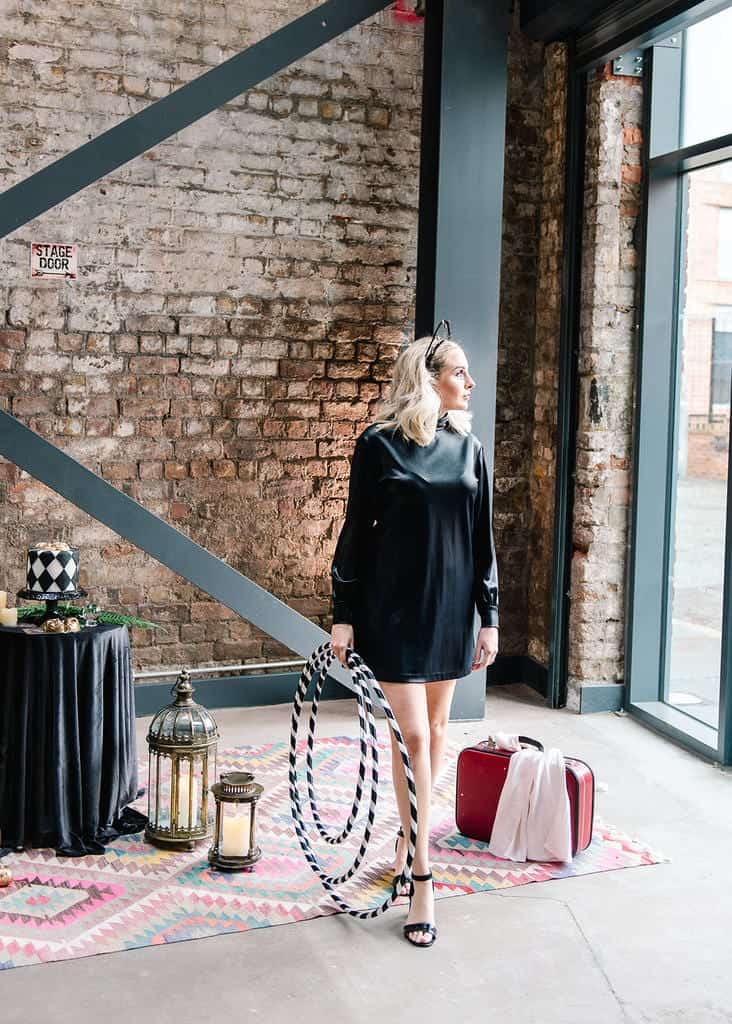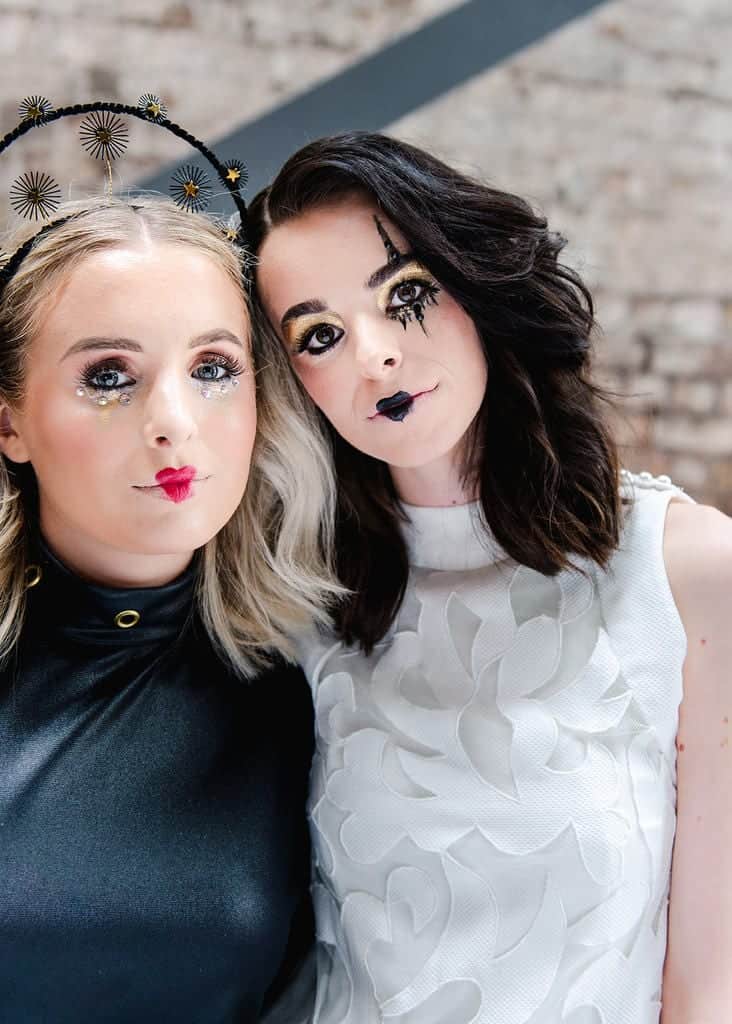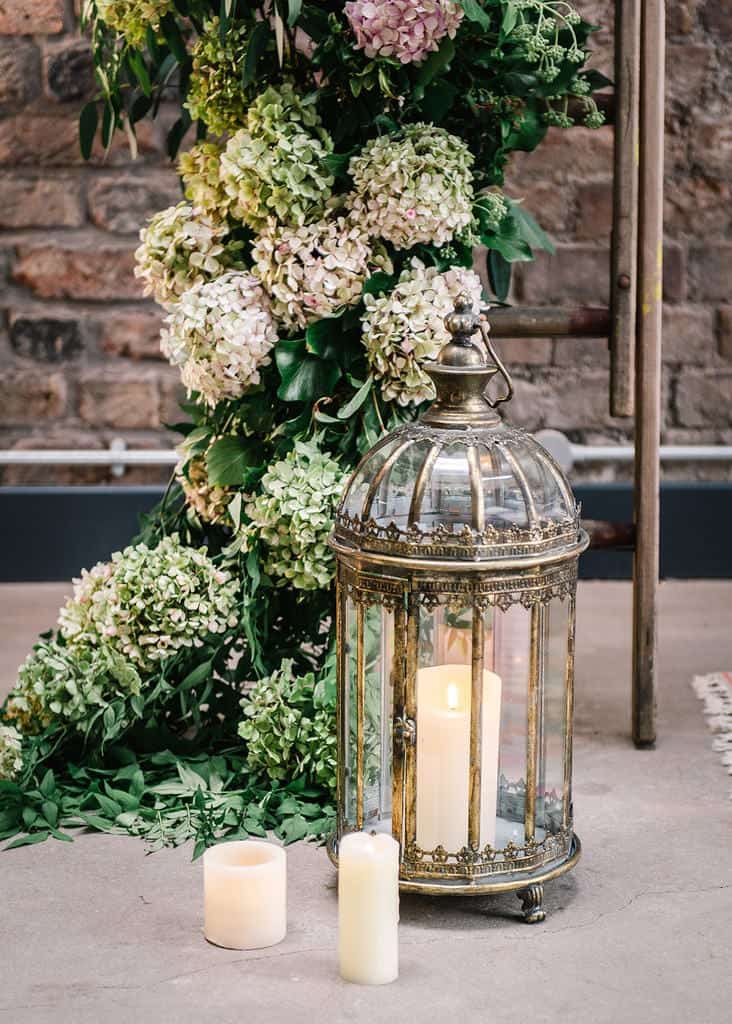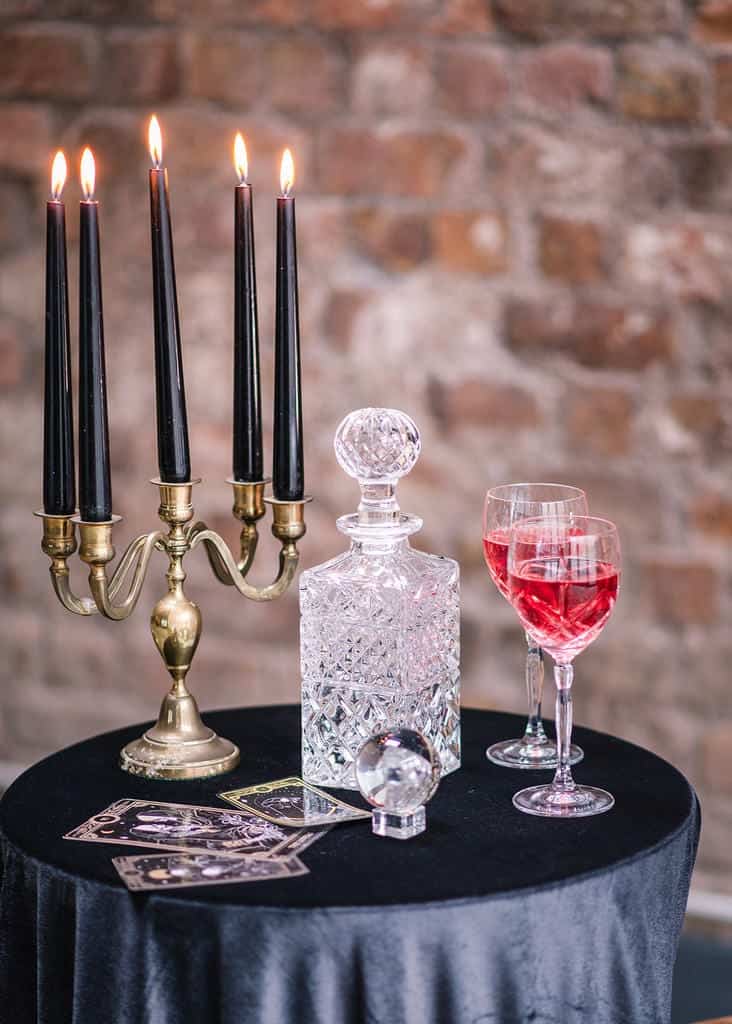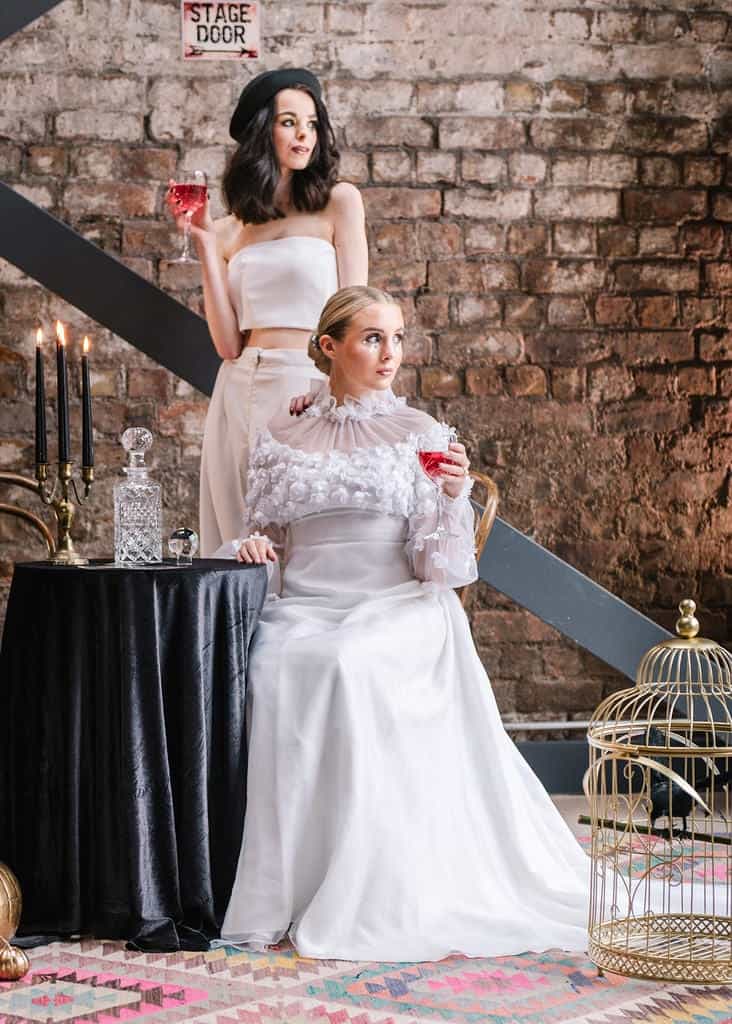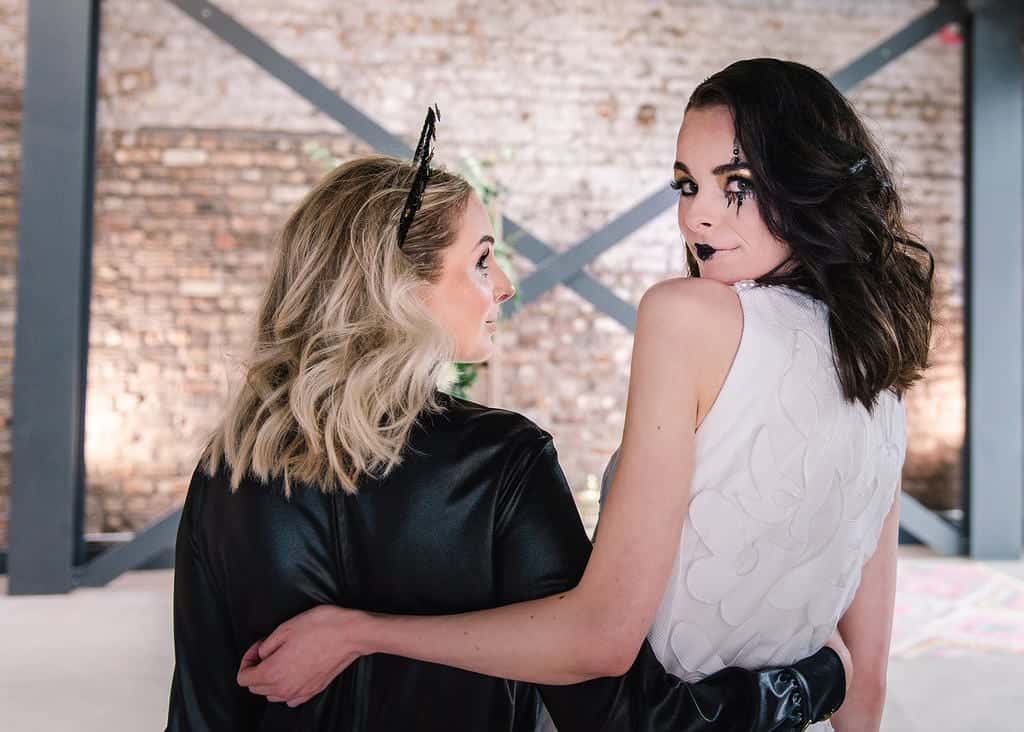 Credits
Concept, co-ordination and styling: SixpennyBride, Photography: Barbara Idasiak, Venue: Baltic Creative – Liverpool, Make up Artistry: Andrea Baines, Hair Stylist: Sarah Noonan, Prop Hire/Styling: Sara Abbott, Floristry: Anna – Mary Mary Florals, Stationery: Hannah- KnockKnockPennystudio, Cake: Gaynor Doyle – Liverpool Cake Co, Trouser suit: Gina, Vintage dresses, cape and hair accessories: Jacky Doyle, Models: Pierrot – Heather Rowland Columbine – Hayleigh Chambers