Hello there, are you looking forward to today's wedding blog? We have this gorgeous gay wedding shoot set in New York. We're loving the creativity of this shoot day and just how gorgeous Naomi & Klaire are!
This is one super cool shoot, it has personality gorgeous brick walls and well let's face it, it's set in one our favourite US cities!
Read on and let us know what you think!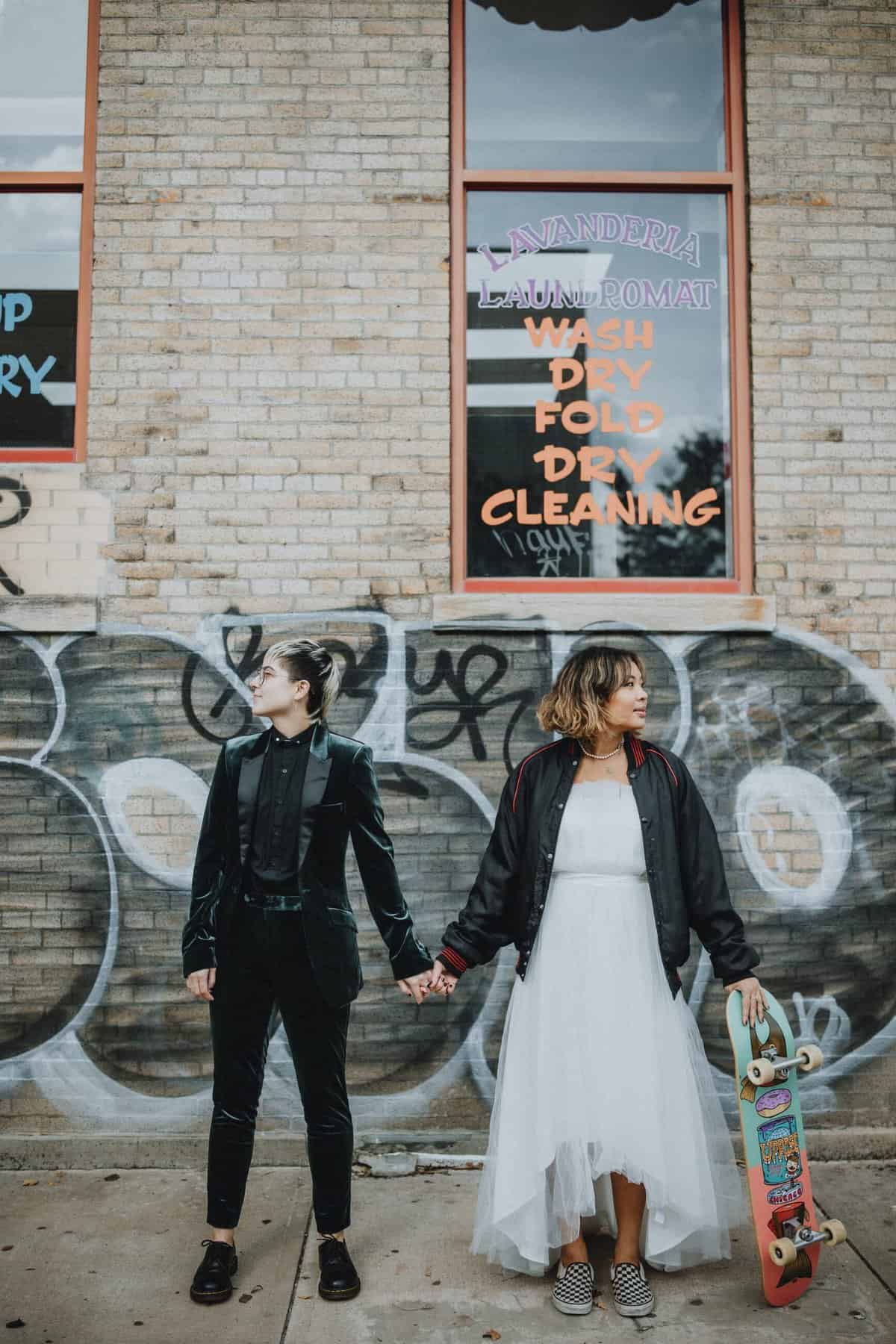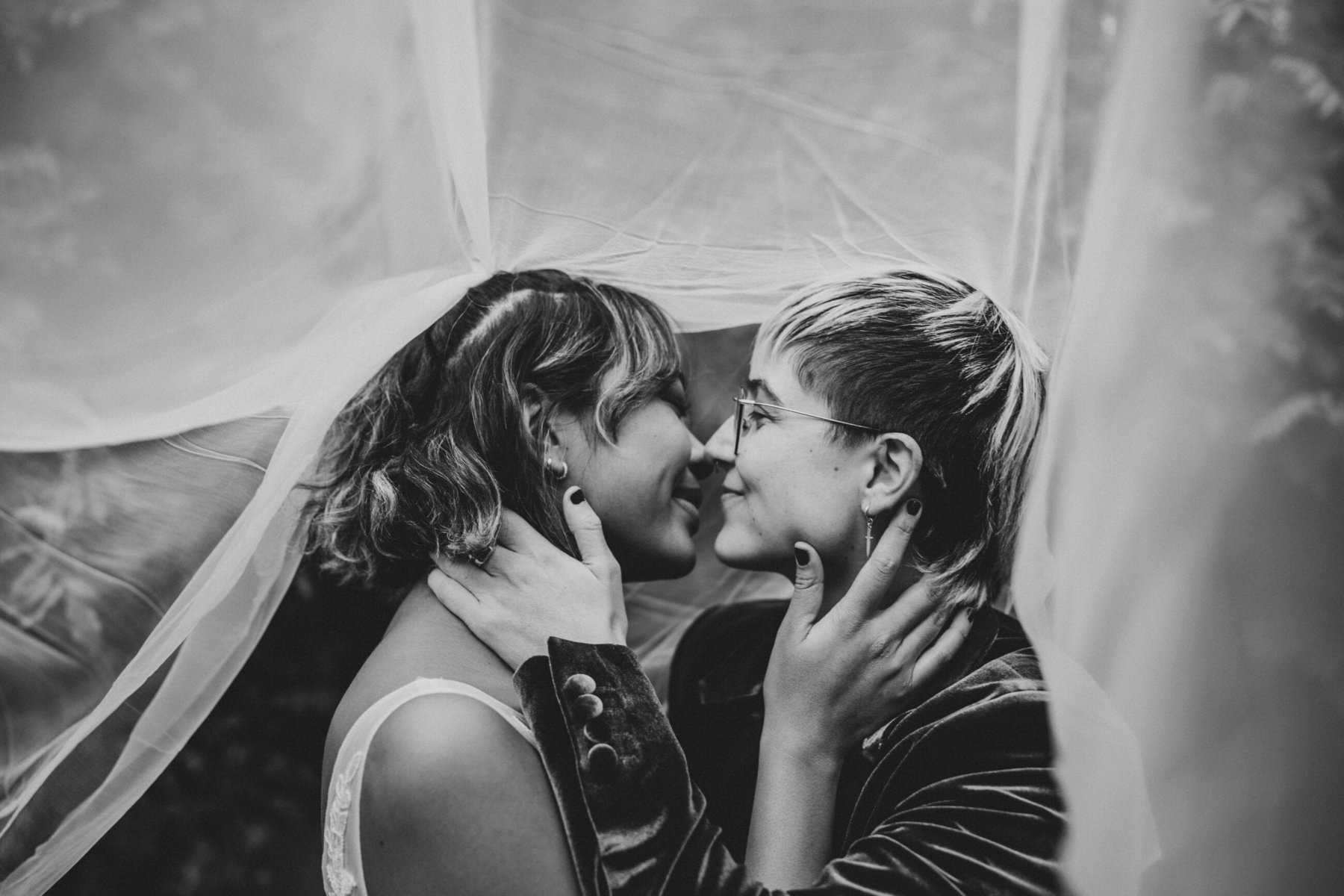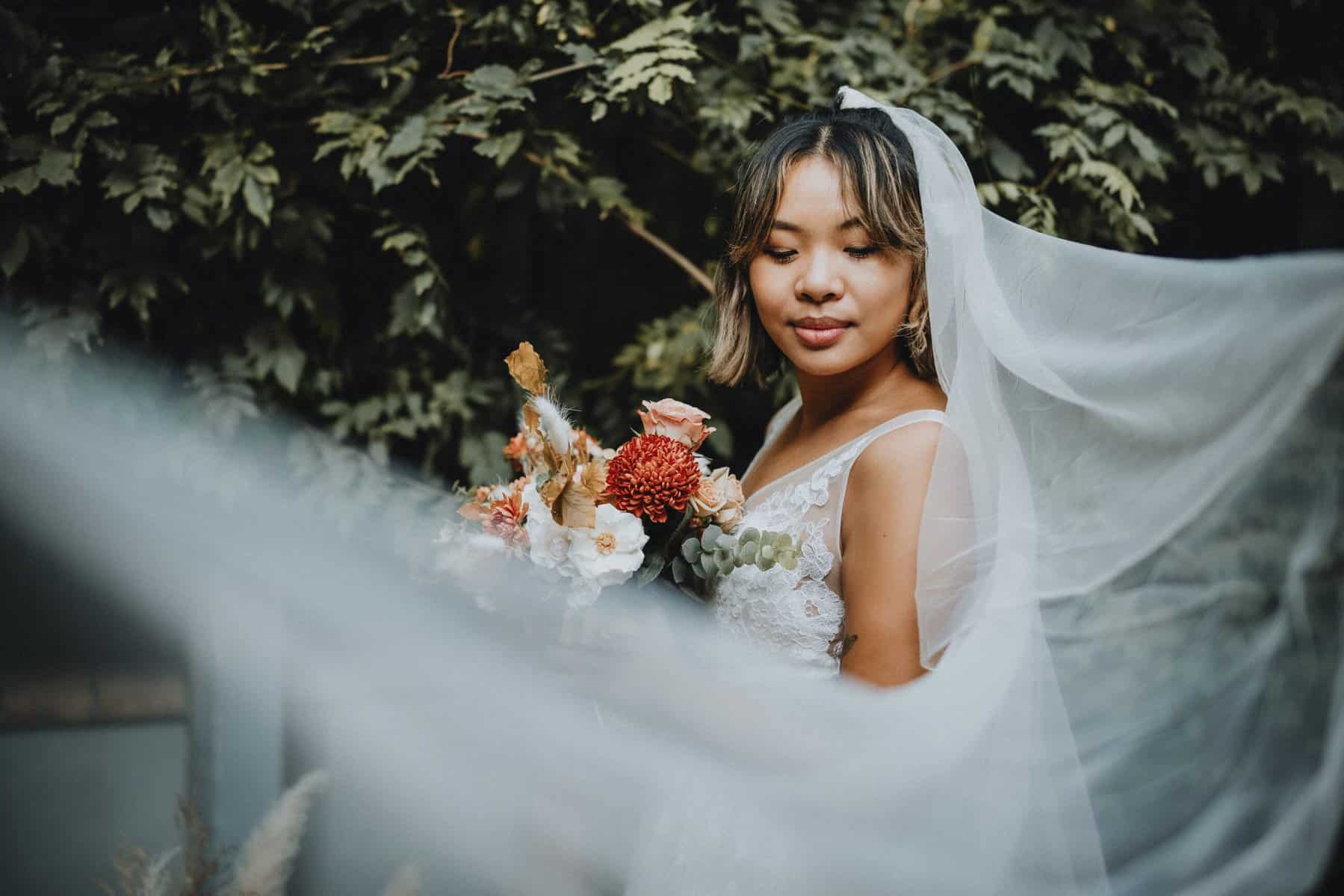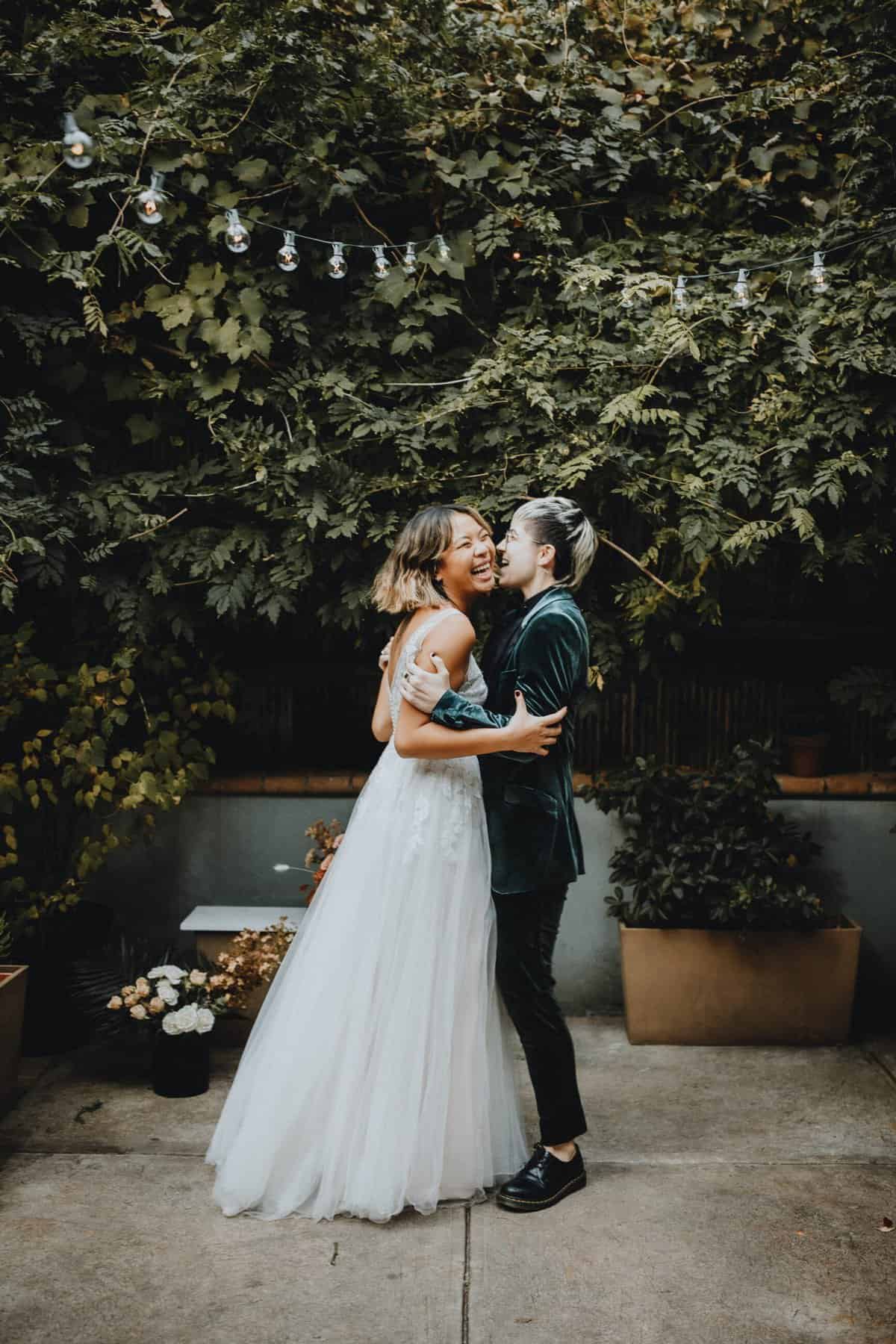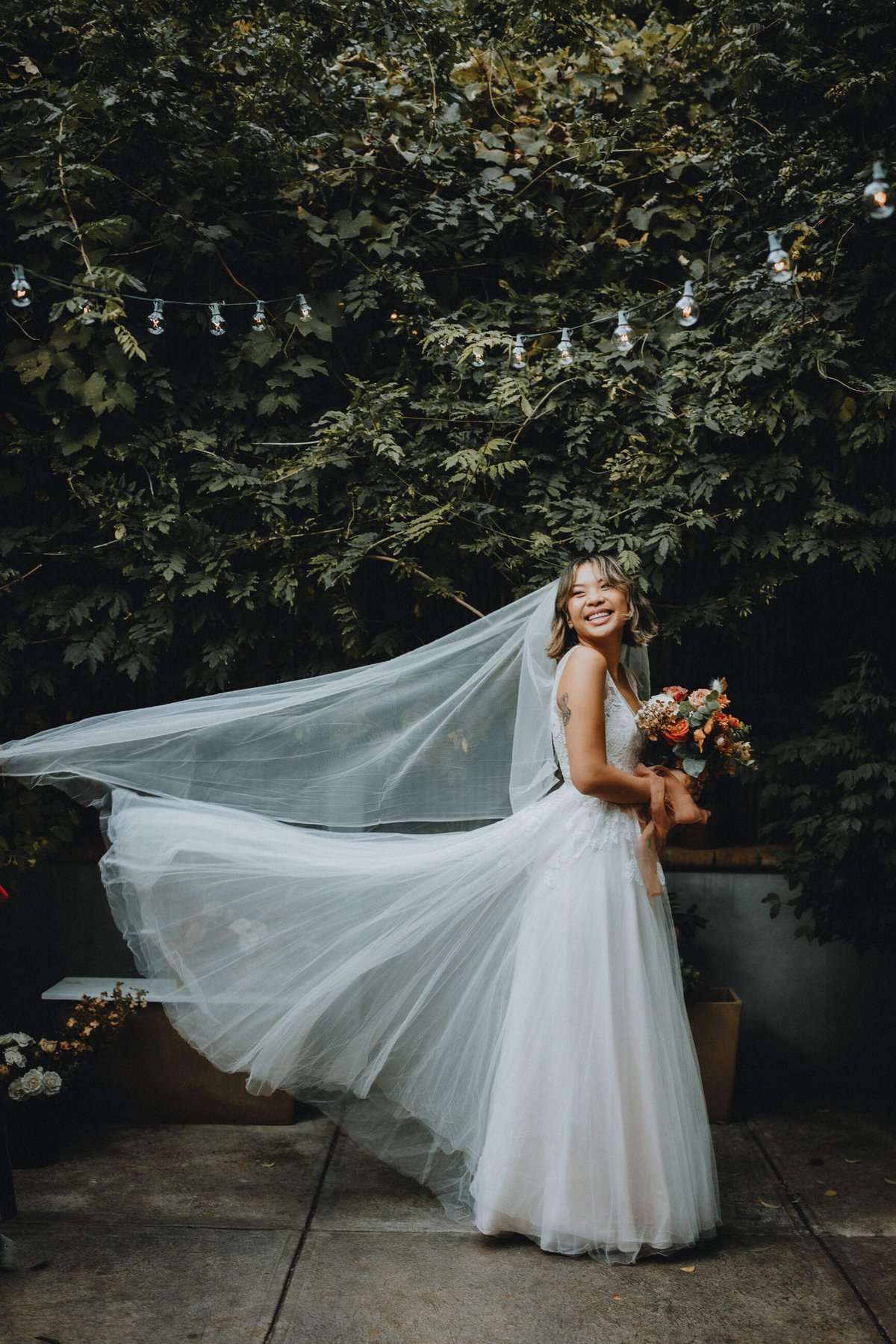 What was the inspiration behind the shoot
2020 was hard for LGBTQ brides and grooms on two levels: the pandemic messed up their wedding plans, and the previous US administration kept either attacking their rights or showing indifference to their issues.
So we decided to organize this styled shoot on Election Day. To show that love can win even in difficult times, no matter what those obstacles are. Our own little protest, if you will. We wanted to celebrate love in all its forms and transform our pandemic and election anxiety into something positive and meaningful.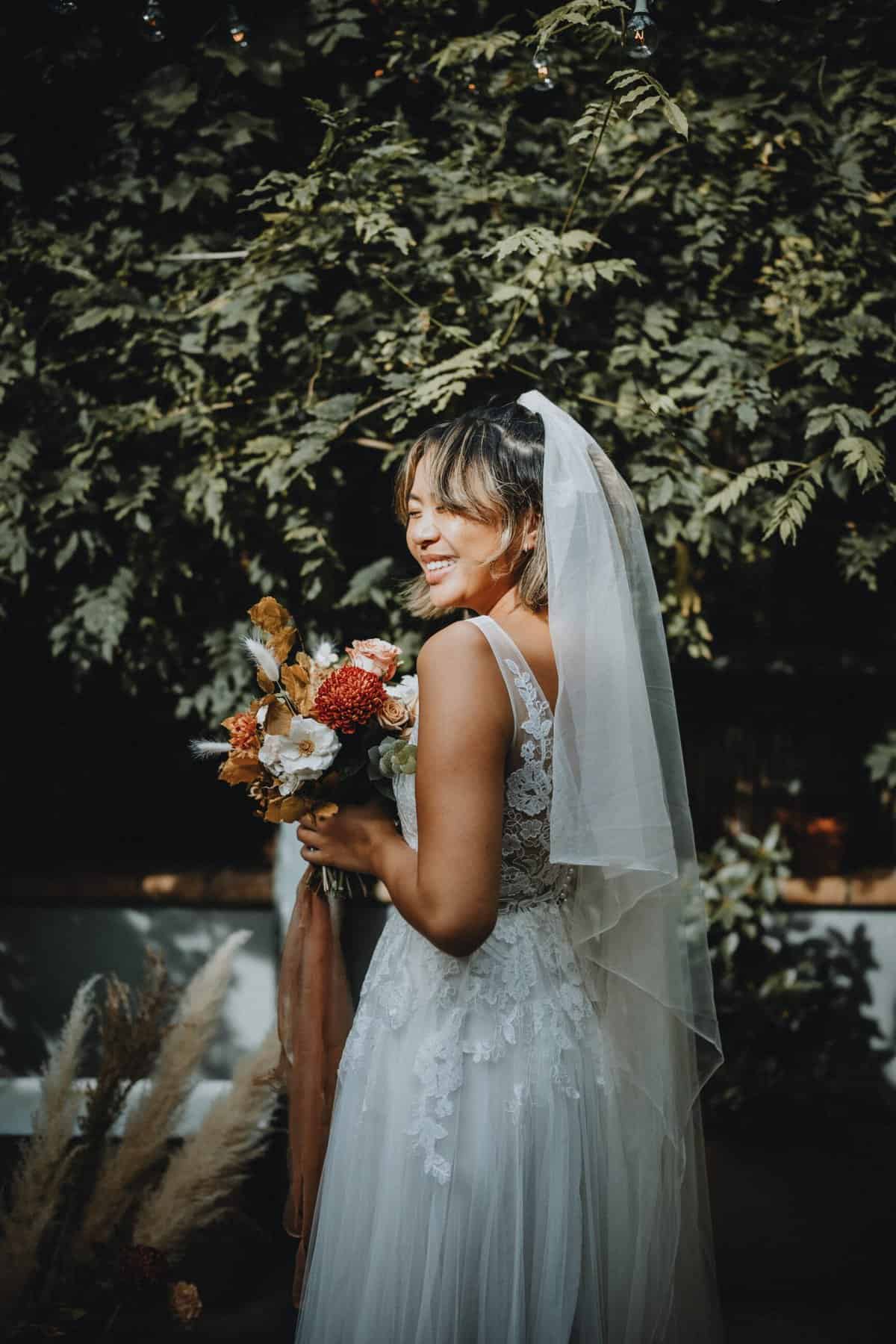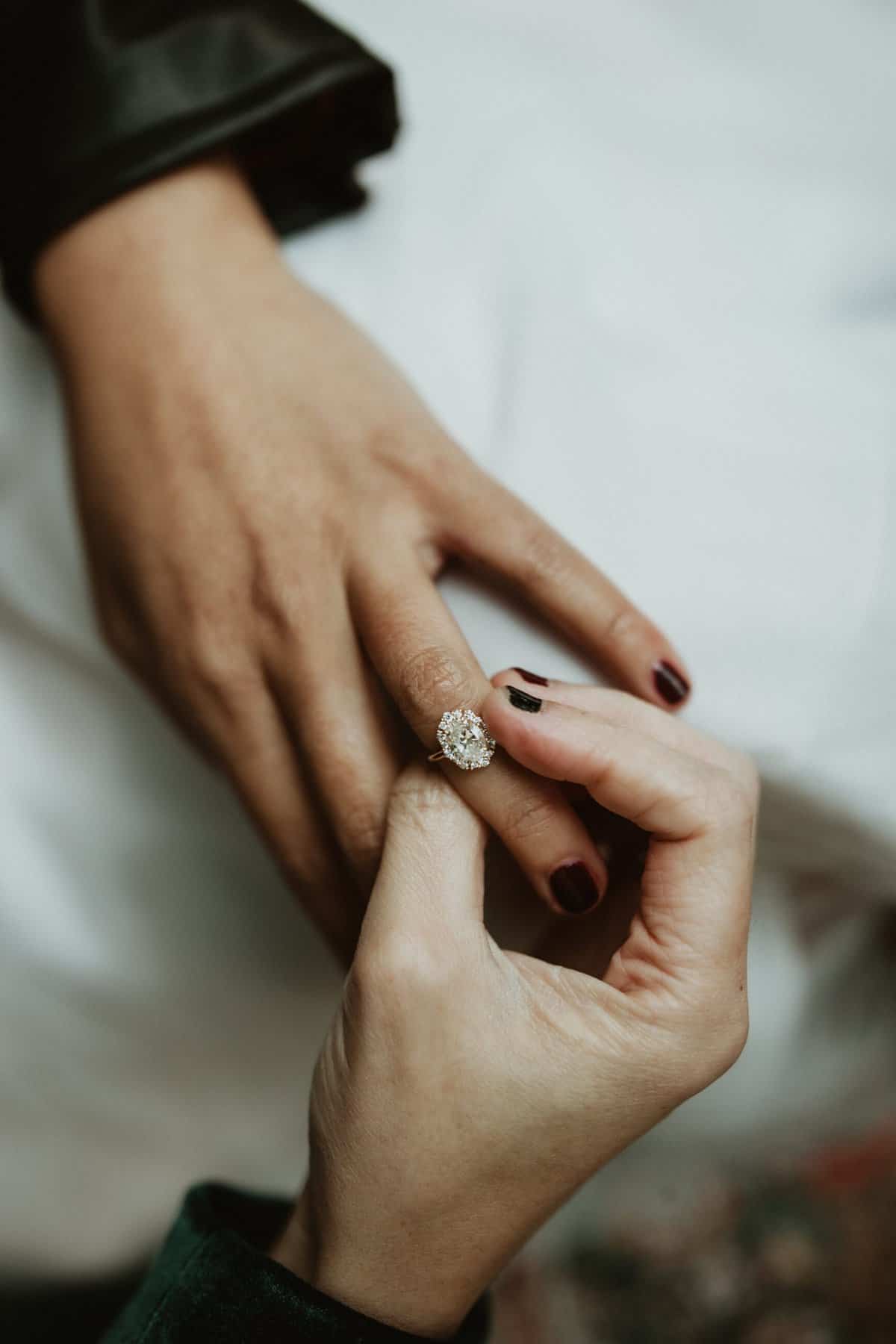 Why was  this shoot important?
We're all from Brooklyn and believe in equal rights for everyone. So when we planned this, we really wanted to showcase our neighbourhood in the most authentic way and be as inclusive as possible.
Our graphic designer introduced us to Naomi and Klaire and right away it was a match! Their vibe matched ours and it was the perfect opportunity to both feature quirky urban vibes and represent the LGBTQ community, which is not always as present as straight couples in wedding publications.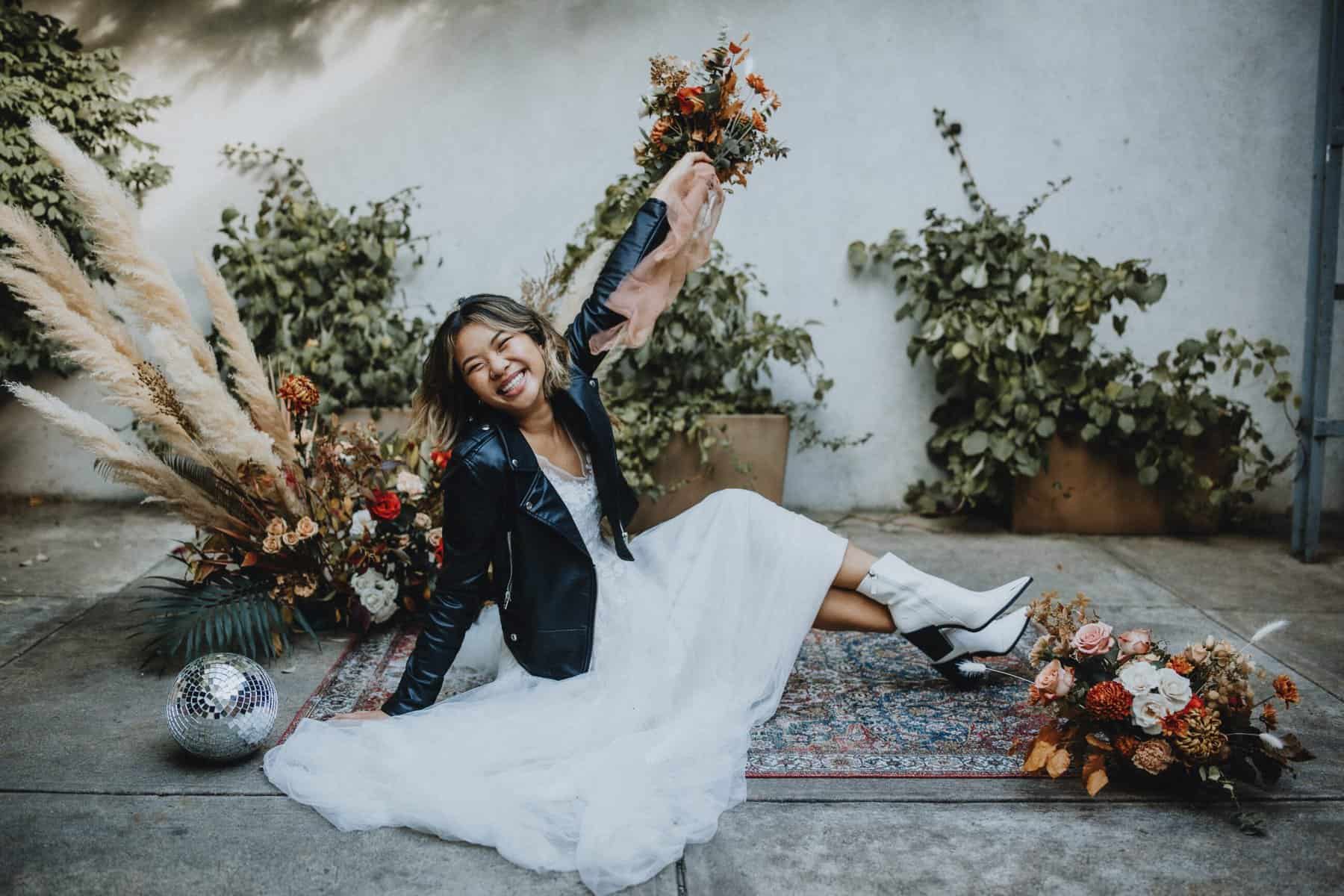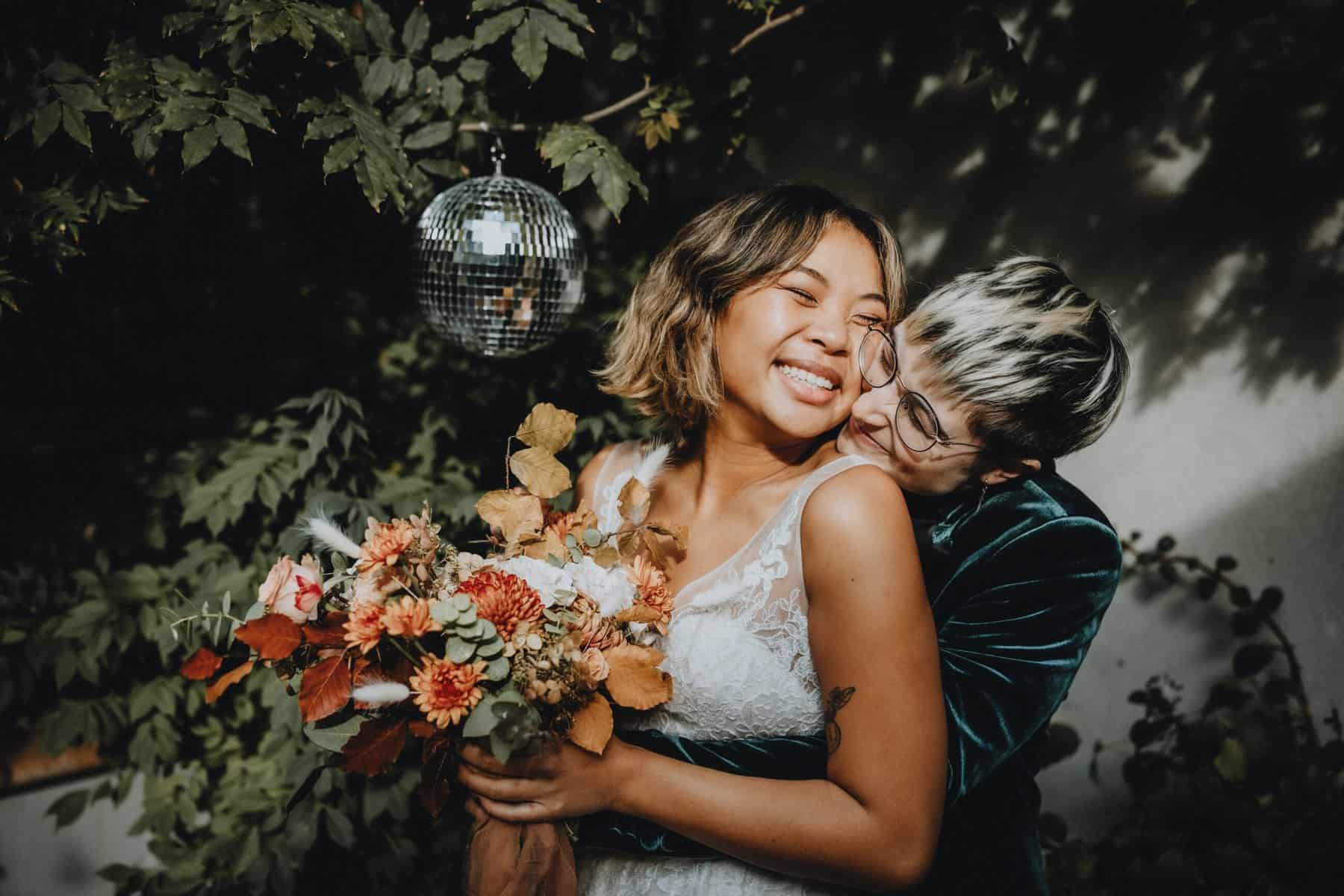 Key styling elements
Our wedding planner Marian of marian frances weddings and our florist Lauren of yellow bow florals are the ones who brought this styled shoot to life. Marian found the venue, the restaurant Tuffet in Williamsburg which had a super cute patio with greenery and string lights. A perfect place to organize a backyard wedding. Which has become such a big trend during the pandemic.
Lauren created florals inspired by warm autumn tones that blended the boho chic and urban vibe into a fine art, fresh look. Our graphic designer Sarah of chow designs created personalized signage for the couple's signature drinks and guestbook. This is a forever wedding keepsake. Our photographer of Lucie Lucie b photo made sure to capture not only pretty but unique photos of our couple. Representing them for who they really are: quirky, fun, free-spirited with a bit of a rebellious heart.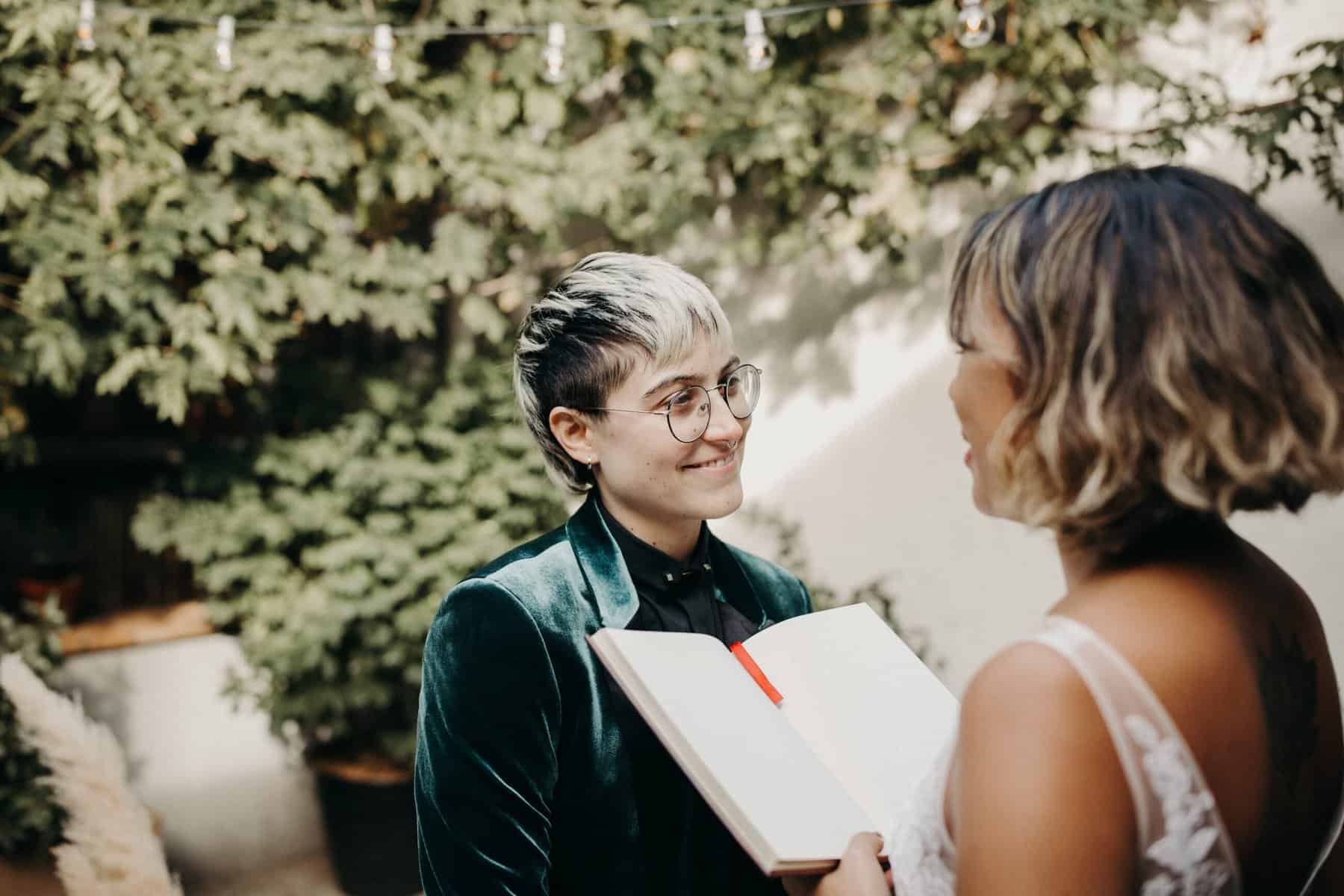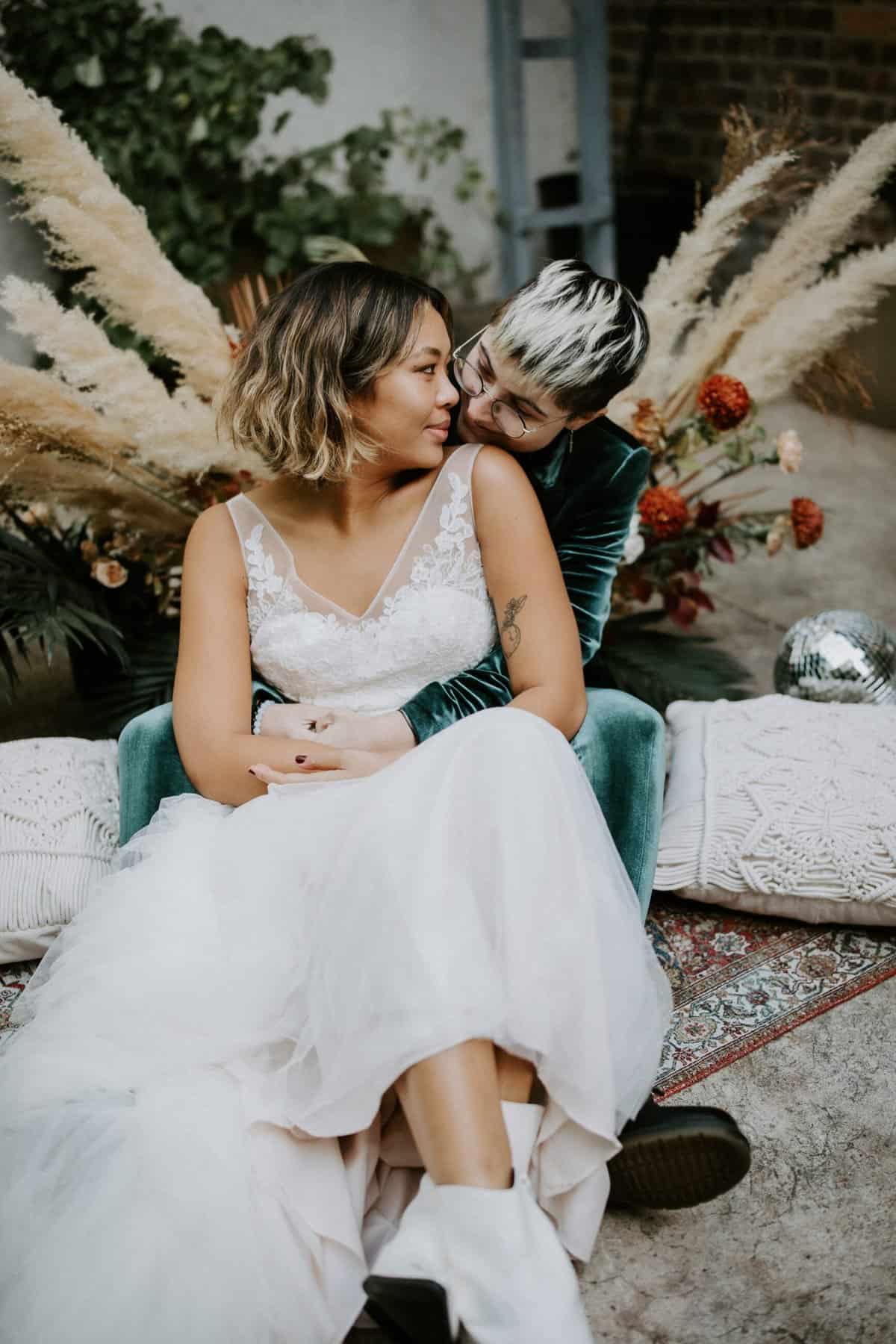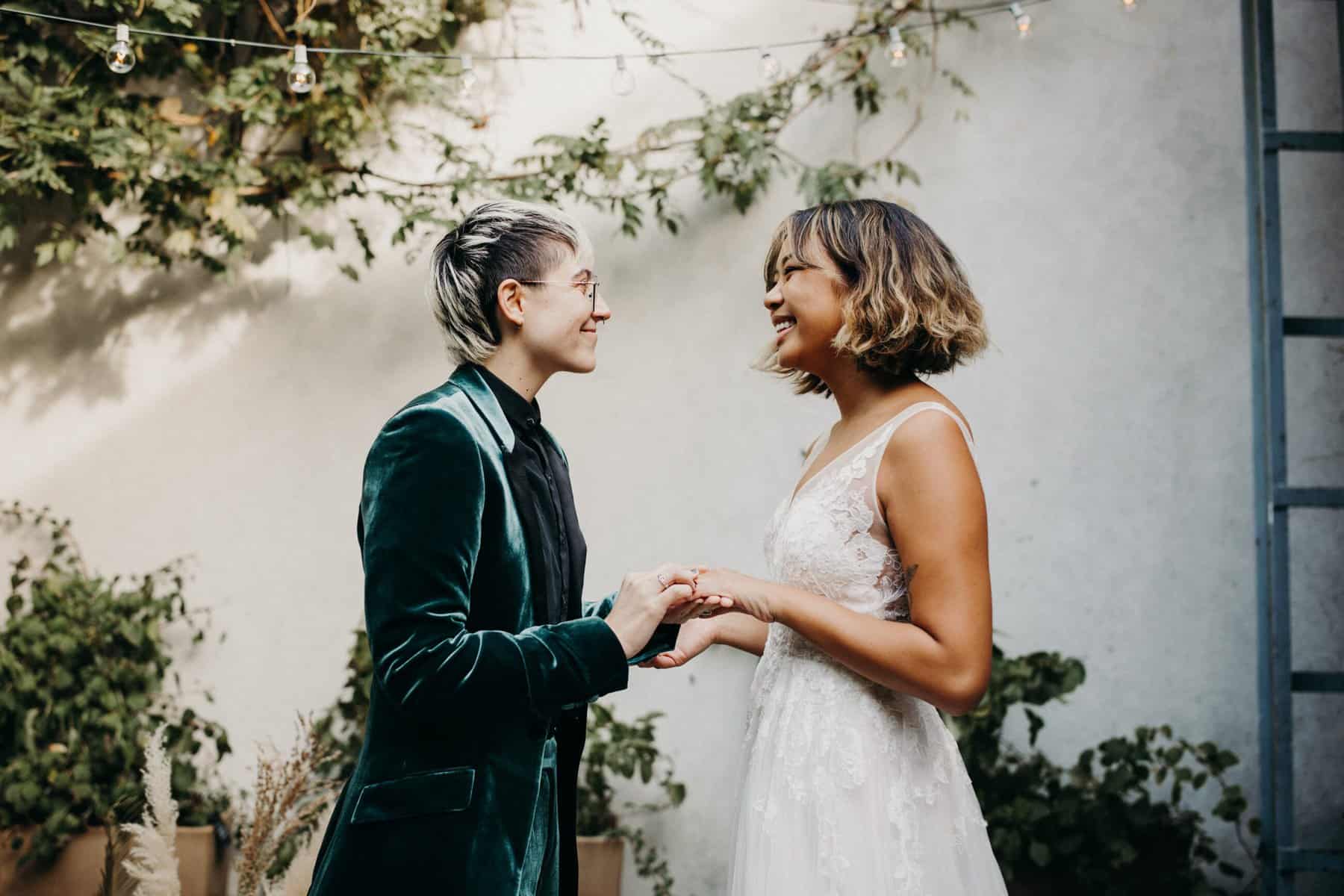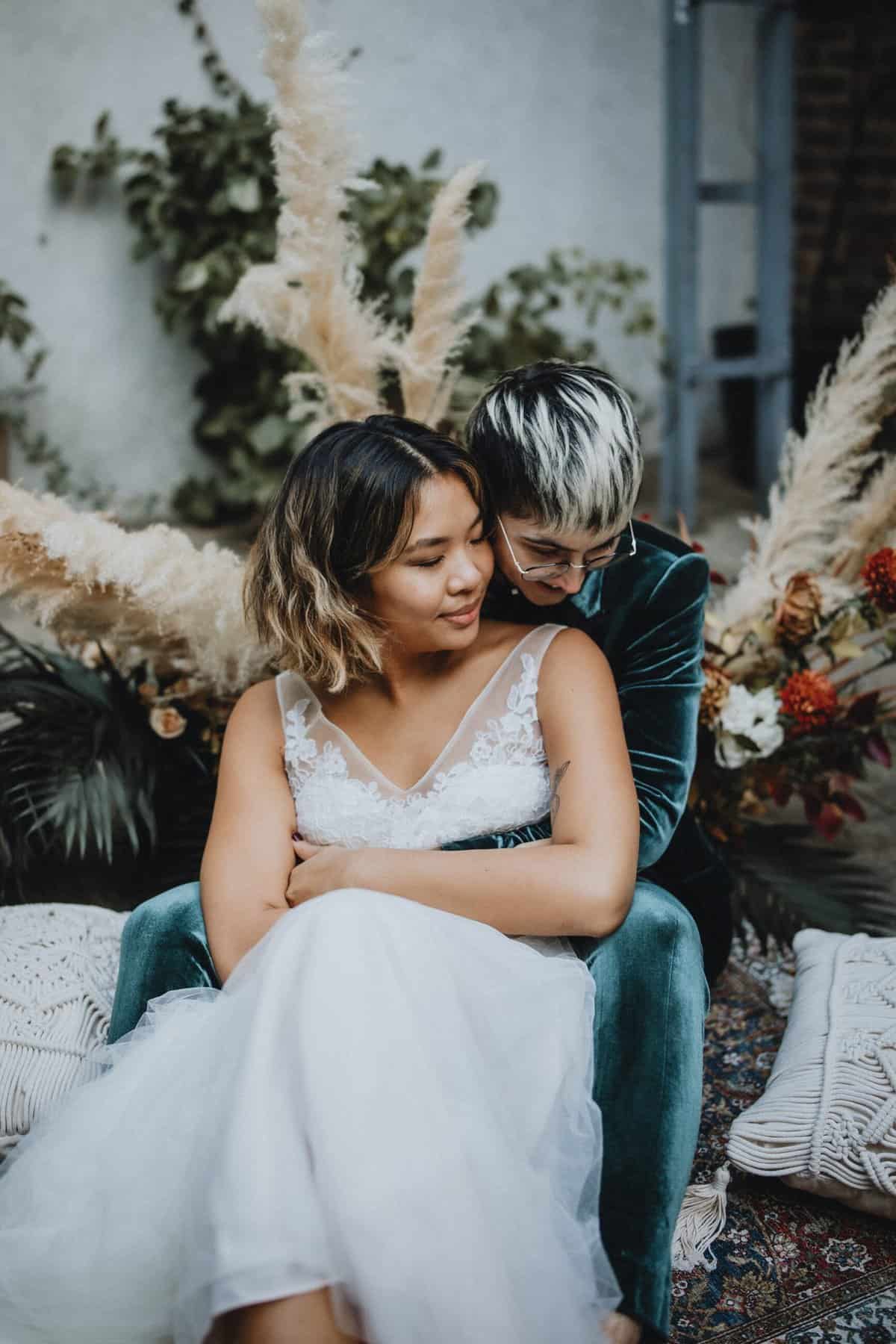 THE COUPLE: Naomi (she) and Klaire (they)
What is your favourite memory together?
N: One of my favourite memories is the time we were walking together to a rave in Brooklyn on a very hot summer day. It started drizzling and we had an umbrella with us but decided to just dance in the rain and sunshine together while sharing air-pods the whole way there. That day sticks out to me because it felt like pure bliss – it really is the simple things in life!
K: My favourite memory is from one of our first trips together. Since we started dating long distance, it was also only the third time we hung out in person. We went to Austin, TX over NYE. Naomi had brought a karaoke microphone because she knew I loved karaoke and we pre-gamed by doing 1 on 1 karaoke in our air bnb. Just the two of us. I remember thinking that there weren't very many people in the world that would do that with me and it was so fun and cute.
What has been the biggest challenge you've had to overcome together?
K:  I think our biggest challenge was starting the relationship long distance. It was tough because we both like to spend a lot of time together. After about 8 months or so I moved to NYC to be with Naomi. I was expecting there to be a bit of a rocky adjustment period and was nervous about it, but the transition was so easy. We just fit in each other's everyday lives so easily.
N: I agree that our biggest challenge was starting our relationship long distance. Those few months were very hard but our individual lives have merged so effortlessly since KJ moved here. So much so, that I almost don't remember how hard being in a long distance relationship felt at the time.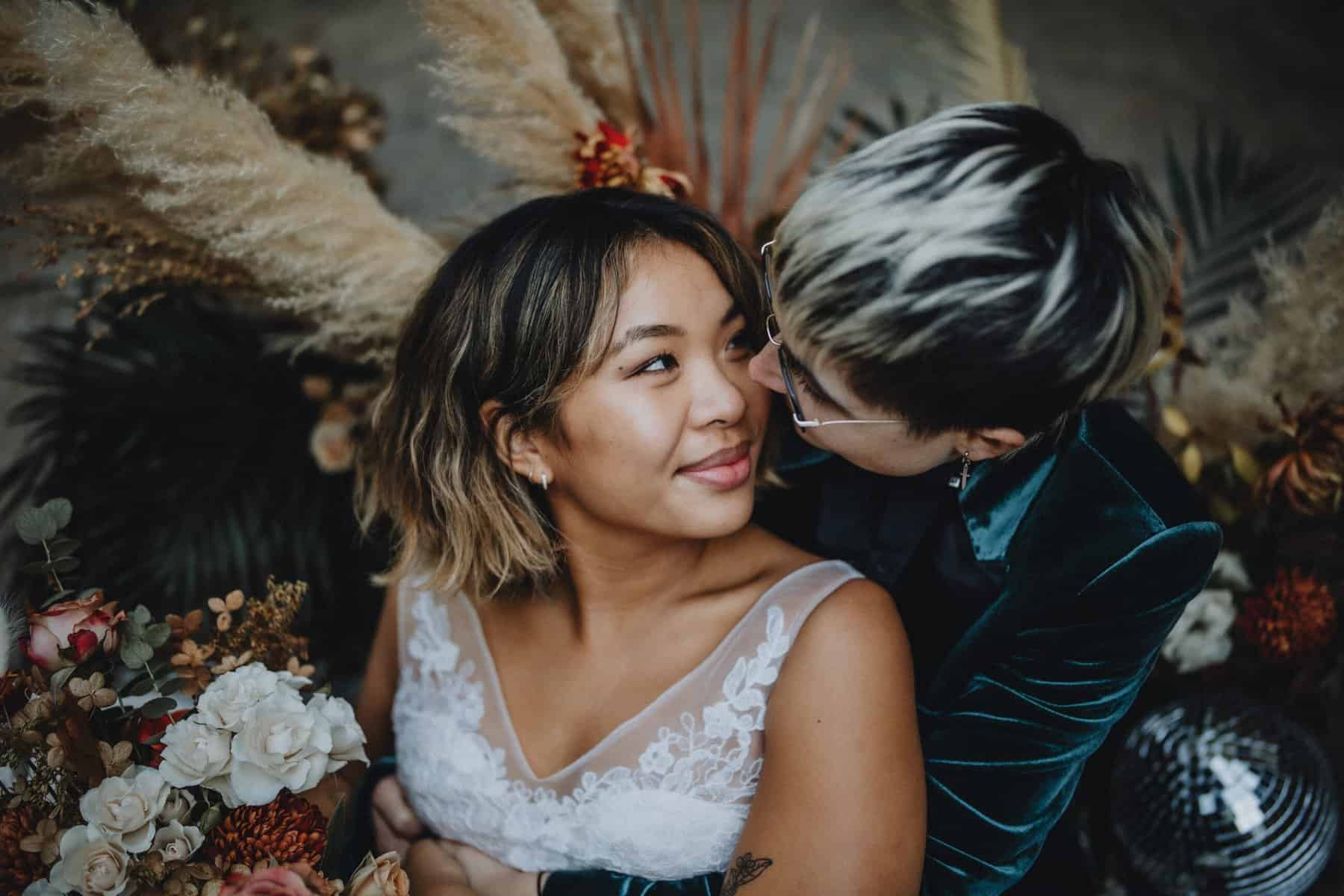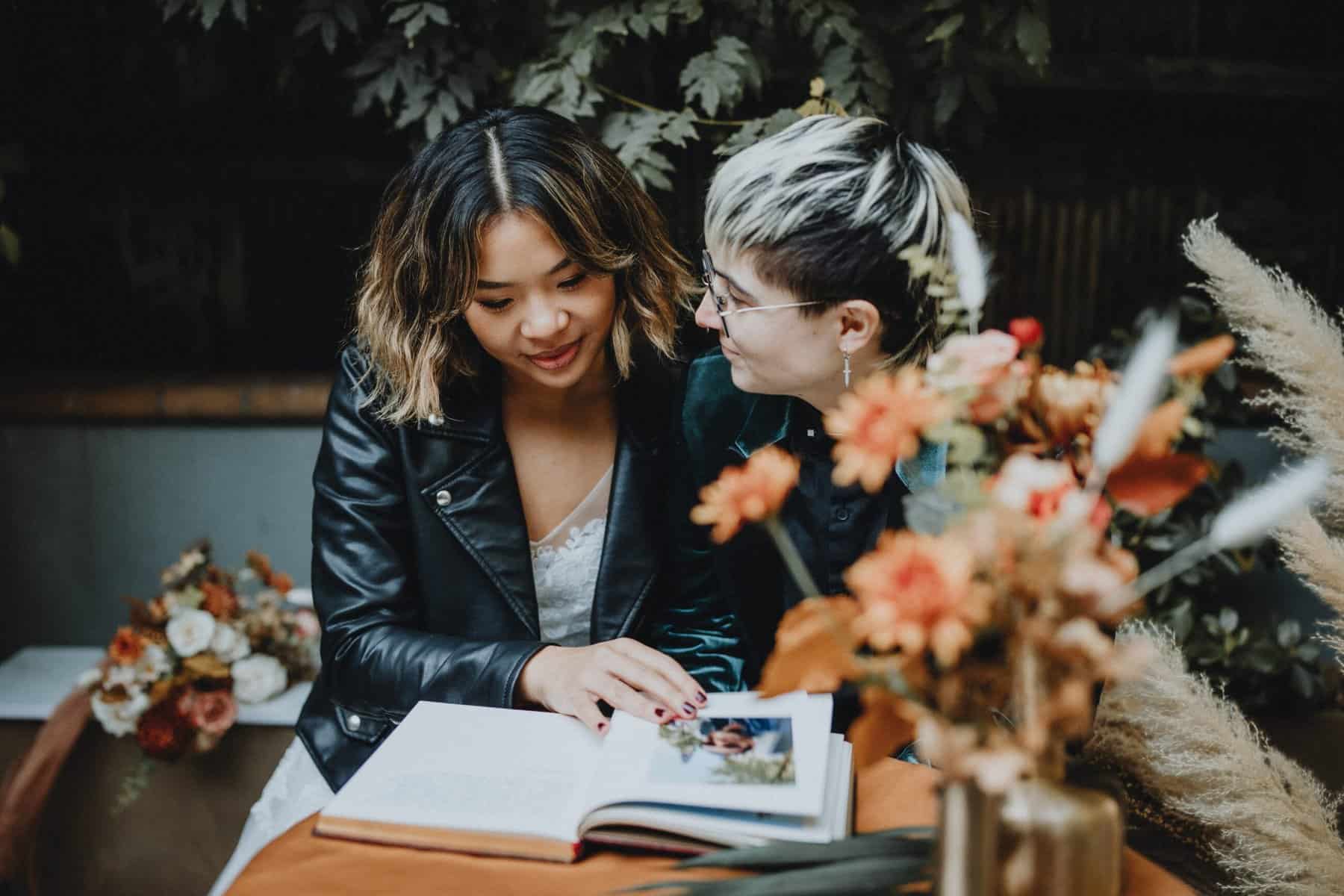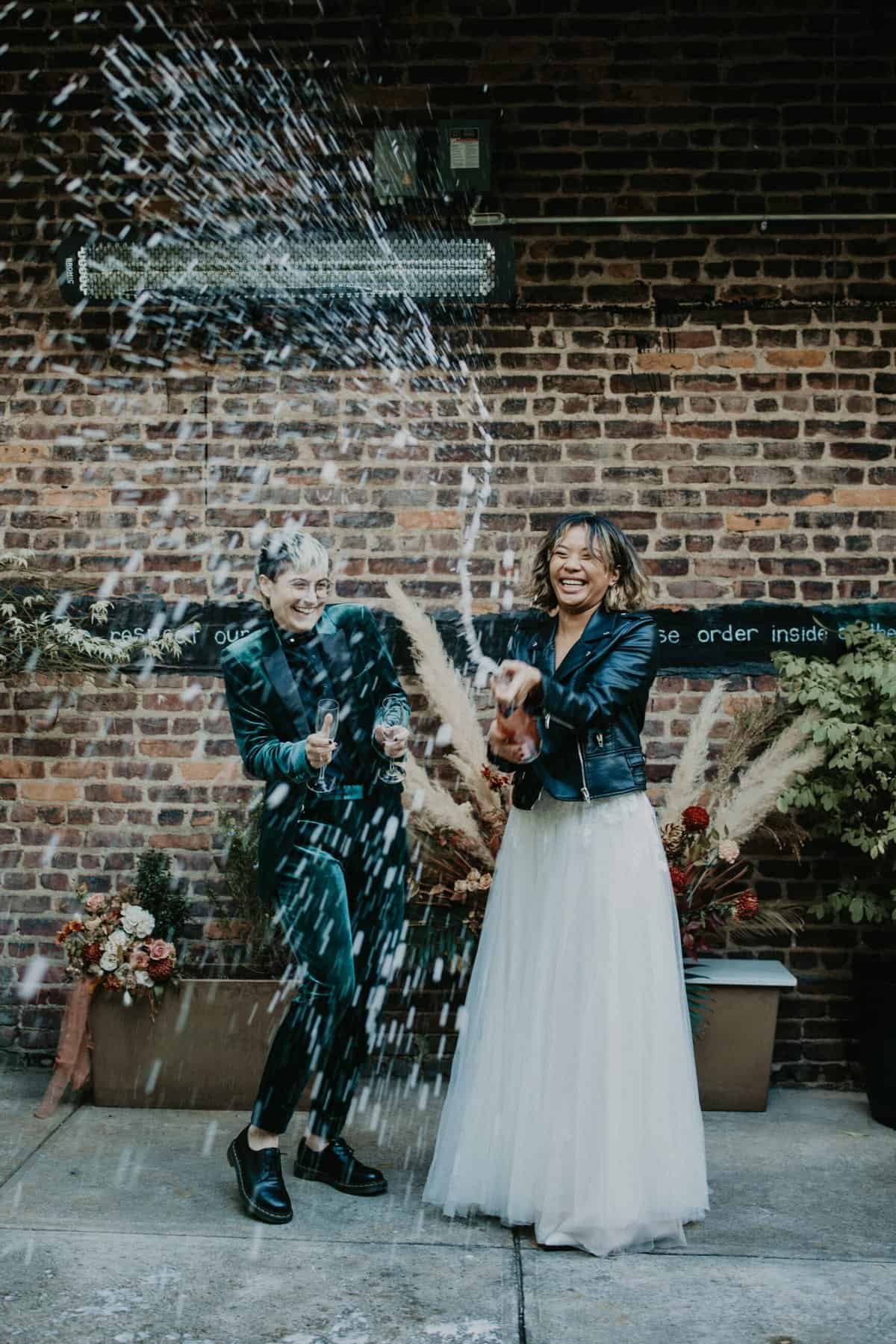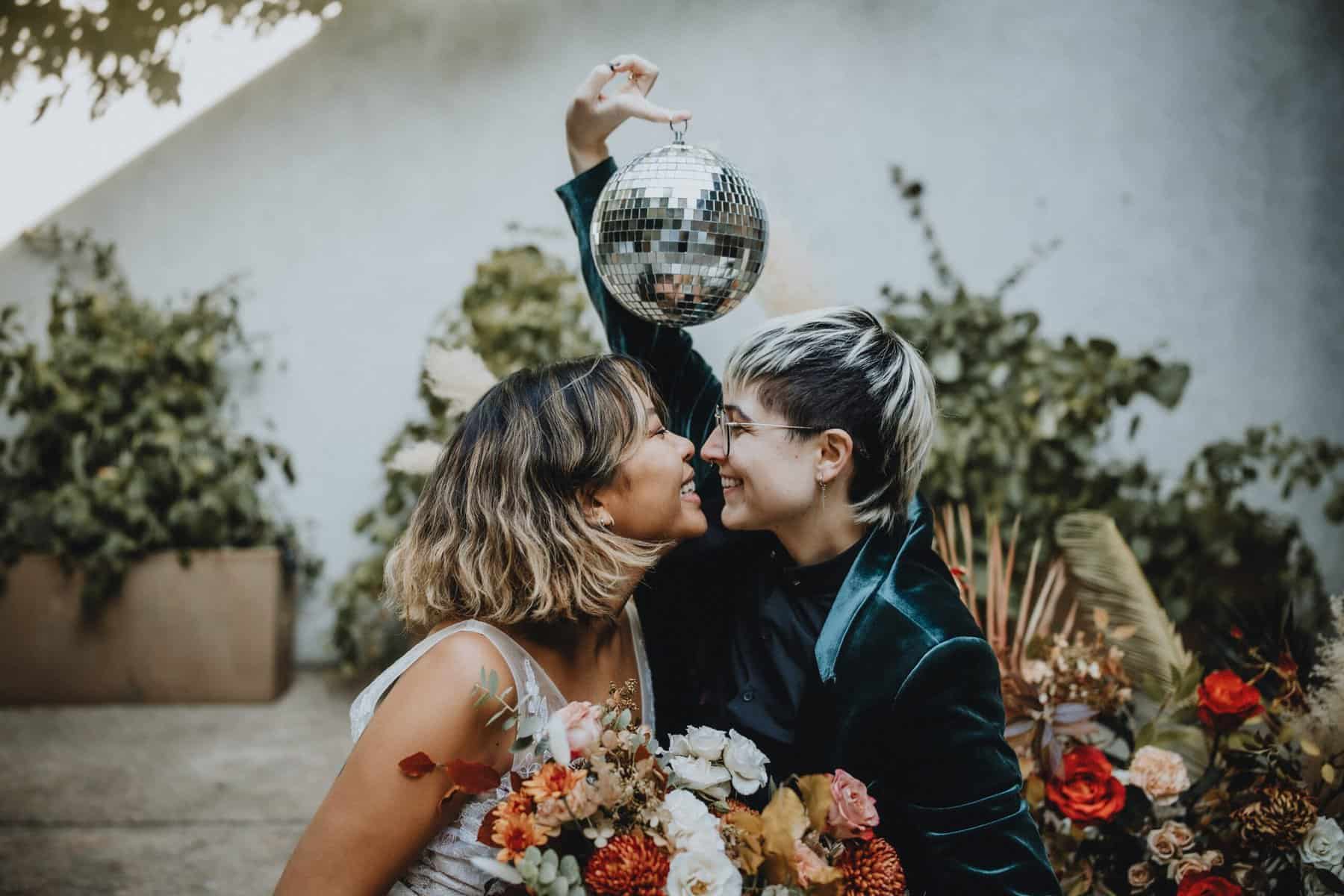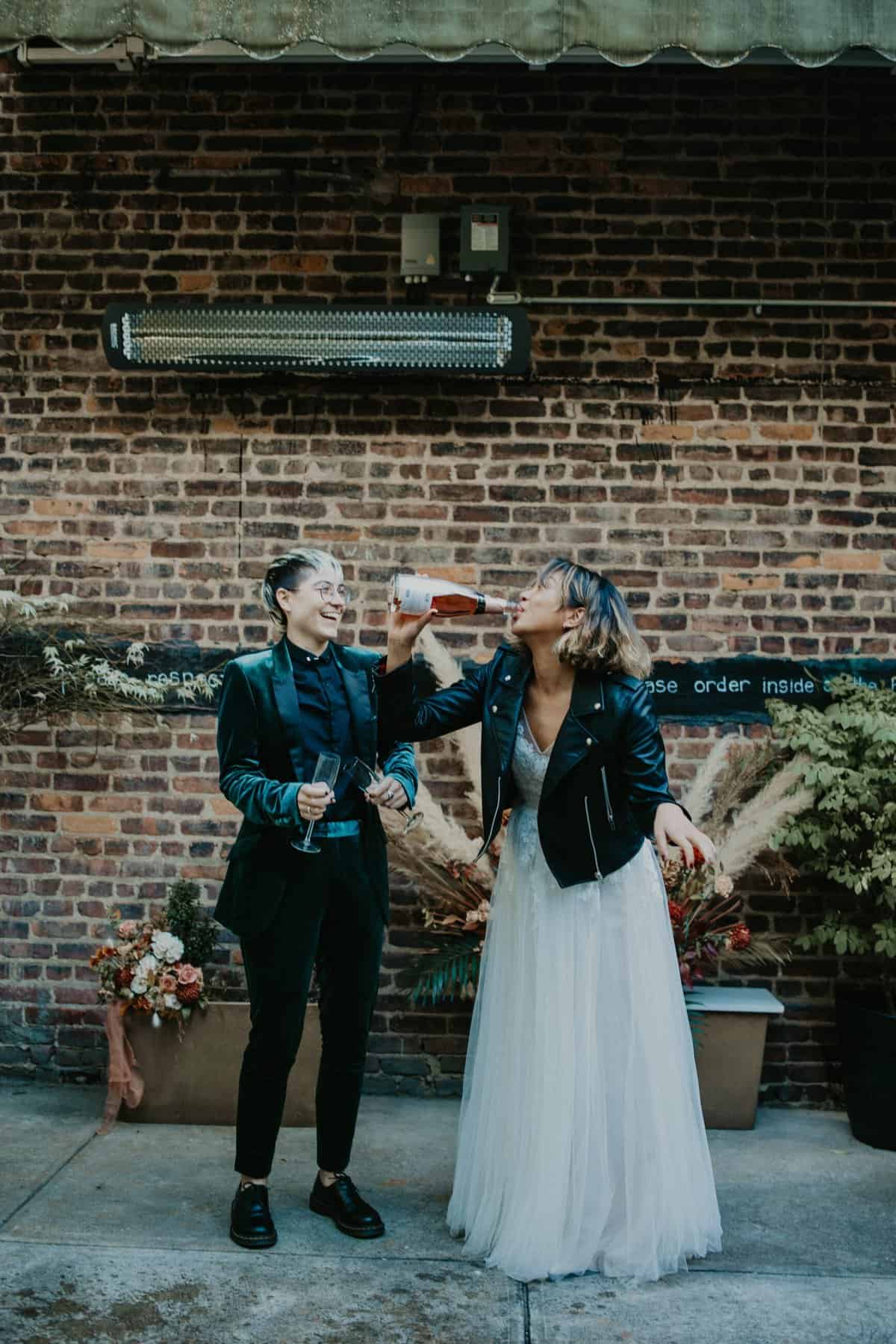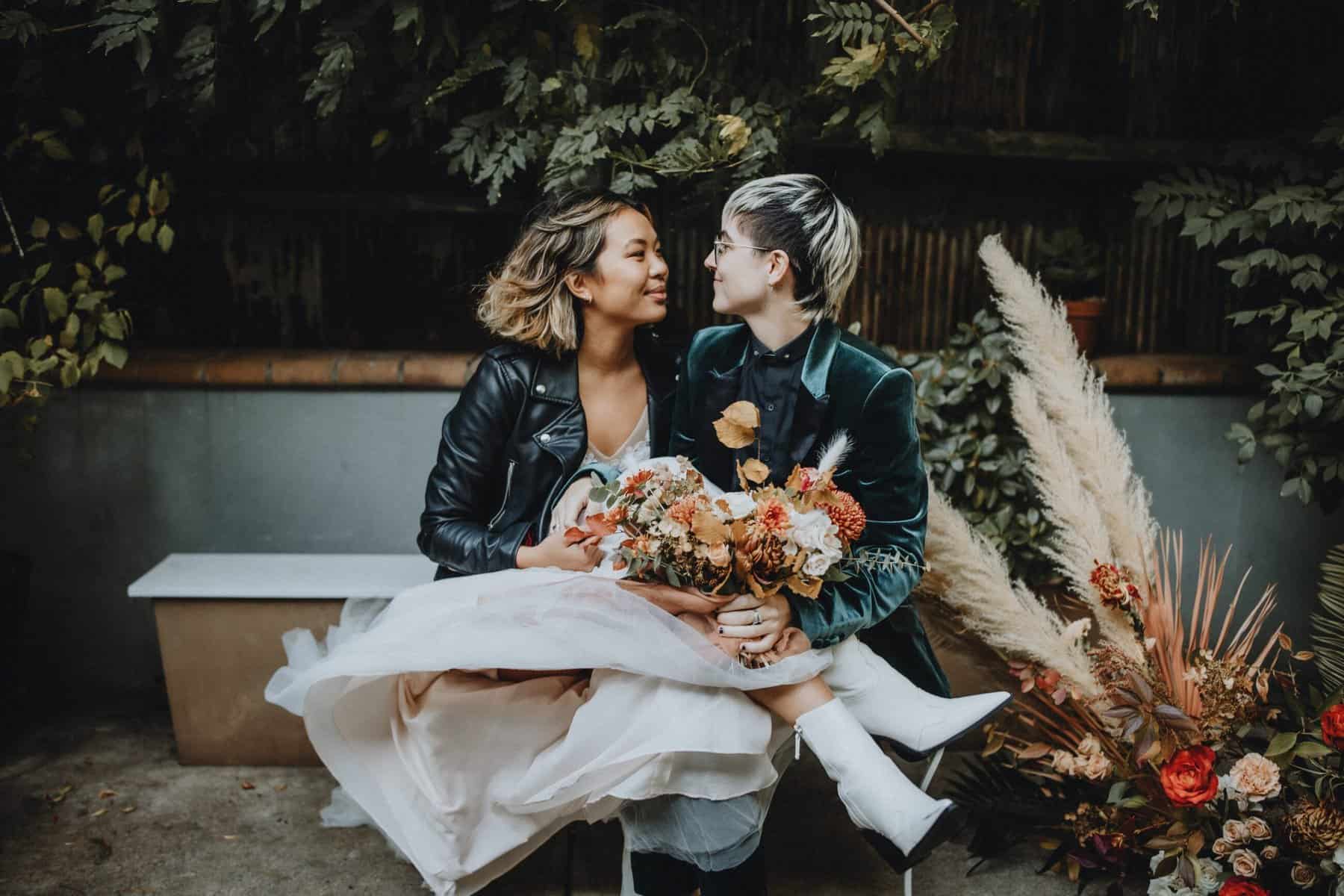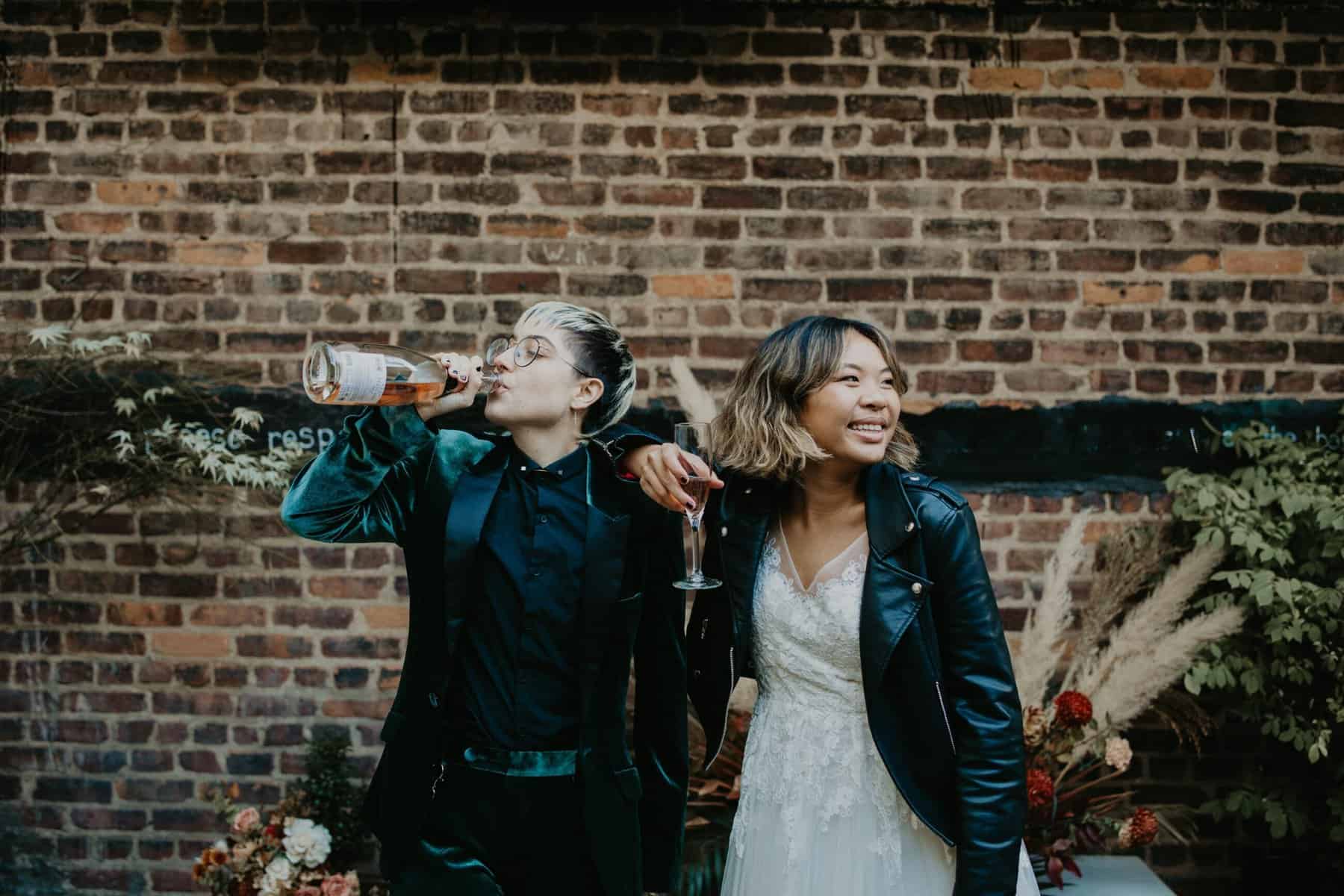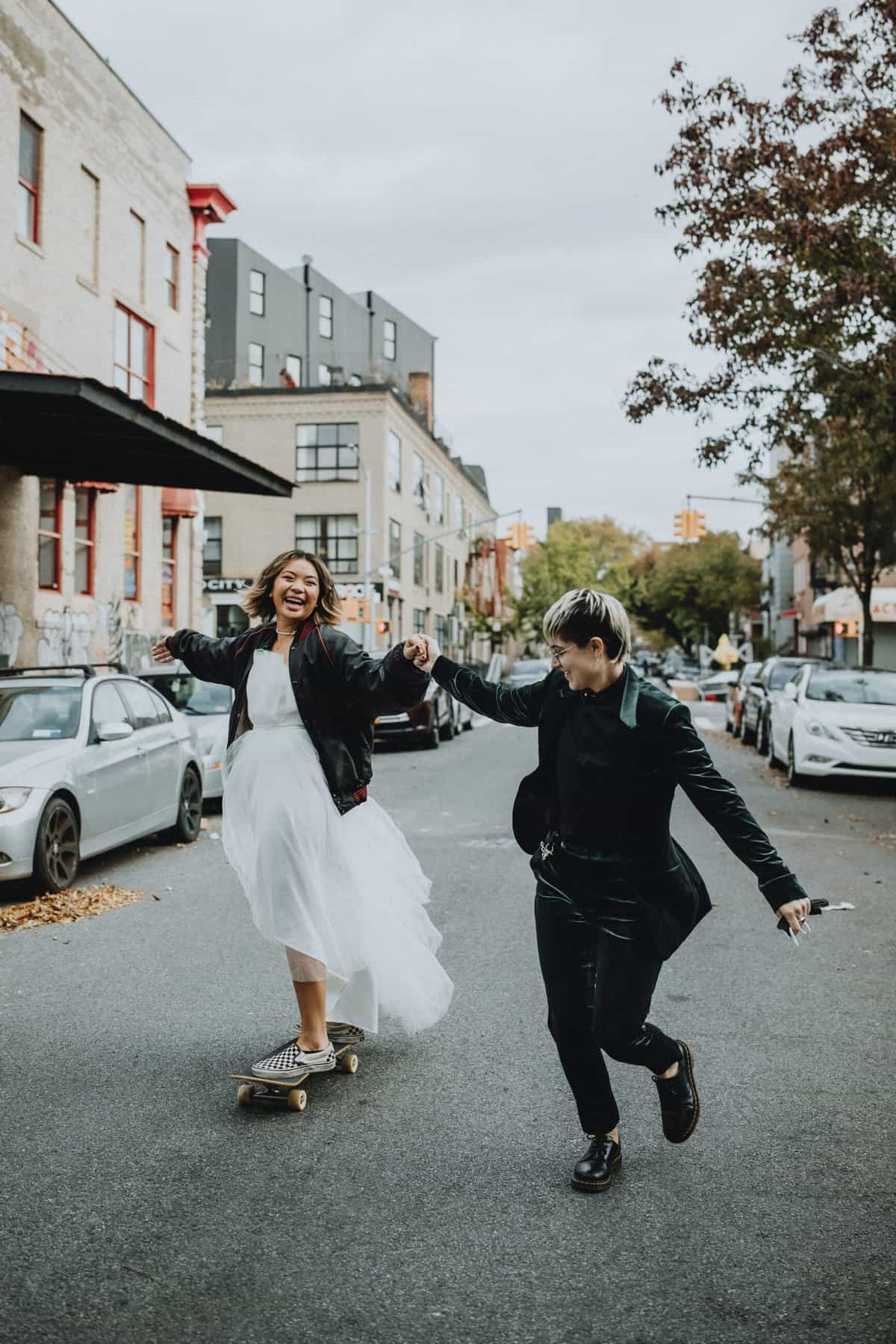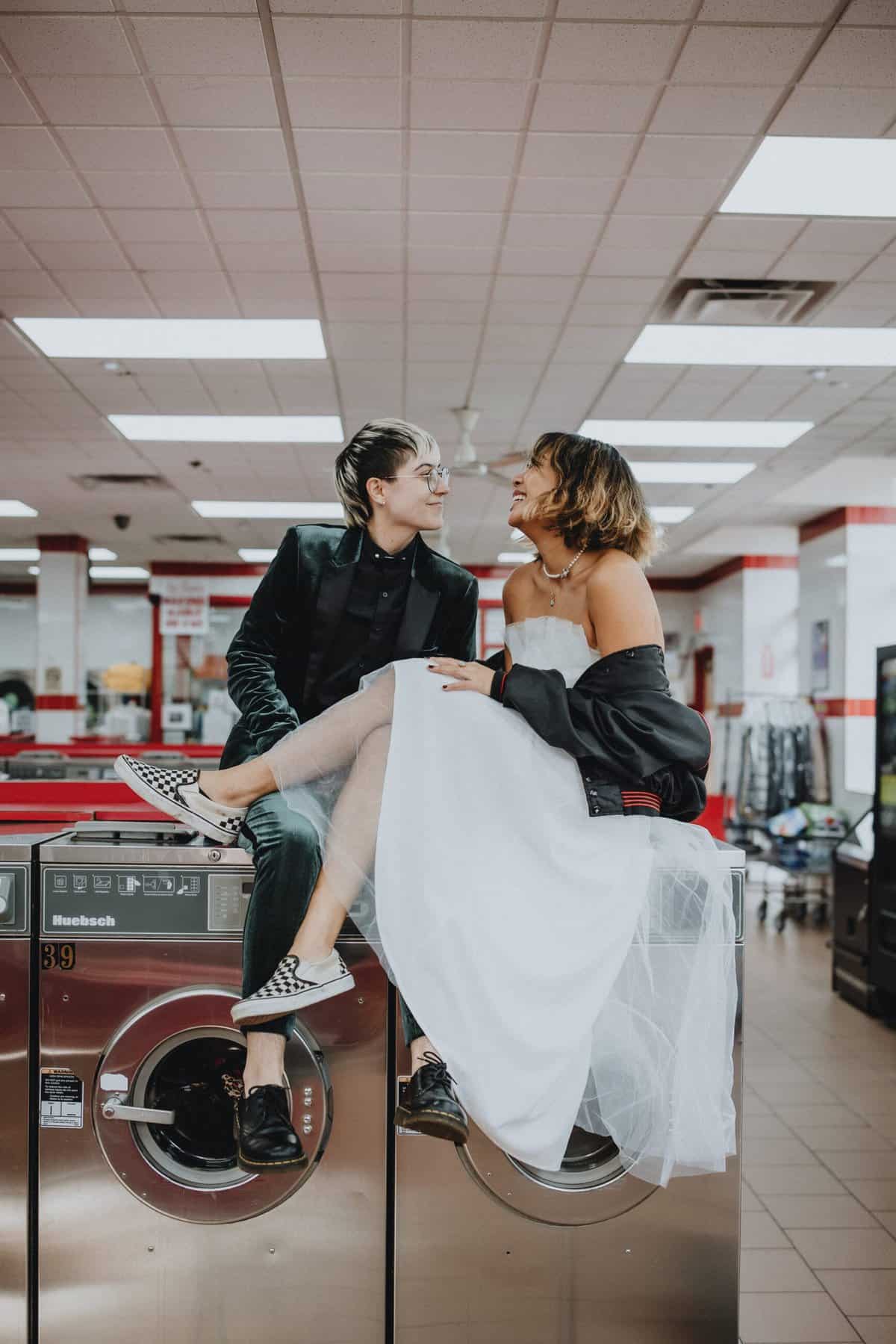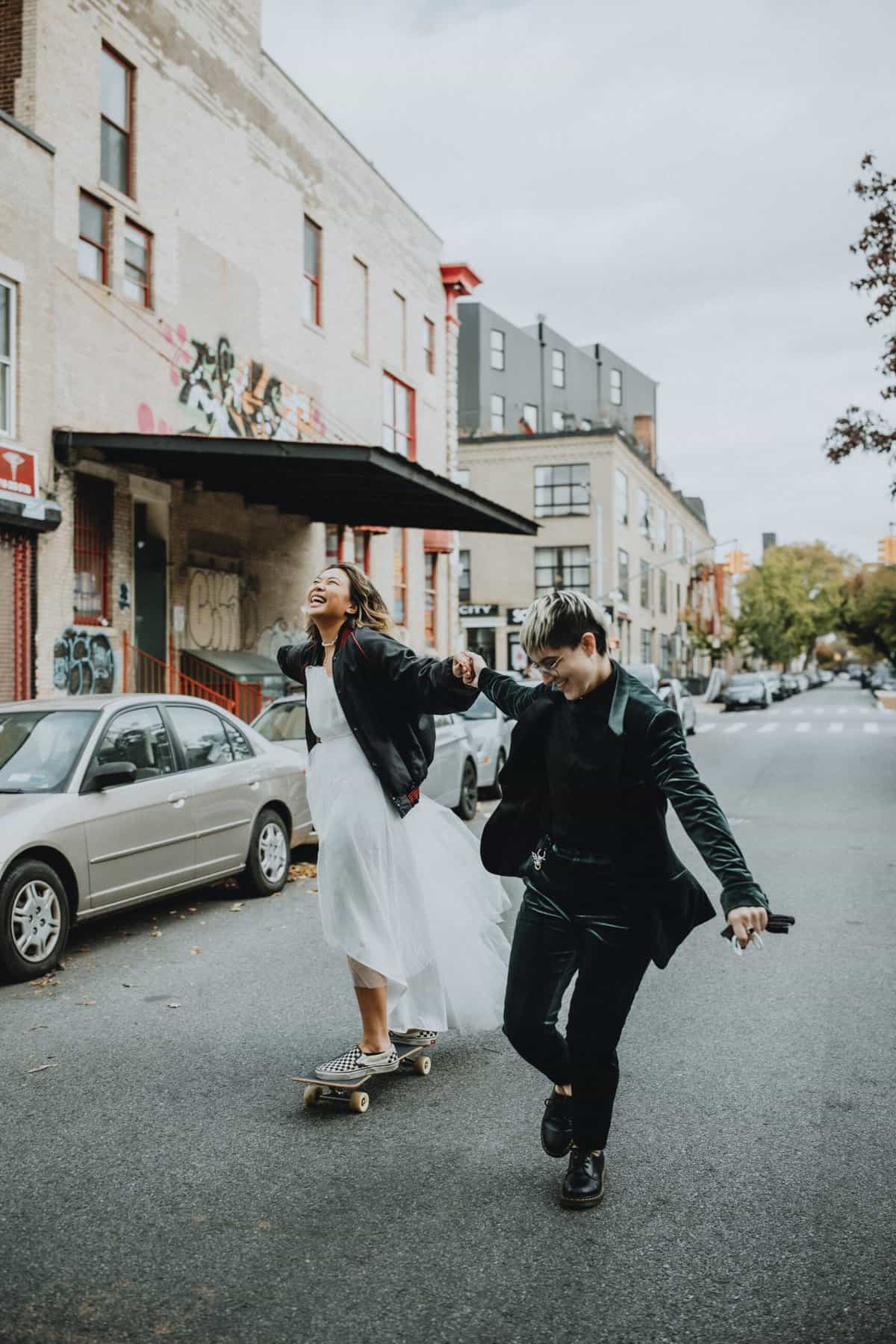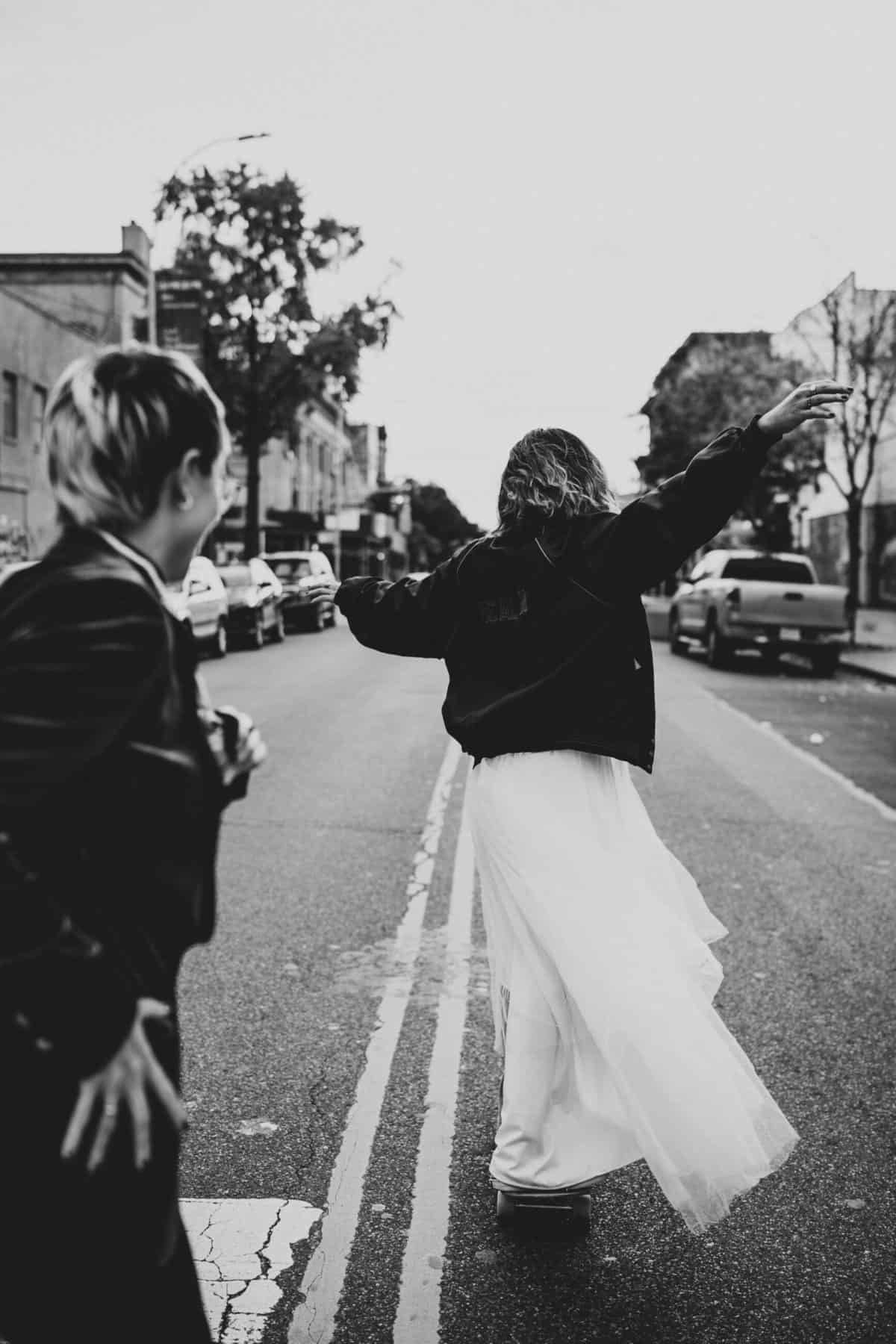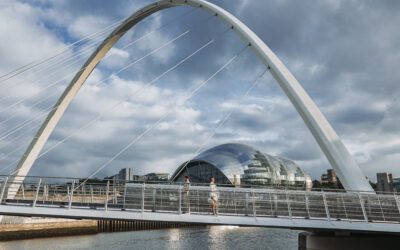 Newcastle elopement Today on the blog we have a graffiti wall, fun-filled city centre elopement...