This week we have this gorgeous romantic bohemian wedding styled shoot on the city blog. Set at the fab Fairfield social club by the talented Gabriella from the event edit. 
Ok, its no secret we love a moody industrial wedding, or a cool city ceremony! Let's face it that's why you landed on our blog right?
We also love a styled shoot. They are the perfect way to show inspiration and creativity. It allows suppliers to come together and have a fun day doing something they love, whilst creating content for themselves and showing you what they are capable of.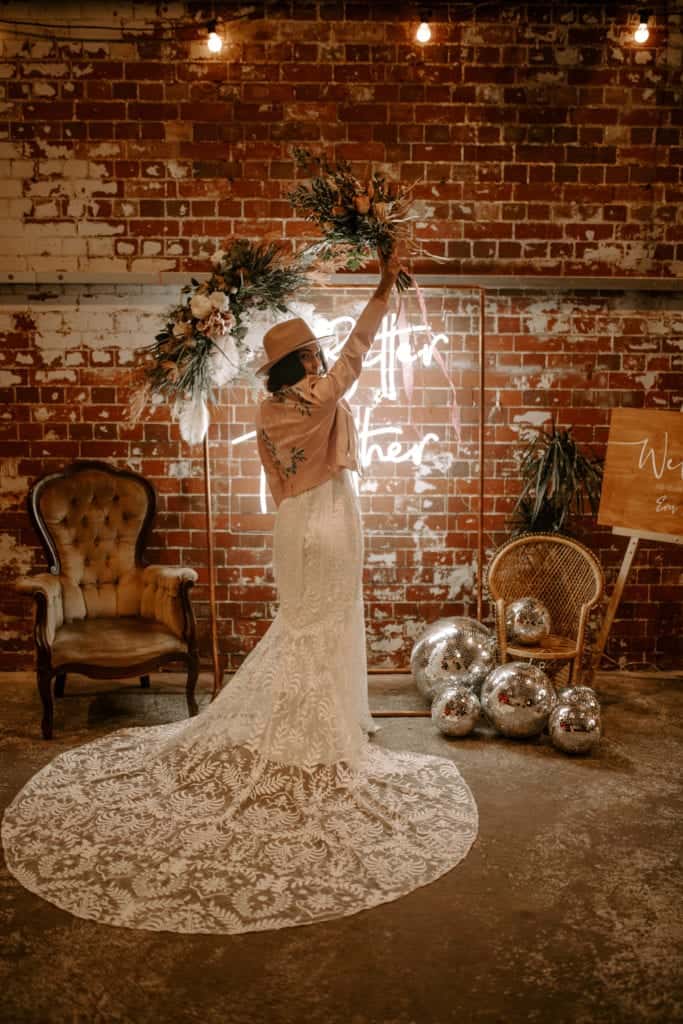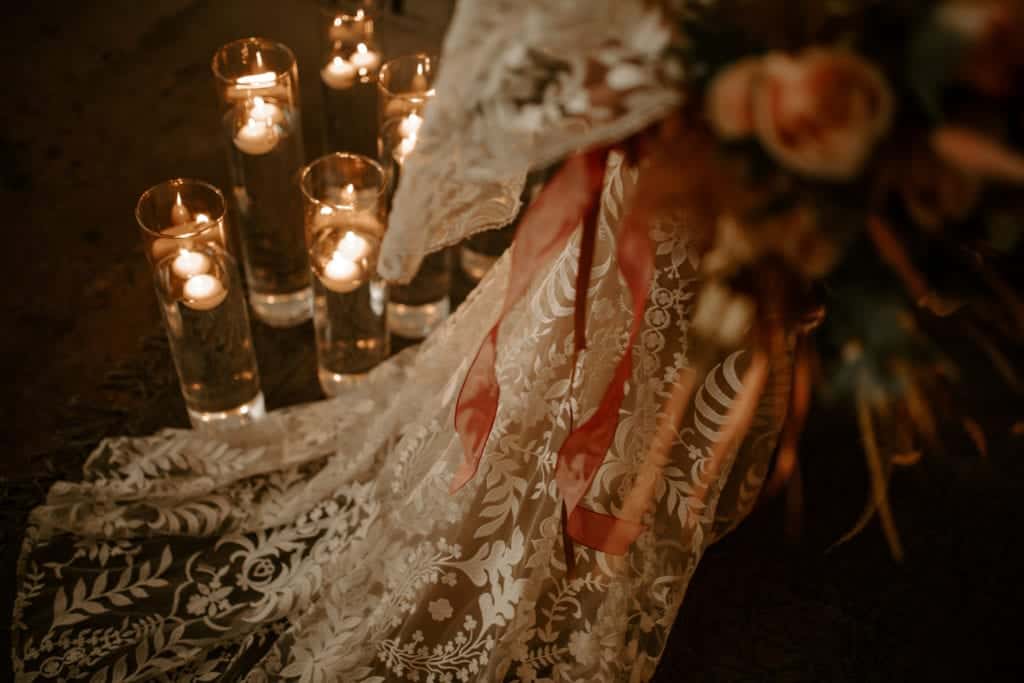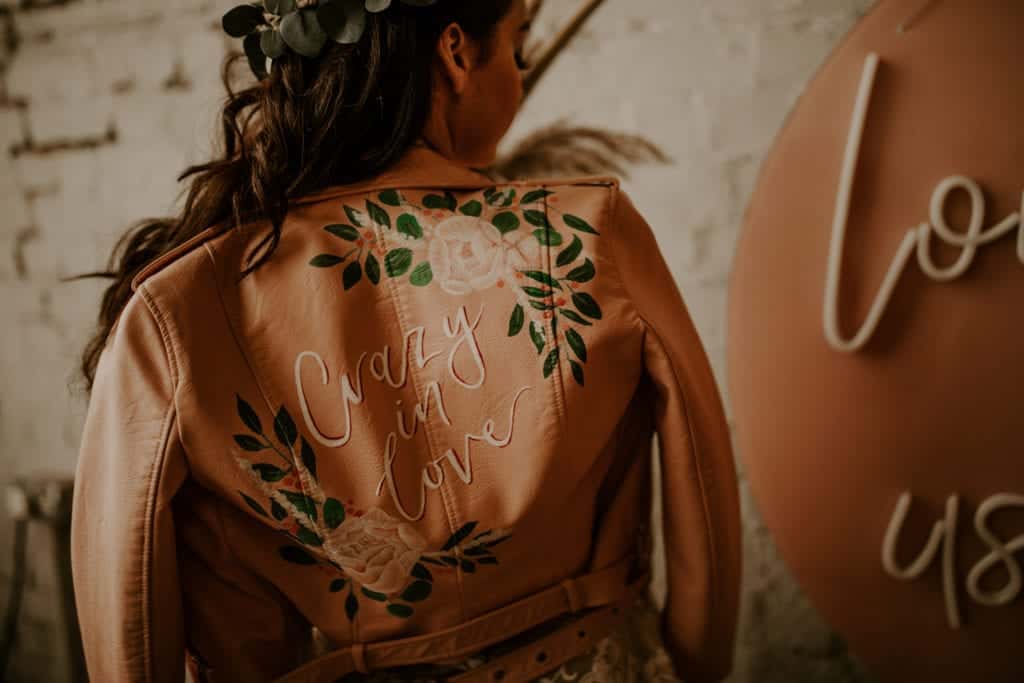 WHAT WAS THE INSPIRATION BEHIND THE ROMANTIC BOHEMIAN SHOOT?
So, WE WANTED TO CREATE INSPIRATIONAL IMAGES FOR couples. We want to SHOWCASE THEIR INDIVIDUALITY AND PERSONALITY THROUGH THEIR WEDDING.
WE STILL WANTED TO PAY HOMAGE TO SOME TRADITIONAL ASPECTS. BUT HAVE THEM MIXED IN WITH SUPER COOL MODERN TWISTS. SUCH AS THE NEON LIGHTS, TRILBY HATS AND DISCO BALLS
​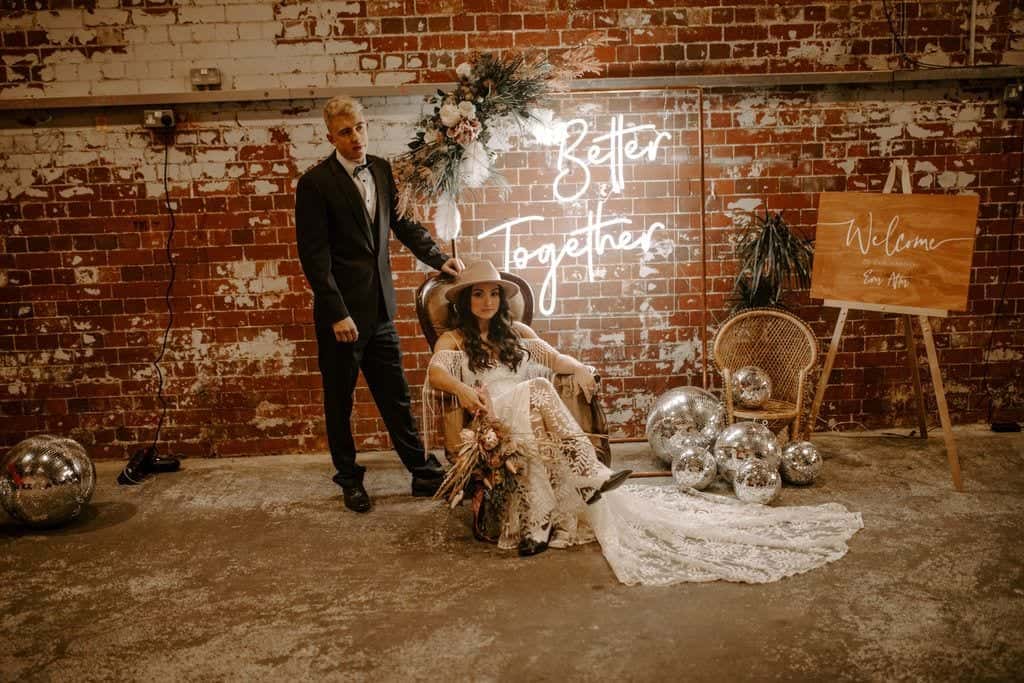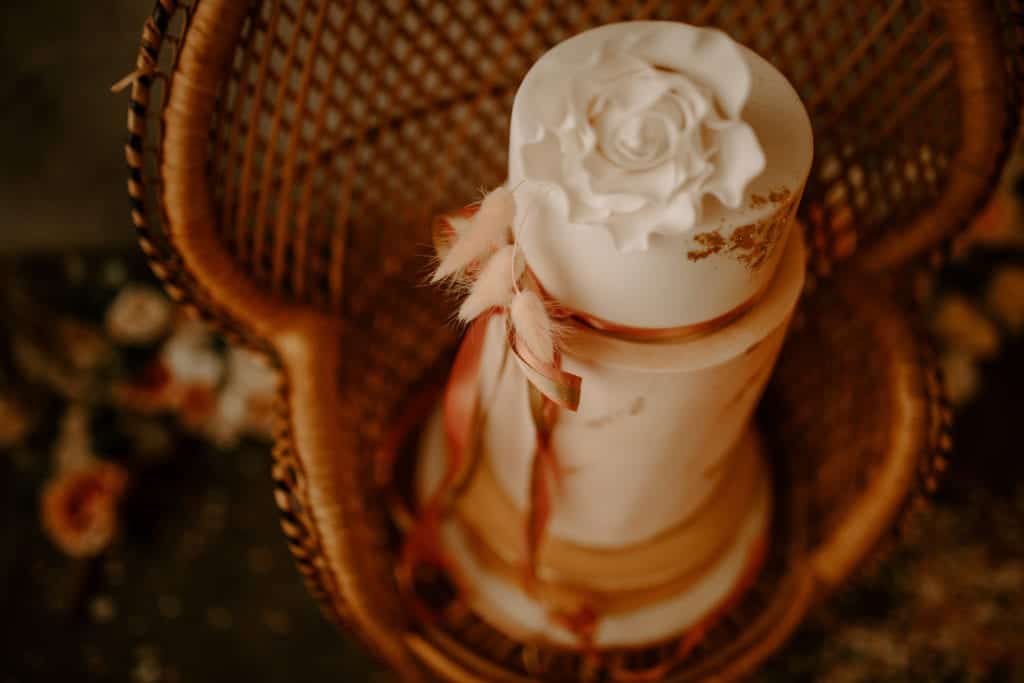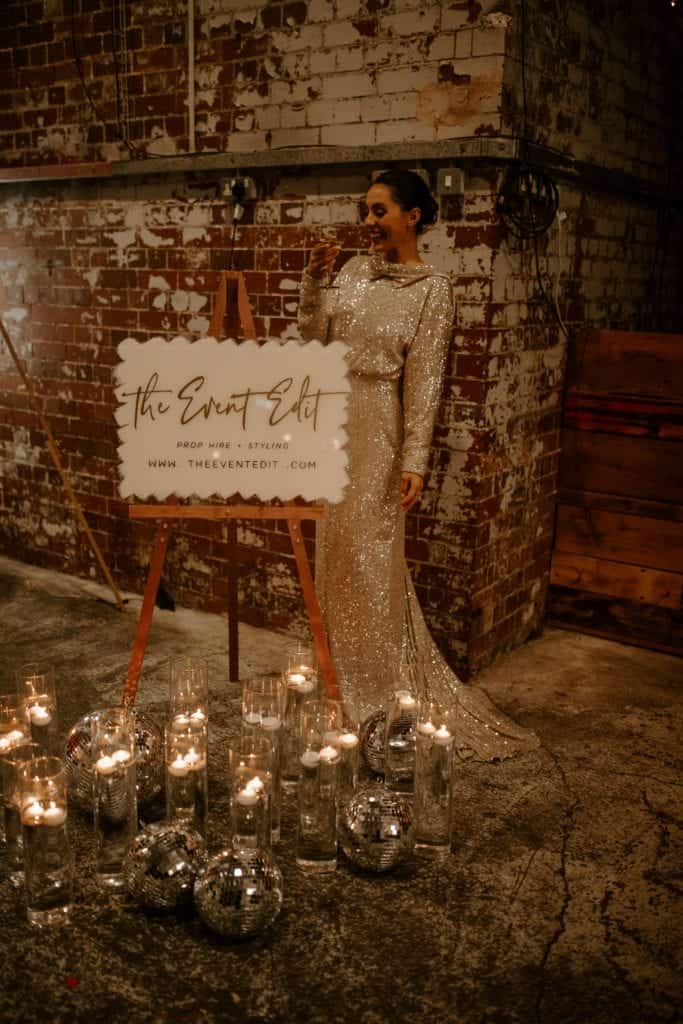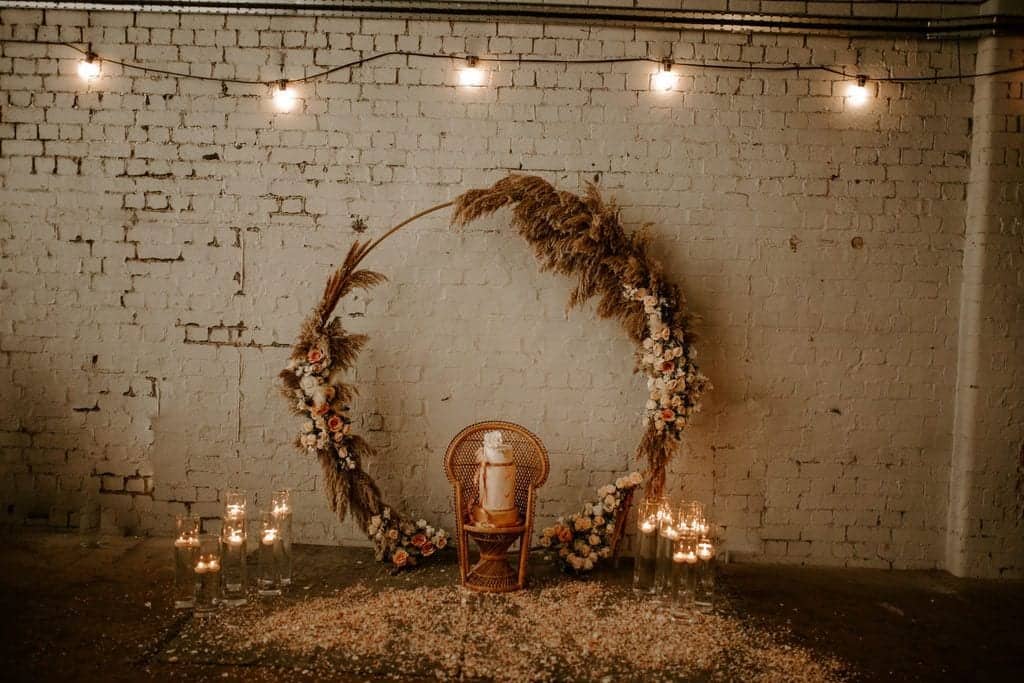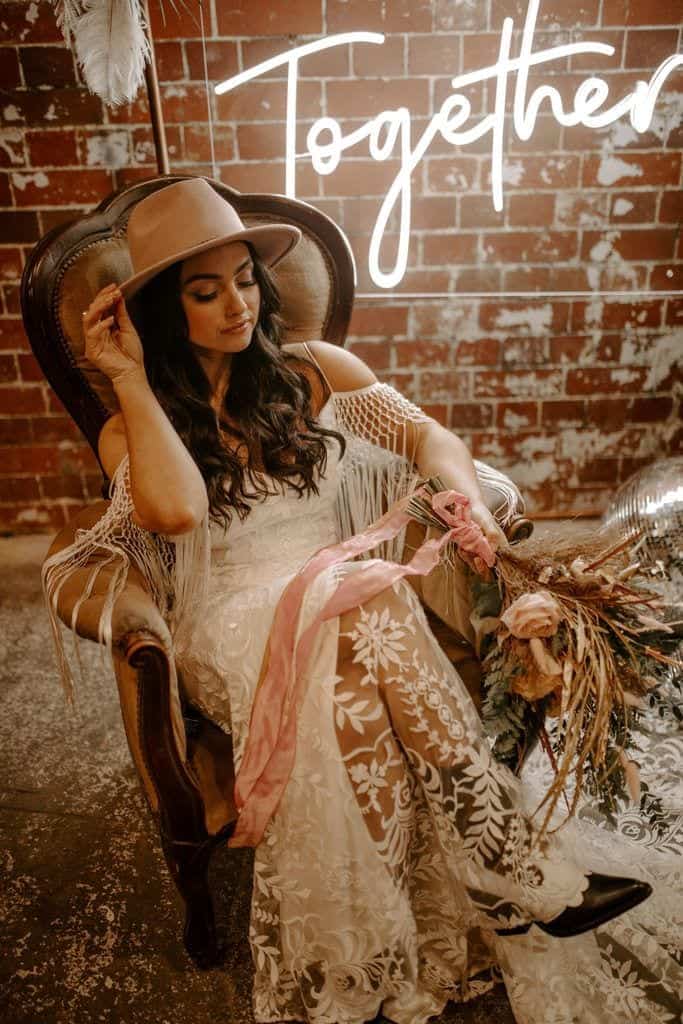 Which venue was the shoot in?
The shoot was in a Manchester city centre based venue called Fairfield Social Club. We choose this venue for its industrial eclectic vibe. Everyone fell in love with white washed brick walls and huge open industrial windows.
The vibe we WERE LOOKING TO CREATE was A WHIMSICAL VIBE. Paired WITH AN ECLECTIC MIX BETWEEN TRADITIONAL AND BOHEMIAN STYLING. FOR THE FASHION CONSCIOUS, EDGY YET FEMININE BRIDE.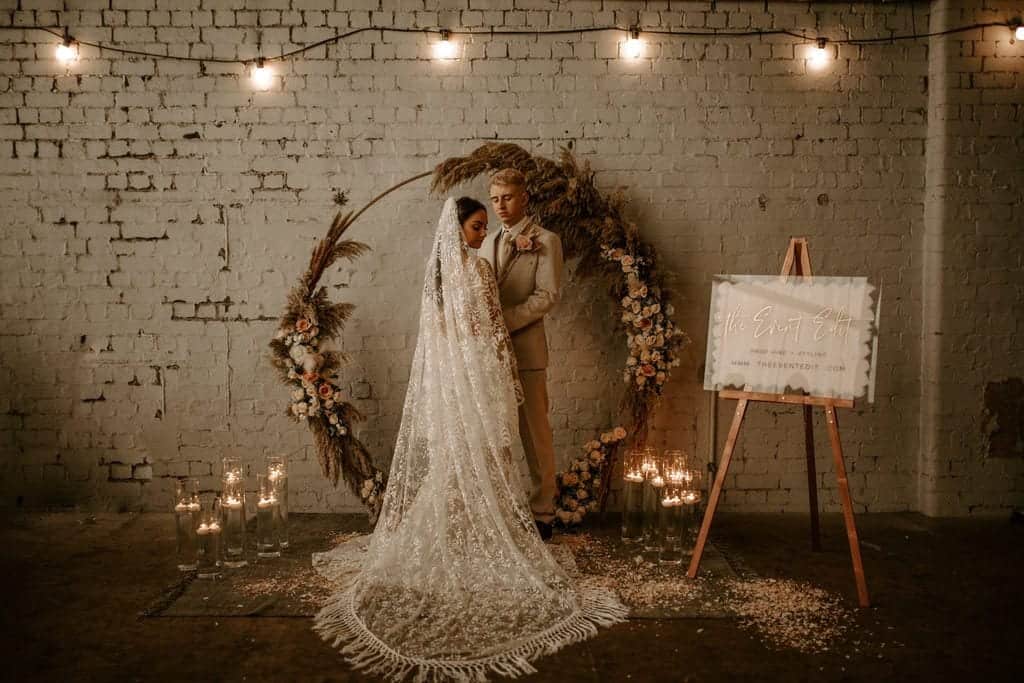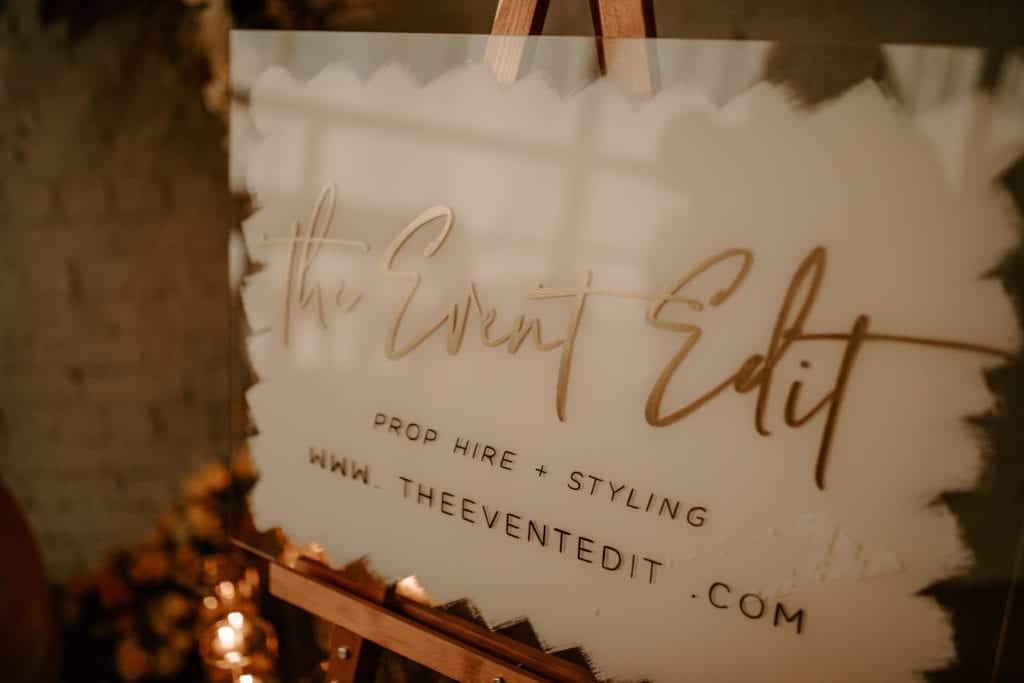 Peach and blush tones
We took inspiration from traditional tonal peaches & blush pinks. Mixing them up with edgy detailing such as the disco balls, painted leather jackets & cowboy boots. Our bespoke rose pampas grass moongate backdrop set the scene of free thinking femininity, against the opposing industrial vibes the venue provided.
BUT WHEN IT CAME TO THE DRESSES WE HAD A VISION IN MIN. We wanted a MIX OF ETHEREAL YET BOHEMIAN VIBES. THE AMAZING ALONG CAME EVE PROVIDED EXACTLY WHAT WE WERE LOOKING FOR. WE BROUGHT ON BOARD A HOST OF TALENTED LIKE-MINDED COLLABORATORS THAT BROUGHT OUR VISION TOGETHER PERFECTLY.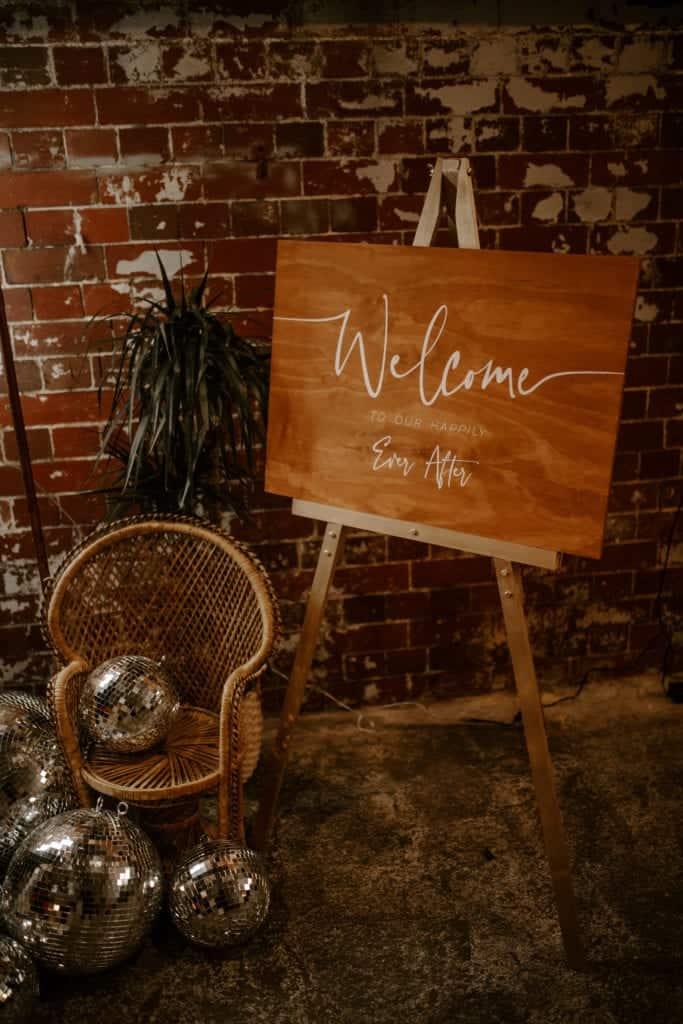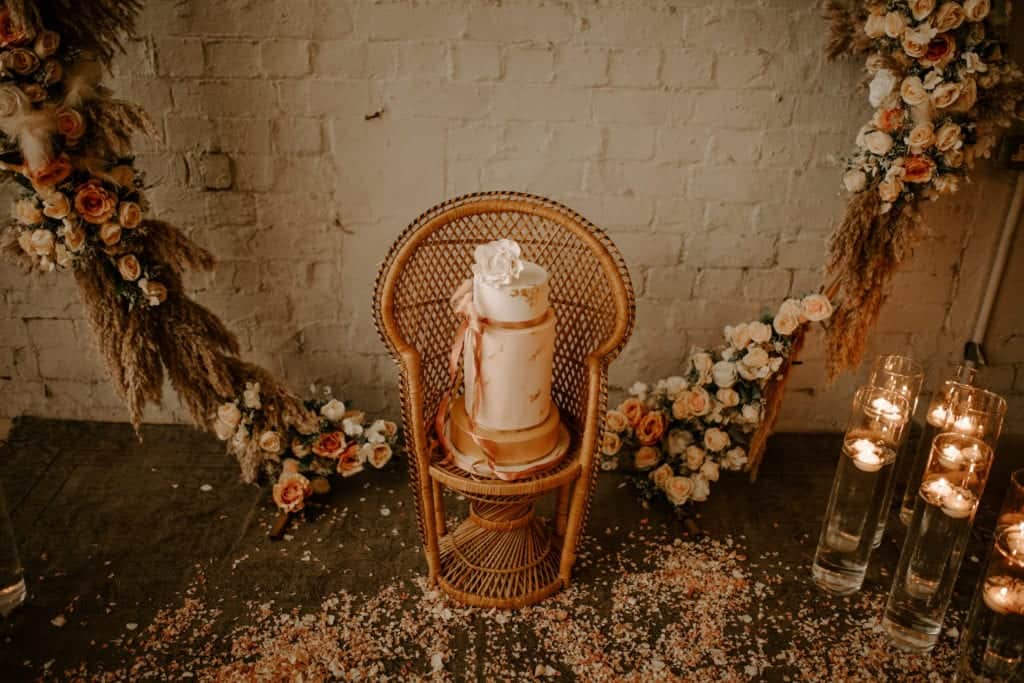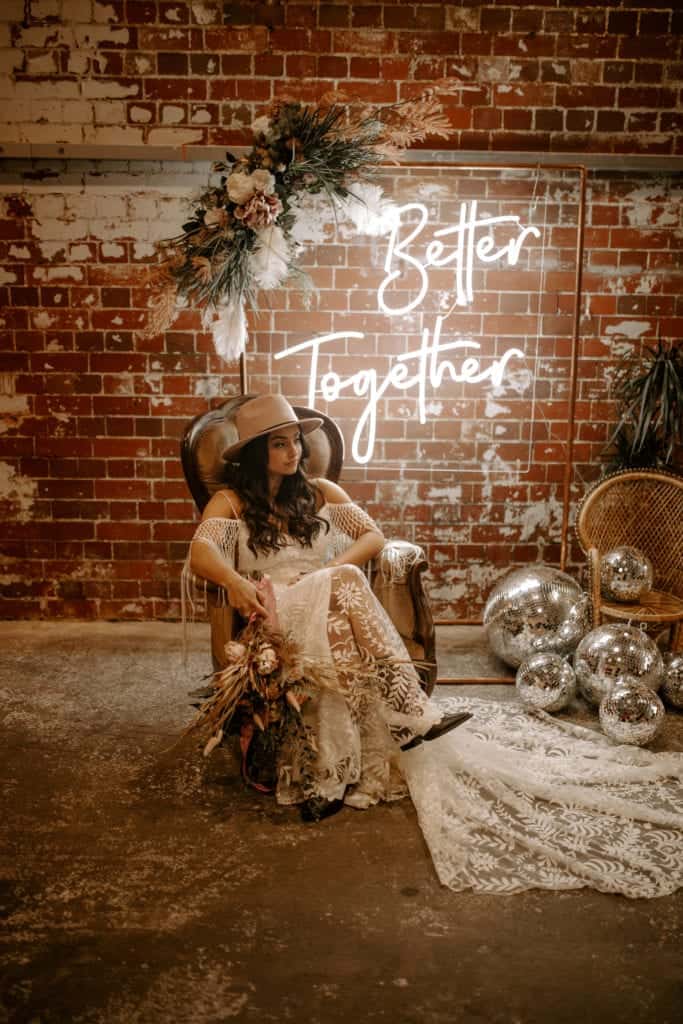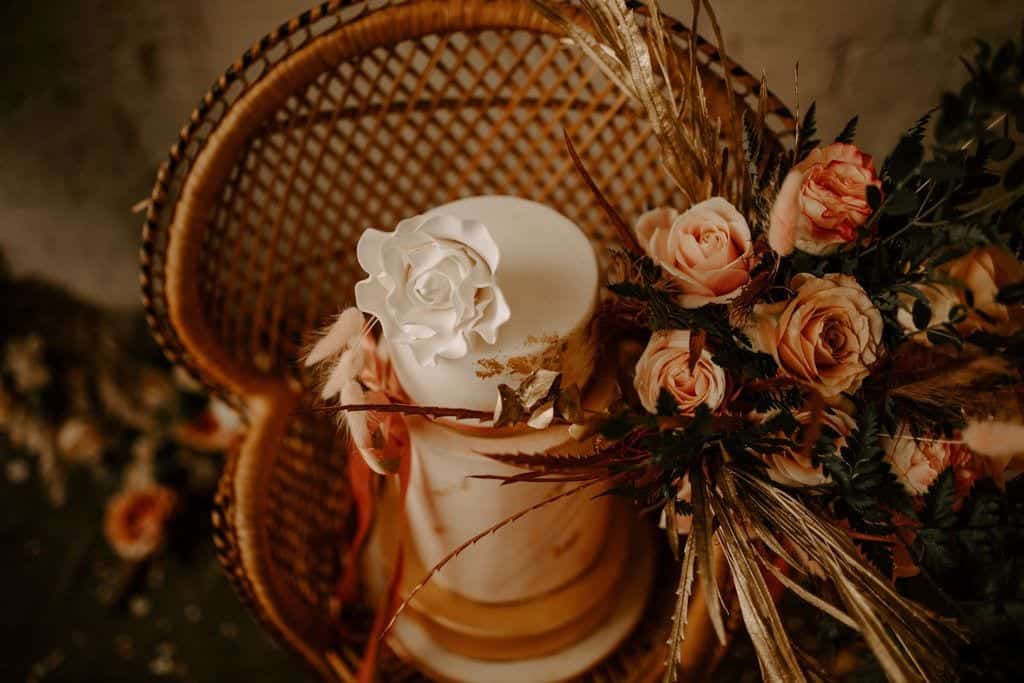 Our thoughts
We at the urban wedding company think this shoot is gorgeous, set in the perfect city centre venue. We're loving the mix of boho and industrial vibes too. The muted tones are lush, and the use of pampas grasses, well we're a sucker for pampas grass!
We have a weakness for this venue so of course we're happy to see it used as a shoot on our city wedding blog​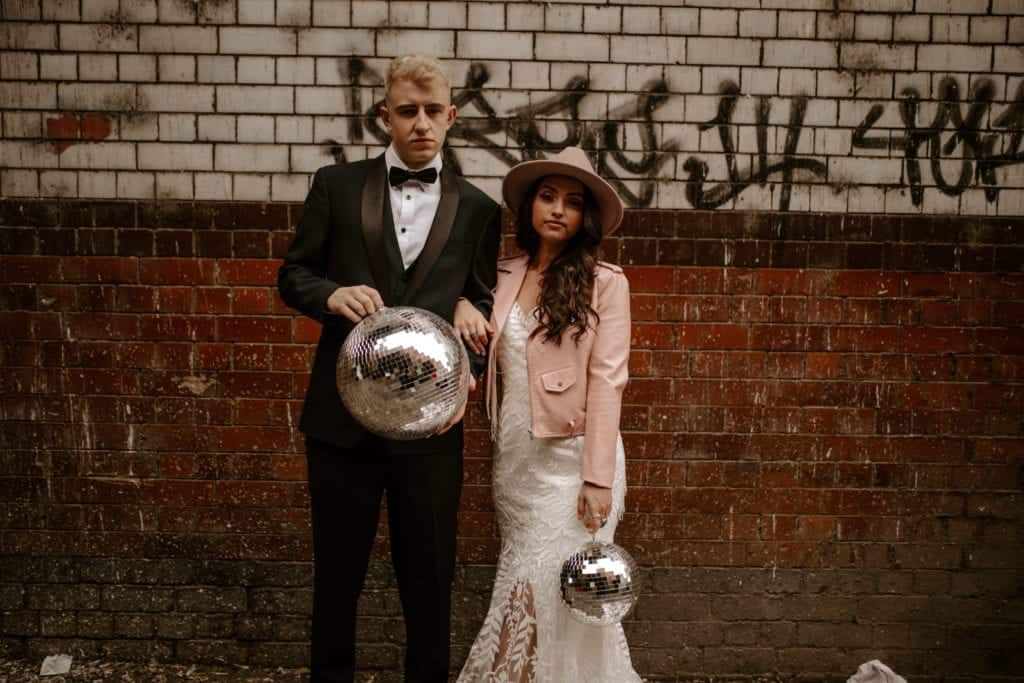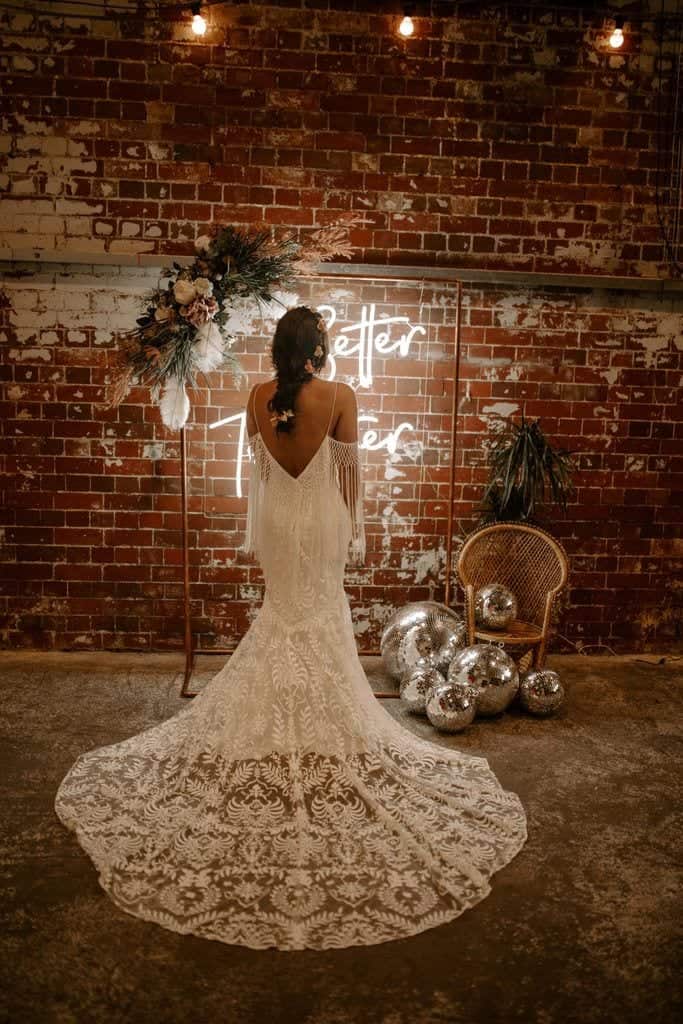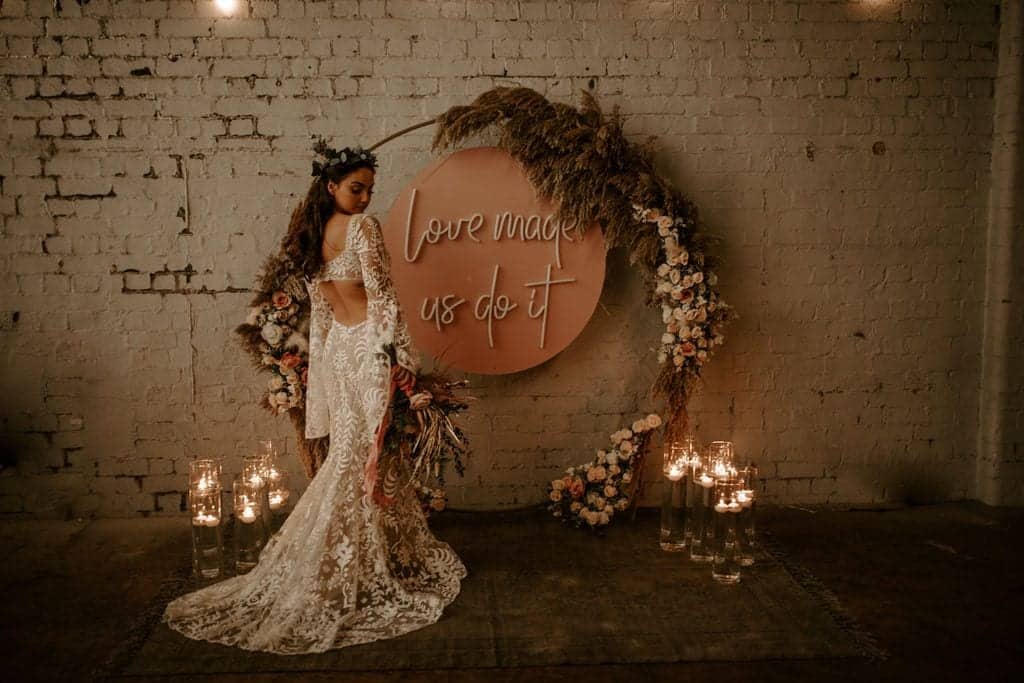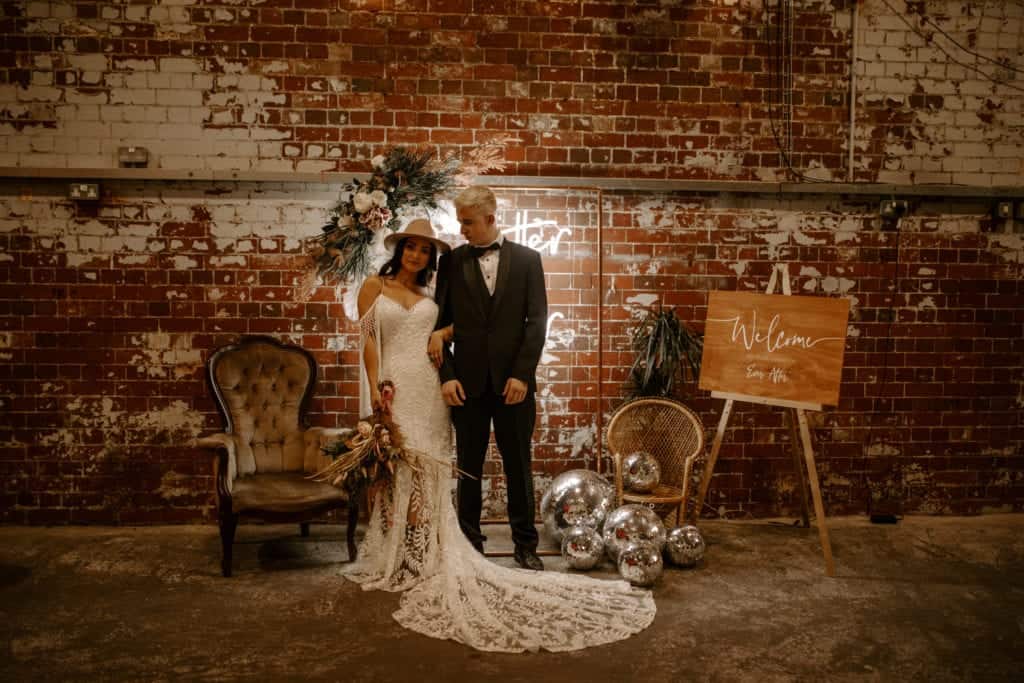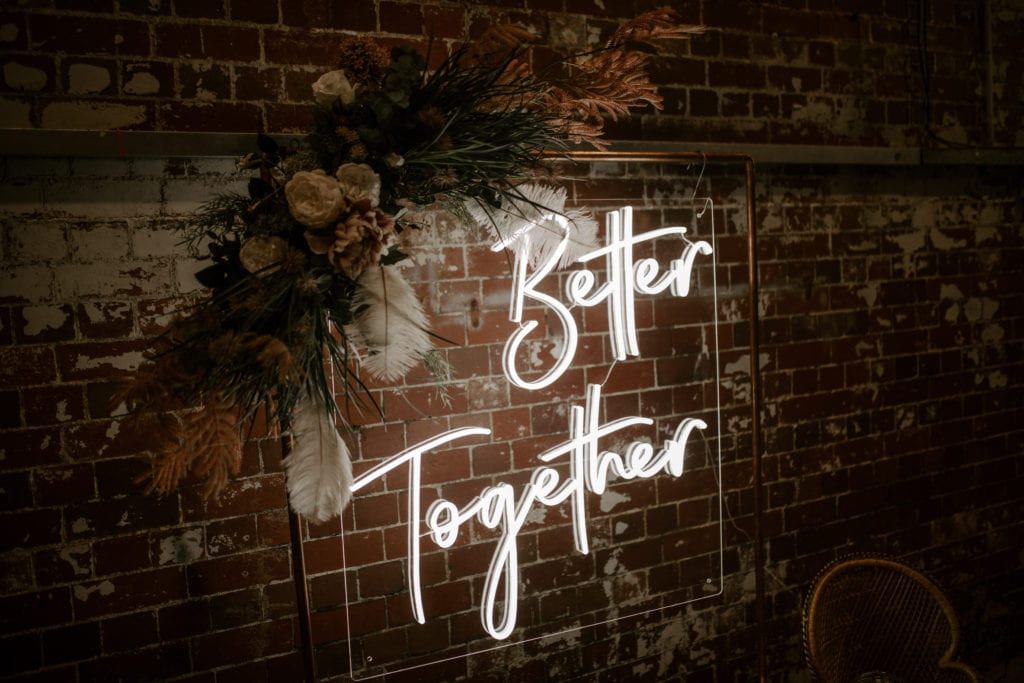 ​Credits
PROP HIRE, CONCEPT + STYLING – The Event Edit, PHOTOGRAPHER – Esme whiteside Photography, Bridal wear – Along Came Eve, Groom Wear – Groomhire, Cake – CAkesbySP, Florist – The Flower Decorative, Hair Stylist – AMY PIERCY HAIRDRESSING, Head pieces – RACHEL CHAPRUNNE, Makeup Artist – VICKY ADAMSON, MAle Model – Jack affleck, female model – georgia mccaffrey, stationery & leather jacket – rock paper nib, veils & earrings – peacock & pearl, videographer – KEELEY WEDDING FILMS, confetti – SHROPSHIRE PETALS, venue – fairfield social club, Hair Accessories – Luna & Wild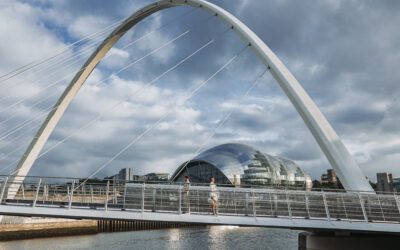 Newcastle elopement Today on the blog we have a graffiti wall, fun-filled city centre elopement...