Welcome to our Urban city wedding blog! Whether you're new to the blog or have been here many times, it's lovely to see you again! If you've been here before you'll know It's no secret we love street art. Its not for everyone, but you cant deny there is just something amazing about a huge mural on a wall that someone has taken time to create!
So, we're bringing you this fantastic styled shoot with a huge focus on street art! It's a fab Urban city wedding in the South of London. It's filled with colour which you rarley see on here as you know we love moody tones! But this shoot has our style written all over it!
enjoy!!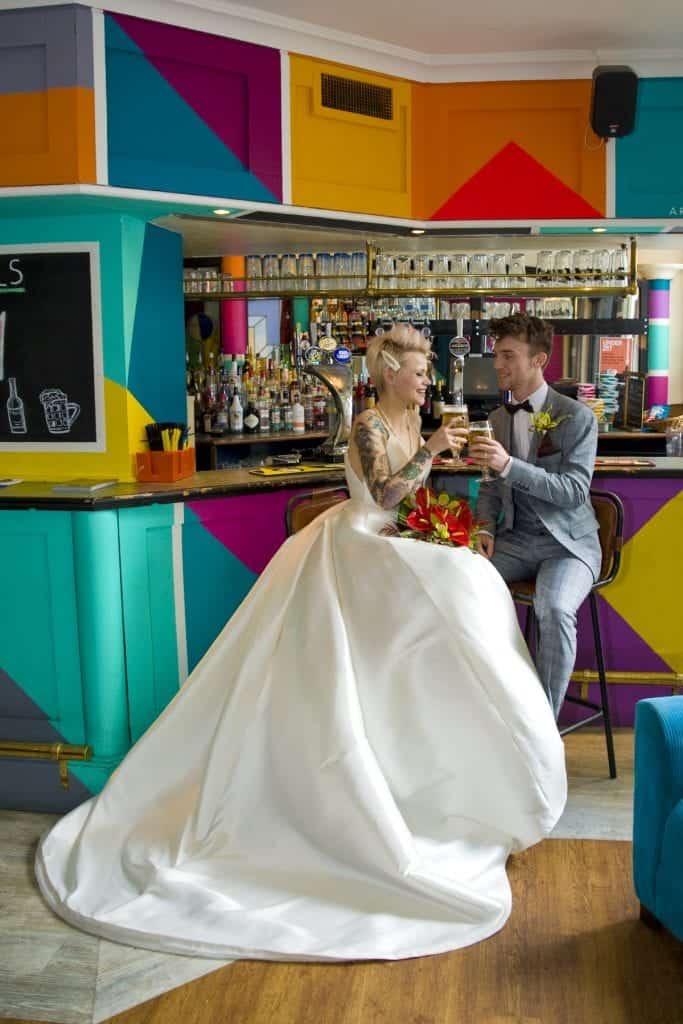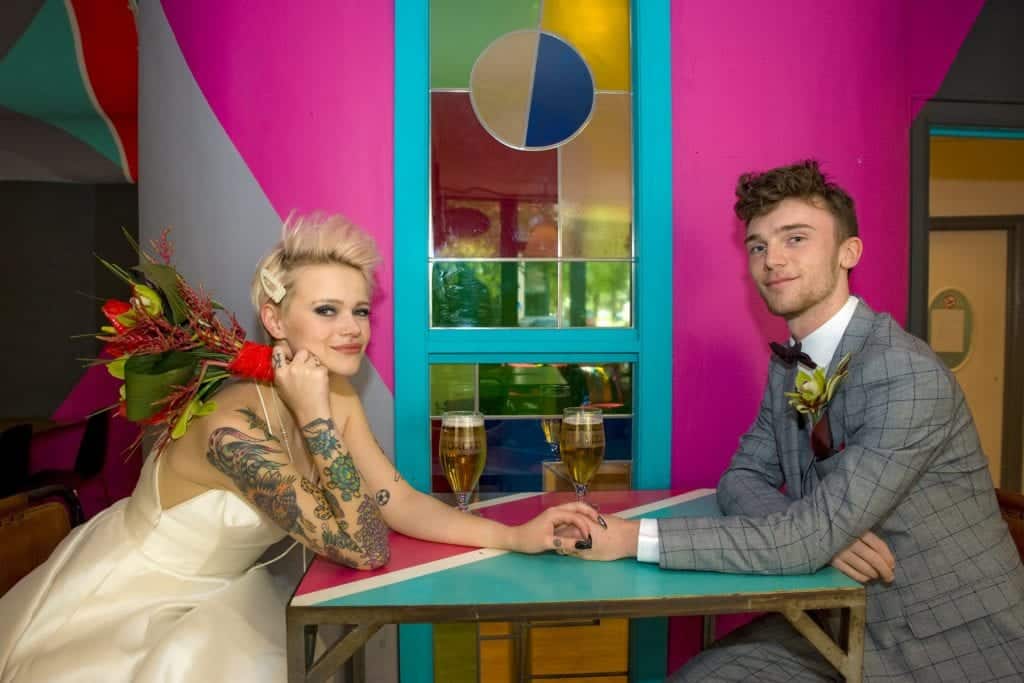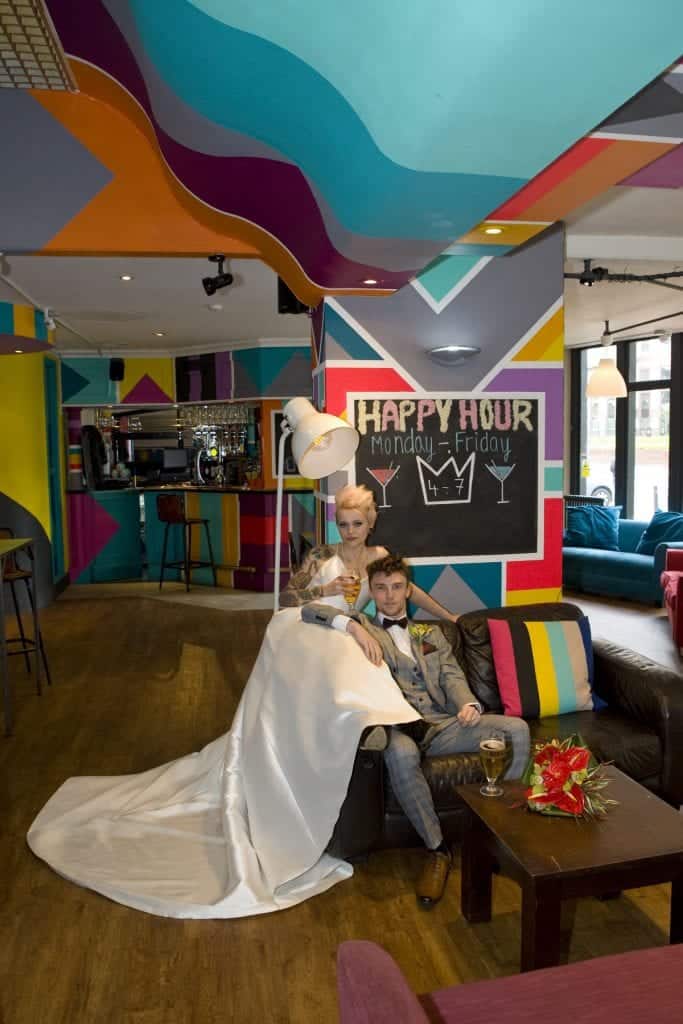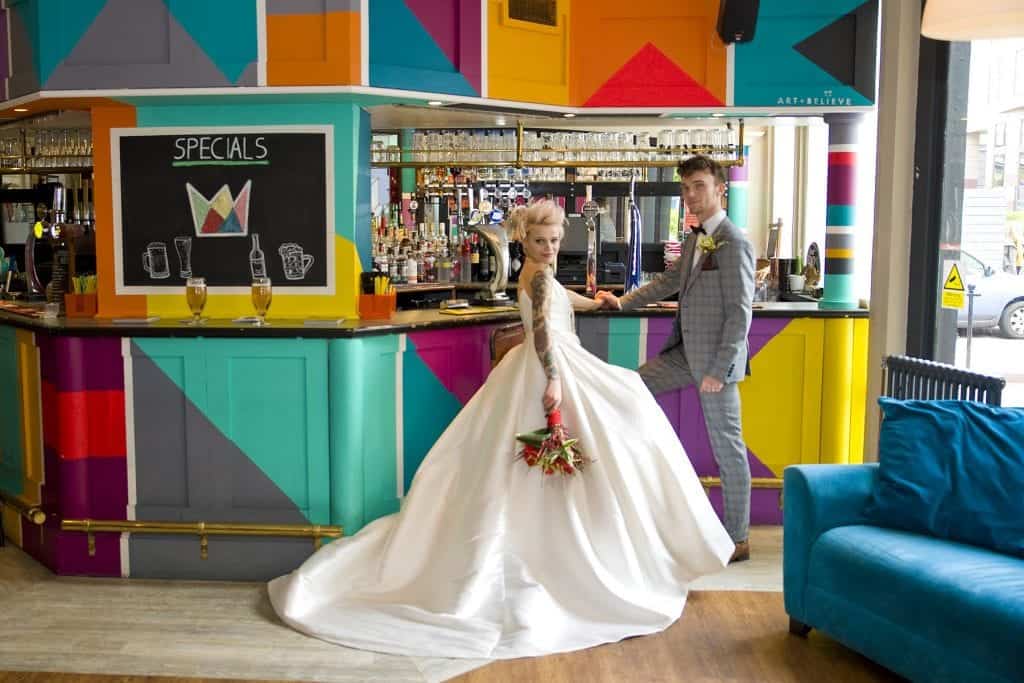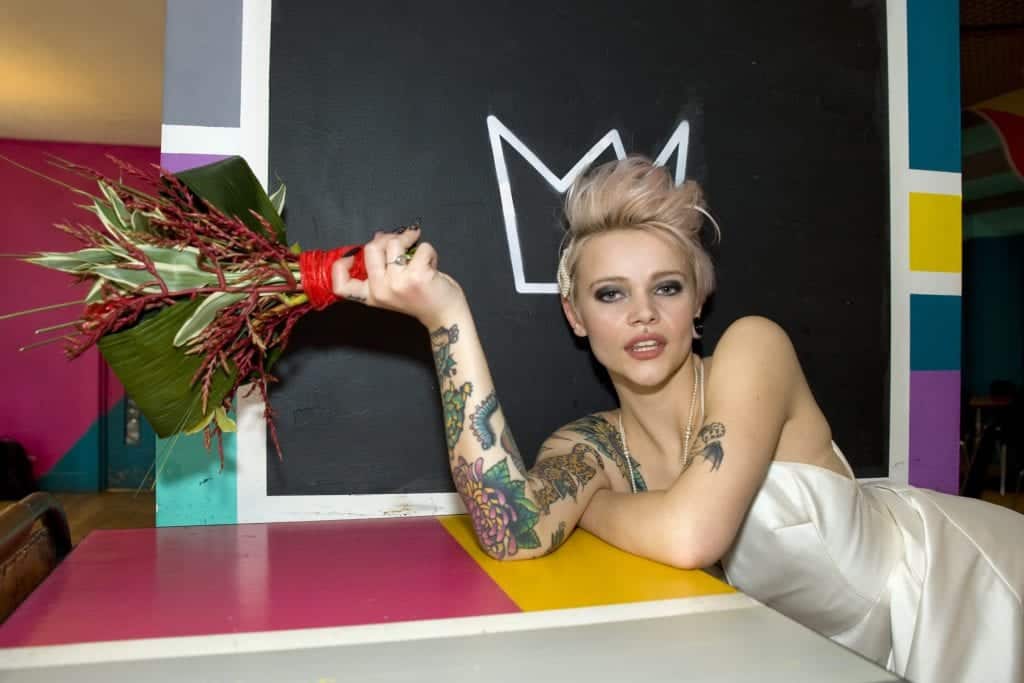 What was your inspiration behind Urban city wedding shoot?
Croydon is our local town on the South London, Surrey border. Previously marred with bad press, its actually an urban gem. It is oozing evolving creativity which we feel should be celebrated. Our camper-van wedding hire company teamed up with a group of local wedding suppliers. With a mission to showcase the beauty of what can often be found on your doorstep. In today's age, it is only too easy to get swept away with the utopic inspirational feeds on social media.
Don't get me wrong, we love taking part in styled shoots across all genres. But as a collaboration, on this occasion we wanted to bring home the message that home grown has a lot going for it! All you just need to do is look for it!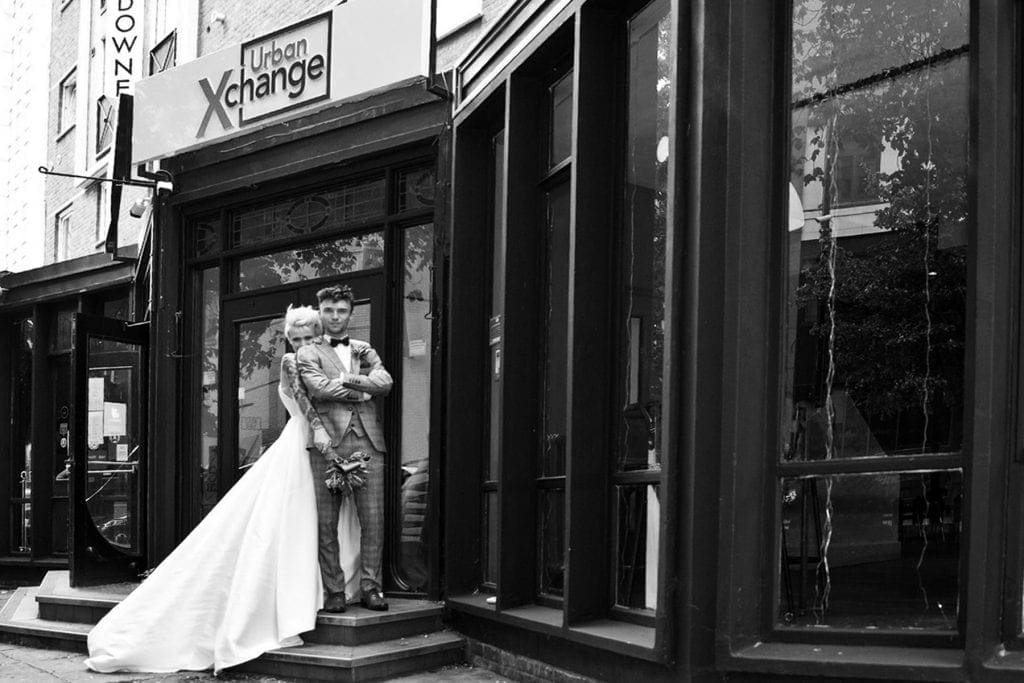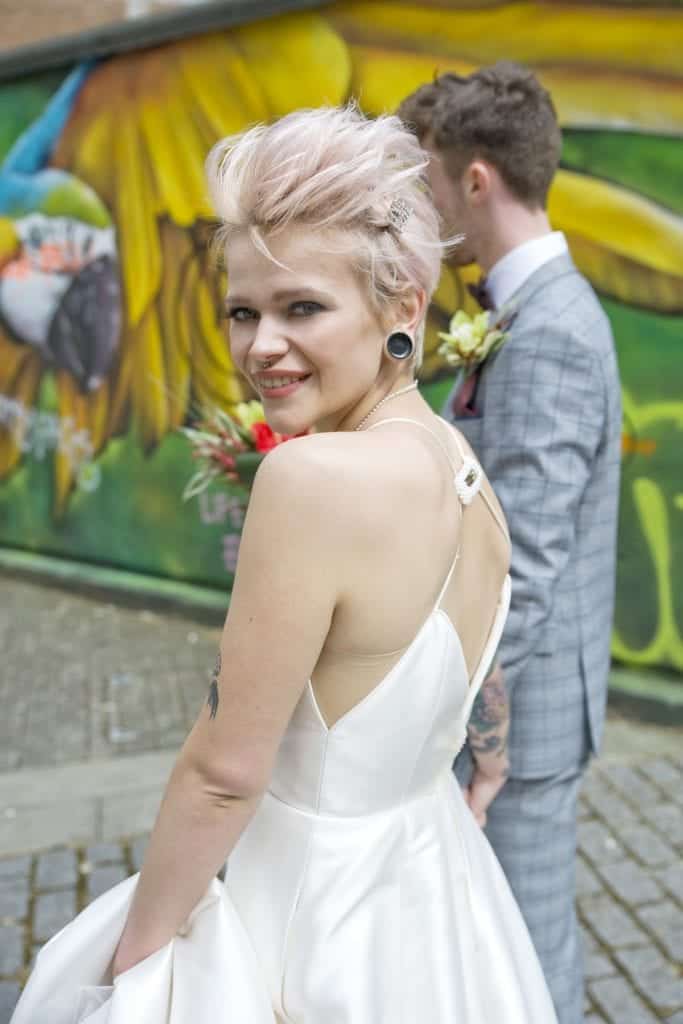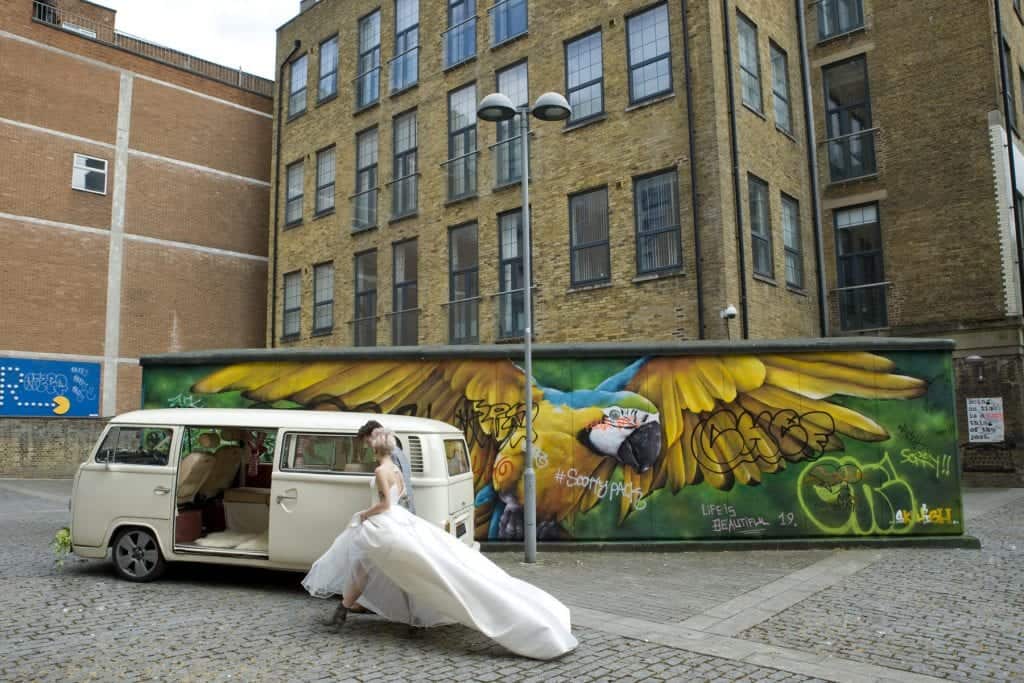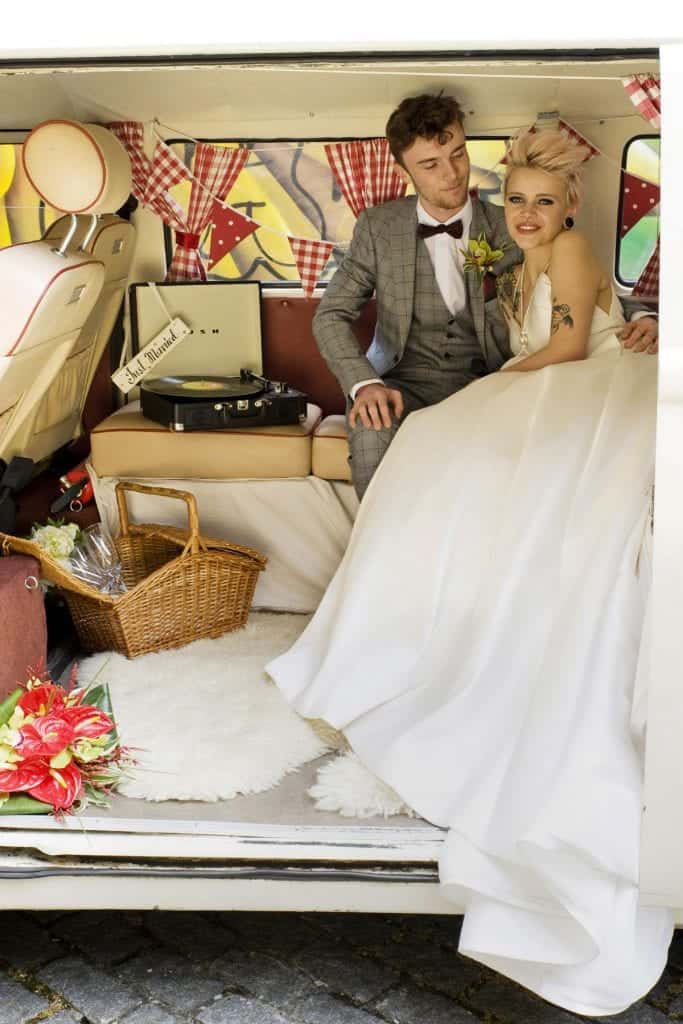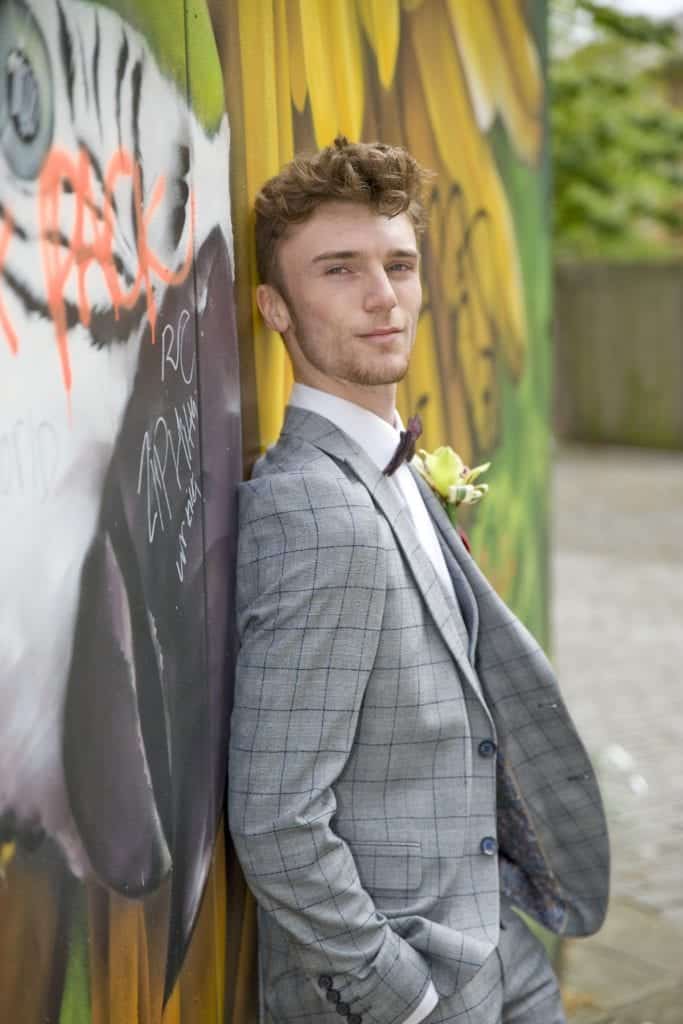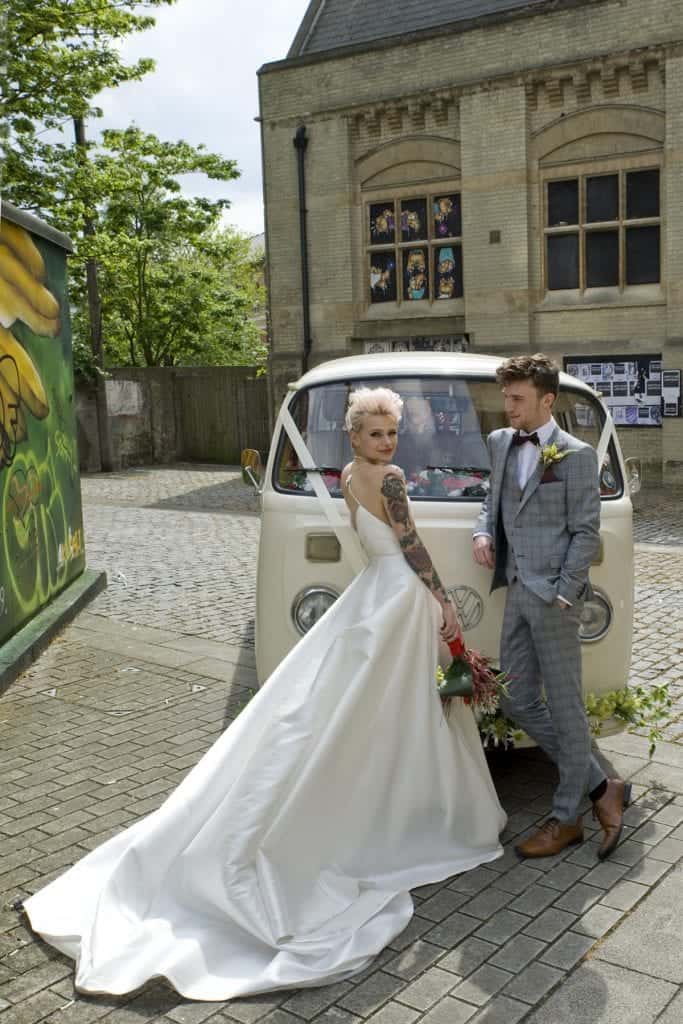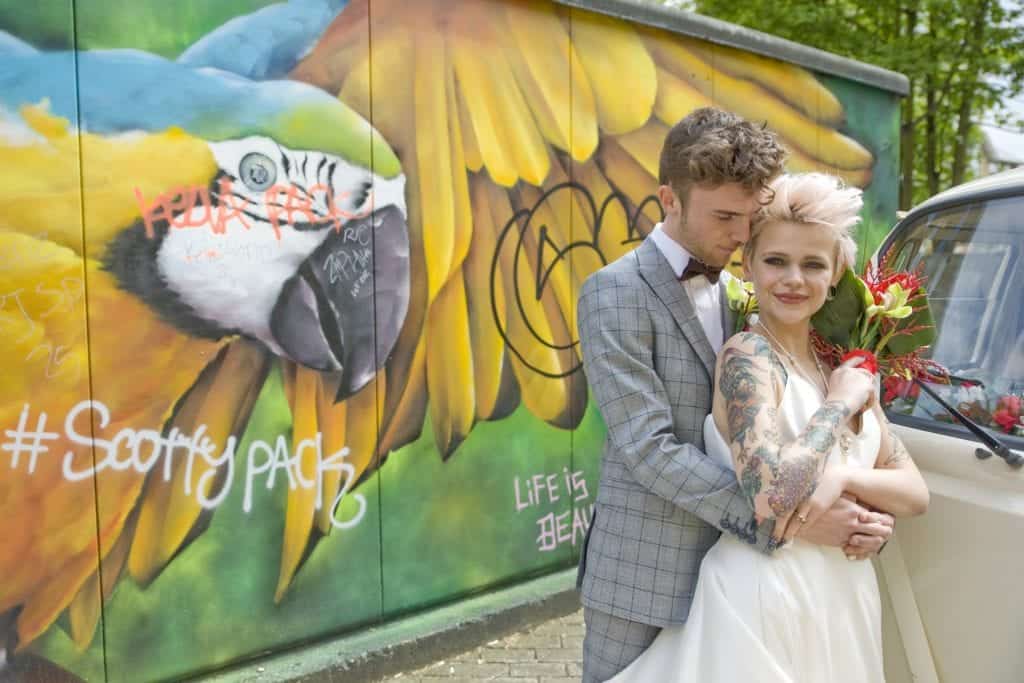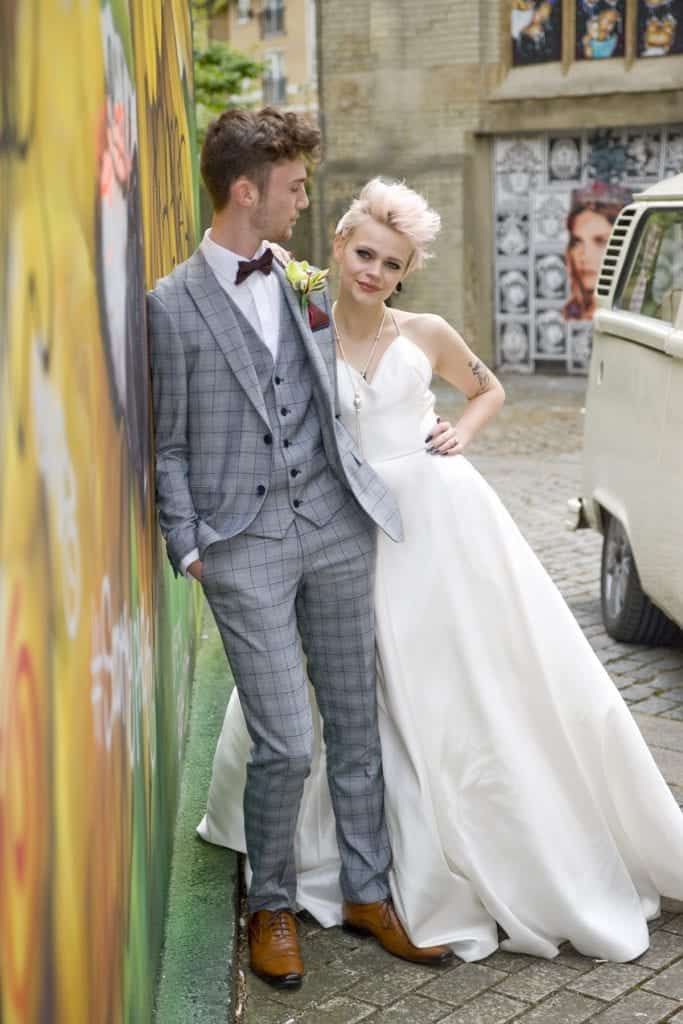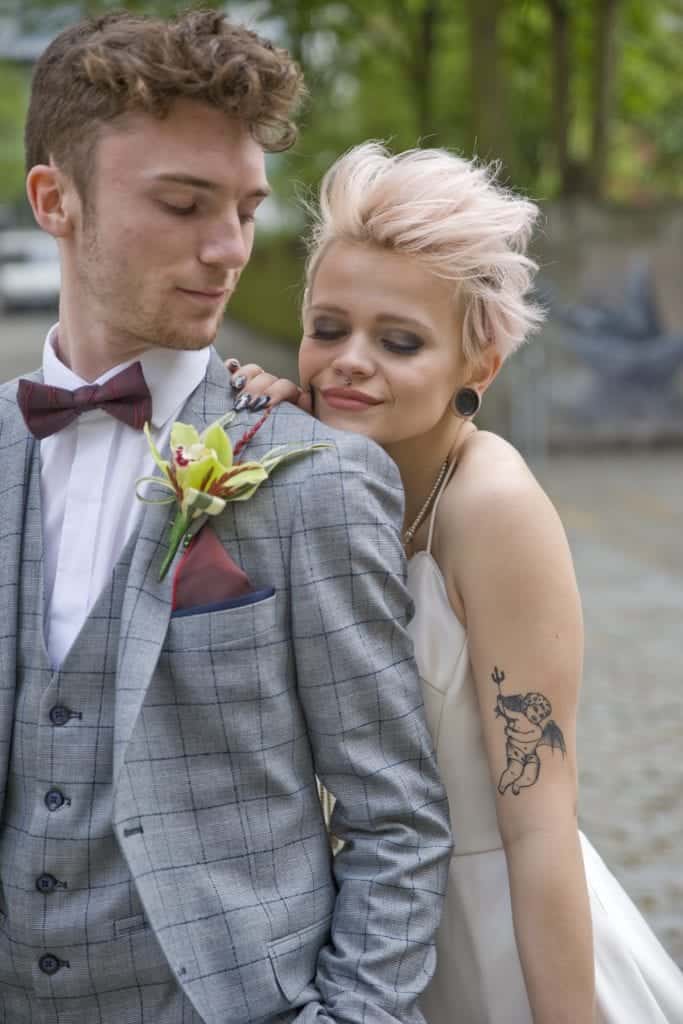 what was important to you on the shoot?
supporting local businesses at this time is so important, as we look to the future, once restrictions are lifted. There is a lot to be said for the local street food, the humble pint or the pleasure of walking down the street and sharing your celebrations with people waving and tooting and wishing you well as you stroll down the registry office steps. The art of echoing simple pleasures, rather than the ideal.
It was important for us to credit all the street artists that have painted our ever-changing canvas of a town with beautiful, bright images often layered with meaning and open to interpretation. We gained support from previous local gallery owner, Kevin at Rise Gallery and were granted access by key land owners and security for the shoot.
​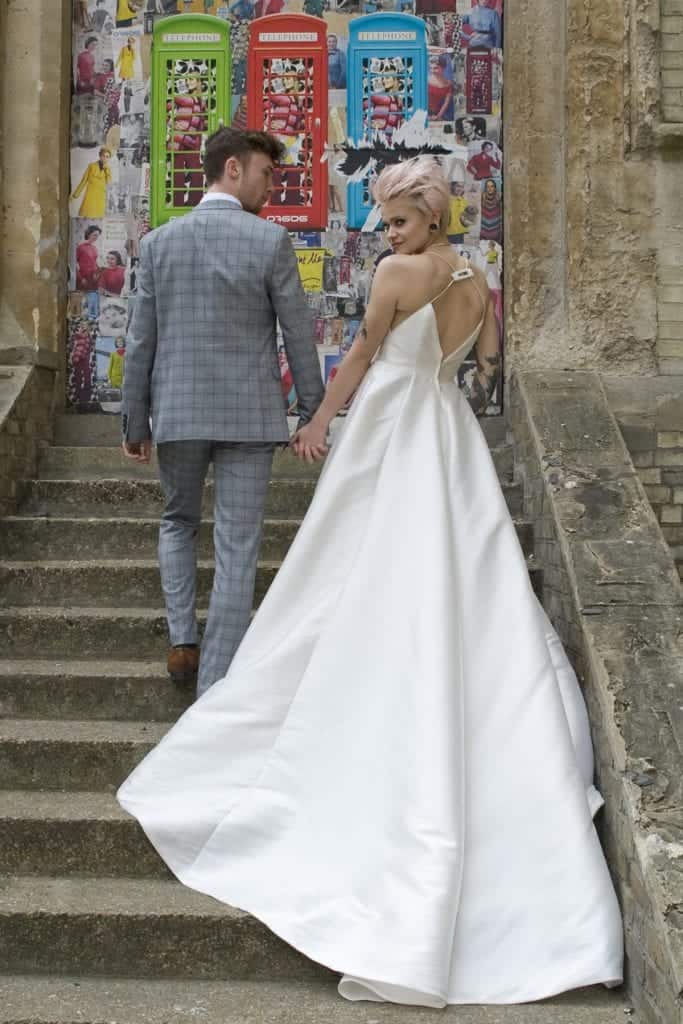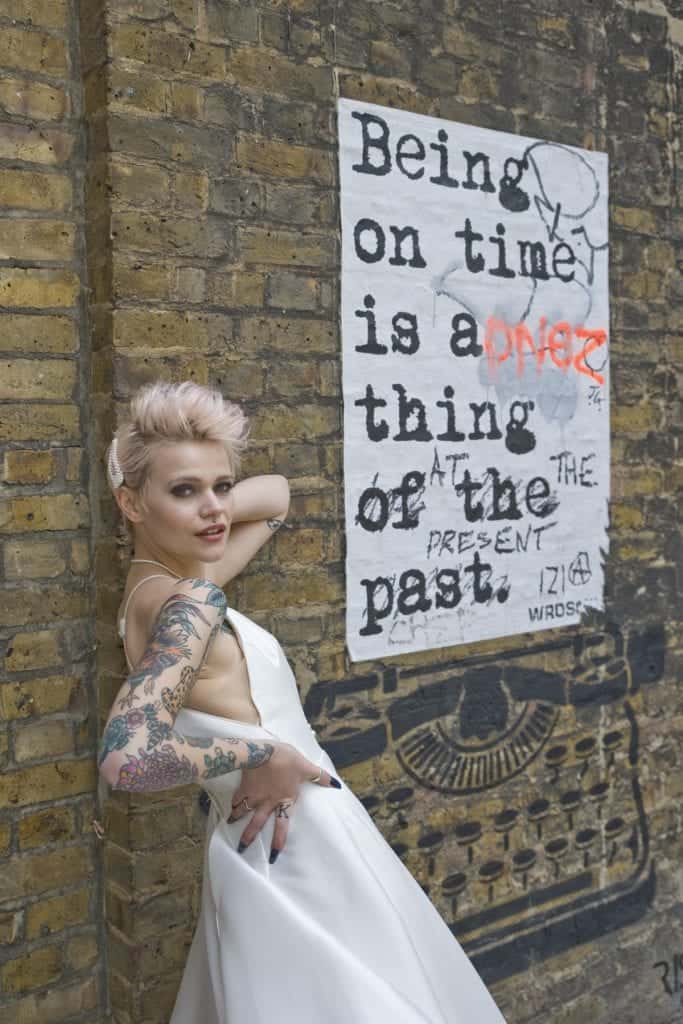 what made you do the shoot?
Croydon is undergoing a lot of development at the moment – and the concrete canvas is always evolving – some of the pieces in this shoot are no longer there – whilst new creations are always popping up, such as Lloyd Park's "Rainbow Boy" by Chris Shea, to raise funds for NHS charities. Some of the artwork has such meaning, when applied to the current COVID-19 world that we live in – and the impact that has had on so many couple's, trying to plan their big day with so many uncertainties. Now seems like a good time to release these images. "Being on time, is a thing of the past "But perhaps we need to add that "the wait will be worth it"!!!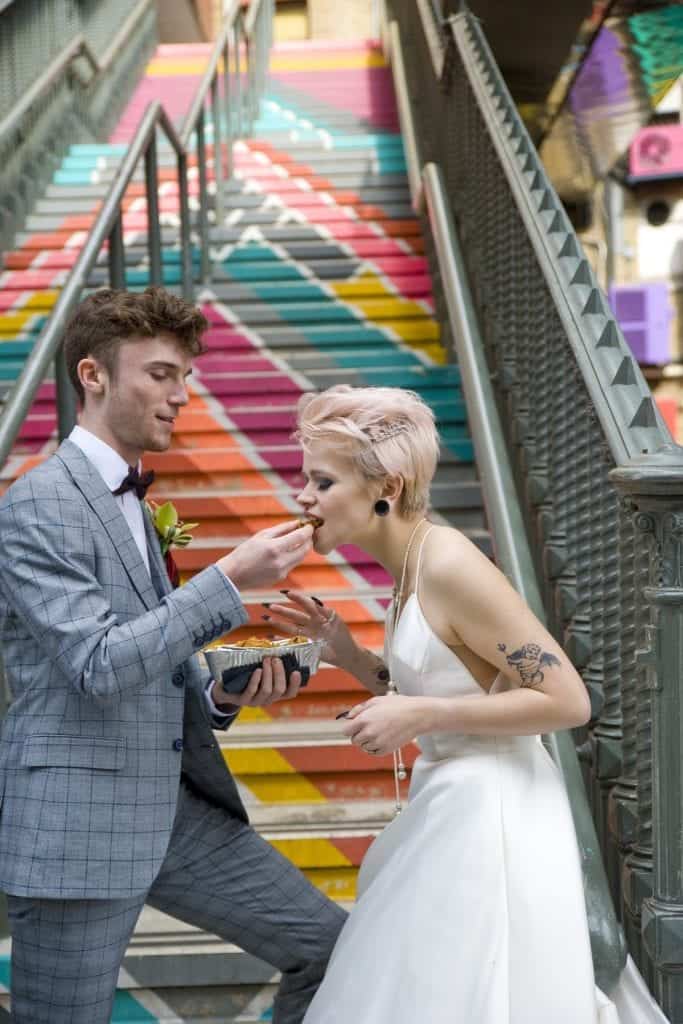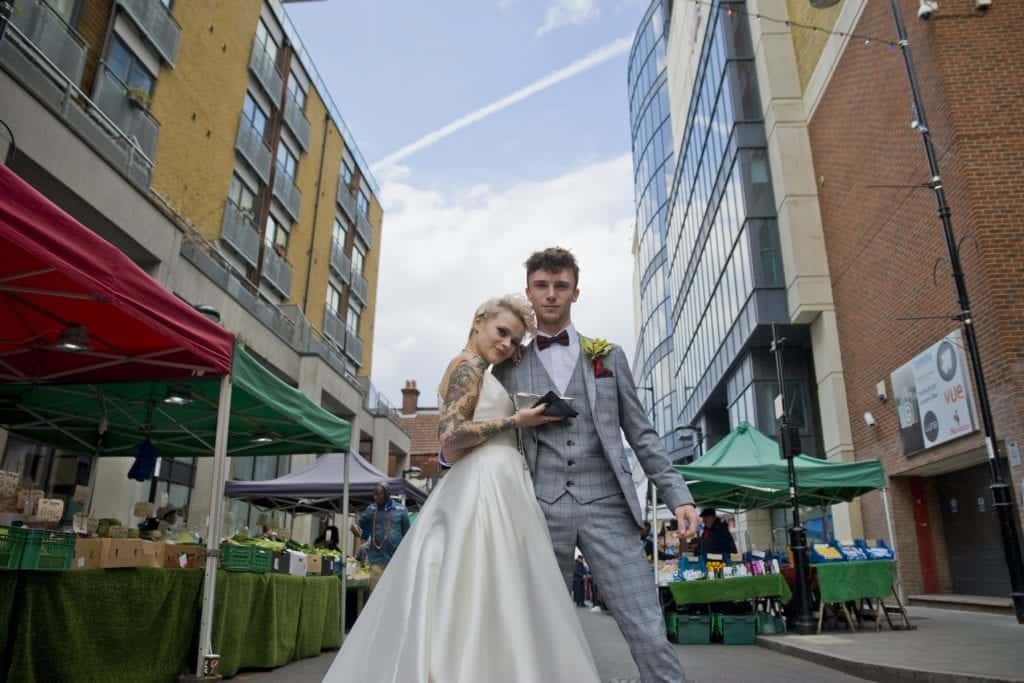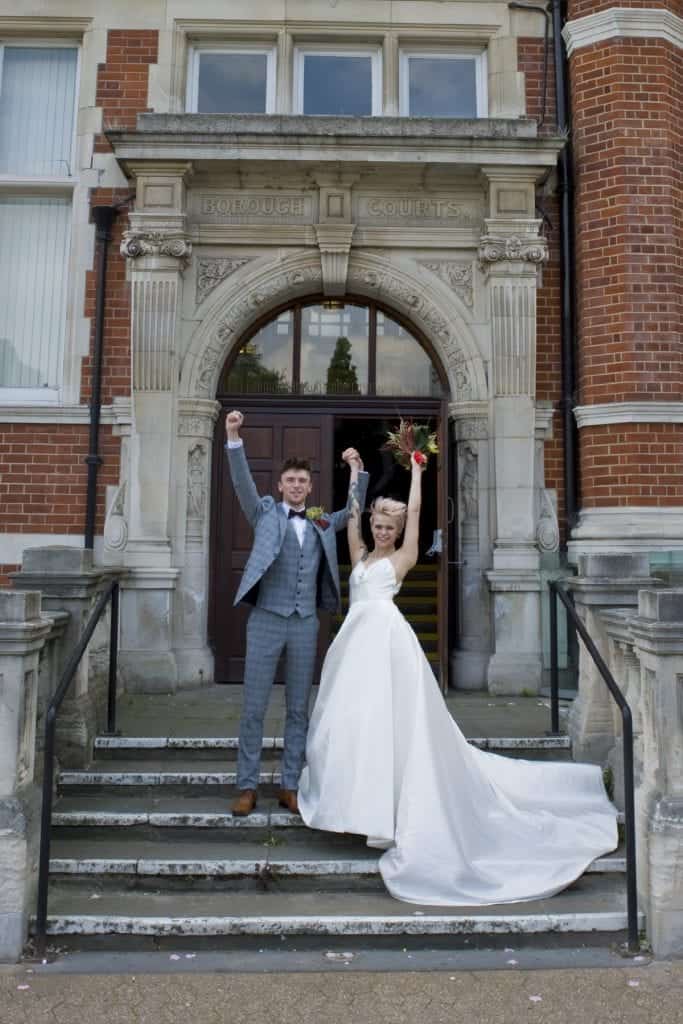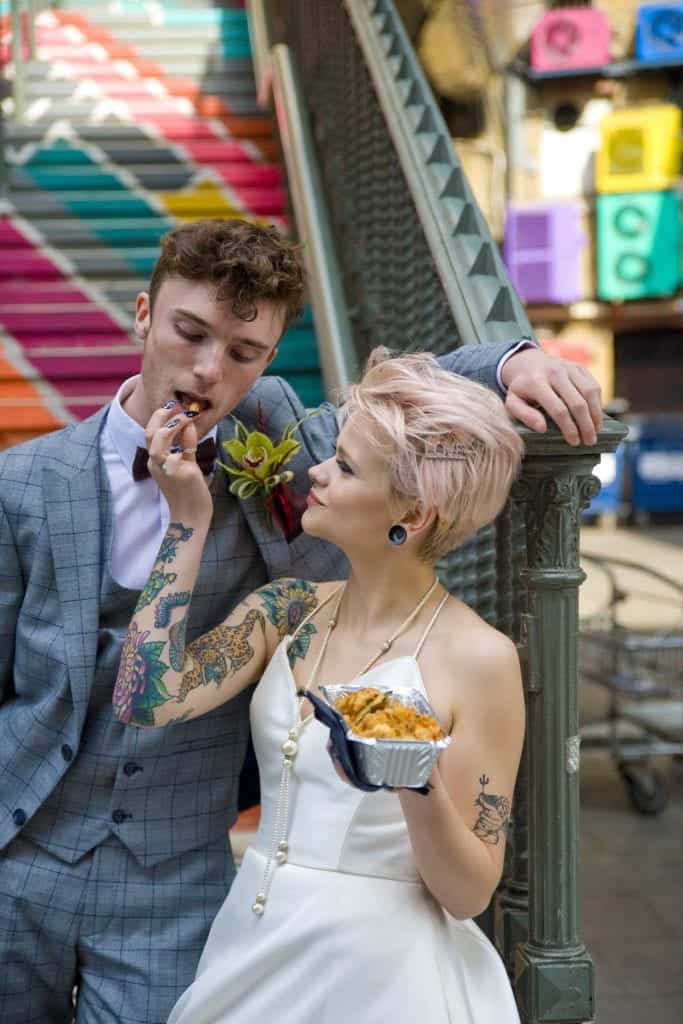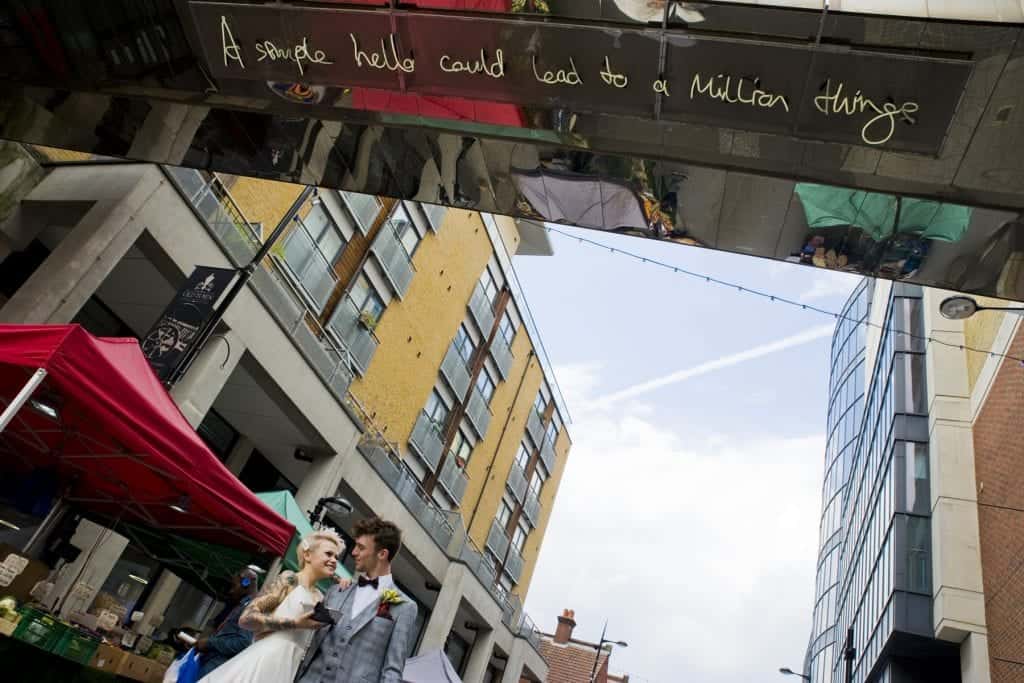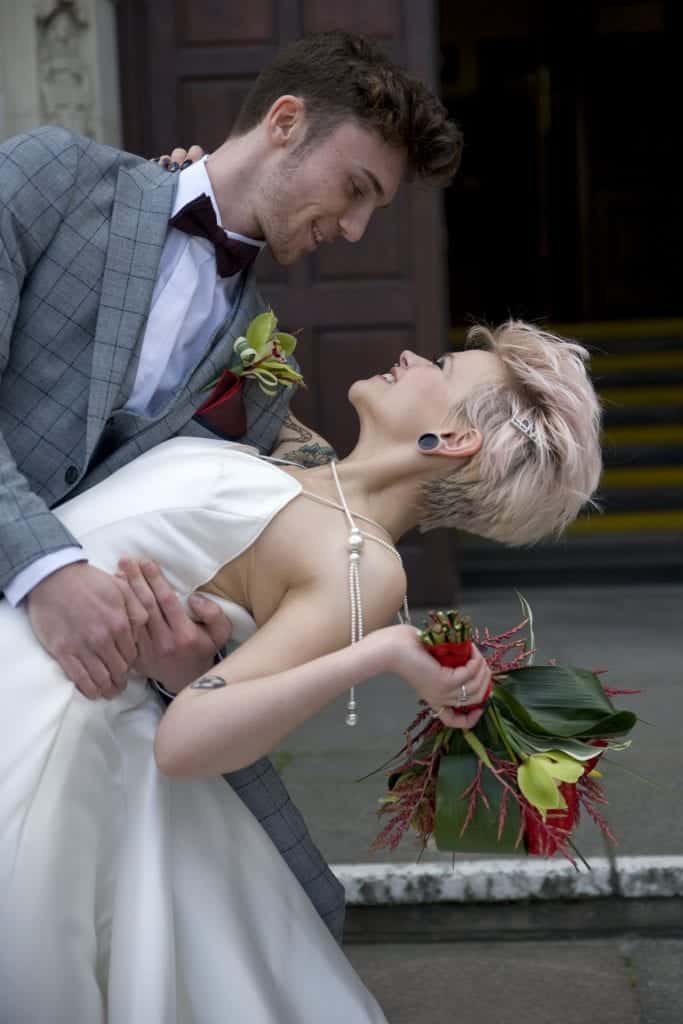 our thoughts
Well we at the urban wedding company love this 'urban city wedding' shoot. From the street art, the colourful summer vibes and its inspiration behind the shoot is meaningful and real and that's just cool!
It has the edgy look we love, and well what's not to get excited about a tattooed bride! It DEFINITELY fits our modern, edgy, city wedding blog!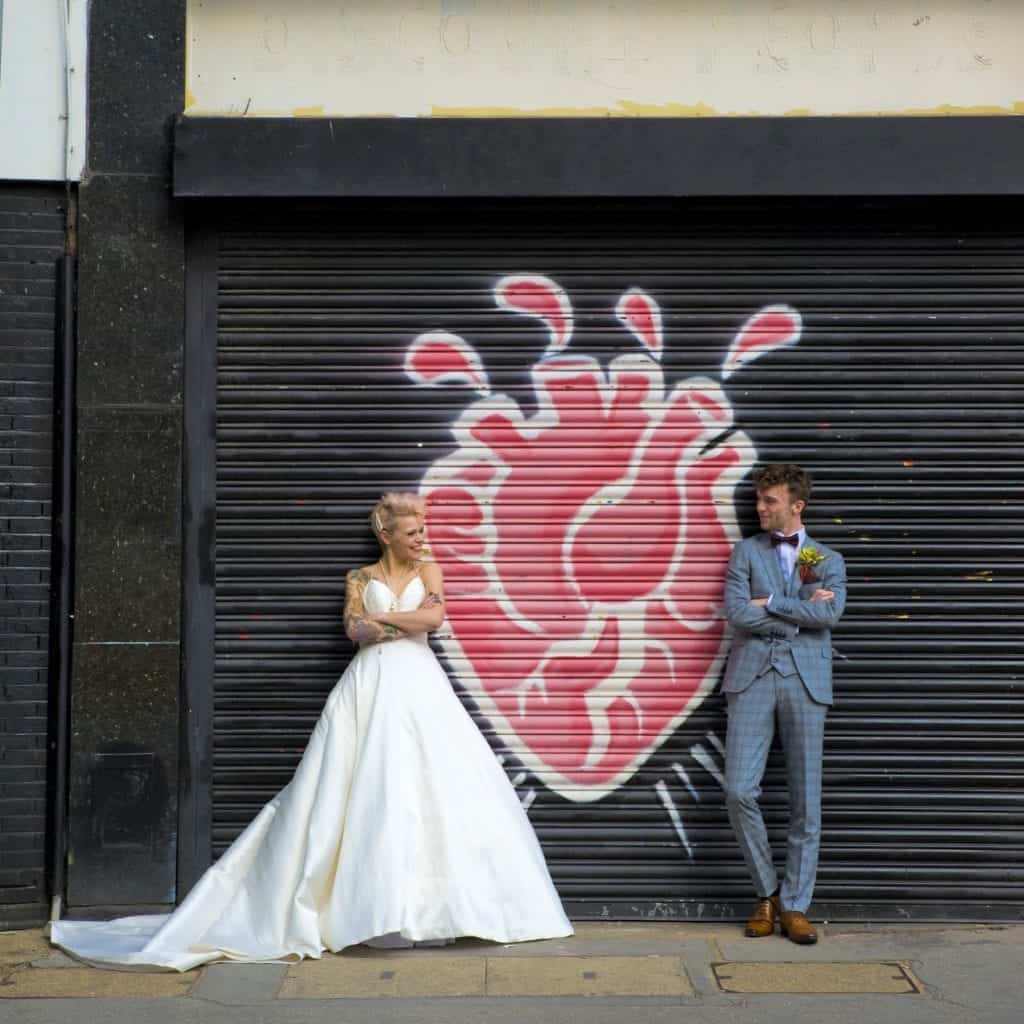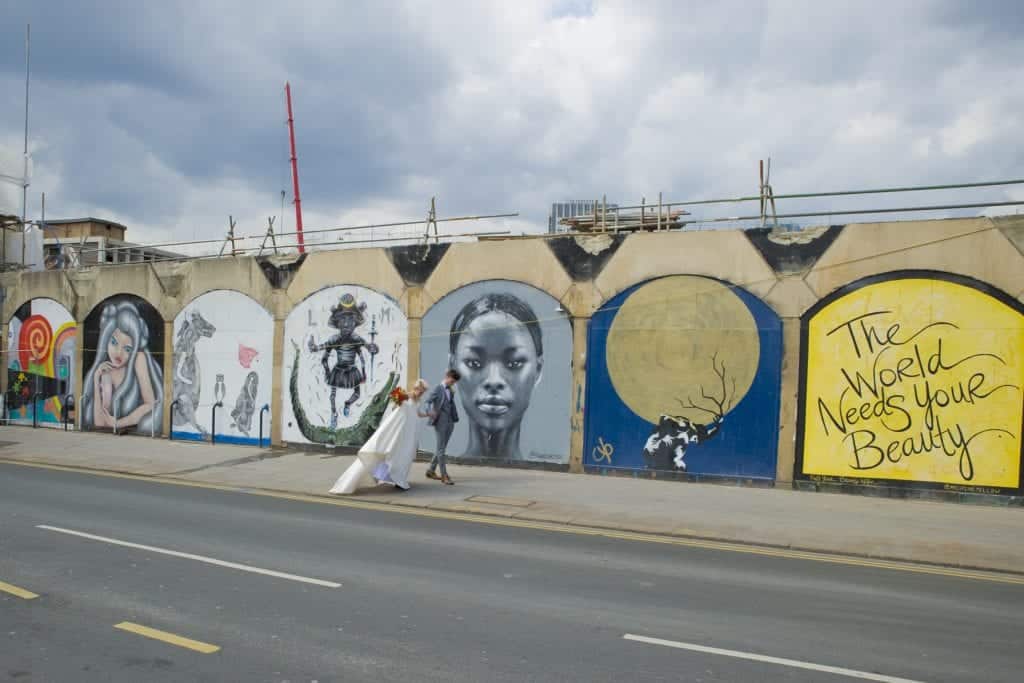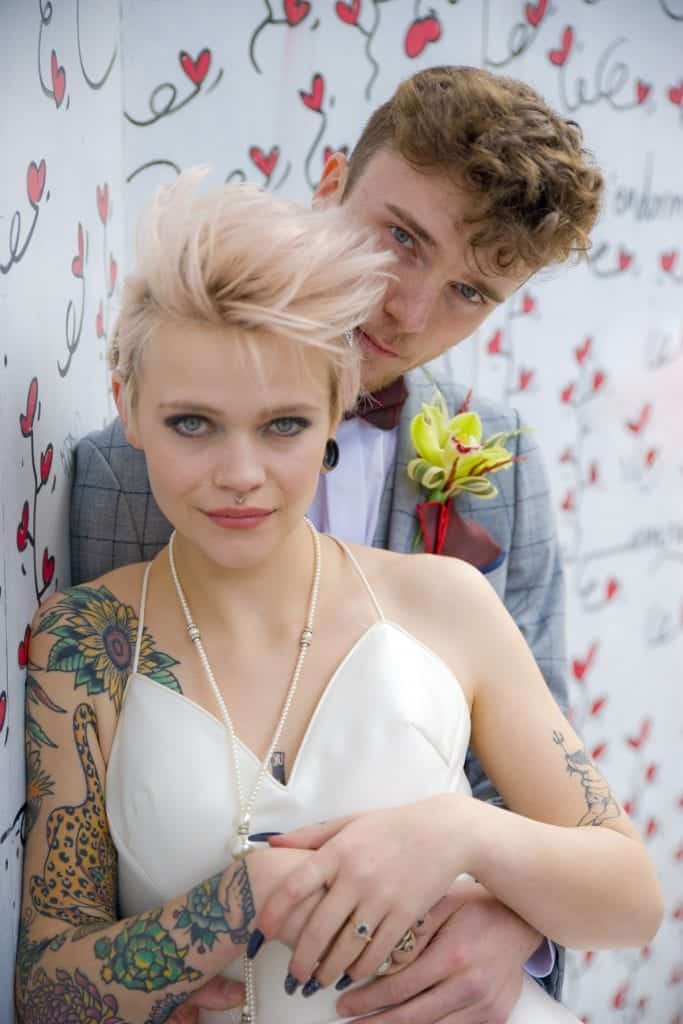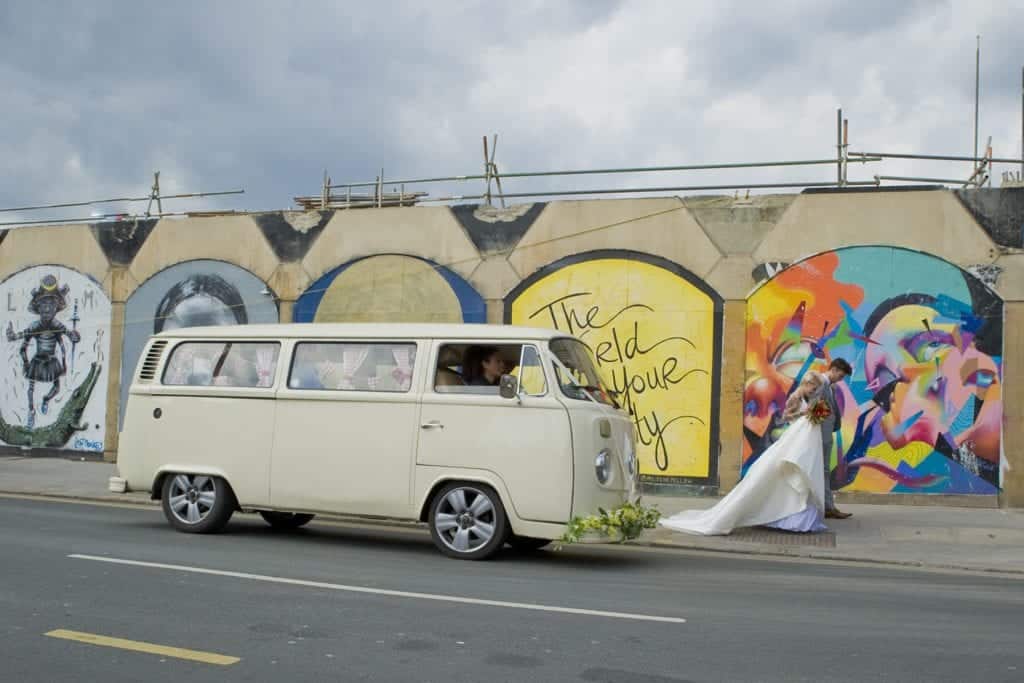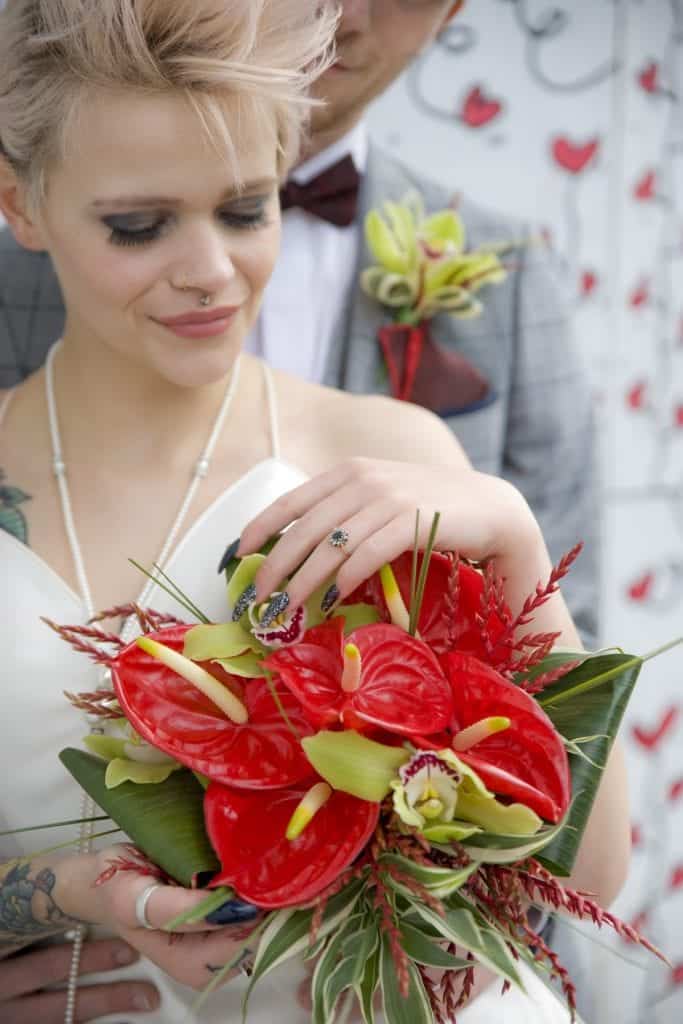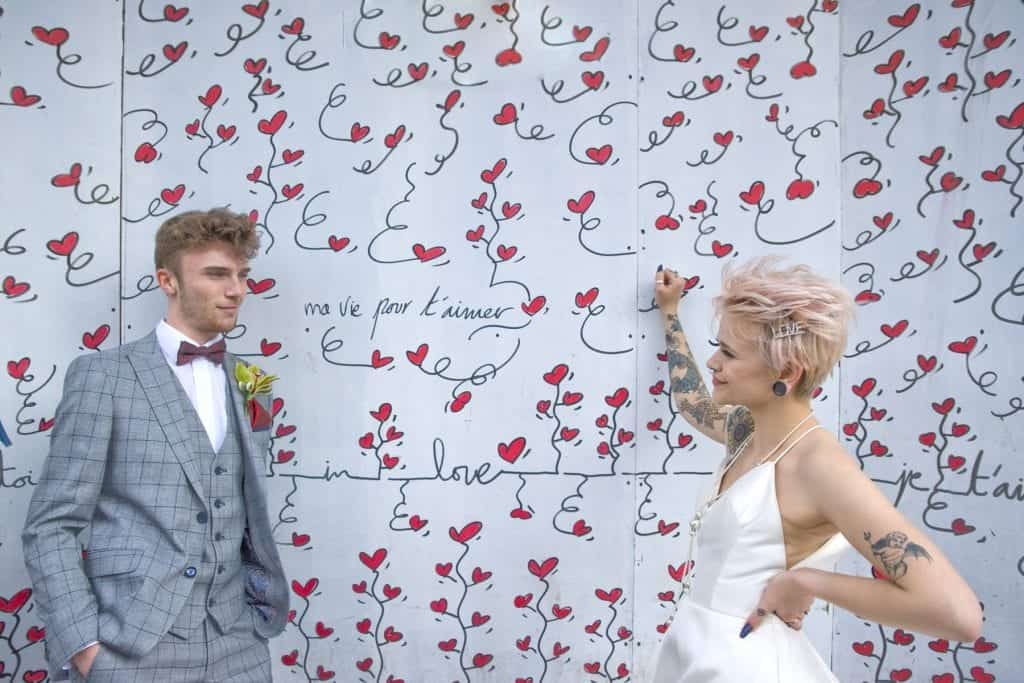 credits
There are a lot of people to credit for this shoot, the suppliers and the street artists.
RISE GALLERY: Special thanks to Kevin at Rise Gallery for supporting us with locating street art, and identifying the artists.
Suppliers
PHOTOGRAPHER –Amanda Duncan, MAKEUP –Victoria Chainey, CAMPERVAN – Buttercup Bus Vintage Campers, Model Groom –Elliott Leathem, Model Bride – Juliette, Wedding Dress – this Moment Bridal Shop, groomswear –  DAPPER Formalwear for Men, Flowers – A&S Flower Studio, venue – Urban exchnage bar
Street Artists in order of images above.
Art & Believe, we are sky high, City Kitty, D7606, wordsmith, ART & BELIEVE, lauren baker, Vanessa Longchamp, Petdenone, lost monkey, shak t, agent provocateur, my life in yellow, Zedforty40, Alec LDN, in love.
​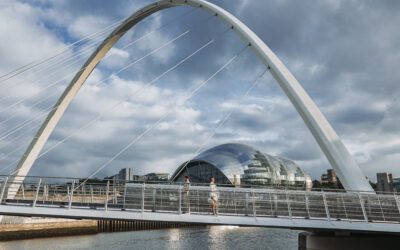 Newcastle elopement Today on the blog we have a graffiti wall, fun-filled city centre elopement...