This blog shows you 5 must-have winter wedding colours.
In this blog, we are going to talk about 5 wedding colour palettes perfect for a winter wedding. As you will know by now, here at the urban wedding company, we like to throw the rule book out the window. So, whatever palette you want to go with you rock it no matter the season. These are just ideas to get your creative juices flowing and hopefully fill you full of inspiration to get your colours nailed down.
We are not going to go into details of colour psychology and the effects different colour HAVE. this post is fun and full of INSPIRATION for you planning a winter city wedding. If you do want to use colour in a meaningful, mindful way at your wedding i would head and read nick's colour PSYCHOLOGY guide. and googling will surely send you down the rabbit hole of this intense but INTRIGUING topic. If you are just look for some winter wedding colour INSPIRATION then you are in for a treat.  
Are you PLANNING a winter wedding? if so then head to our winter wedding guide for all the INFORMATION you need.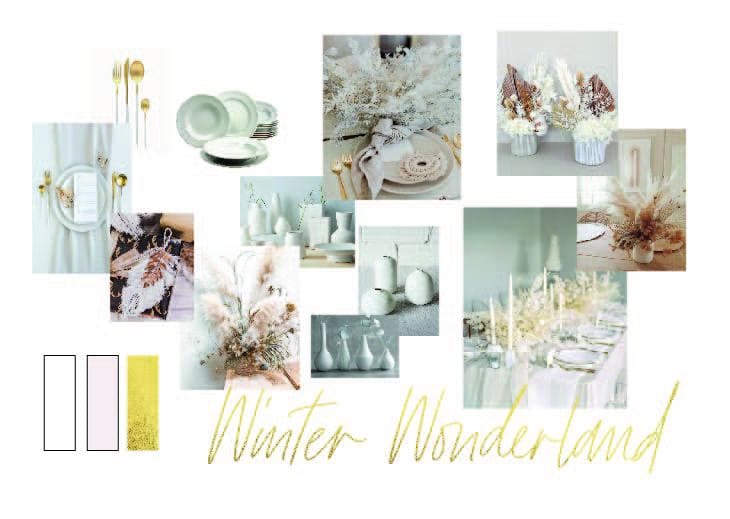 First up – all white winter wedding colour scheme
White on white one white!  I love the drama using one colour can bring to an event. Using different shades of white adds depth to the overall design. The most important thing when using one colour is to add lots of layers and textures. From linens, floral, crockery and all the items! You need to make sure you consider each one for its texture and interest it can add to the design.
So, let's look at how this would work for a table set up. Start with your base white linen, then I would add extra fabric layers with chiffon, tule or cheese cloth. Then your florals, white dried bleached flowers are the perfect option here. Or speak to your florist about white flowers available, you may need sprayed/dyed items as fillers. White candle holders and candles. White tealight holders, little clay white pots with a few white dried flowers would be perfect. Consider each item you pick for the table and have 2/3 shades of white and lots of different textures.
Sold on the all white look? Then grab these items below to get designing the perfect white winter look for you wedding.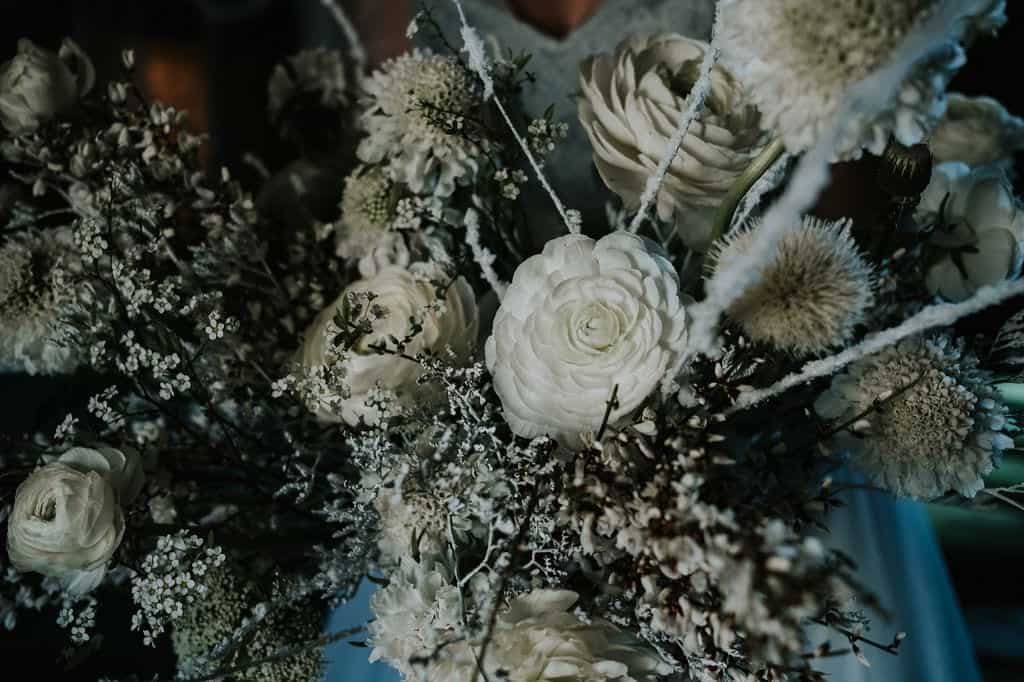 dusky blue! this one is a favourite and not just for a winter wedding.
Dusky blue is one of my favourite winter wedding colours. It is the perfect winter colour palette mixed with greys or whites. It gives the same winter wonderland snowy feel as a white winter palette. Add some pop of navy or dark blues to add some drama to the look.  You can add copper elements to create a modern feel. Or you can go elegant and high end with this palette and mix with white and grey.
On this shoot we went with a high end, winter feel for the design. Lot's of layering throughout. Lot's of texture. I added pops of darker shades of blue with the glasses. I finished it of gold accents to add a touch of luxury.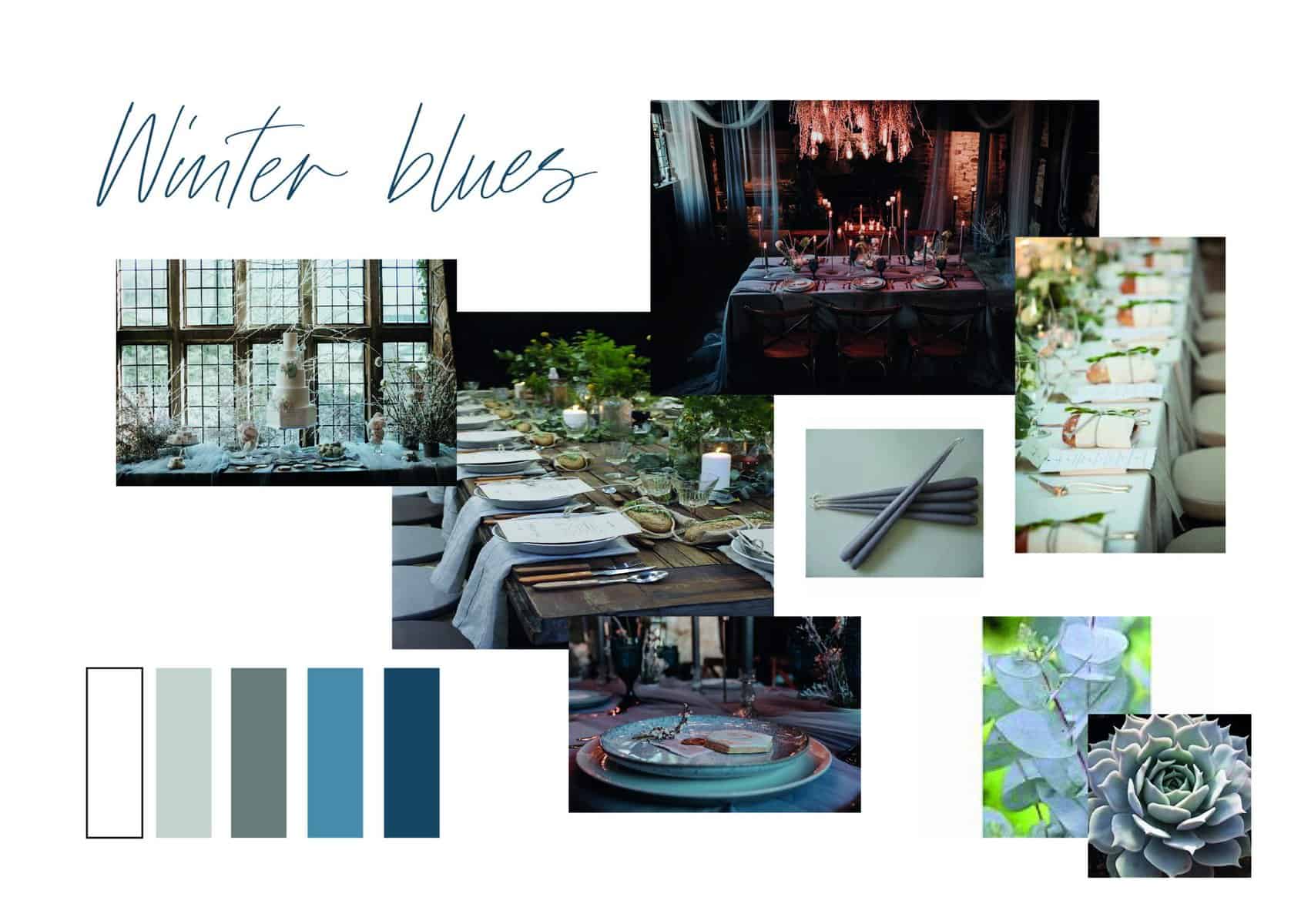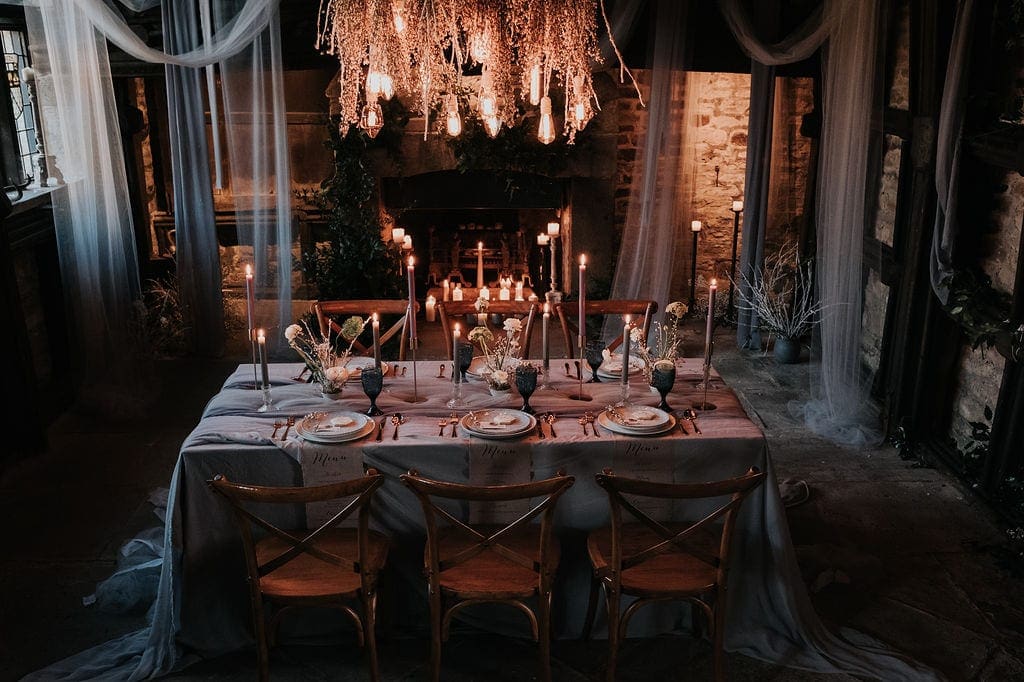 Berry colours – deep reds and purples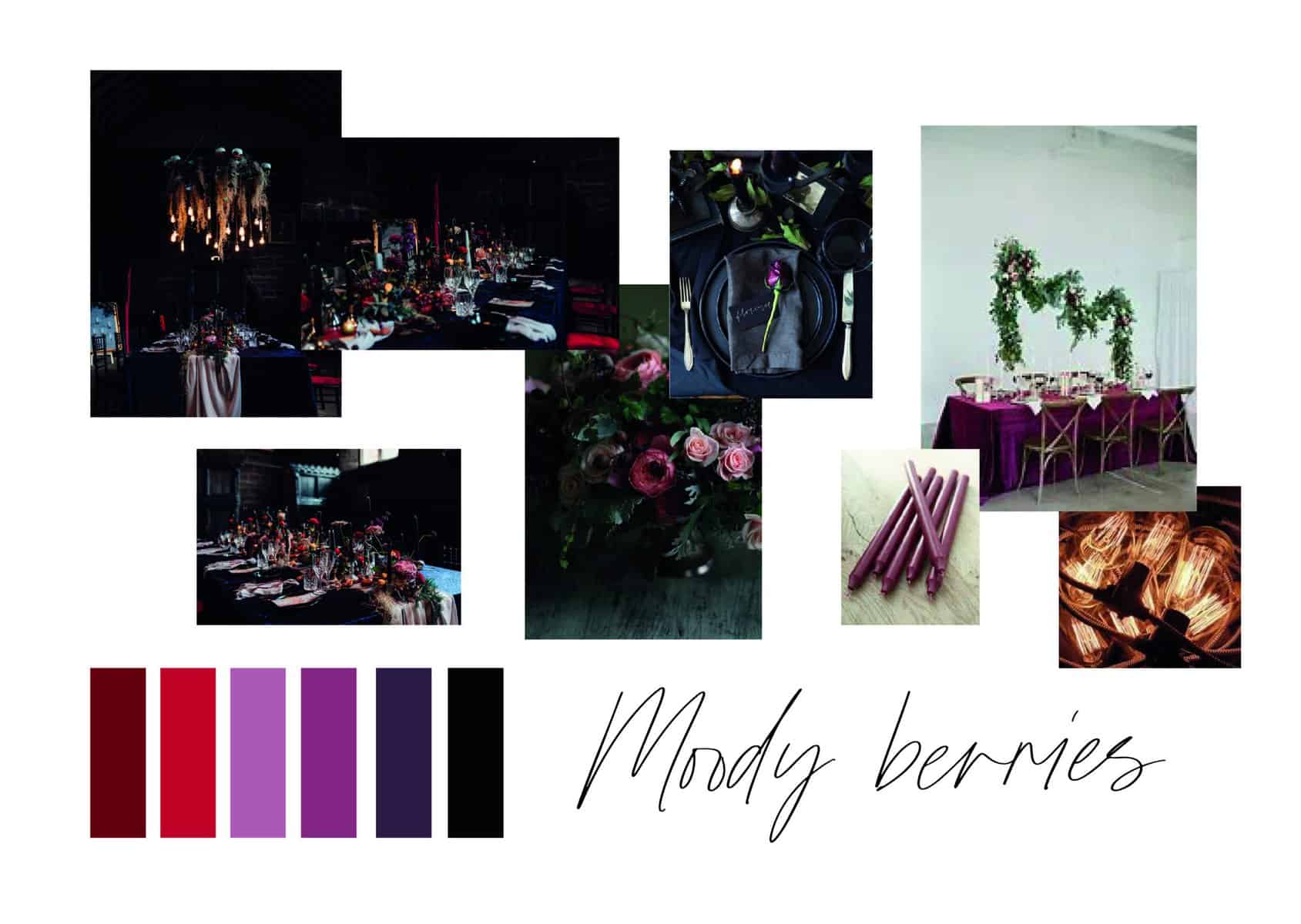 Berries and their colours always make me think winter! Using a mix of purples or reds and mixing it up with navy or even be brave and add black! I love a moody palette and it adds drama and opulence to an event. Winter is the perfect season for a moody wedding colour scheme.
Here we went with a darker tablecloth. A navy velvet tablecloth is the ultimate luxurious option. Then bring in the berry colours with the flowers. Think about using food like grapes, apples to give a decadent style. Brass and gold work well as metal accents but possible think past metals as an accent, you can use another colour. Grey and black would work perfectly.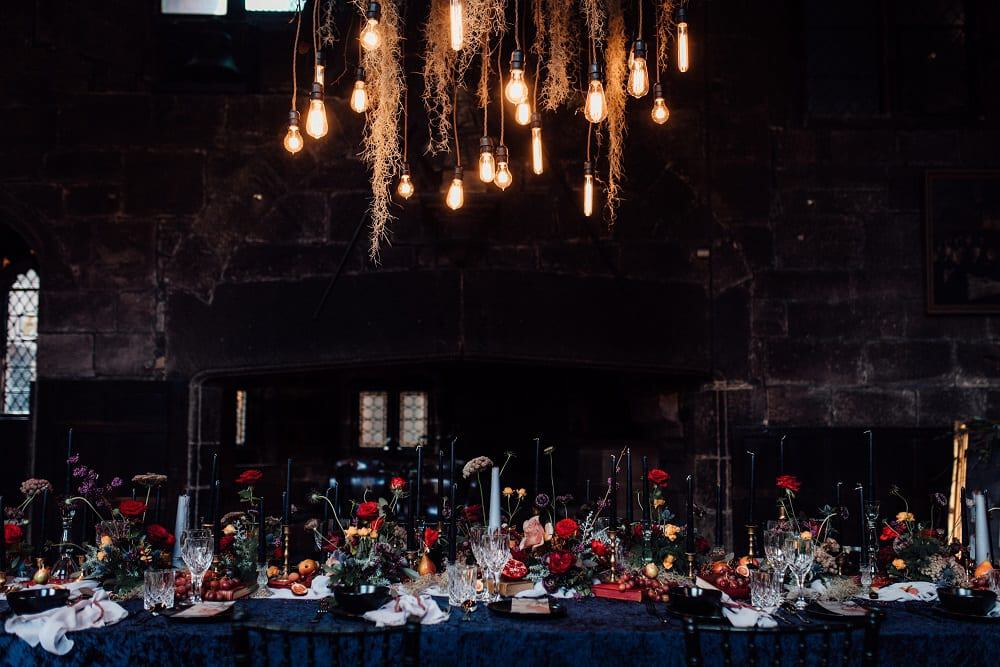 A little hint of christmas – green, white and red winter colours 
You may want a tradition festive feel for your wedding then green and red is a great colour option. I would use white as my main base colour then greenery as the main colour mainly incorporated with foliage and green candles. The small amounts of red popping here and there. It is easy to get carried away with this palette and it lead to a tacky or cheap look. Using high end fabrics, only a few key pieces and go sparingly with the red. Personally I would use burgundy. Green and white is a gorgeous elegant wedding style. I would focus on this and then add some red to the florals or some chiffon or velvet ribbons. Maybe some pillar candles with a greenery runner. Just small delicate red elements.
Ready to get recreating this gorgeous colour scheme? Then shop the items below.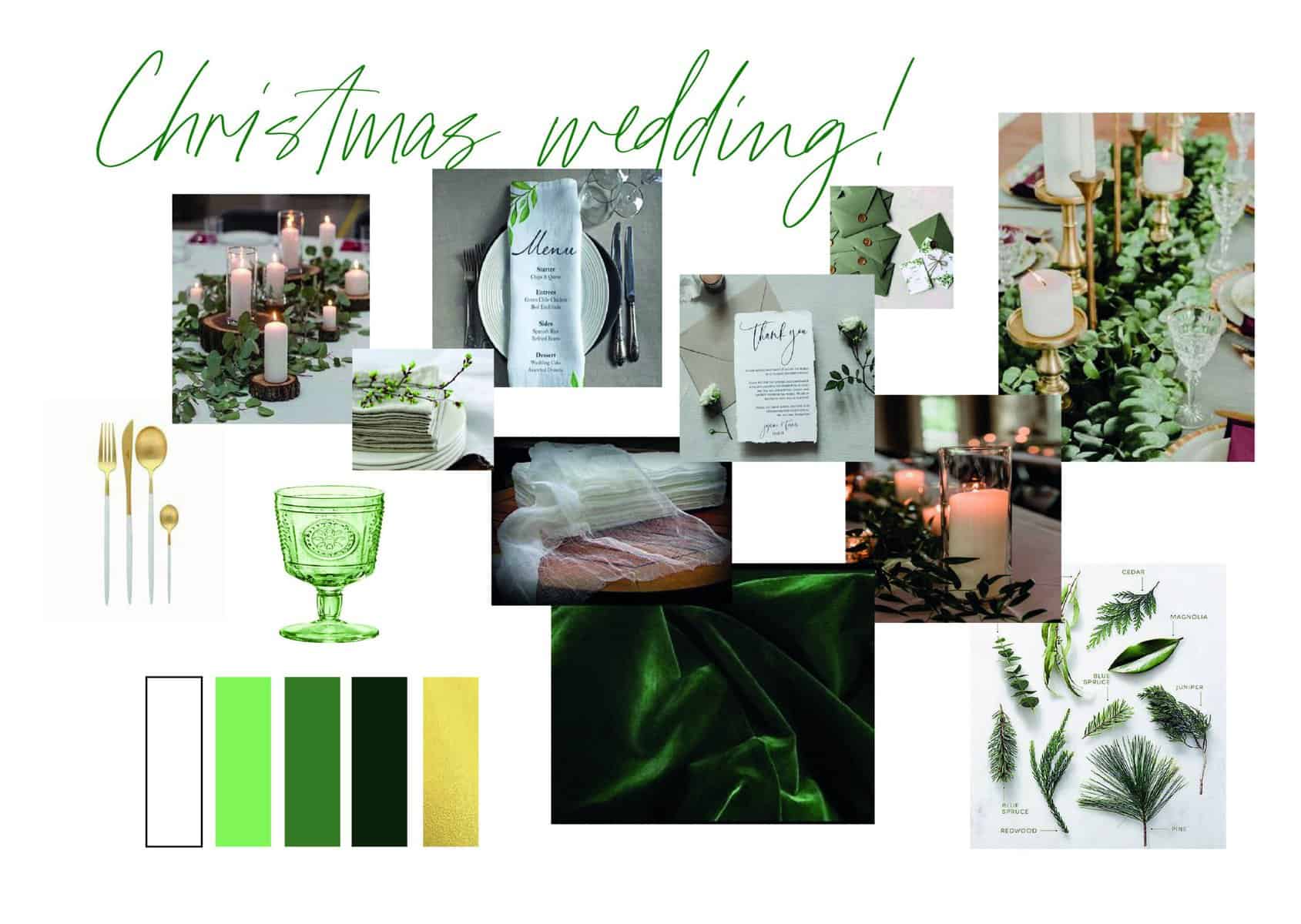 Monochrome – the modern winter wedding colour palette 
I love a monochrome colour palette and it works so well in winter. You can then add a pop of colour if you wish and the beauty of monochrome is that any colour works! I would add some grey to soften the look, just think about shades of black heading to grey. This controls the harsh feel you can get at times with monochrome and gives a more modern elegant feel.
Well, I must say sorry for all that gorgeousness. If you feel more overwhelmed by all the choices than you did before then just remember its about celebrating the two of you so go with colours you love. We would love to hear your winter colour choice, so let us know in the comments!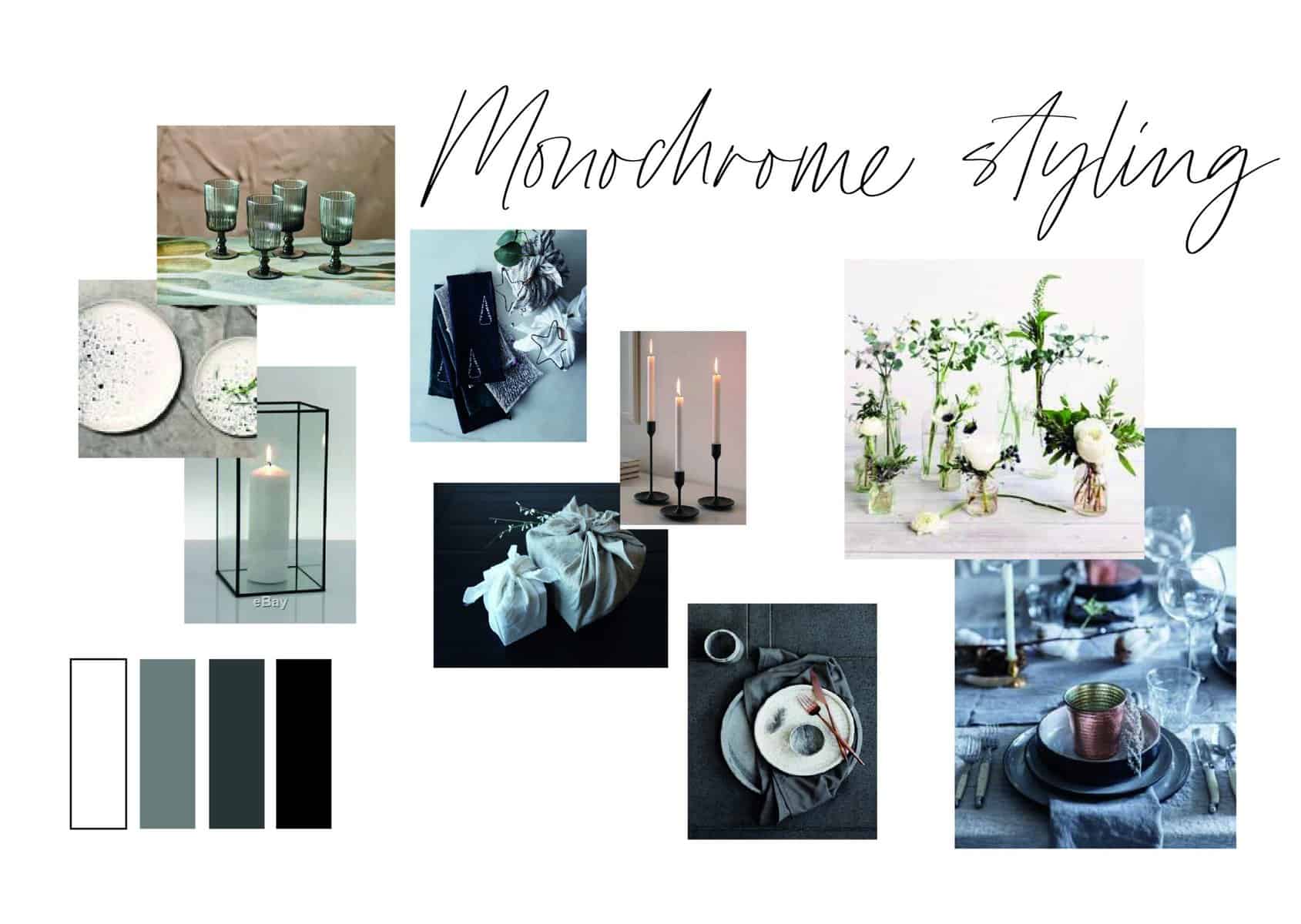 winter wedding colours 
Well, I must say sorry for all that gorgeousness. If you feel more overwhelmed by all the choices than you did before. then just remember it's about celebrating the two of you so go with colours you love. We would love to hear your winter wedding colours choice, so let us know in the comments!
Still looking for more help and inspiration on winter wedding planning? then head to our city wedding guide. or for bridal style INSPIRATION for a winter wedding head to our bridal cape blog. 
Credits
some links in this blog are affiliate links. this means we gain a small commision at no extra EXPENSE to you.