They will never know! Honestly, high street wedding dresses have gotten so good, no one would ever know!
The number of times I have stopped insta scrolling because of a stunning wedding dress to then realize it is a high street dress!
If you are not looking to break the bank and spend thousands on your wedding outfit then you should definitely head to your local high street!
Well, let's be honest your nearest computer screen.
This blog is sharing some of our favourite dresses out there on the high street. If you want to know the best places to buy wedding dresses online in UK, head here.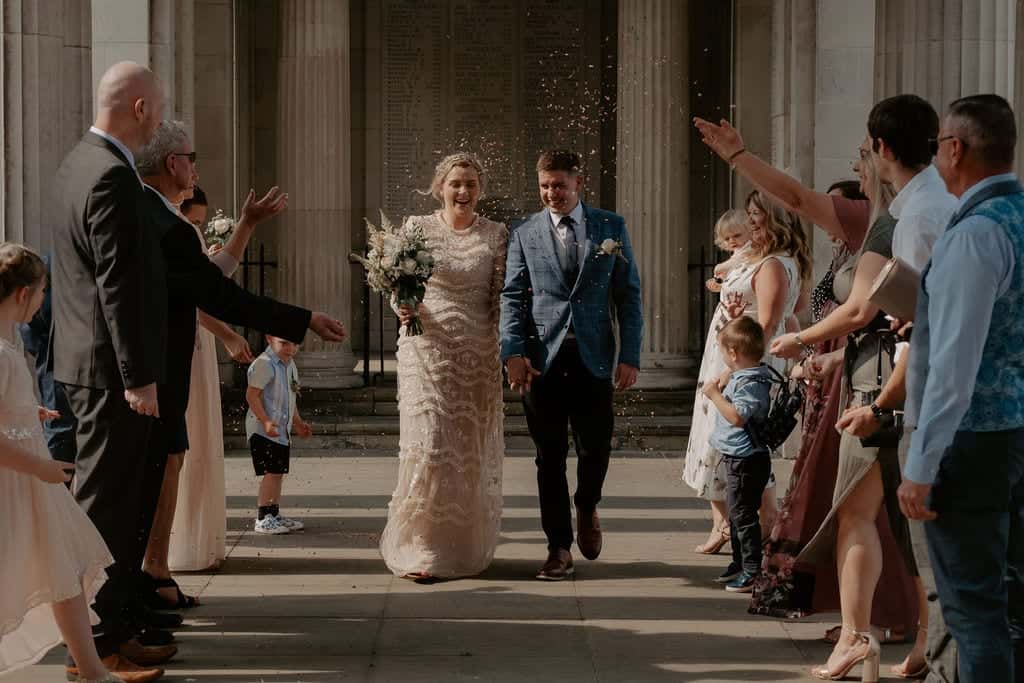 Where to buy high street wedding dresses
You can definitely still head down to your local high street and see what they have in store. More than likely though you will find what you are looking for easier online.
Some of the bigger department stores still have wedding sections or occasion wear areas but these usually are limited these days.
Head to our UK online wedding dress and outfit blog for all the best places to look online. Or keep reading as we have found the most stylish high street option below.
We have a mix of online and in-store options below for all shapes and styles.
TOP PLACES TO BUY HIGH STREET WEDDING OUTFITS
The most stylish high street wedding dresses for 2023
We are committed to providing unbiased, credible reviews so you can choose with confidence. We may earn commissions on purchases made from visiting our partner stores. Please see our policy here.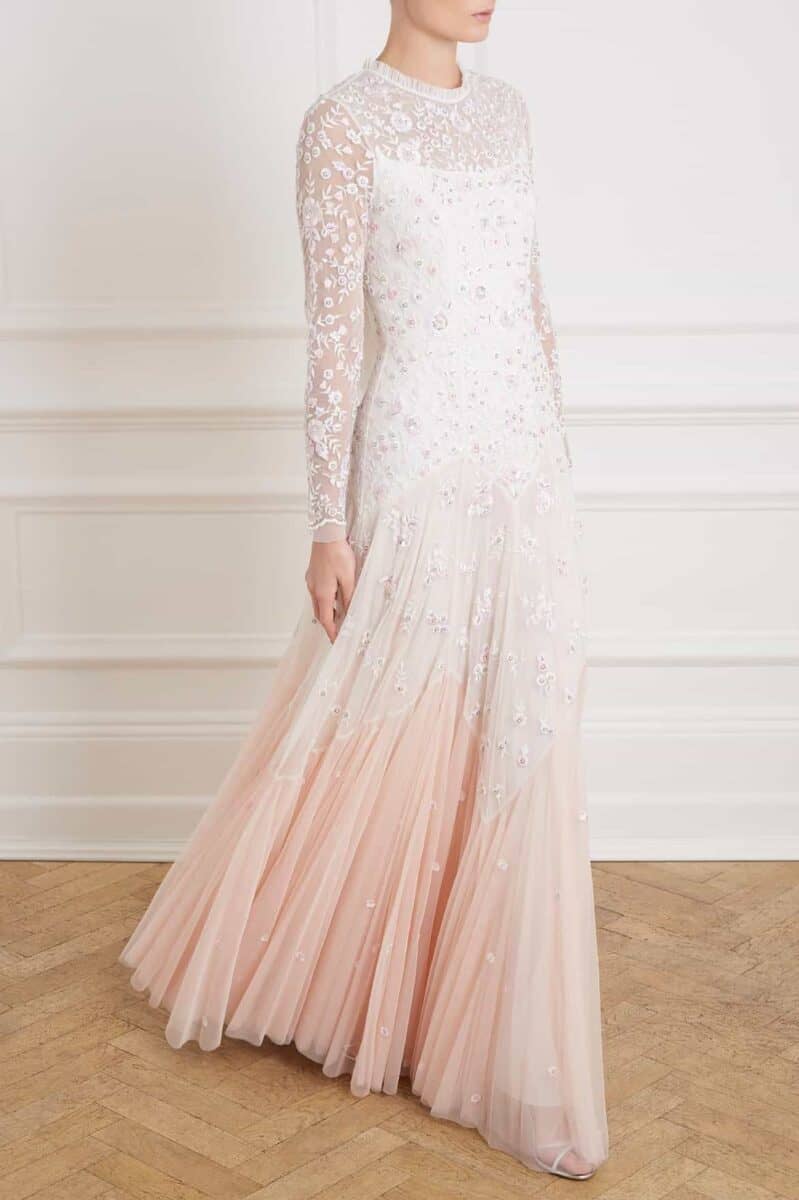 1. Urban Editors' choice – Needle & Thread
This dress is so stunning! The quality and embroidery detail just blew me away, when you consider the price.
The pink ombre detail adds a modern fun twist.
Sizes: 4 – 18 | Fabric: Sequin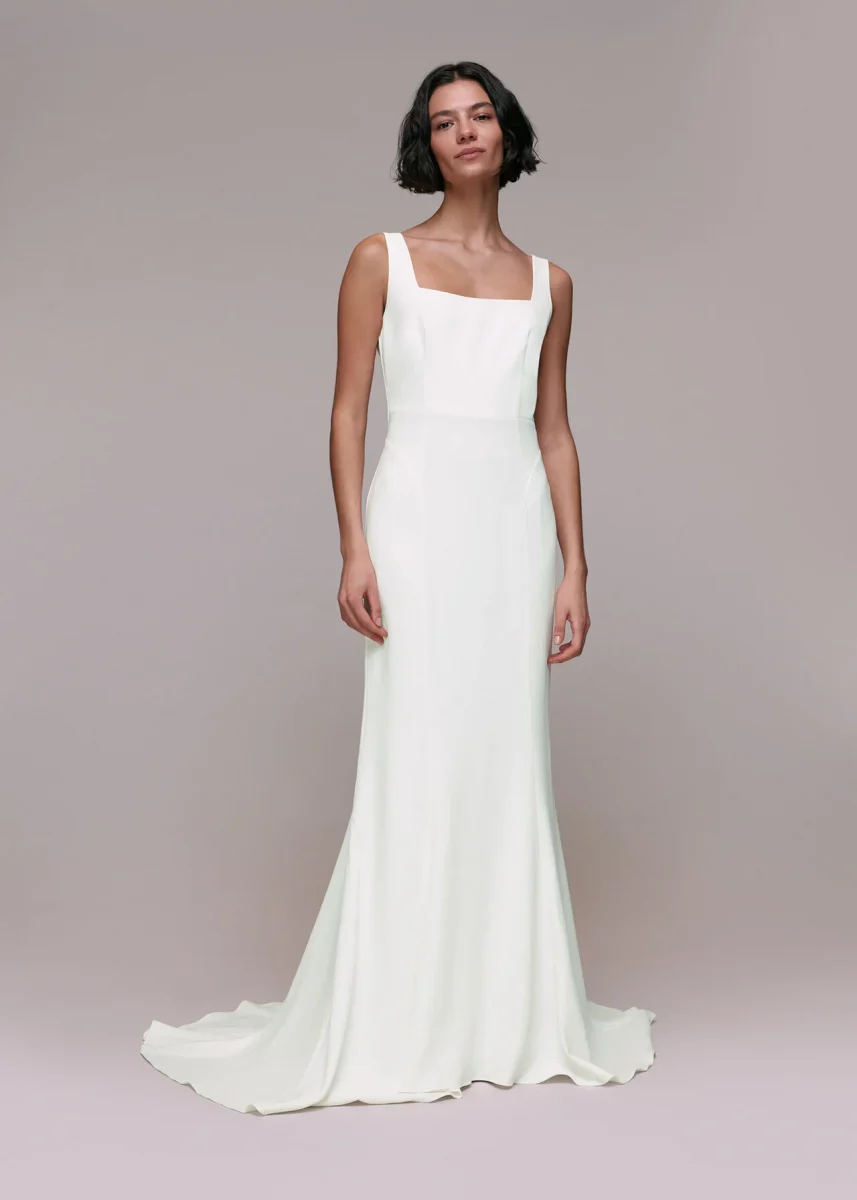 2. For the minimalist bride – Whistles
Simple and stylish wedding dresses are the perfect choice for a minimal look.
The square neckline and panelling give it a designer feel.
Sizes: 4 – 20 | Fabric: Polyester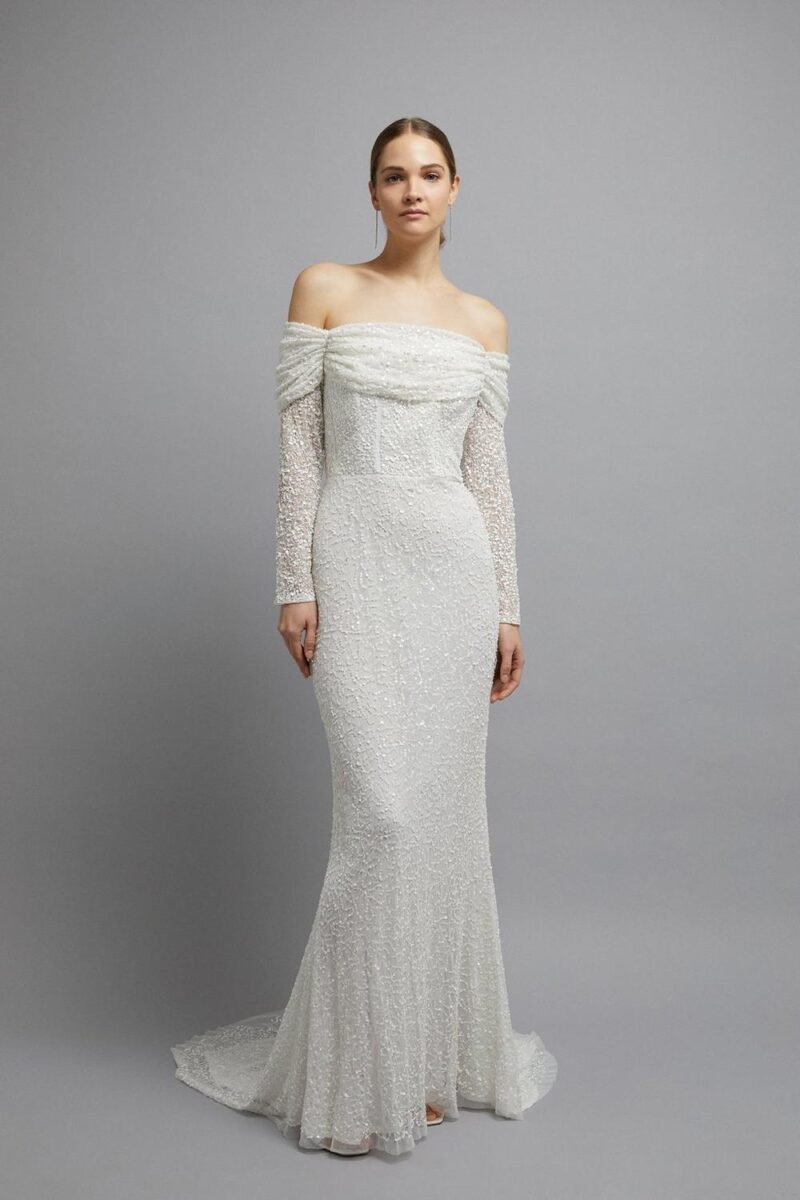 3. Best Sequin high street wedding dress – Coast
There is no way anyone would guess this is a high street wedding dress!
The shape it gives you makes it feel amazing when on.
Sizes: 8 – 18 | Fabric: Sequin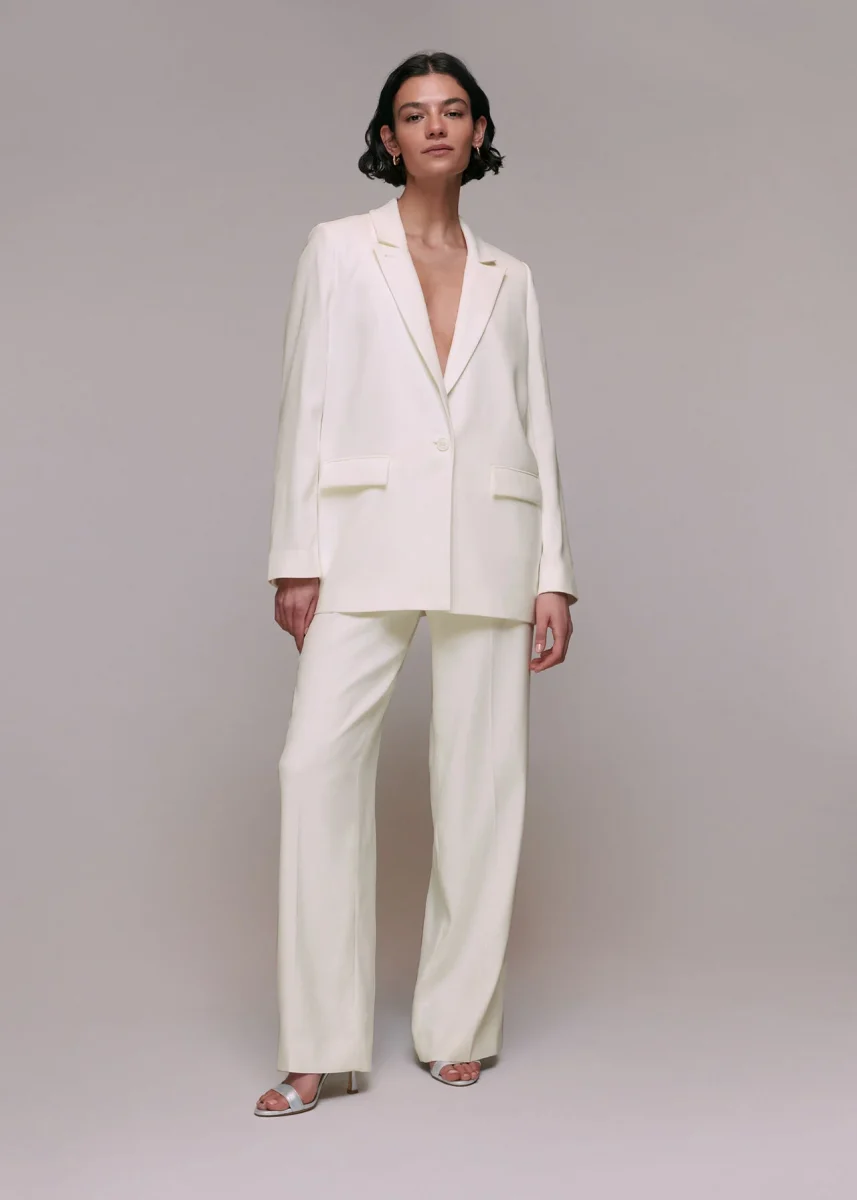 4. Best high street bridal pantsuit – Whitles
I love a bride in a suit! It is modern and stylish. Te pics always look so stunning.
We have a full post of bridal pantsuits if you love them as much as me!
Sizes: 4 – 20 | Fabric: Viscose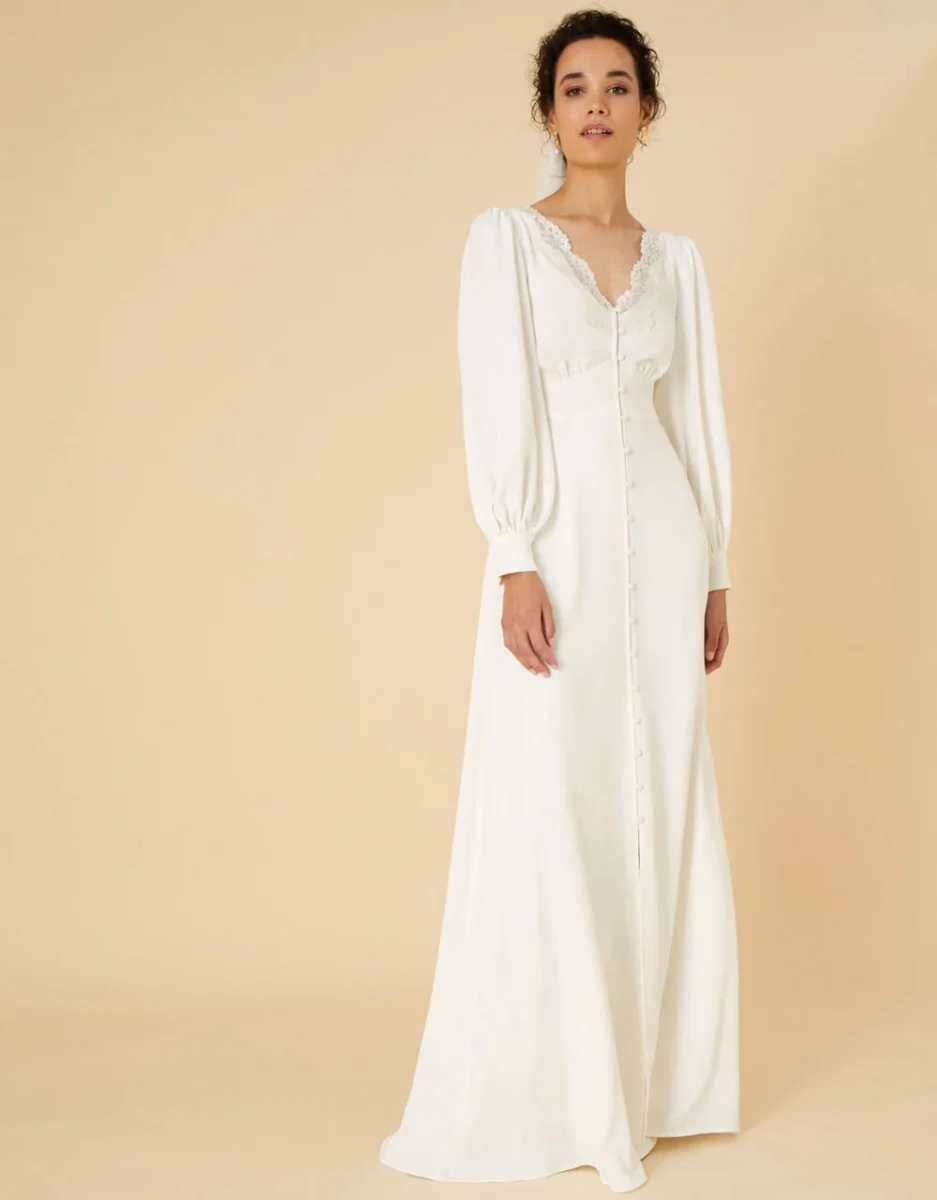 5. Best long sleeve high street wedding dress
This dress is super pretty. The long sleeves make it perfect for any season.
Sizes: 6 – 22 | Fabric: Polyester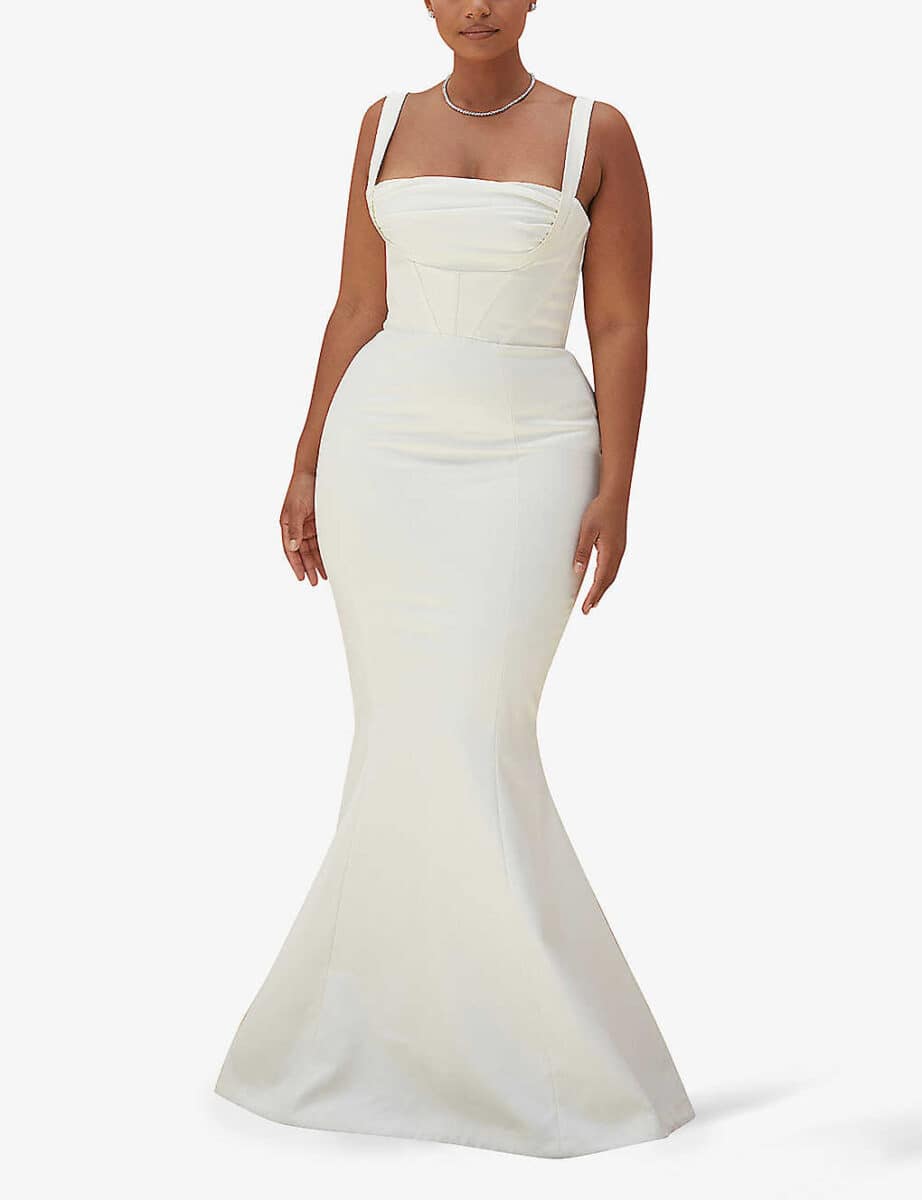 6. For a sexy look – House of CB
The shape this dress gives you, wow! If you have any curves then this is the dress for you.
It is hard not to feel sexy in this dress.
Sizes: 6 – 16 | Fabric: Polyester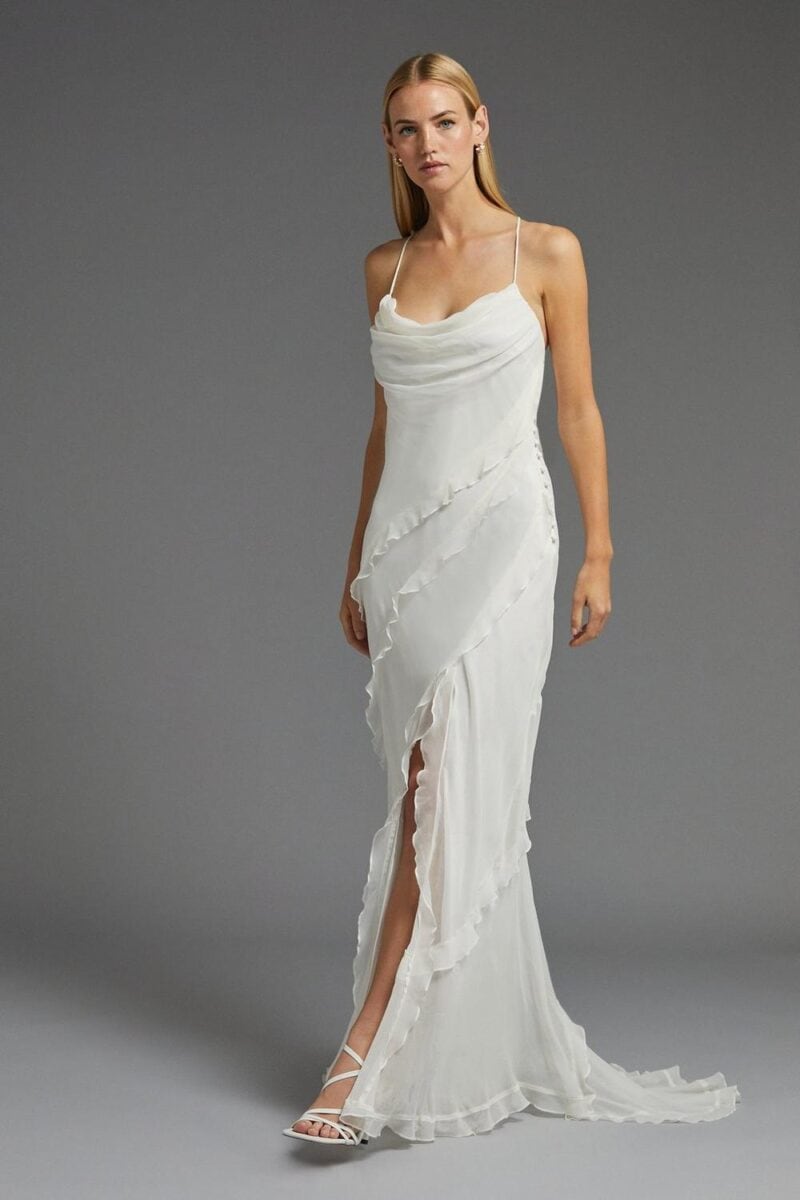 7. For a beach wedding – Coast
This dress is lightweight and has a loose fit making it the perfect beach wedding dress.
The ruffle detail has a feel of waves adding more to the beach vibe feel.
Sizes: 6 – 18 | Fabric: Georgette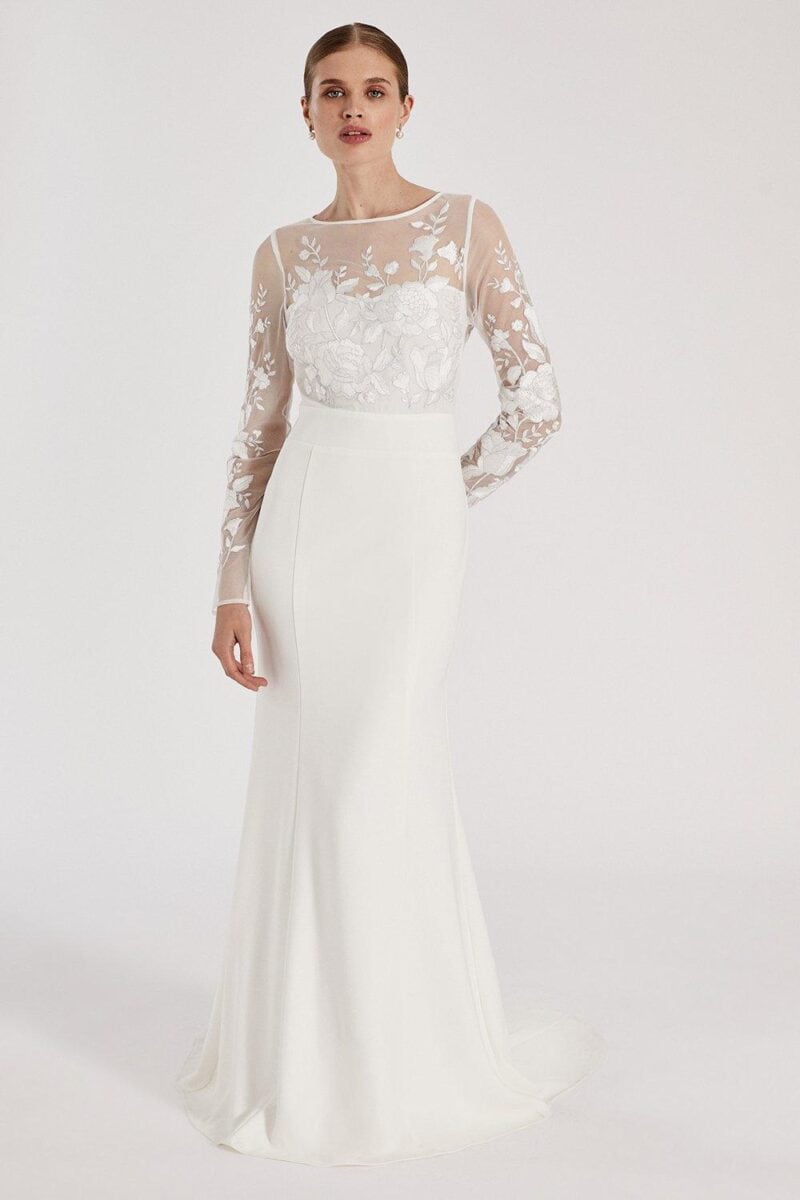 8. Best Embellished high street bridal dress – Coast
The intricate detail of the embellishment of this dress is so stunning.
It takes a simple dress and gives it a high end designer feel.
Sizes: 8 – 18 | Fabric: Embellished Tulle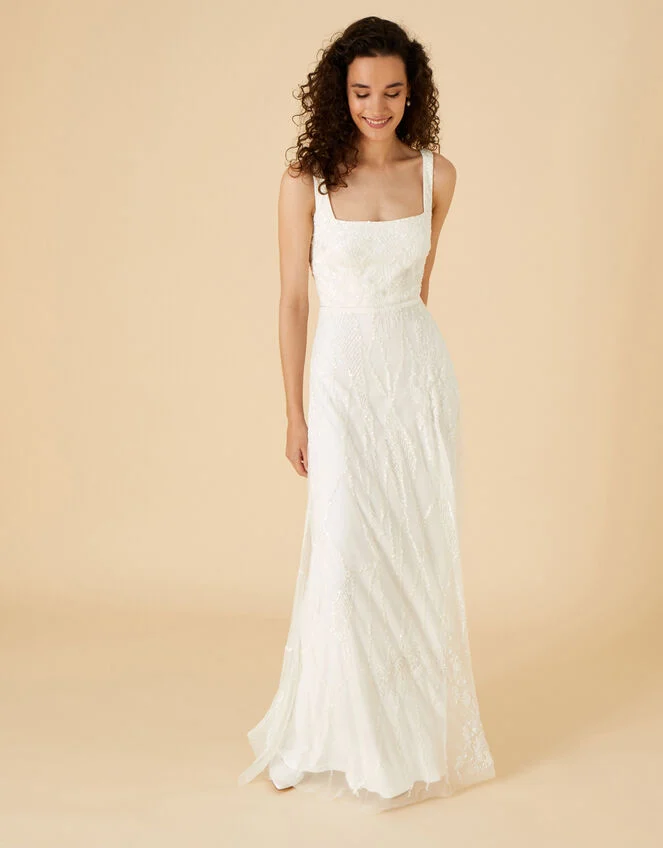 9. For the sparkle lovers – Monsoon
This dress is a simple design. The square neckline gives it a modern feel.
The sequin embellishments add a little sparkle. It is the perfect modern wedding party dress.
Sizes: 6 – 22| Fabric: Sequin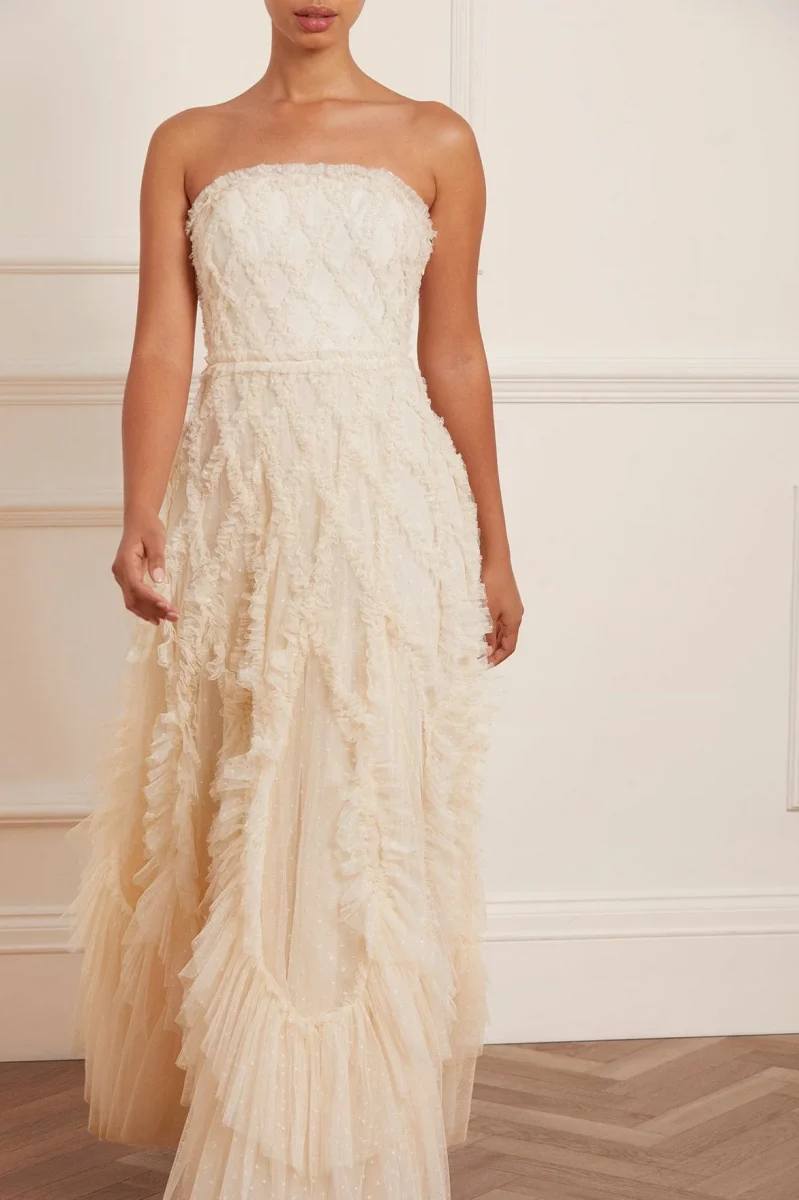 10. Best strapless high street wedding dress – Needle & Thread
It is hard not to feel like a bride in this dress. The ruffles add so much texture and detail.
The full skirt makes you want to twirl and twirl.
Sizes: 4 – 18 | Fabric: Tulle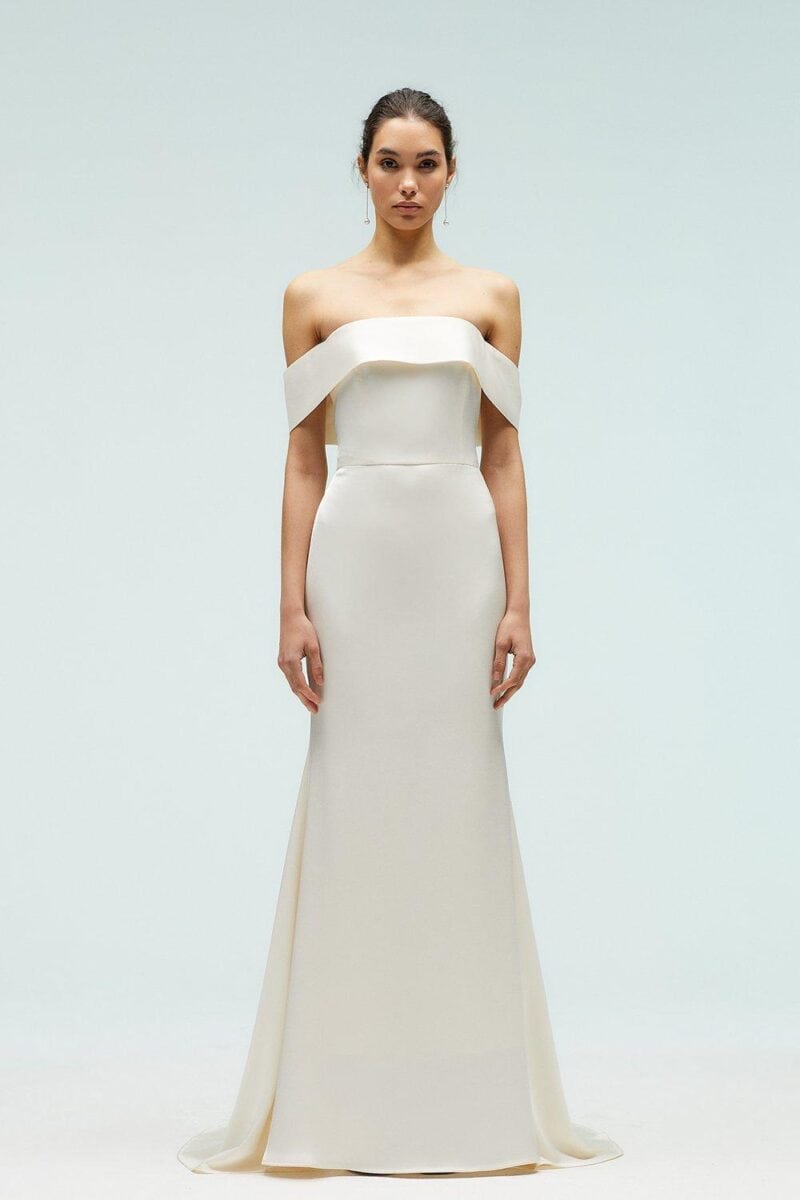 11. Best of the Shoulder – Coast
This dress is so elegant. The shape holds well so gives you a nice shape even if you have no curves.
The off the shoulder cap sleeve detail is super pretty.
Sizes: 8 – 18 | Fabric: Satin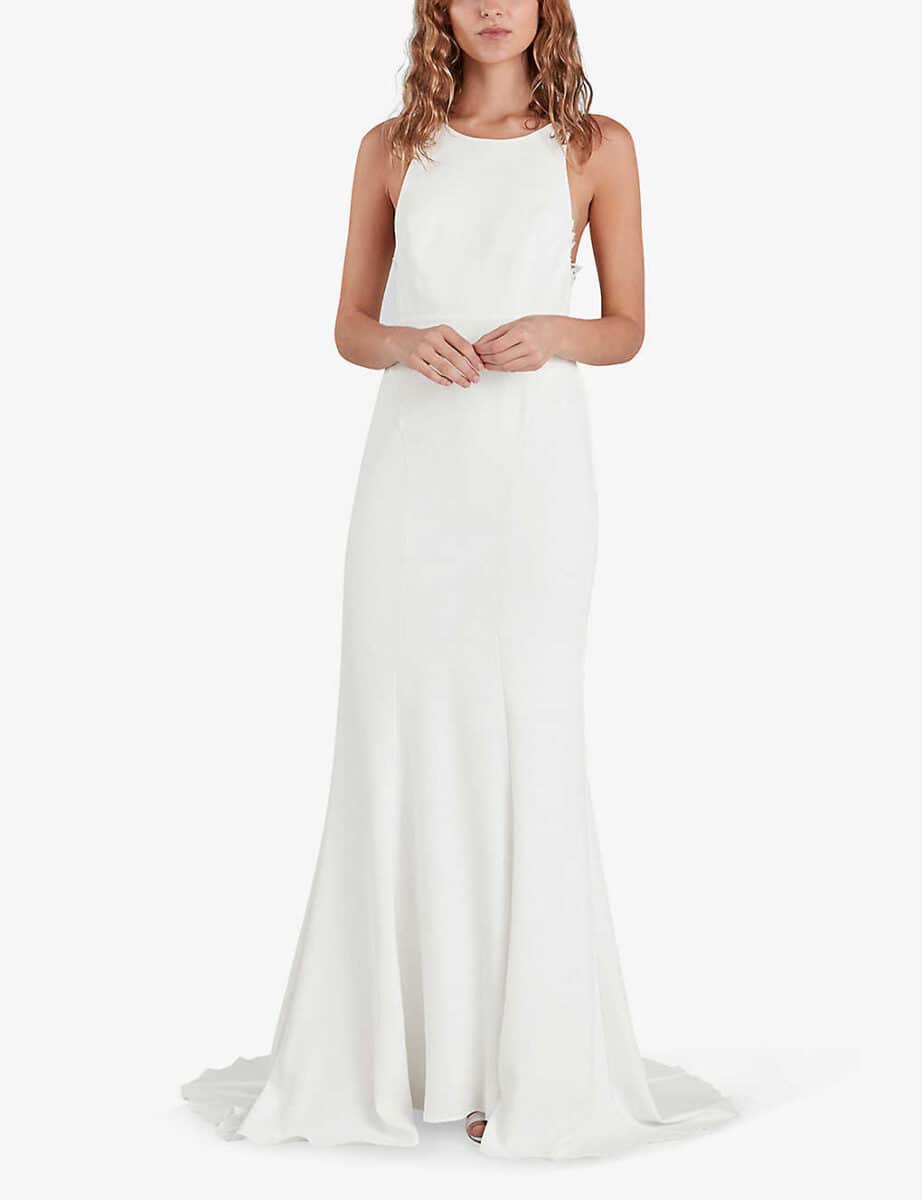 12. High neck simple wedding dress –
This dress drapes so beautifully. It floats and sweeps as you walk.
It is perfect for a beach wedding.
Sizes: 4 – 20 | Fabric: Satin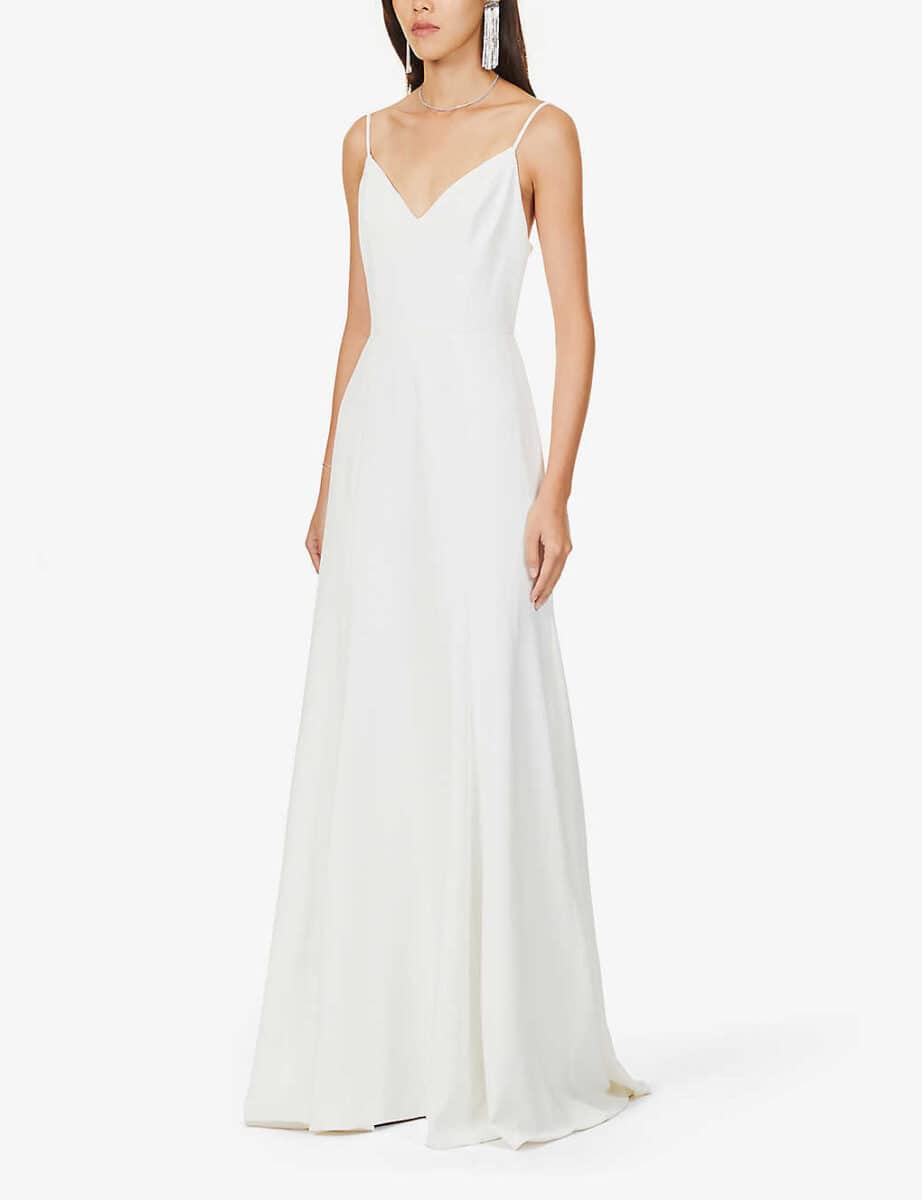 13. Best Slip wedding dress – Jenny Yoo
Bridal slips are so popular. If you are looking for a little 90s vibe to your bridal look then a slip is for you.
Sizes: 4 – 12 | Fabric: Crepe
High Street Wedding Dresses FAQs
ARE HIGH STREET WEDDING DRESSES AFFORDABLE?
We're going to say absolutely!! But this will depend on your budget of course. To be honest they range anywhere from £50 – £1000 so if you want to spend as little as possible then you absolutely can. But if you want to go high end, High Street then go for it!
WHAT IF I AM IN-BETWEEN SIZES CAN I GET A HIGH STREET DRESS ALTERED?
YES! Of course you can, any seamstress will alter a dress for you. You will have to consider the costs as it can be upwards of around £70 for some alterations depending on what you need. So you need to consider this against the cost of the dress.
WHAT IF I CHANGE MY MIND?
We think this is one perk of high street dress shopping, you can change your mind. You should have the same rights as you normally would buy clothes from a shop. If you change your mind about your dress or outfit and it's within the return time policy. Then just simply return the dress or outfit as per the store's terms and conditions
Why buy a high street wedding dress?
Apart from the obvious money saving reasons, we love how easy it is to Repurpose them. If you have opted for a plain white dress get some clothes dye and get creative and dye it another color. If you are super creative and love to do something new then grab that sewing machine and totally revamp the outfit. Or wear it as is on your anniversary.
More blogs you will love!