When designing weddings some consultations were the couple just asking how much will this cost, how much will that cost.
And don't get me wrong I totally get it! it is usually the first time couples are doing this and finding the costs of things in the wedding world can be a minefield!
The thing is, just like the cost of a wedding dress, it can vary so much no can give you a one price answer.
So let's break it down and look at all the factors involved and hopefully, after reading this blog you will have a clear idea of wedding dress costs.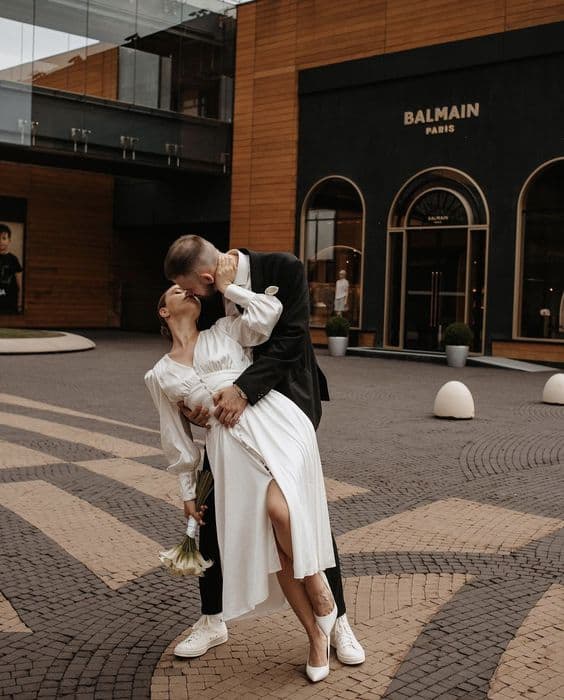 What is the average spend on a wedding dress?
Hitched and Bridebook do yearly surveys to help work out trends and average costs for weddings.
Bridebook data says the average cost is around £1350 for a wedding dress.
From my firsthand experience working in the wedding industry, I would say my brides usually spend £1000 to £5000 on dresses.
How much does a wedding dress really cost?
How long is a piece of string? I use to HATE IT when someone said that to me! So sorry, stick with me.
It really can cost anything though, from completely free to hundreds of thousands.
The question should really be, how much can I budget for a wedding dress?
Then you can use the information below to know the best places to look within your budget.
The thing is a wedding dress can cost as much or little as you want it to. And don't be fouled, you can get a good quality, stunning wedding dress at any price range.
Budgeting for a wedding dress
I am not a fan of these generic percentage budgets on what you should spend on each item. The way I have always told my couples to budget is of course know your budget, no matter the amount you need to know how much you have to spend.
Then for the dress, you need to really consider how important it is to you? Then what is important about the dress?
do you want your favourite designer label?
do you want an eco-friendly dress?
do you love vintage clothes?
do you not care an just want some nice?
A certain, style, fabric or colour?
All of this is more important on the end cost of your dress than any average cost.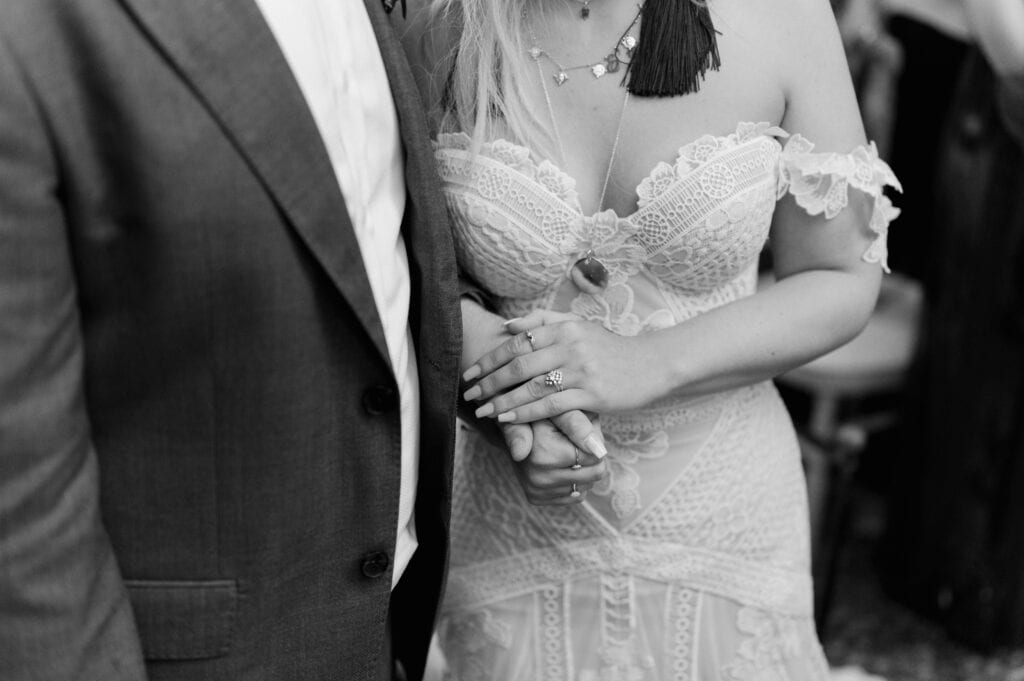 Average wedding dress costs broken down
1. Bridal boutique costs: £1000 – £10,000.
The cost will vary hugely depending on the designers the boutique stocks.
Looking at who a shop stocks before you go is a great way to make sure they have your style dresses but also to make sure they are within your budget.
Top tip, don't be disheartened if you find dresses over your budget as lots of shops have sample sales or sell dresses cheaper if off the rack.
Stick within your budget when dress shopping. If you start trying dresses way above your price range and fall in love, it's just a nightmare situation for you!
2. Oline bridal dress costs: £40 – £6000+
Head to our online wedding dress blog for all the best places to buy a wedding outfit online.
You can find dresses online from high-street stores up to high-end designer dresses. There is so much choice and variety that you really find any dress you wish online.
The best way to save online is to shop out of season for your wedding if you have enough time. Buying a summer dress at the end of summer is always cheaper!
Also, watch out for the big seasonal sales. Black Friday, January sales, last season times. I've seen wedding dress options for more than 70% off online.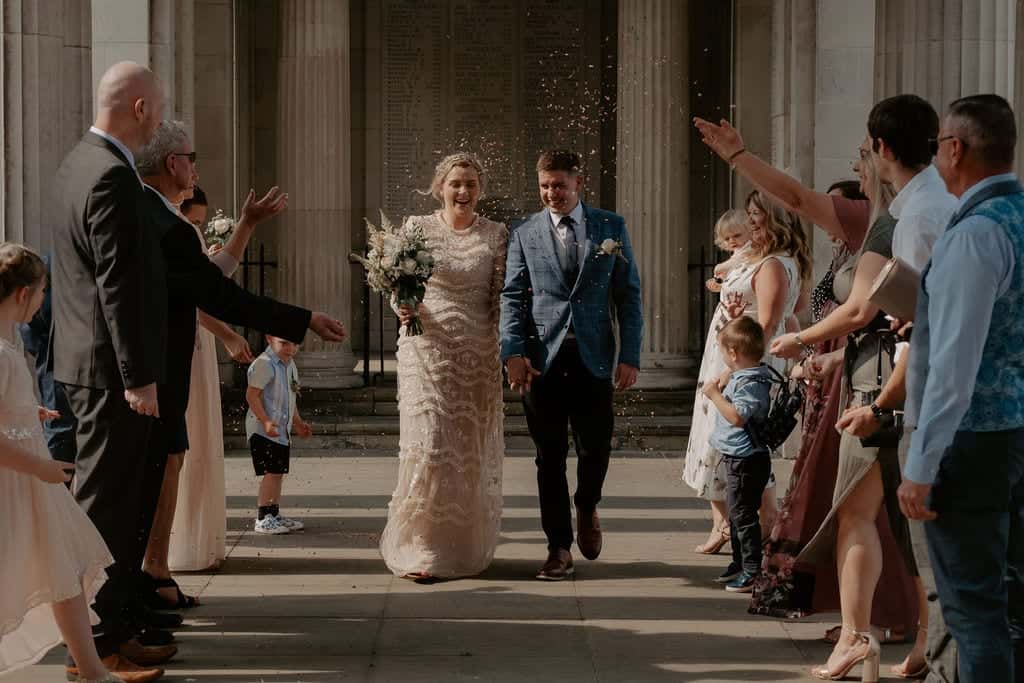 3. High street wedding outfits – £40 – £3000+
I have covered the high street separately as online also covers bridal designers who stock ready-to-wear options.
It is limited but you might also have the option to go in-store and try on some styles. Giving it more of a boutique shop experience.
There are so many high street stores now that offer a bridal range, the full list of good quality ones is on our high street wedding dress blog.
The quality can vary but with so many offering these ranges, you can find dresses in any style.
4. Vintage wedding dress costs: £150 – £2000+
Some of my favourite bridal looks have been in vintage wedding dresses. The price varies depending on the age of the dress, it's quality and of course the designer.
You might find yourself a bargain in a secondhand shop. There are some great online and in-store vintage shops to find a real treasure.
Just keep in mind that there will be costs for alterations unless you are lucky enough to find the perfect fit.
5. secondhand wedding dresses cost: £0 – £4000
Yes, I know vintage dresses are secondhand but not all secondhand are vintage.
I think things are improving but I was always shocked how so many brides wouldn't wear a secondhand bridal outfit. I get it, it's such a special day and you want to be unique.
But, if you want a certain designer dress and are willing to wear it secondhand you can get it for a fraction of the cost. And it is not like normal secondhand dresses, the chances are high it has only been worn once and then dry cleaned.
There are some great online options to use. I would suggest using somewhere that checks the authenticity if going for a high-end designer dress. Otherwise vinted, eBay and all of them are great for lower-cost secondhand outfits.
6. bespoke & couture wedding dress costs: £2000 – £100,000
A local or online bridal designer will cost around £2000 to £10,000. I do recommend this option as you get a dress made just for you.
For a catwalk designer, you are looking at £10,000 plus. If you have the budget then go for it, you will have one stunning one-of-a-kind dress.
If not, the same will be true when using a local designer.
7. etsy wedding dress costs: £1000 – £6000+
Etsy is a great place to head for unique wedding dresses and outfits. There are some stunning alternative wedding dress designers on Etsy.
You can get a bespoke dress made for the fraction of the cost. Do keep in mind though there are some china shops and others ripping off designs. Do your research, and check reviews. If the price is too good to be true, then it probably is a cheap copy.
8. wedding dress rental costs: £50 – £1000+
Renting designer pieces is becoming the norm now in the fashion world. Renting your wedding dress used to be normal and we are seeing a slow comeback.
I think the hardest thing with renting is you can't have the dress altered to fit perfectly. If you can find a dress that fits great unaltered then you may as well rent it and save about 80/90% of the cost!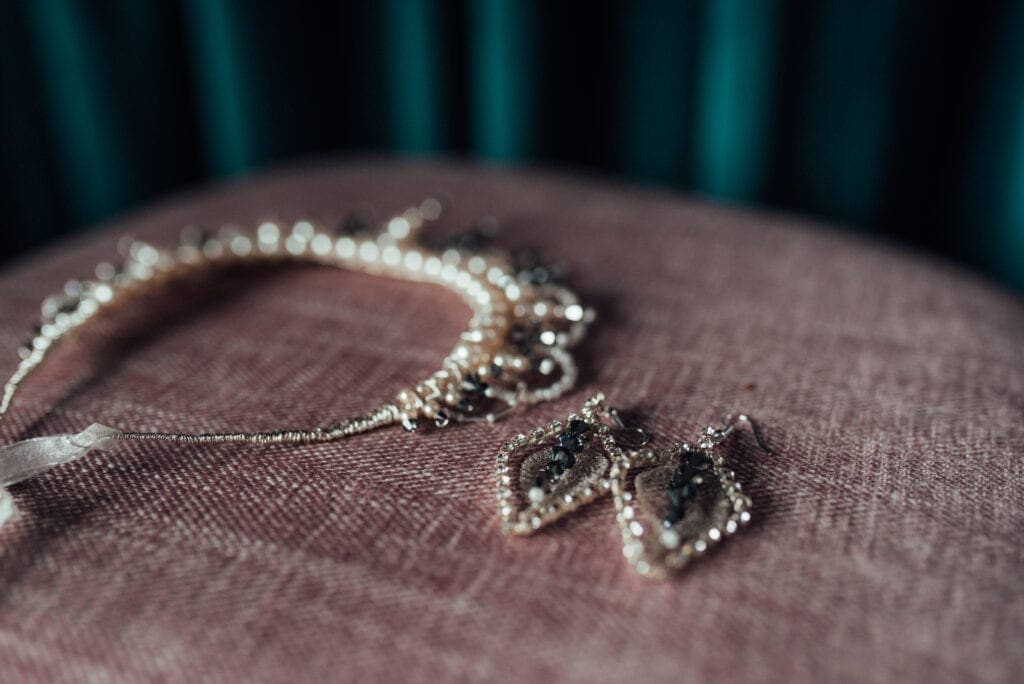 Other items to consider for a bridal look
When you budget for your bridal look you need to consider more than just the dress. These costs won't all apply but make sure you consider the ones that will as it can easily add on thousands sometimes.
Boutique appointment and travel cost: £0 – £100+
Alterations: £100 £1000+
Underskirt, bustle: £200+
Underwear: £50+
Veil and/or headpiece: £100 – £1000
Shoes: £30 – £1000+
Jewellery: £100 – £3000+
cover-up/jacket: £50+
Hair and make-up: £150+
Getting ready outfit: £50+
All other events: £50+
The cost of a wedding outfit
Hopefully, this has helped break down the cost of a wedding dress for you. Remember to make a clear budget and shop in places that your budget allows while finding the perfect style for you.
If you are ready to find the one, then check out all our bridal fashion blogs. They are full of shopping tips, expert advice and lots of inspiration.
More blogs you will love!