Forest green bridesmaid dresses are a stunning and timeless choice. They look elegant and sophisticated.
Not only does it complement a variety of wedding themes, but it also suits a range of skin tones and hair colours.
In this blog post, we'll explore the best forest green bridesmaid dress options, how to style them, what colours work well with them, and answer some frequently asked questions to help you make an informed decision.
Making sure your bridal party looks nothing short of stunning on your special day in their forest green outfits.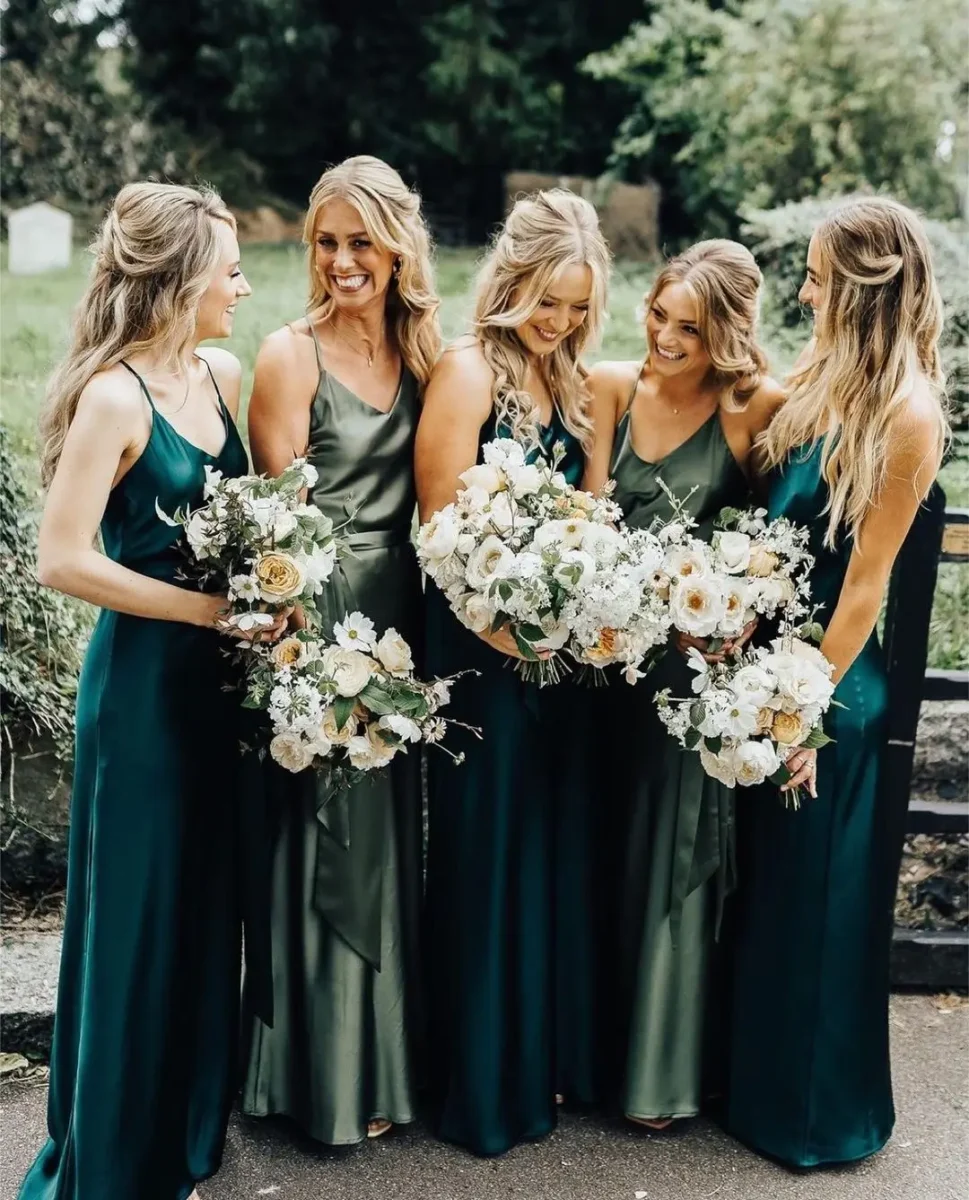 WHERE TO BUY forest green BRIDESMAID DRESSES
| Shop | Olive colour names | Price Range | UK Sizes |
| --- | --- | --- | --- |
| Coast | Forest | £100 – £300 | 4 – 26 |
| Reformation | Buena, Forest | £300 – £500 | 4 – 28 |
| Asos | Forest, botanical green | £30 – £200 | 2 – 30 |
| Selfridges | Emerald (Jenny Yoo) | £70 – £500 | 6 – 24 |
| Oasis Fashion | Green | £80 – £200 | 6 – 24 |
THE BEST Forest green BRIDESMAID DRESSES
We are committed to providing unbiased, credible reviews so you can choose with confidence. We may earn commissions on purchases made from visiting our partner stores. Please see our policy here.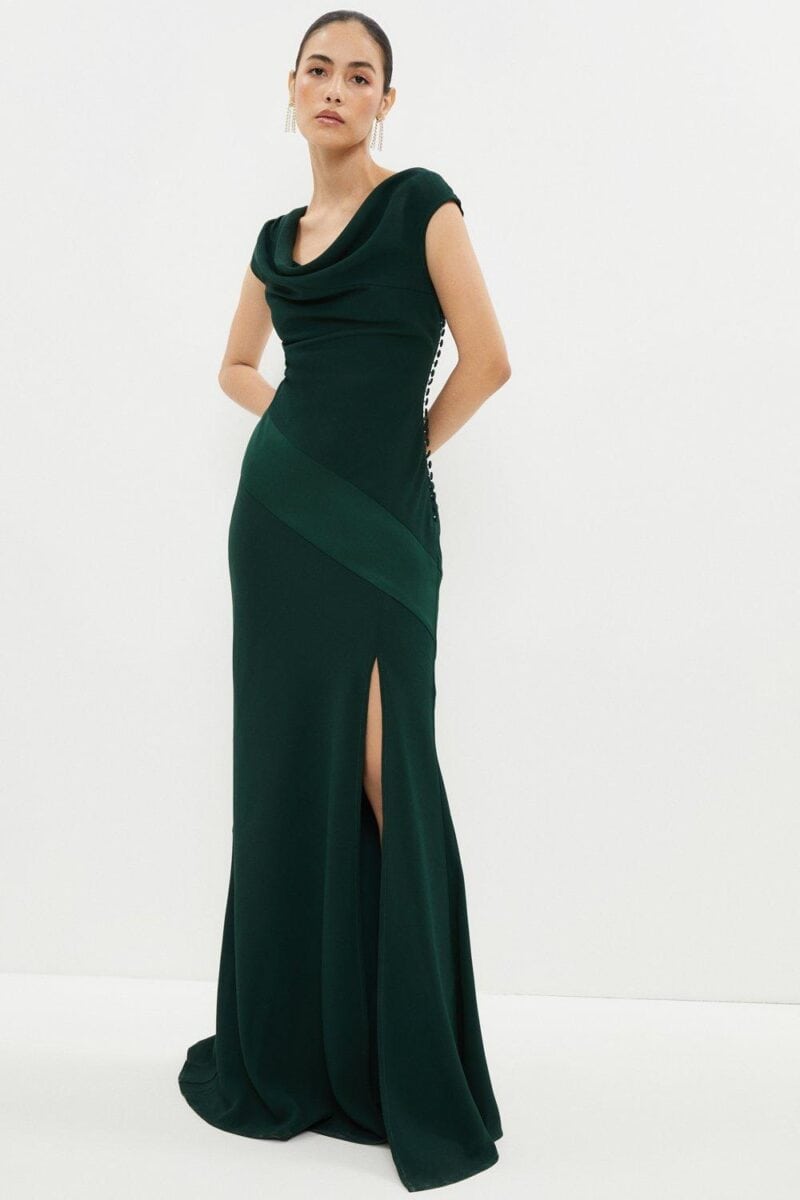 1. Urban editor choice – COAST
I love the simple design of this dress. The cowl neckline and the button detail down the side add just enough uniqueness.
Size: 8 – 26 | Fabric: Satin | Length: Floor | Color: Forest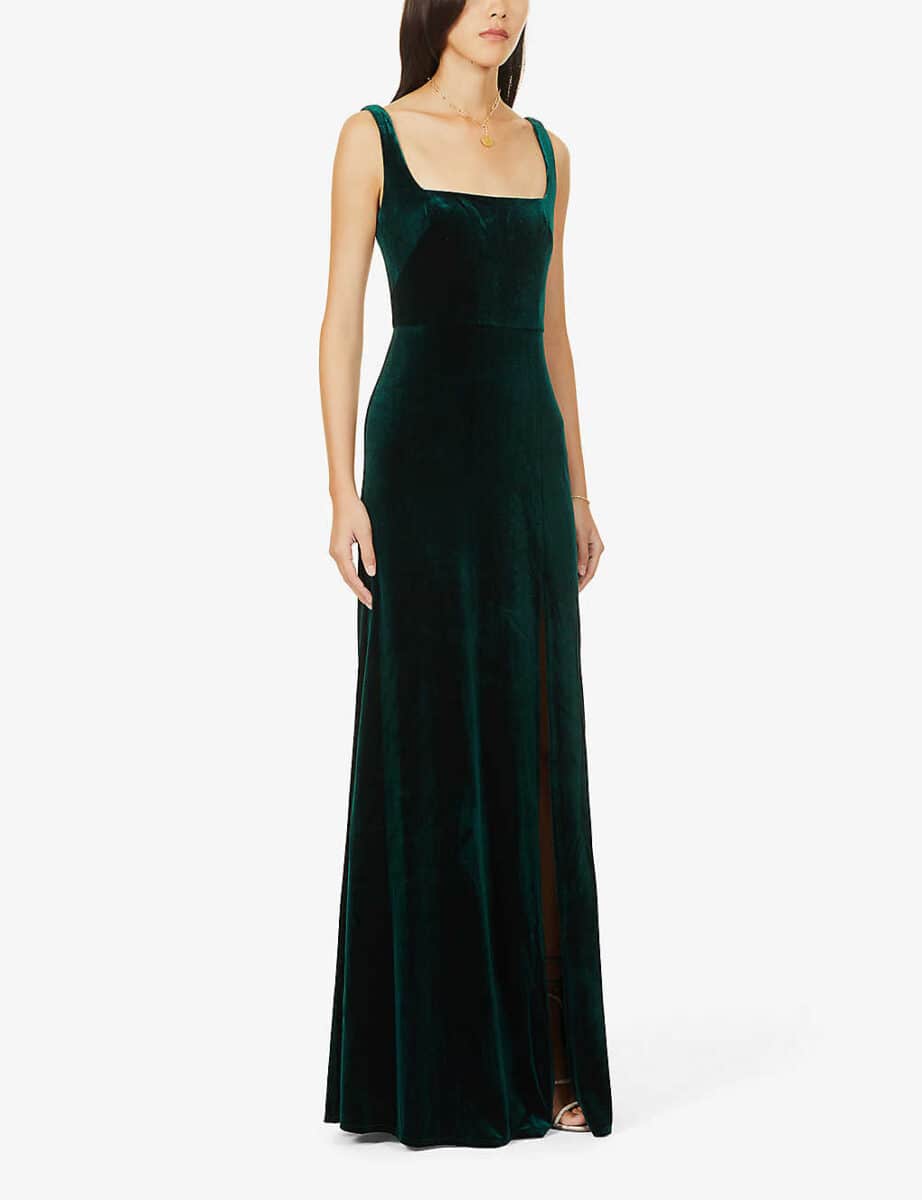 A great autumn or winter choice. I think velvet might just be my favourite bridesmaid dress fabric.
Now, this dress says it is emerald green, it looks dark forest green to me though!
Size: 4 – 20 | Fabric: Velvet | Length: Maxi | Color: Emerald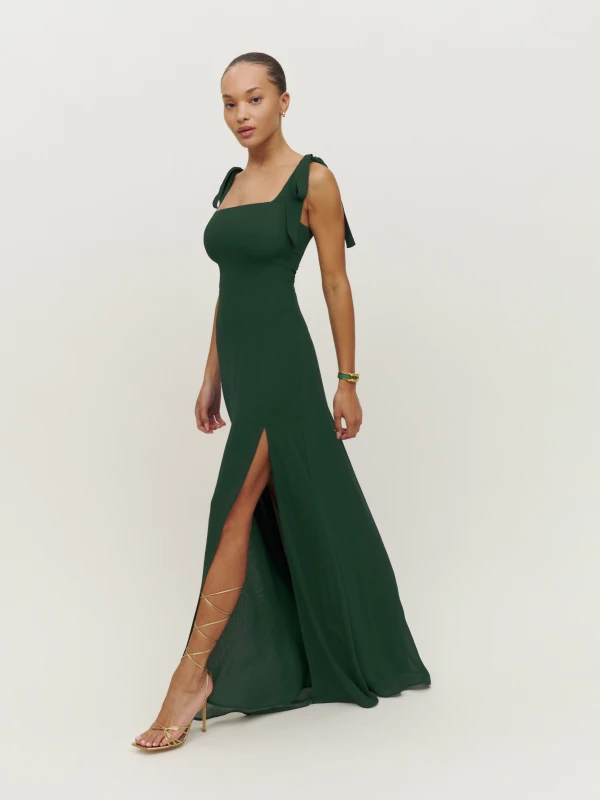 Reformation is the place to head for sustainable bridesmaid dresses.
Why I love and recommend them though is they don't compromise on style.
Size: 4 – 16 | Fabric:Viscose | Length: Maxi | Color: Forest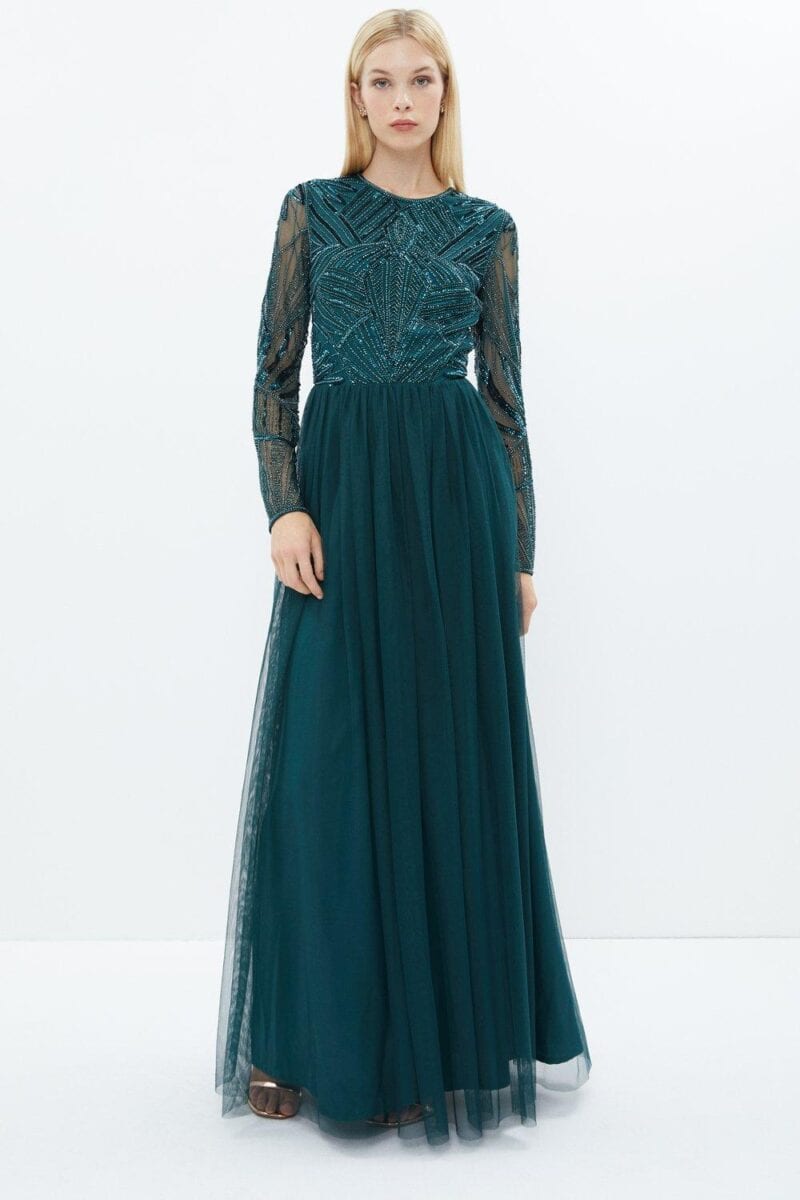 4. BEST long sleeve – COAST
The perfect forest green winter bridesmaid dress. They have it in a shorter sleeve also.
Keep your bridal party warm and stylish!
Size: 8 – 18 | Fabric: Chiffon | Length: Maxi | Color: Forest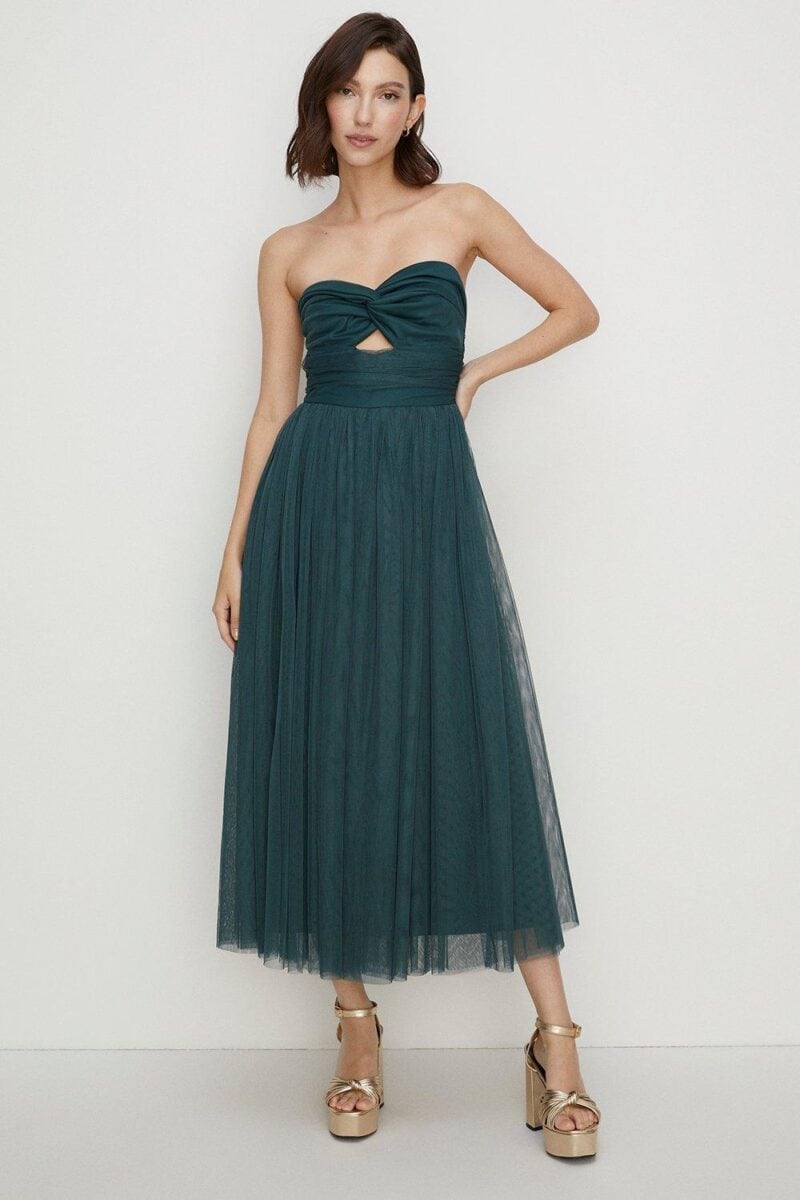 5. For a fun look – Oasis
I love how fun this dress looks. Perfect to dance the night away!
Size: 6 – 18 | Fabric: Chiffon | Length: Midi | Color: Green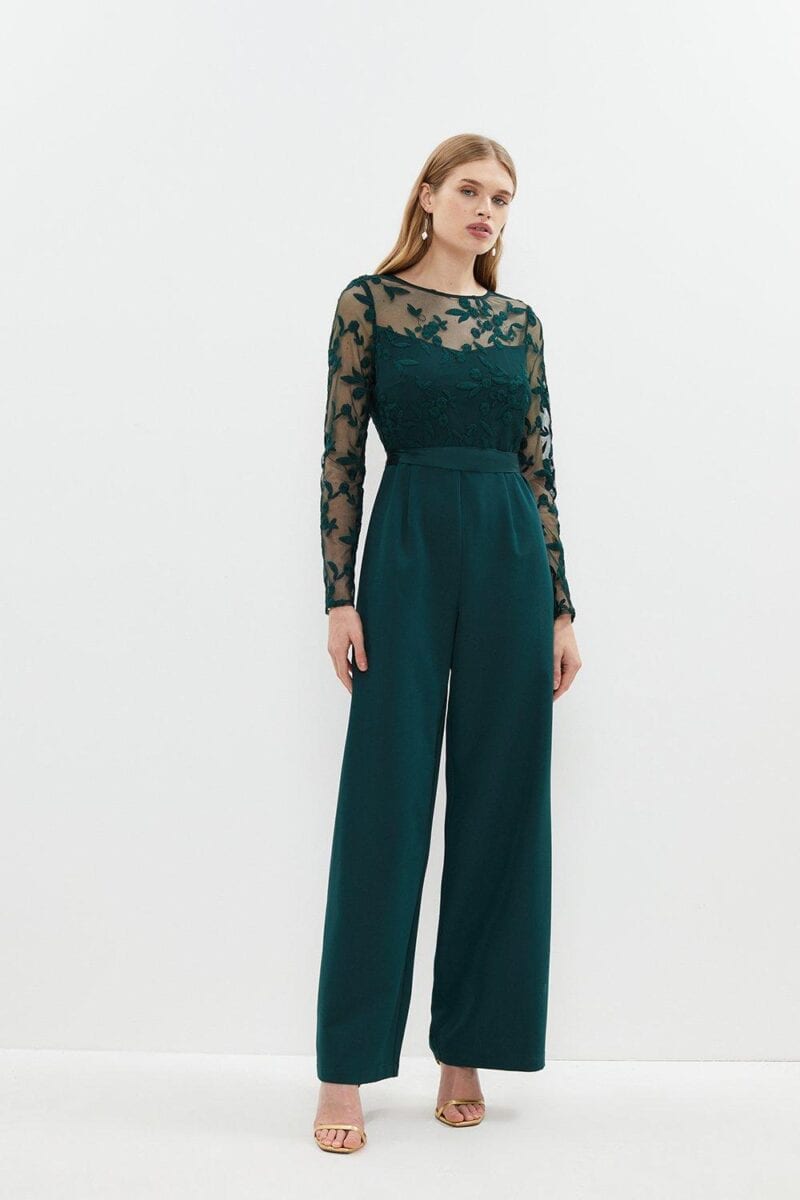 6. BEST Jumpsuit – COAST
A jumpsuit is a great option for a less girly bridal party look.
This one fits well in all sizes. Looks stylish and covers well.
Size: 8 – 26 | Fabric: Georgette | Length: Maxi | Color: Forest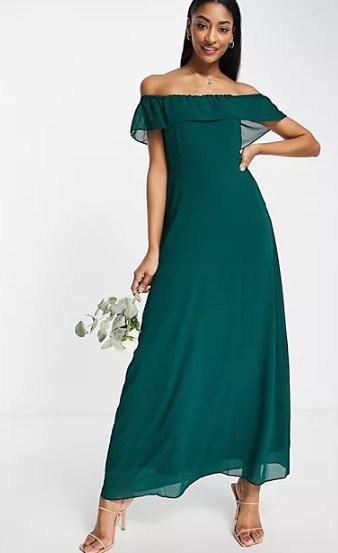 7. BEST Budget – ASOS
If you are looking for a stylish budget friendly option this dress is perfect. Under £40 (when writing) and it really doesn't look budget.
Size: 8 – 18 | Fabric: Chiffon | Length: Maxi | Color: Botanical Green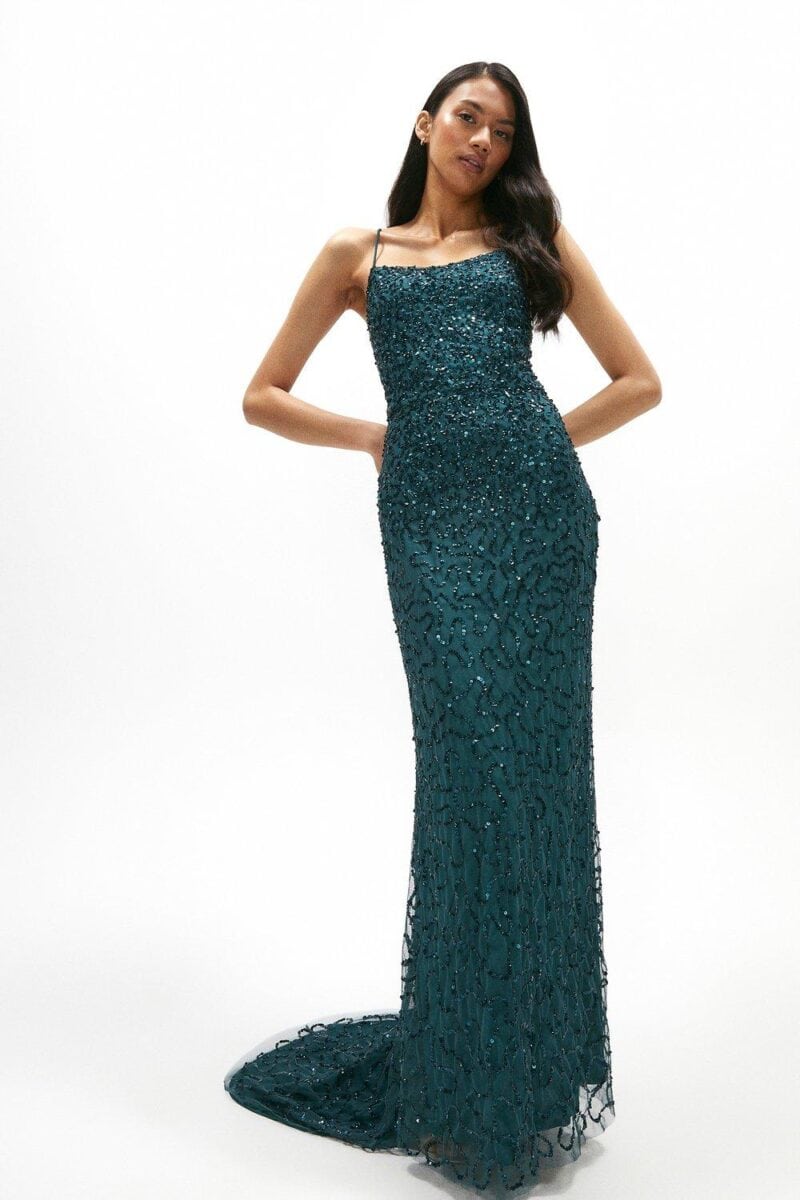 8. BEST Sequin forest green bridesmaid dress – COAST
This dress is giving me Christmas and new year vibes, anyone else?
The perfect dress to let your party sparkle on your big day.
Size: 8 – 18 | Fabric: Sequin | Length: Maxi | Color: Forest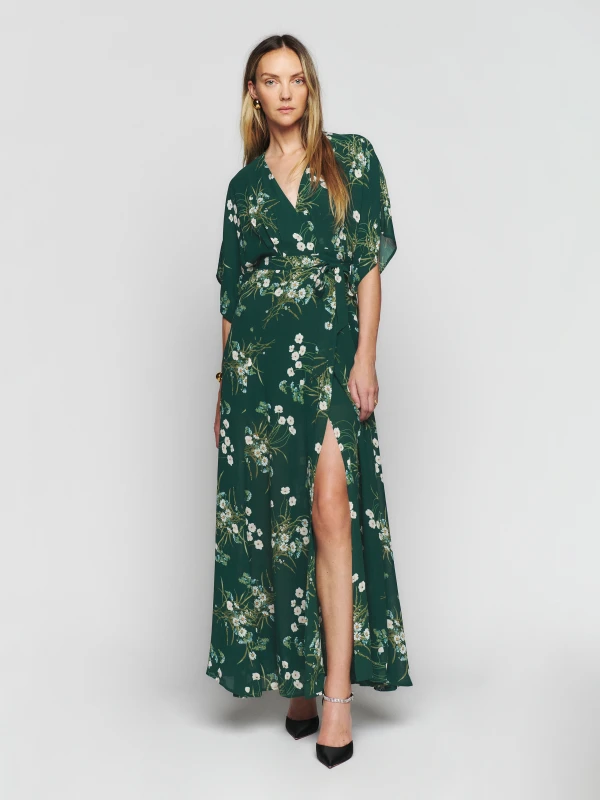 Not just sustainable, this floral print is stunning.
I love a floral bridesmaid dress!
Size: xSmall – xLarge| Fabric: Viscose | Length: Maxi | Color: Buena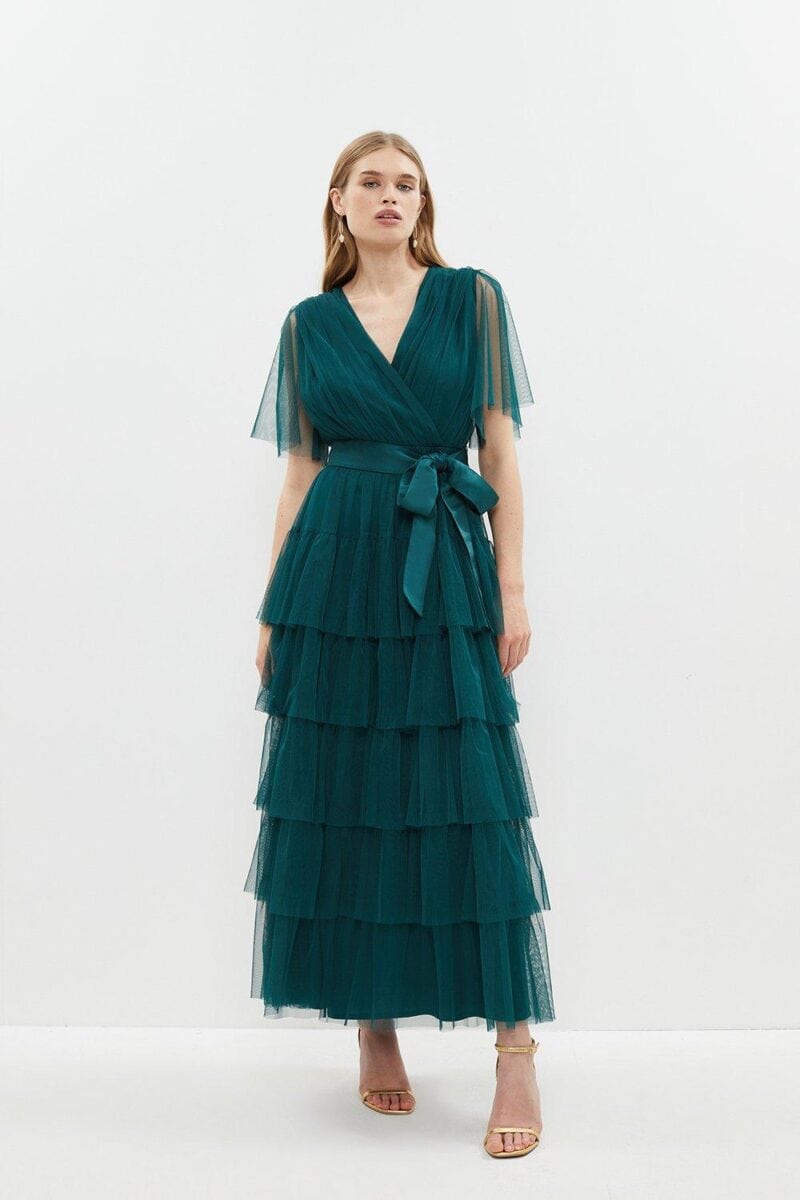 10. For the fashion forward bridal party – COAST
This dress is not your typical bridesmaid dress, probably why I love it so much!
It's fun. unique and right on trend!
Size: 8 – 26 | Fabric: Tulle | Length: Maxi | Color: Forest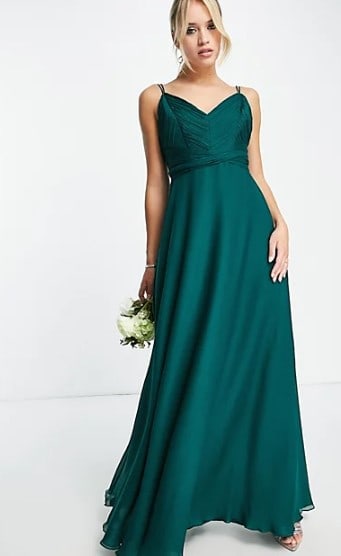 11. For a timeless look – ASOS
This dress is simple and stylish. It will never go out of fashion so perfect for a timeless look.
Size: 8 – 18 | Fabric: Satin | Length: Maxi | Color: Forest
STYLING GUIDE AND Forest Green BRIDESMAID DRESSES FAQS
When it comes to styling forest green bridesmaid dresses, there are a variety of options to choose from depending on your personal style and wedding theme.

– Neutral Accessories: Keep the focus on the forest green dresses by pairing them with neutral accessories. Nude or blush heels, simple silver or gold jewellery, and a natural hairstyle will create a chic and sophisticated look.

– Bold Accessories: Make a statement by pairing the forest green dresses with bold accessories, such as statement earrings, and a statement necklace. Or pick one other bold colour to match with.

– Mix and Match: For a more modern look, consider mixing and matching different shades of green or incorporating other colours into the bridal party's dresses. For example, you could mix forest green dresses with sage green or ivory dresses to create a unique look.

– Layering: Depending on the season, you could consider layering the forest green dresses with a shawl, leather or denim jacket. Great for fun photo ops.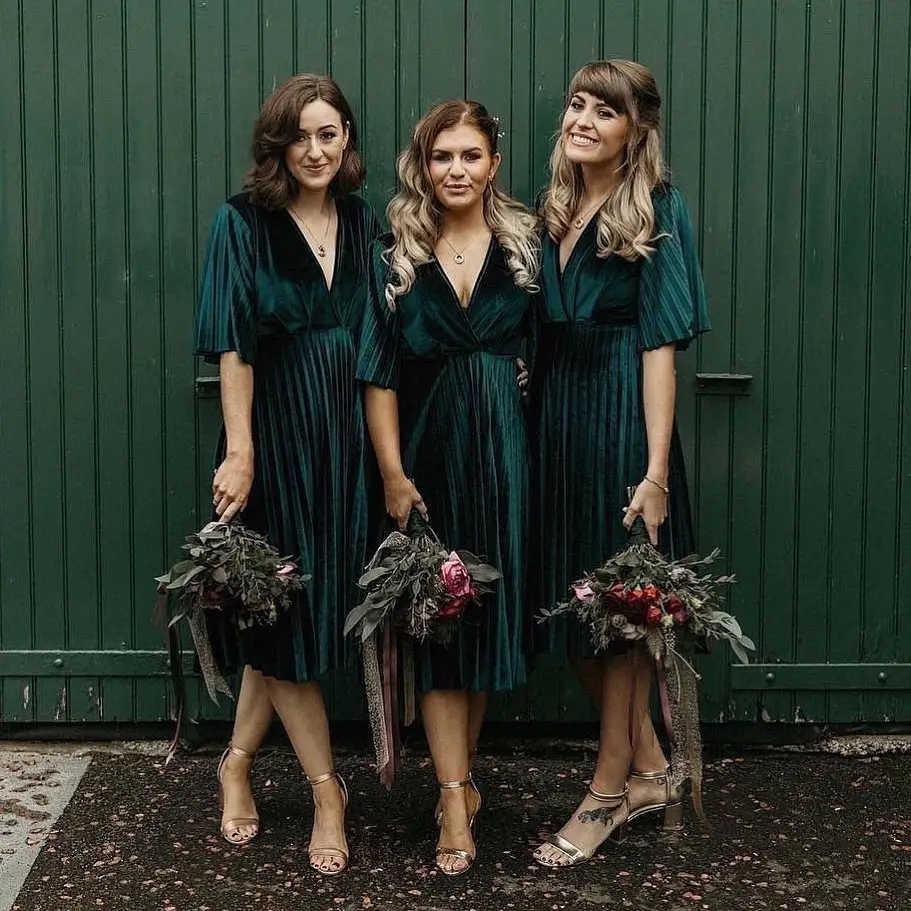 FAQs
WHAT COLORS GO WELL WITH FOREST GREEN?
Forest green is a versatile colour that pairs well with a variety of other shades.
– For a classic and timeless look, consider pairing forest green with white or ivory.
– For a more bold and striking combination, you can pair it with shades of pink, red, or purple.
– Gold, champagne, and metallics are also great options to add a touch of glamour and sophistication to your wedding decor.
– Additionally, you can opt for complementary shades of green, such as sage or mint, to create a cohesive and harmonious look.
WHAT SEASON IS FOREST GREEN MOST POPULAR FOR?
Forest green can work well in any season, depending on how it is styled and paired with other colours.
In the fall and winter months, forest green can add warmth and depth to your wedding colour palette. It pairs well with rich jewel tones and metallic accents, such as gold or bronze, to create a cosy and luxurious ambience.
In the spring and summer months, forest green can add a fresh and vibrant touch to your wedding. It pairs well with soft pastel colours, such as blush or lavender, to create a romantic and whimsical atmosphere. When paired with brighter hues like coral or peach, it can create a fun and playful vibe.
More blogs you will love!