It's no secret that we're a huge fan of industrial vibes and moody colours. They are our favourite, so today's styled shoot at Islington Metal works has us very excited! 
It's full of moody colours, romance and hints of industrial vibes. All perfectly captured by the talented Ami Roberts. We do love featuring these gorgeous shoots, they are filled with so much creativity and passion.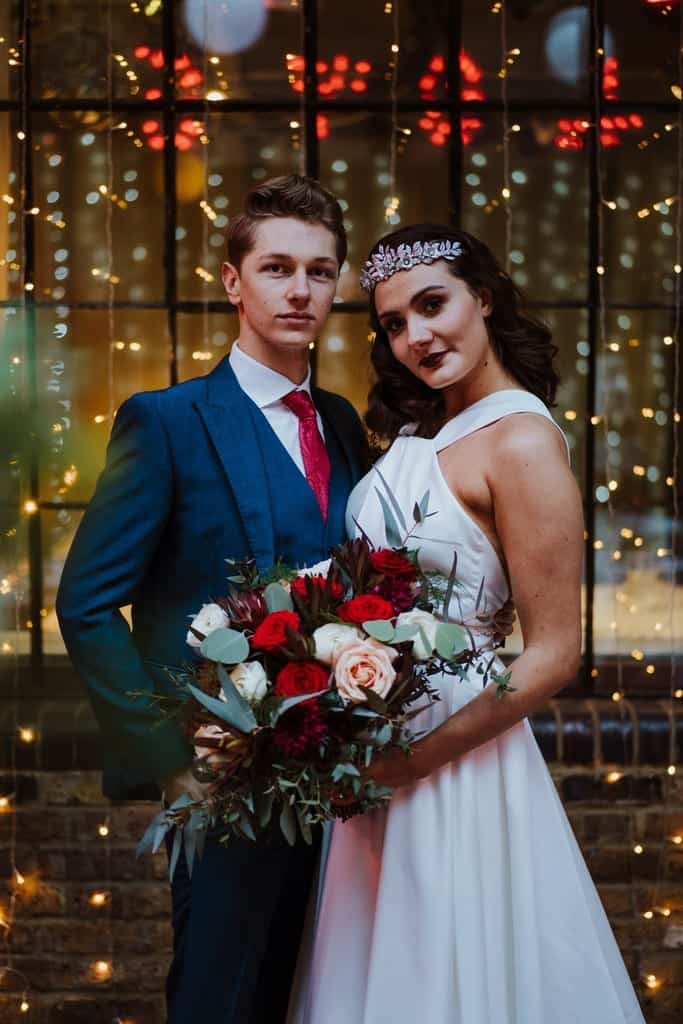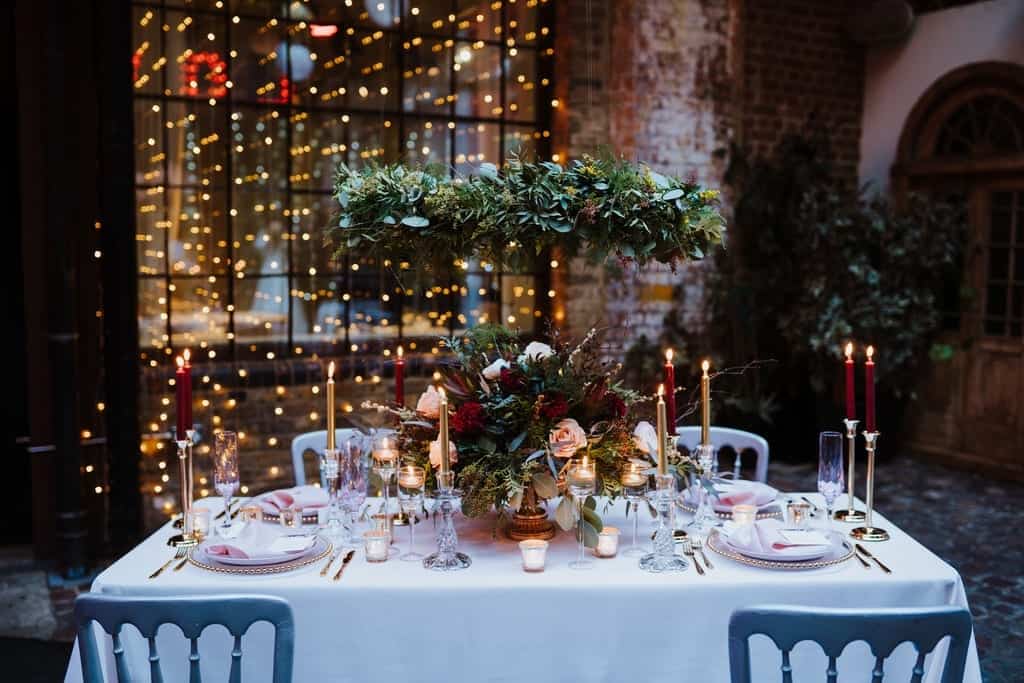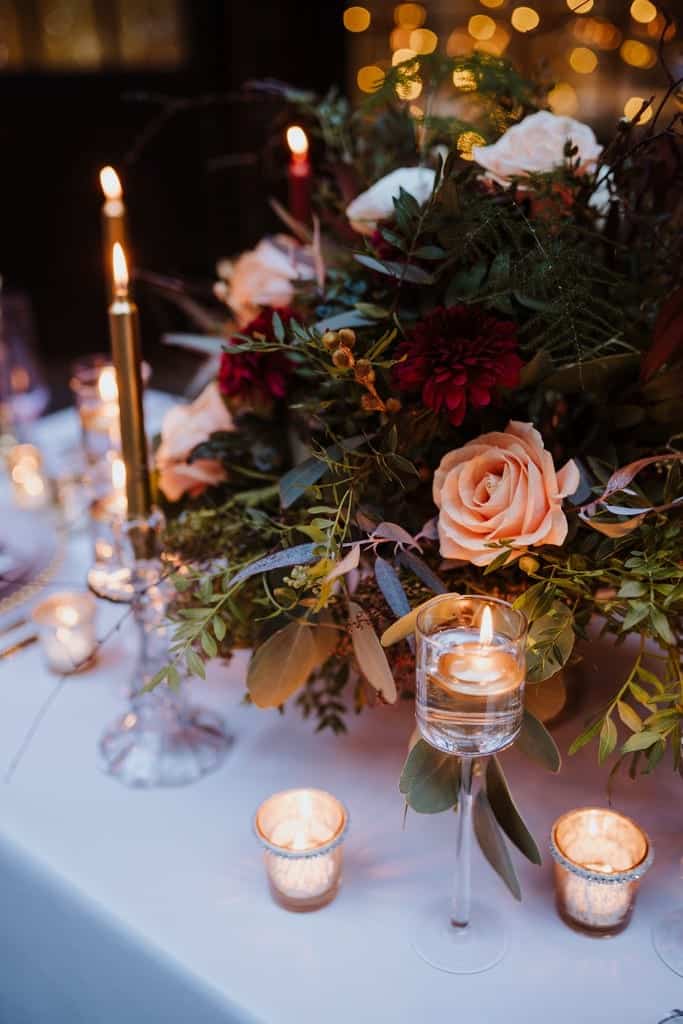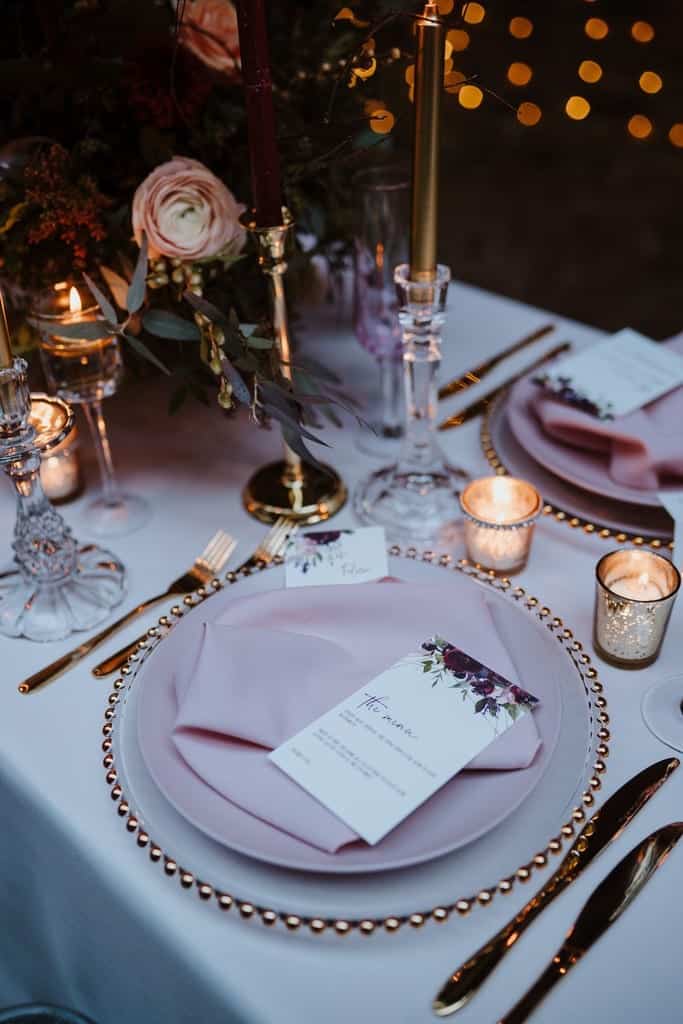 Playful, glamorous industrial chic at Islington Metal Works
The inspiration for our collaborative styled shoot came from the contrast of natural glamour against an industrial backdrop. We are showing you don't have to be minimalist to go with Urban.
Islington Metal Works is a vibrant eclectic space in north London. With a beautiful glass atrium streaming an abundance of natural light with suspended plants to soften the harsh surroundings. The re-purposed London tube carriage bar below stands out with a techni-colour bang. Using deep reds, blush pink, gold and navy as a colour scheme. The richness of the palette reflecting the graffiti, lighting and inherent décor of the space.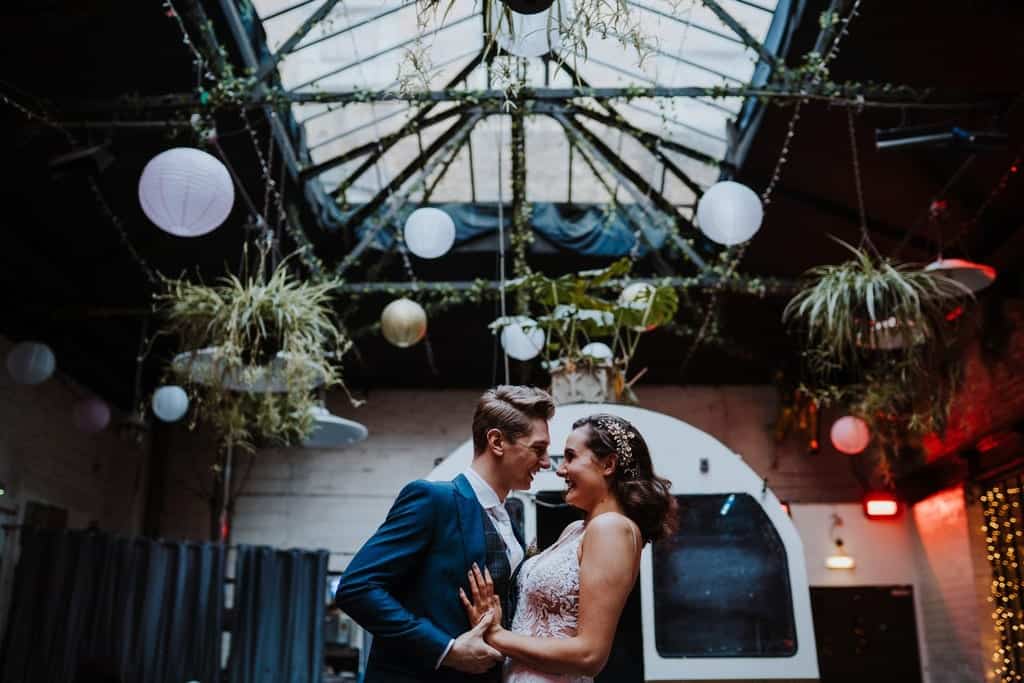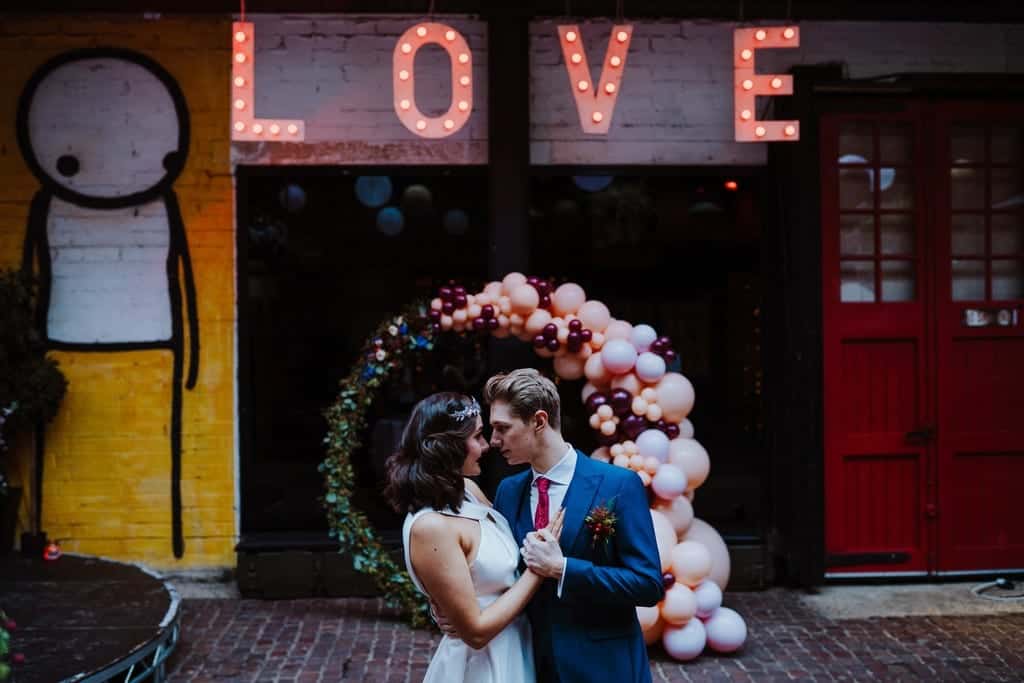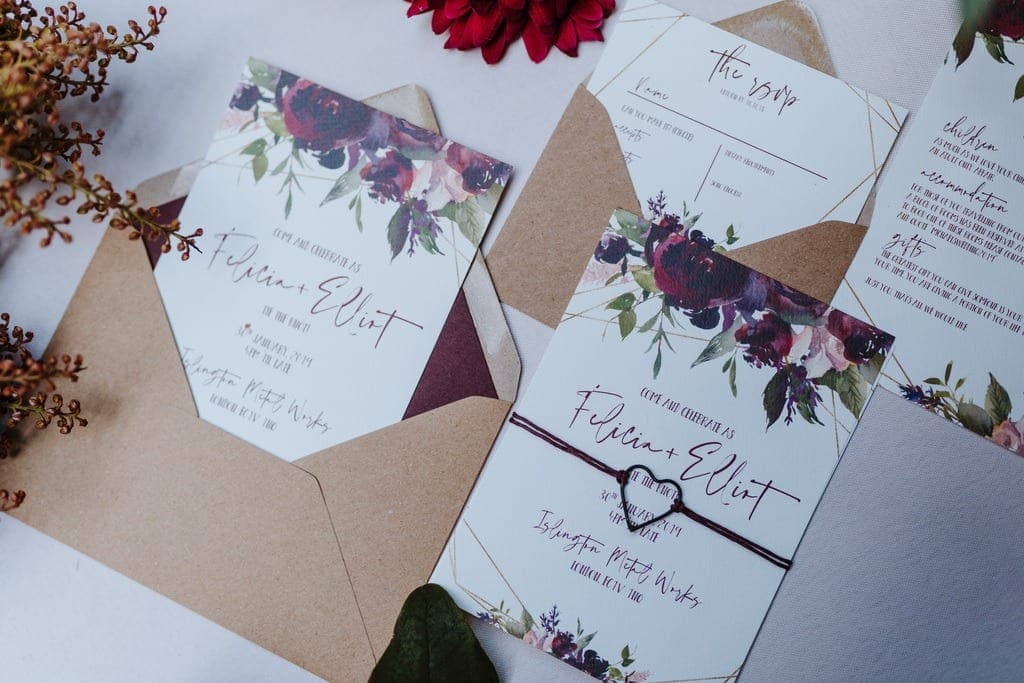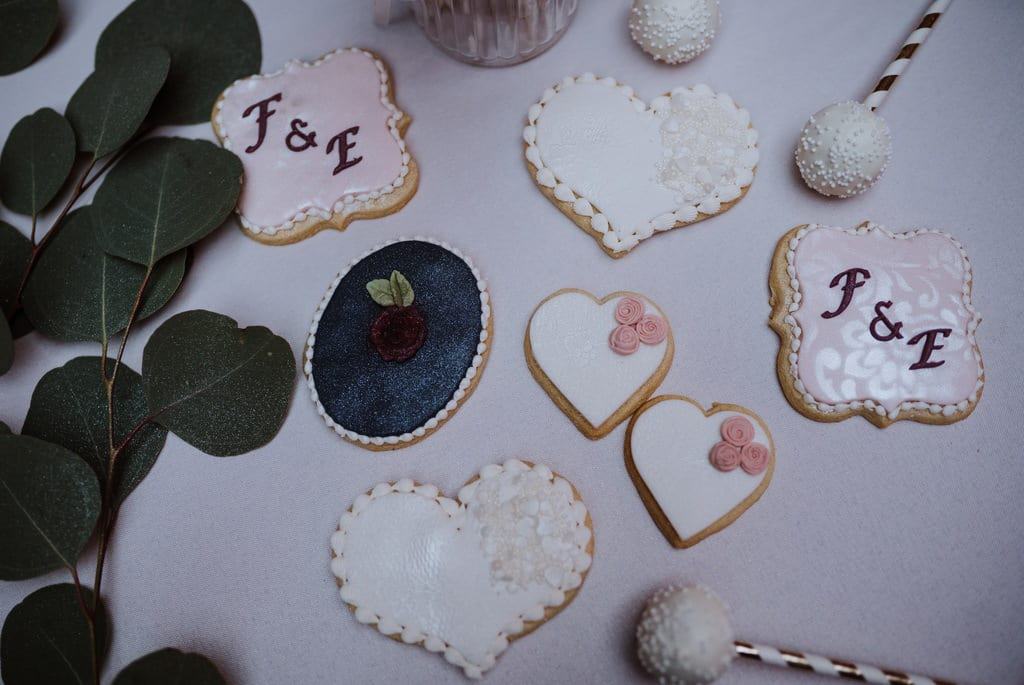 All of this was shot by the talented Ami Robertson of Ami Robertson Wedding Photography, who has an eye for rich colours and beautiful light.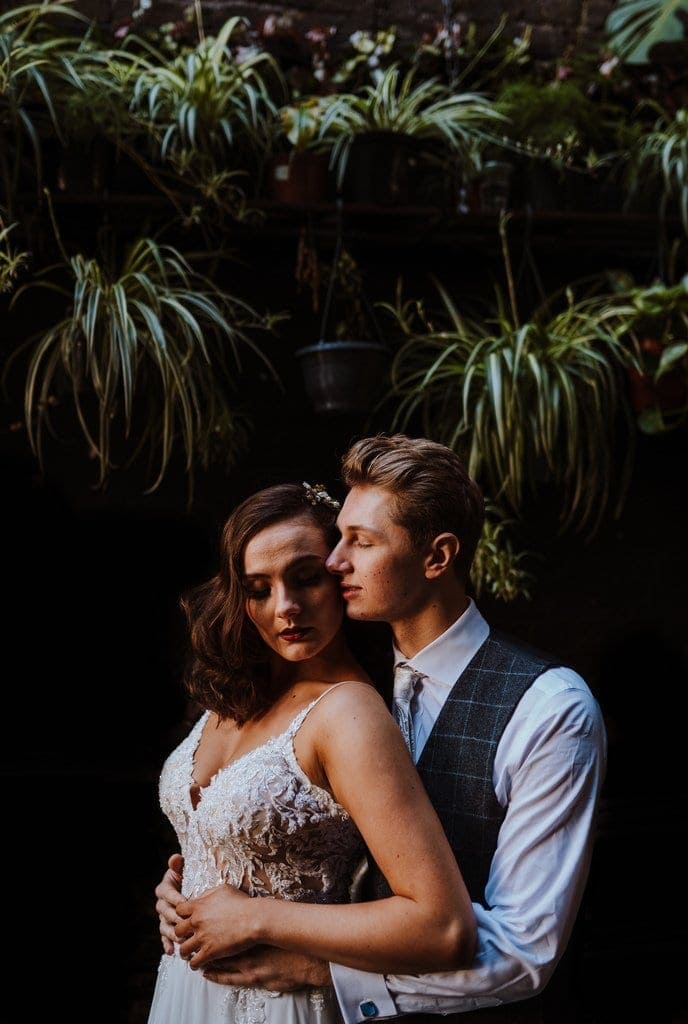 Details
Bev of Makeupology kicked off the day. Effortlessly creating a gorgeous look of glamour on our bridal model, Jinny. Bev added a bold lip colour and smoky eye detail to give a relaxed but still glamorous look. Her hairstyle worked well with the informal vibe of the day. Gaynor from bailey & blossom created a stunning floating foliage halo that seemingly hovered above the table-scape, linking the existing planted ceiling detail perfectly with our concept.
The unstructured foliage rich bouquet featuring roses, ranunculus, and Leucadendron was echoed by the table centrepiece which sat within a golden urn. In turn the flower detail followed through to the fabulous moon gat. Which was created with a stunning biodegradable balloon installation by Aurelija at Balloonista Co.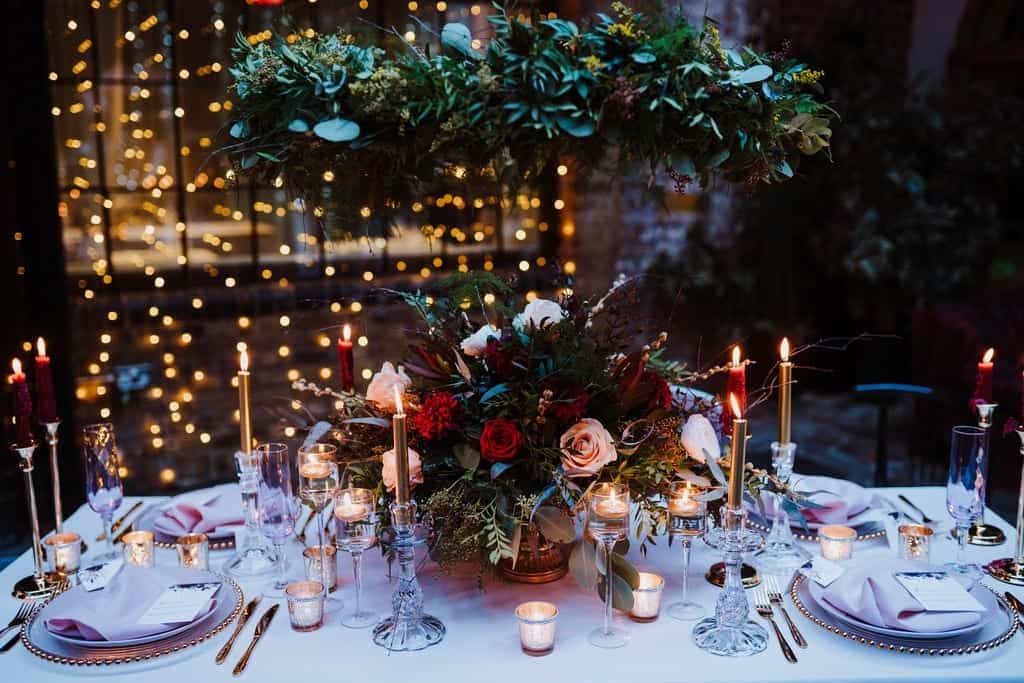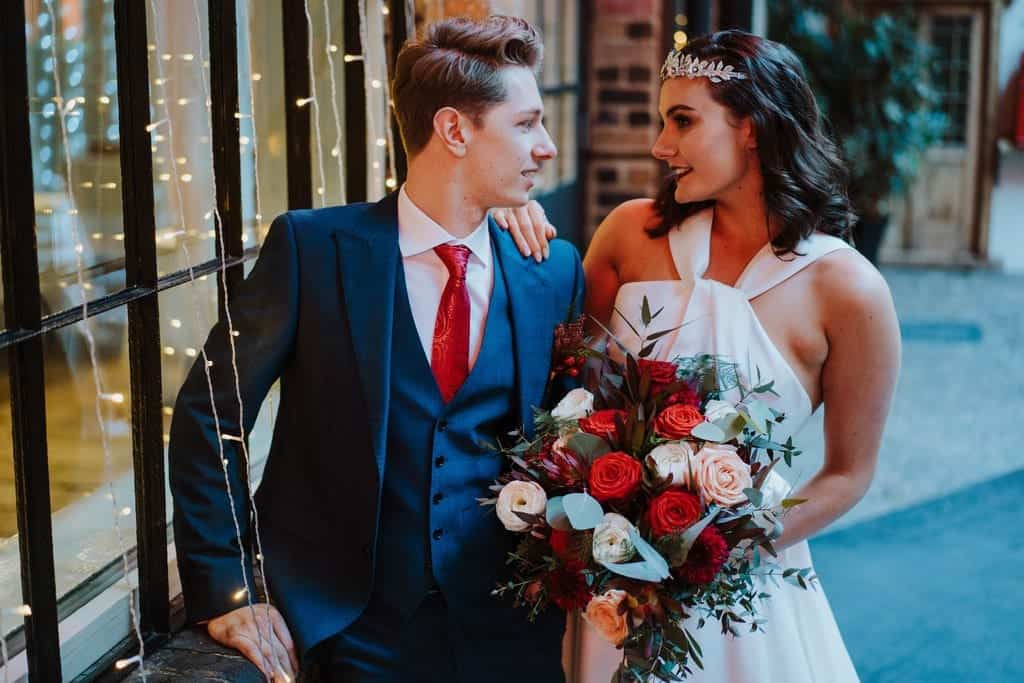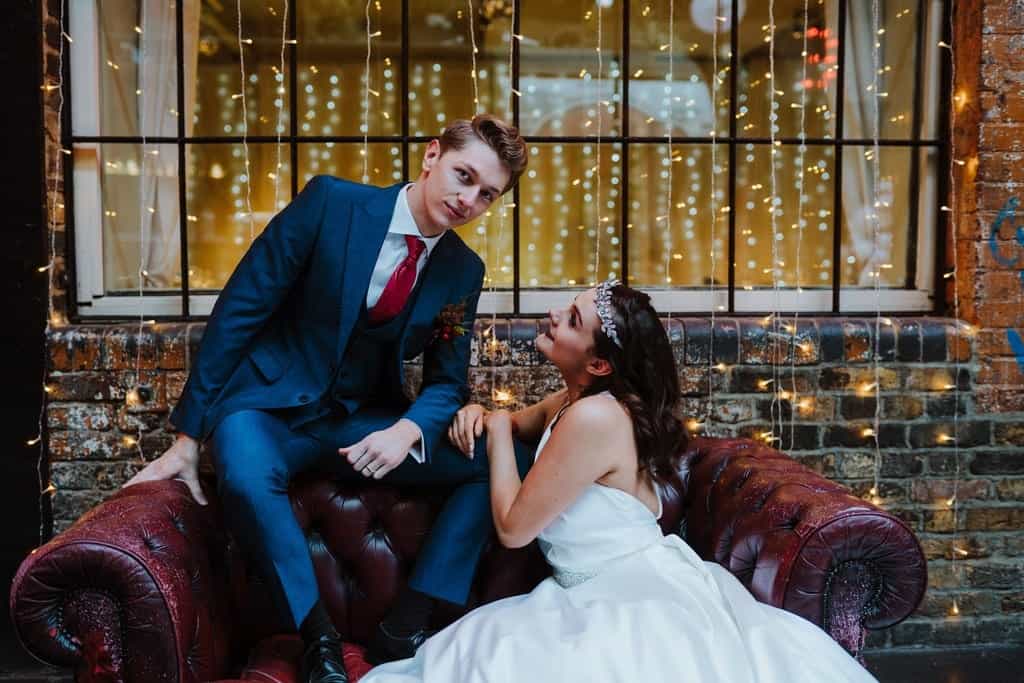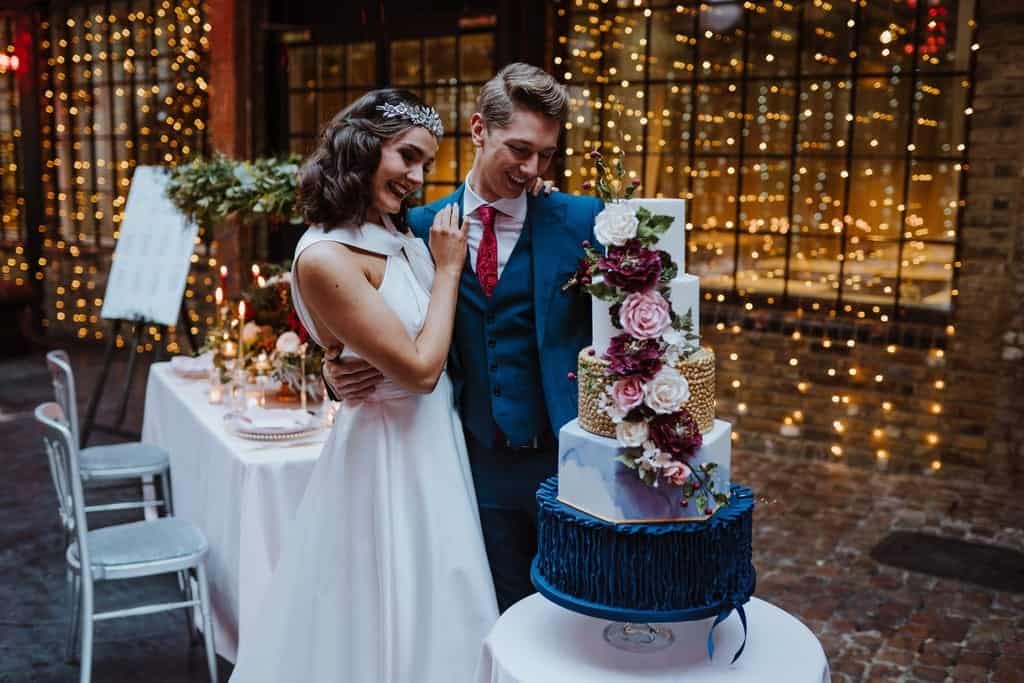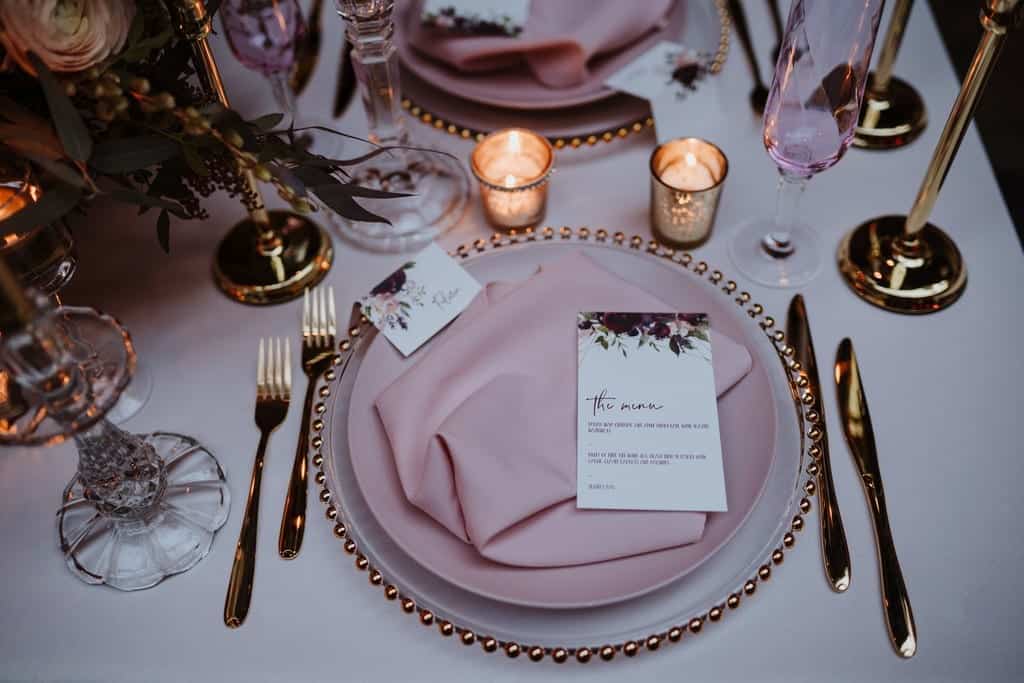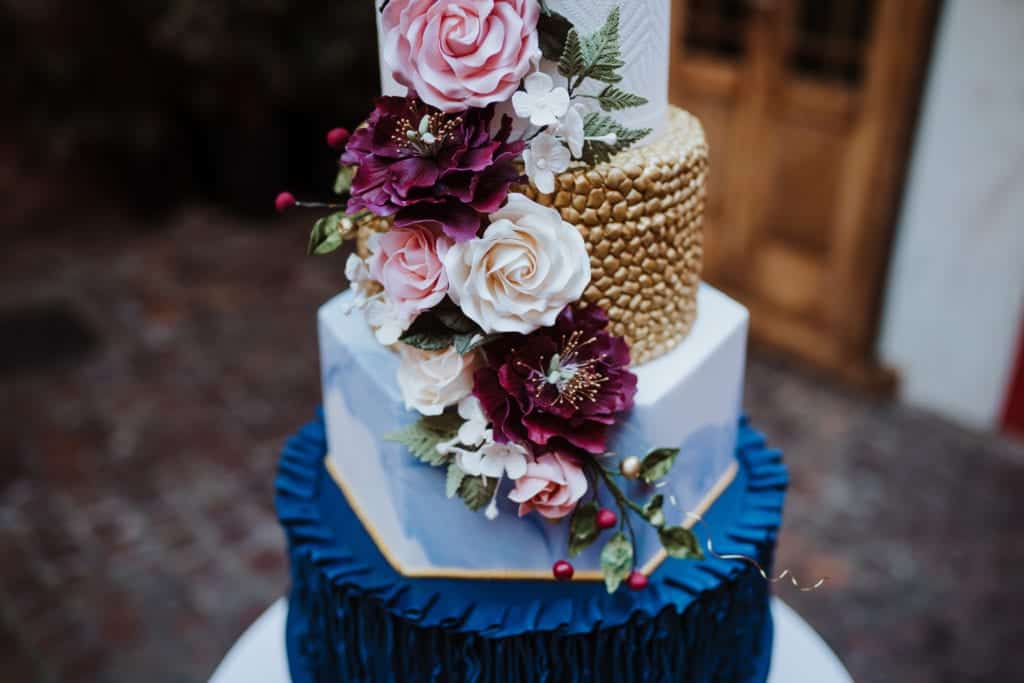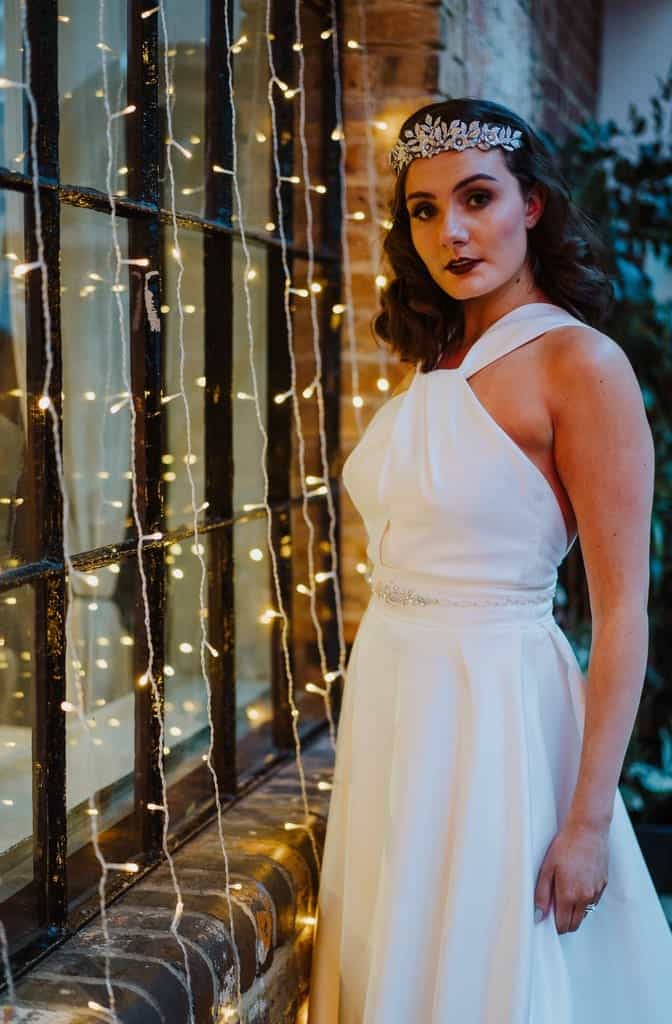 The use of elements
With such a hard-edged open space. Celestine from Angels and Gypsies was inspired to use an array of candles and holders in differing heights to create a luxurious but relaxed and intimate look. Teaming gold cutlery with the feminine blush pink napkins and plates. The soft table-scape offered the perfect contrast to the cobbled floor beneath.
The look was completed with a hand painted floral motif stationery suite by Holly from Mellie Moo. Holly offers the best first impression for any wedding. Geometric golden shapes juxtaposed with the decadent flower images. These were shown through the medium of invites, menu's and a beautiful full-size table plan.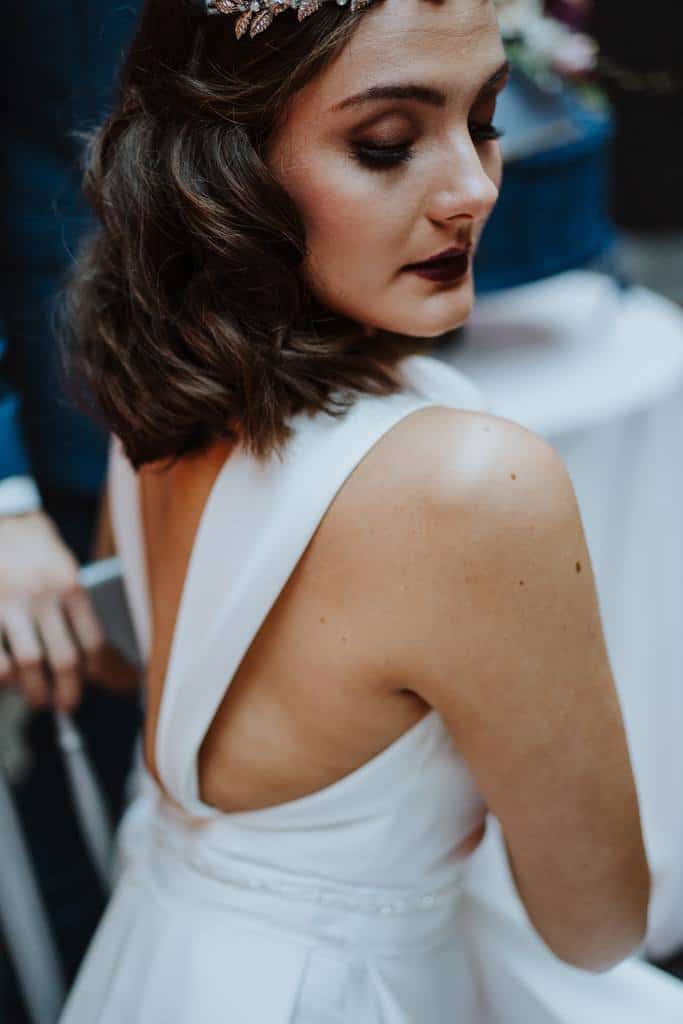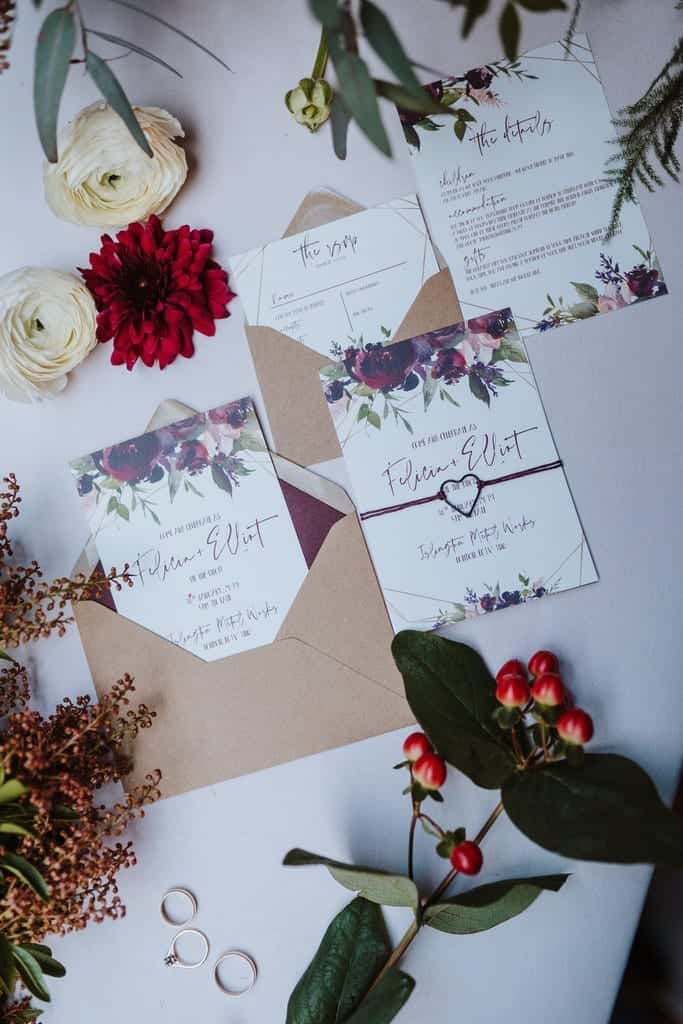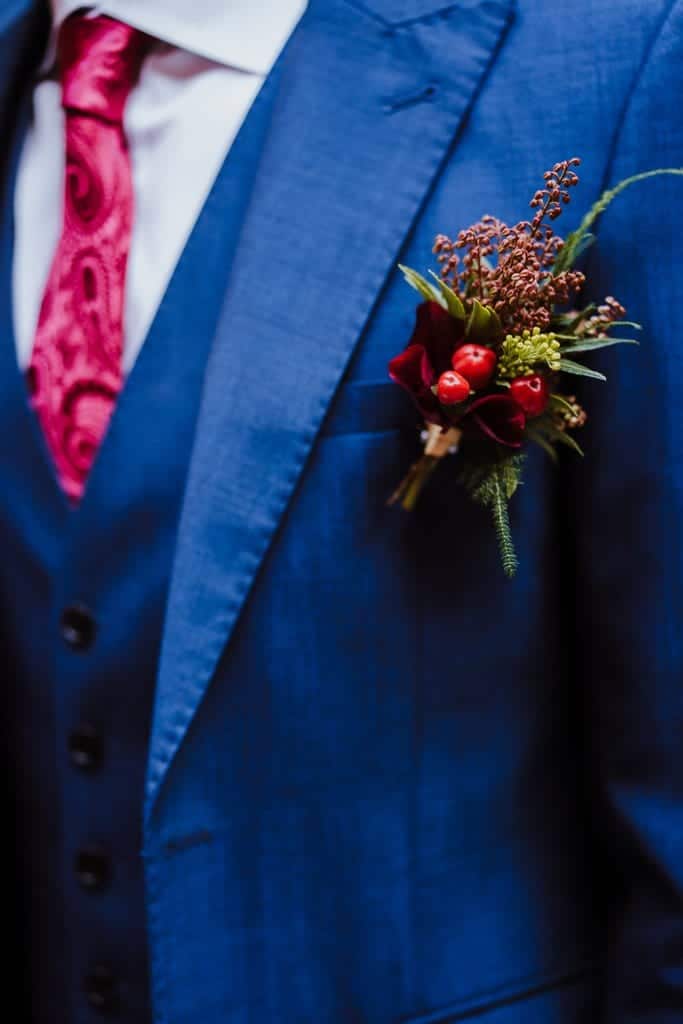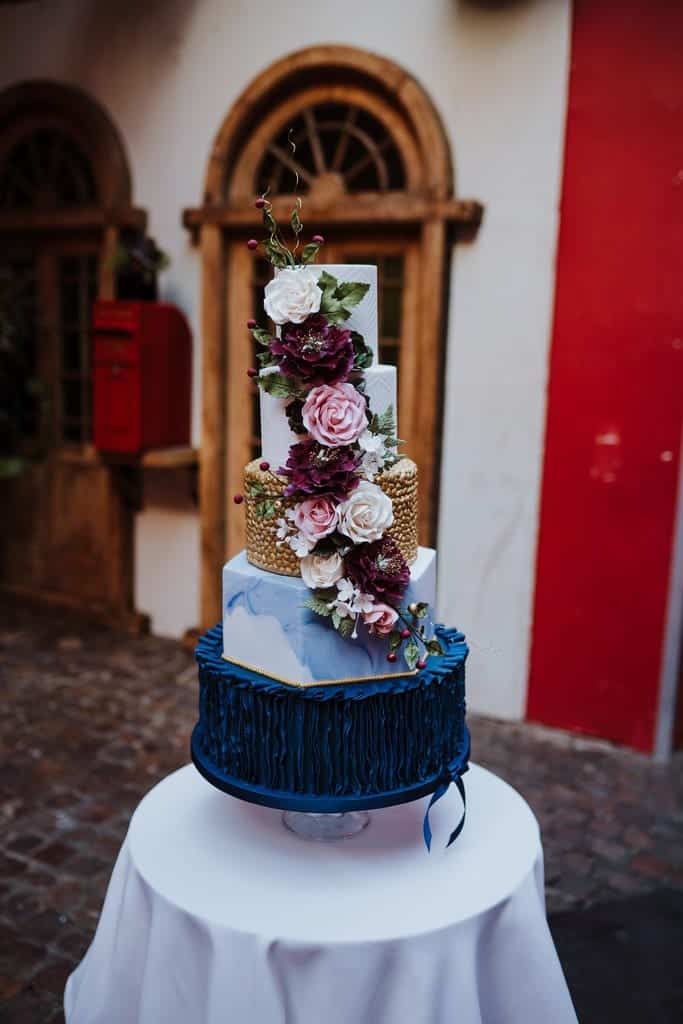 Collaboration of suppliers
Gillian Roberts Bridal chose a simple satin gown by Martin Thornburg. This was paired with a metallic leaf tiara to give an understated but formal glamour to the shoot. Later we switched to a lace and chiffon dress by Sophia Tolli with a daring thigh split, the fun danced into the shoot.
The metallic theme continued with a gorgeous gold and pearl comb hand made by HoneyVTiaras of London. A modern slimline tailored suit in blue, from Moss Bros, complimented the bridal gowns perfectly. This still allowed our energetic 'groom' Elliot to show off his aerial talent. Blackwell Jewellers of Bexleyheath provided a simple but stylish diamond solitaire along with gold bands. These sat elegantly nestled within a bespoke leather ring cushion from Icastica.
Linking every aspect of the concept was the striking (and delicious) cake by Danielle at Bespoke Bake. Danielle cleverly brought together all elements and colours, whilst offering an array of unusual textures and decorative finishes. The hand-crafted sugar flowers cascaded down the five differently styled tiers forming a truly stunning centrepiece.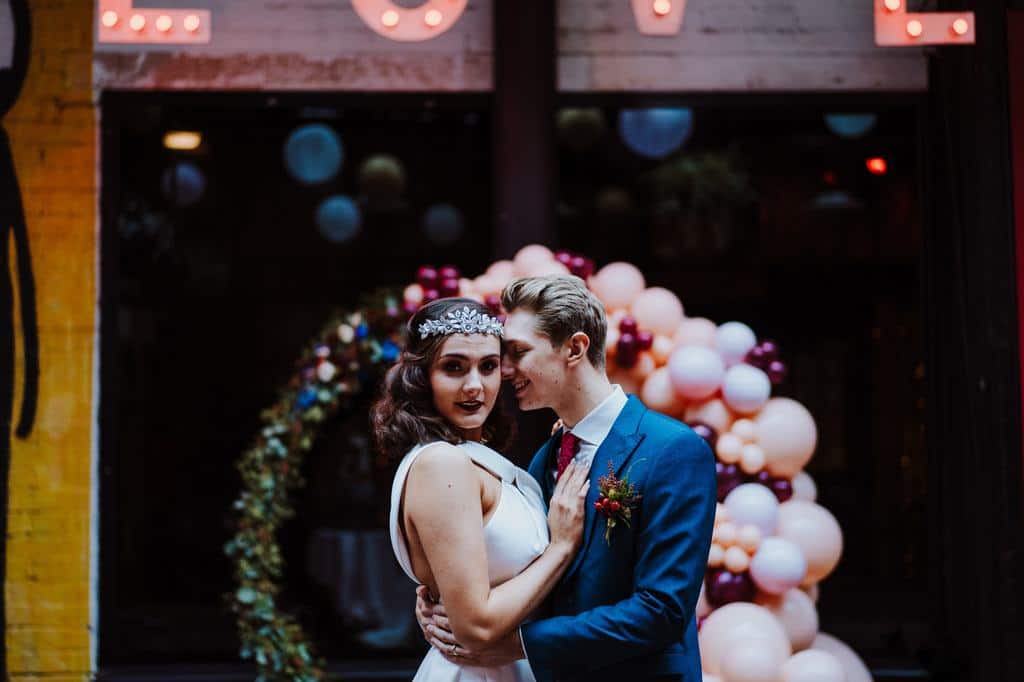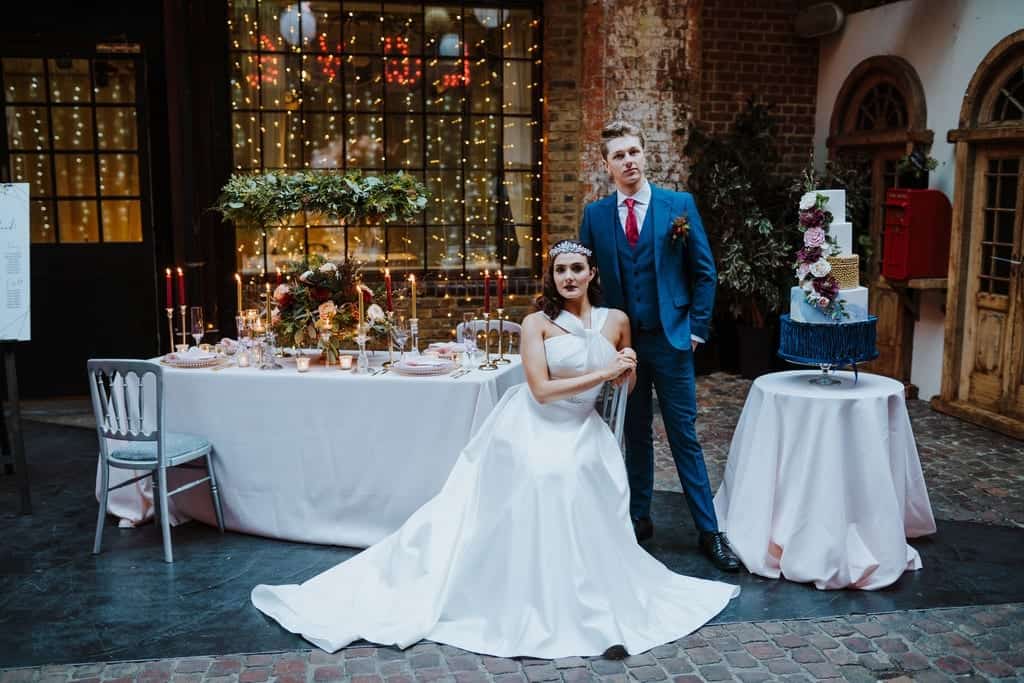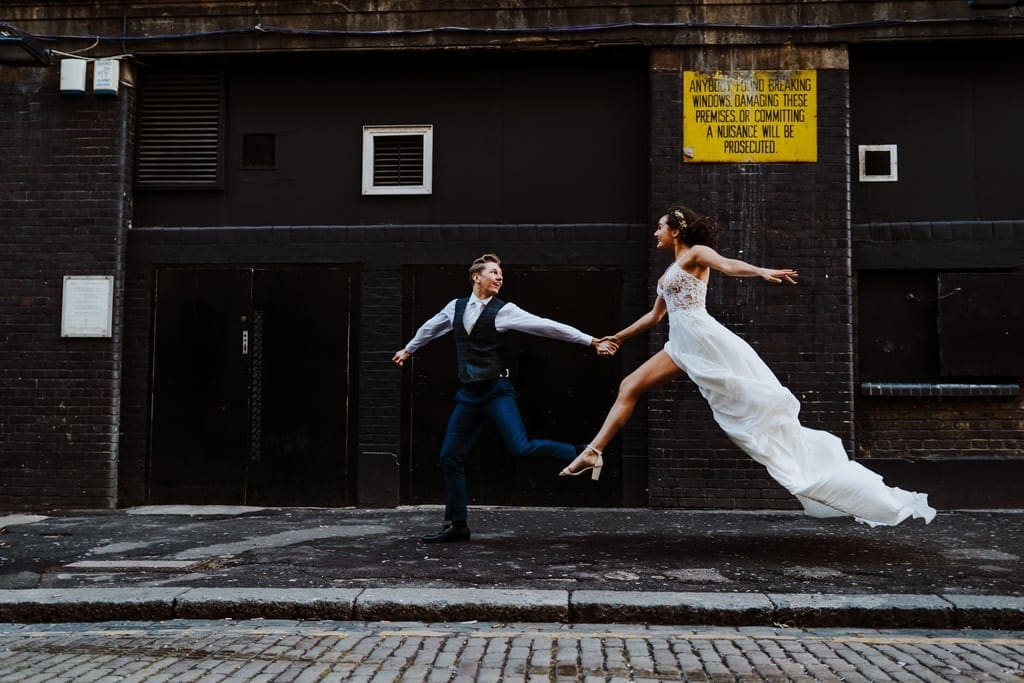 Credits
Cake – Bespoke Bakes, Stationery – Mellie Moo, Dresses – Hazel Edwards Gillian Roberts, Flowers – Bailey & Blossom, Photography – Ami Robertson, Model –  Jinny, Venue – Islington Metal works, Stylist – Celestine Anderson Angels and Gypsies, Model – Elliot Gooch, Hair and Makeup – Bev K Makeupology, Balloons – Aurelija Meakin Balloonista co, Ring Cushion – Melissa And Sara Icastica Studio, suits – ​Moss BrosWedding & engagement rings – James Marsh Blackwell Jewellers, Accessories – Hazel Edwards HoneyV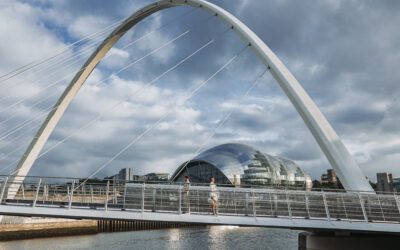 Newcastle elopement Today on the blog we have a graffiti wall, fun-filled city centre elopement...