Baby blue is a pale and light shade of blue, resembling the colour of a clear sky during daylight. It is often described as a soft, pastel blue hue, similar to the colour of a baby boy's clothing or nursery decor.
Baby blue can be a lovely choice for bridesmaid dress colours, especially for weddings with a soft, romantic, or pastel colour palette. It exudes a delicate and feminine vibe and can complement a variety of wedding themes and settings.
In this post, we are sharing some of our favourite baby blue dresses. We are expert advice in our baby blue bridesmaid styling guide.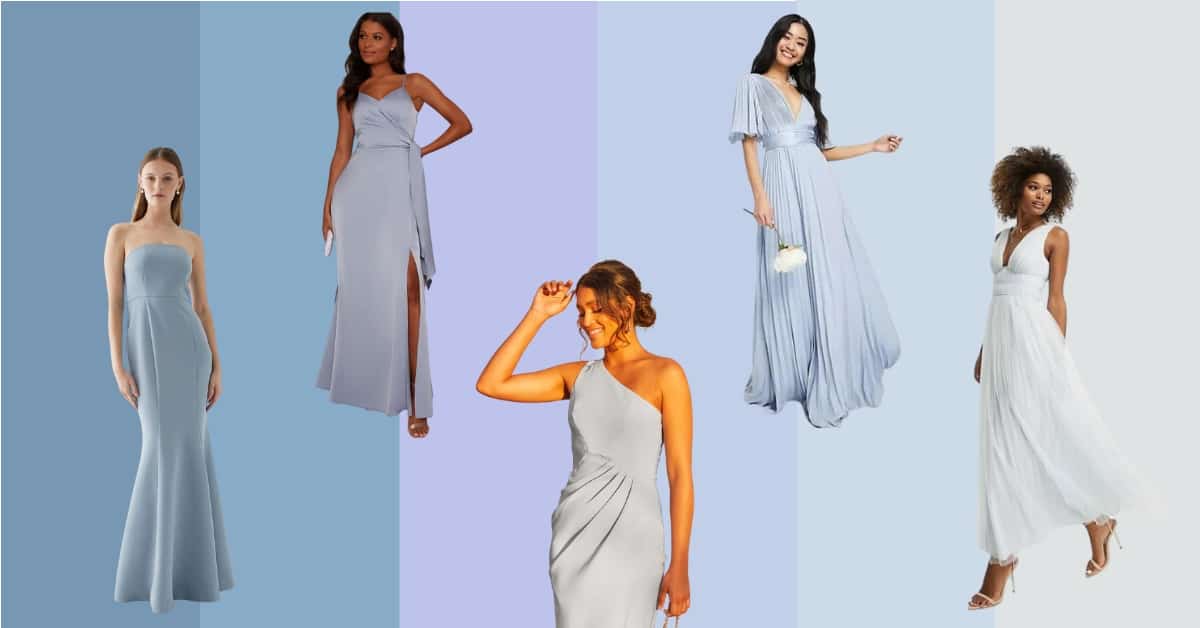 WHERE TO BUY Baby blue BRIDESMAID DRESSES
| Shop | Olive colour names | Price Range | UK Sizes |
| --- | --- | --- | --- |
| Coast | Forest | £100 – £300 | 4 – 26 |
| Reformation | Buena, Forest | £300 – £500 | 4 – 28 |
| Asos | Forest, botanical green | £30 – £200 | 2 – 30 |
| Selfridges | Emerald (Jenny Yoo) | £70 – £500 | 6 – 24 |
| Oasis Fashion | Green | £80 – £200 | 6 – 24 |
THE BEST COPPER BRIDESMAID DRESSES
We are committed to providing unbiased, credible reviews so you can choose with confidence. We may earn commissions on purchases made from visiting our partner stores. Please see our policy here.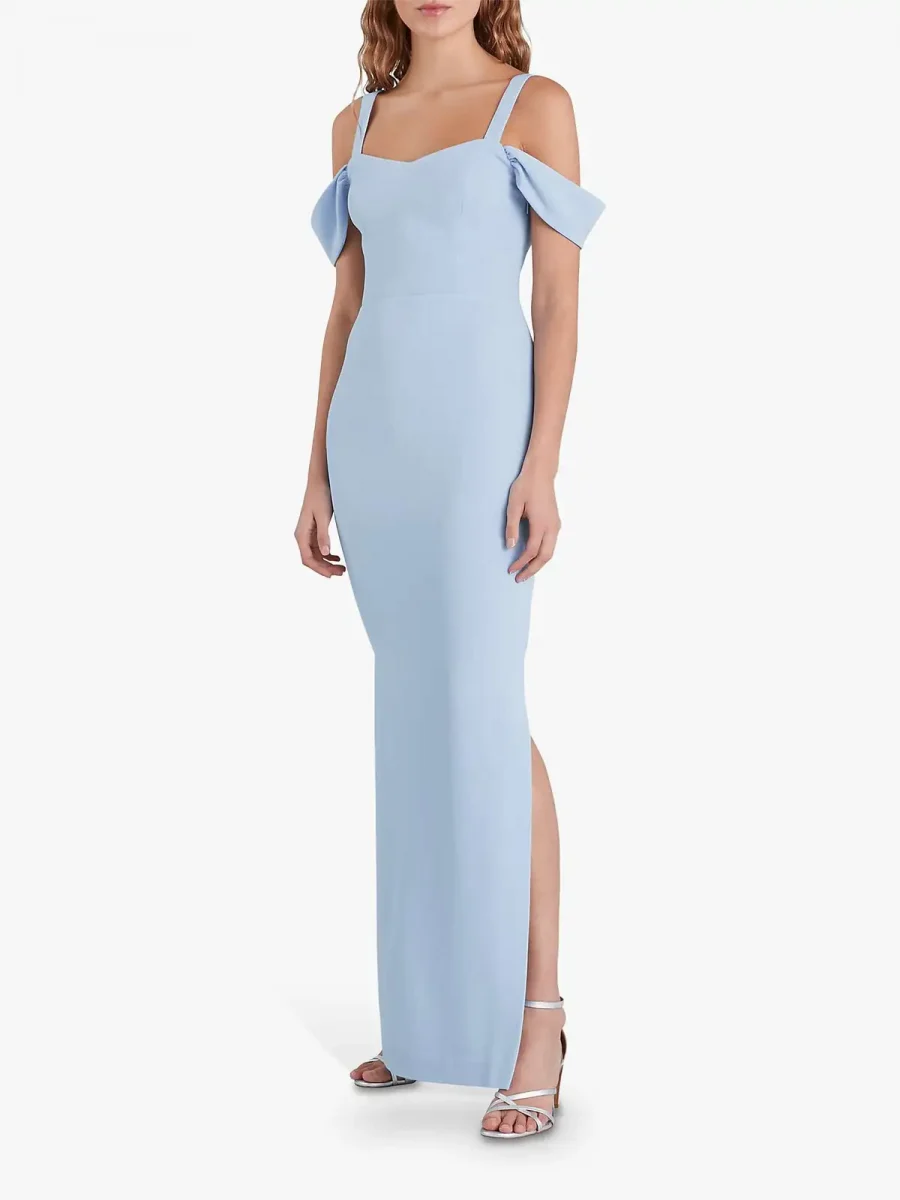 1. For a formal look – Whistles
I love the simple design of this dress. Then how it's elevated by the cut little sleeves.
Size: 6 – 18 | Fabric: Crepe| Color: Pale Blue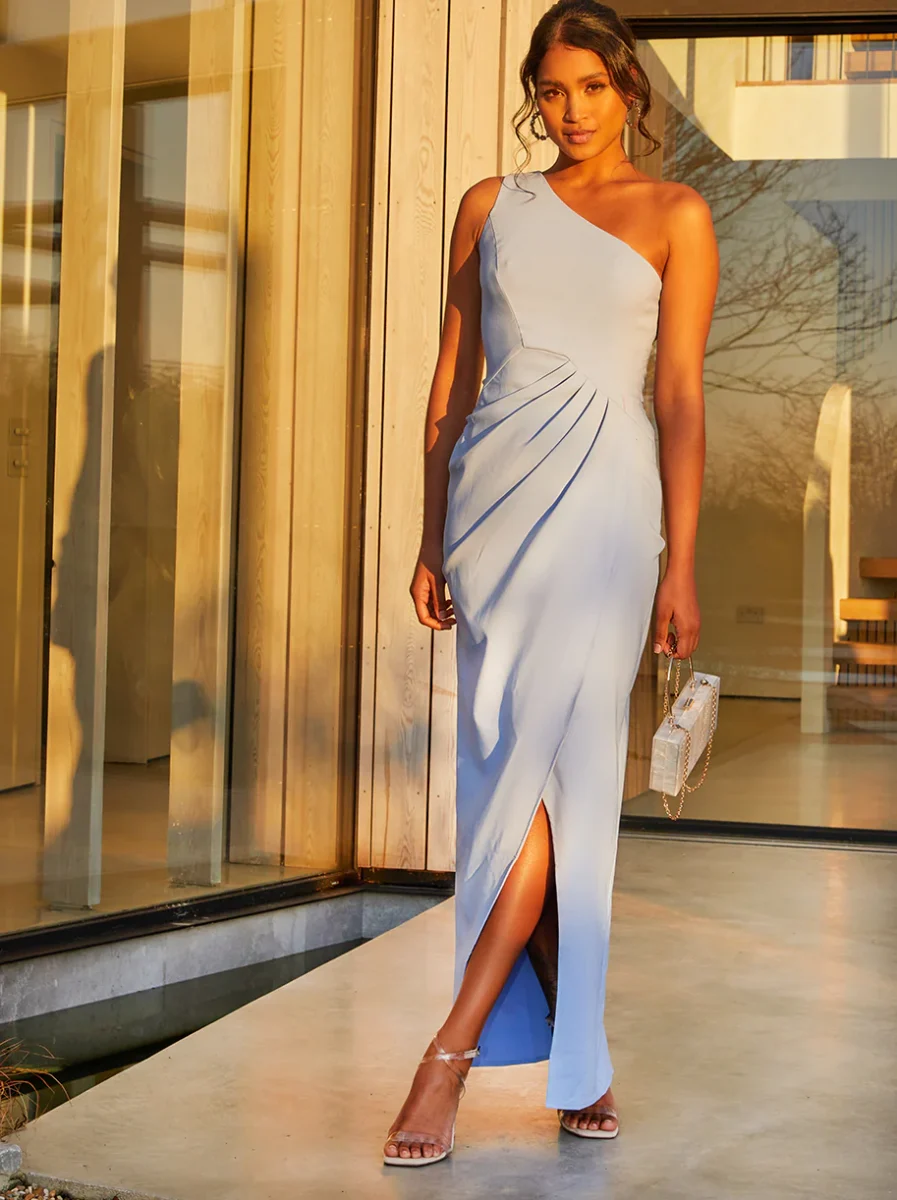 2. BEST one shoulder – Chi Chi
One shoulder dresses just always feel more formal and fancy I think.
I like the way this gathers on the stomach. Perfect for after eating all the cake!
Size: 6 – 16 | Fabric: Crepe | Color: Blue
3. best for twirling – Asos
I bet you can't wear this dress without twirling!
The pleated flowy skirt is pretty and girly. The low neckline adds a modern feel.
Size: 4 – 18 | Fabric: Satin | Color: Blue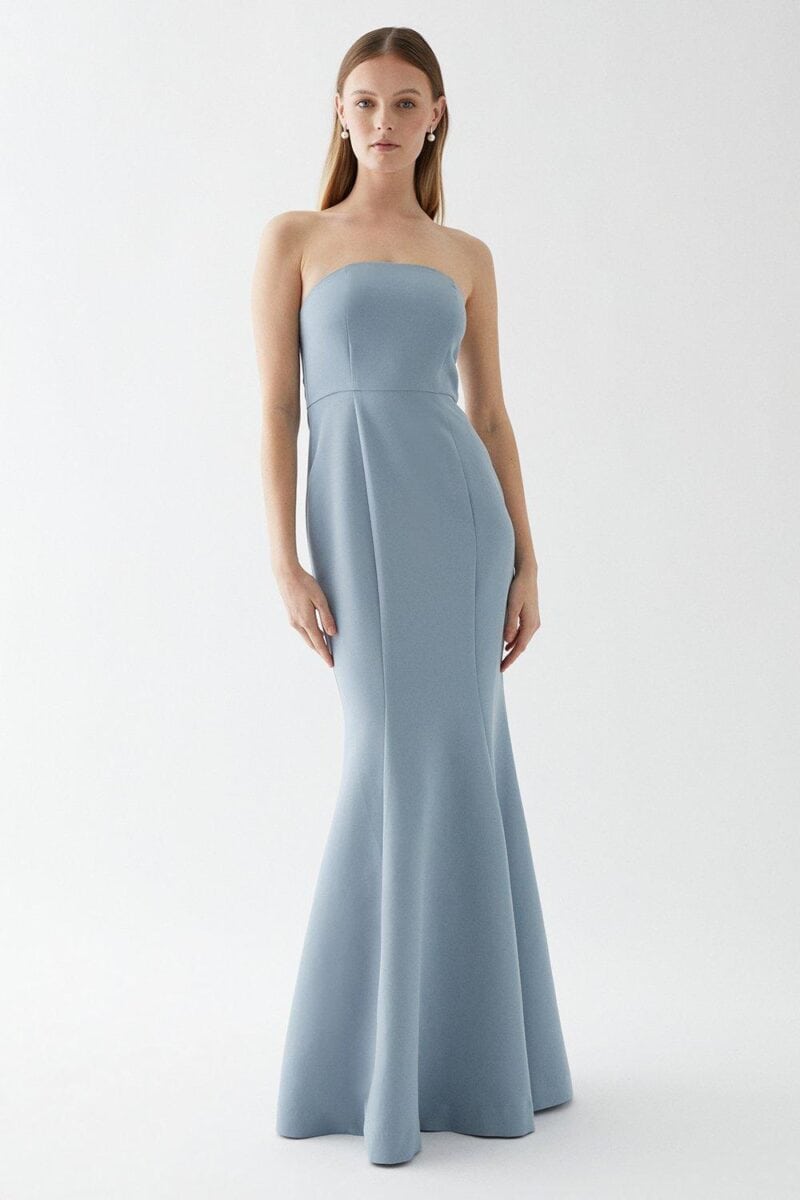 4. BEST Fishtail baby blue dress – Coast
This baby blue bridesmaid dress is perfect for a formal wedding.
Even though it has a beautiful fishtail silhouette the fit is loos so it feels great on.
Size: 8 – 18 | Fabric: Crepe | Color: Pale Blue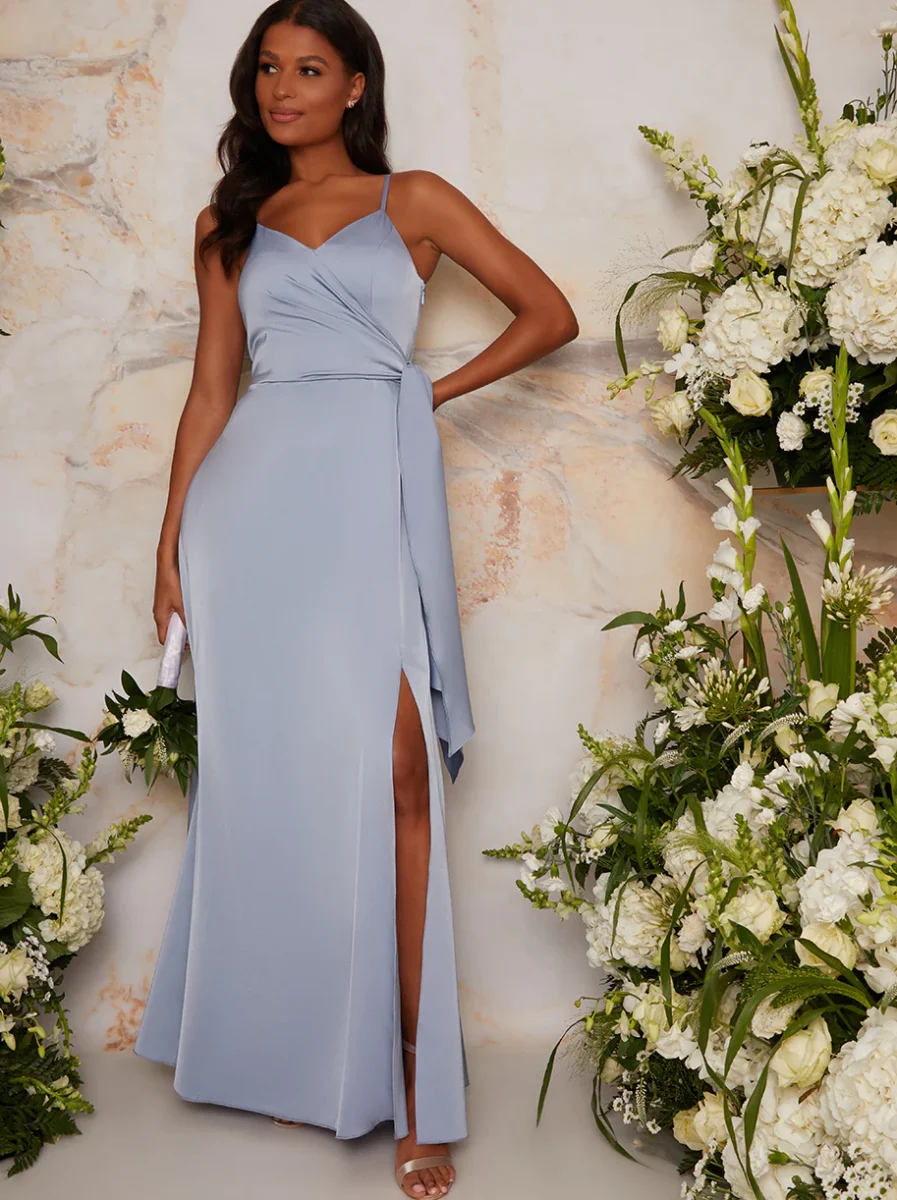 5. BEST satin baby blue bridesmaid dress – Chi Chi
This dress is a simple slip style but the waist tie adds some shape.
Size: 6 – 16 | Fabric: Satin | Color: Blue
This dress is the perfect modern minimal baby blue bridesmaid dress.
Size: 8 – 18 | Fabric: Crepe | Color: Duck Egg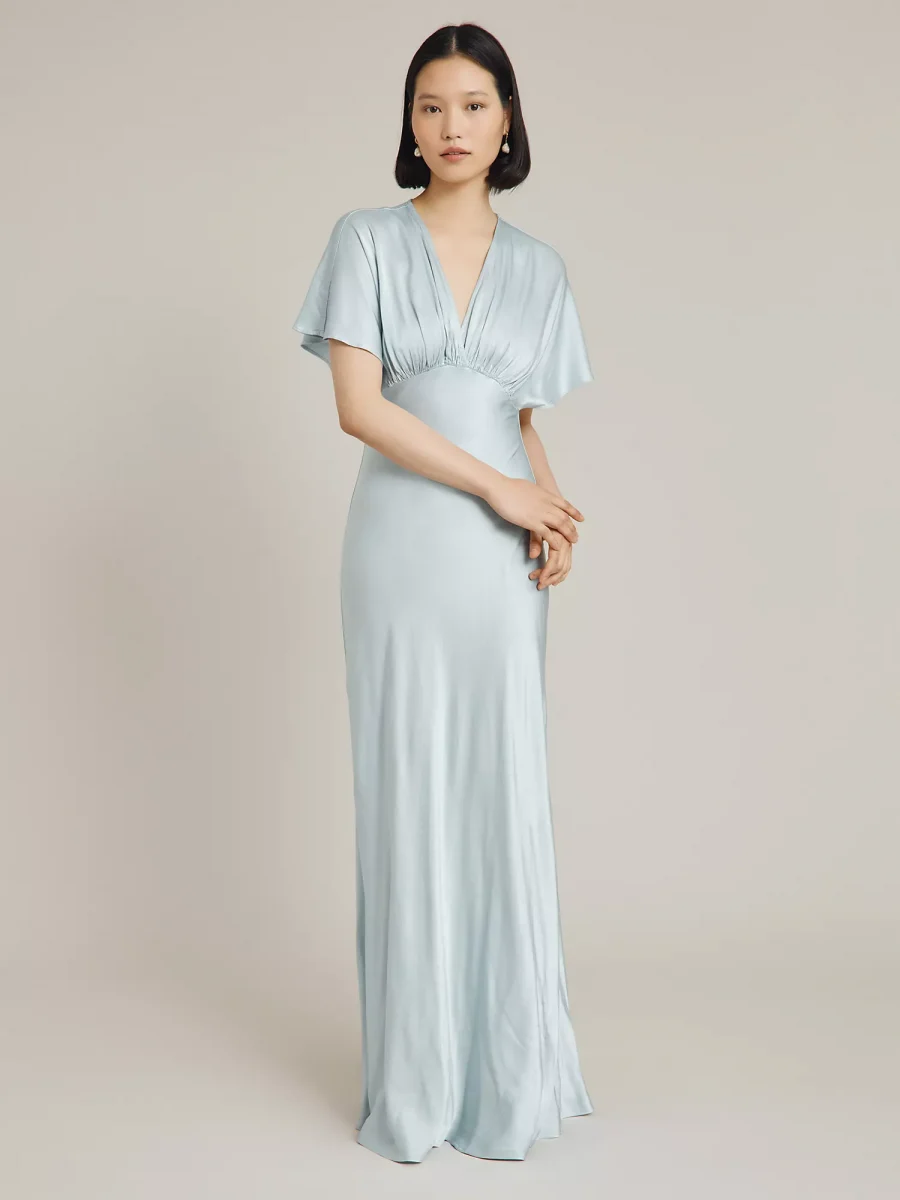 7. For a timeless look – BALTIC BORN
This dress will always be in style. You won't be looking back laughing at your wedding photos with this one!
Size: Small – xLarge | Fabric: Satin | Color: Skylight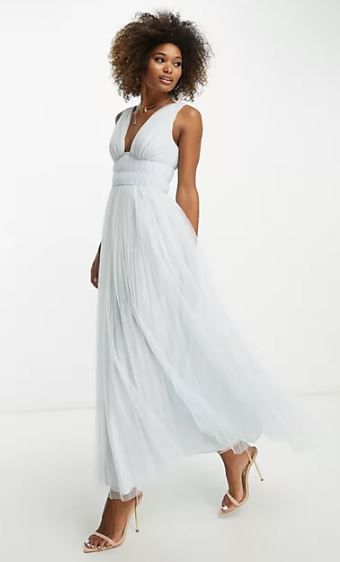 8. BEST for a beach wedding – Asos
Well, actually I think this would be the ultimate Greek wedding bridesmaid dress. Anyone else getting Grecian vibes?
Size: 4 – 18 | Fabric: Chiffon | Color: Blue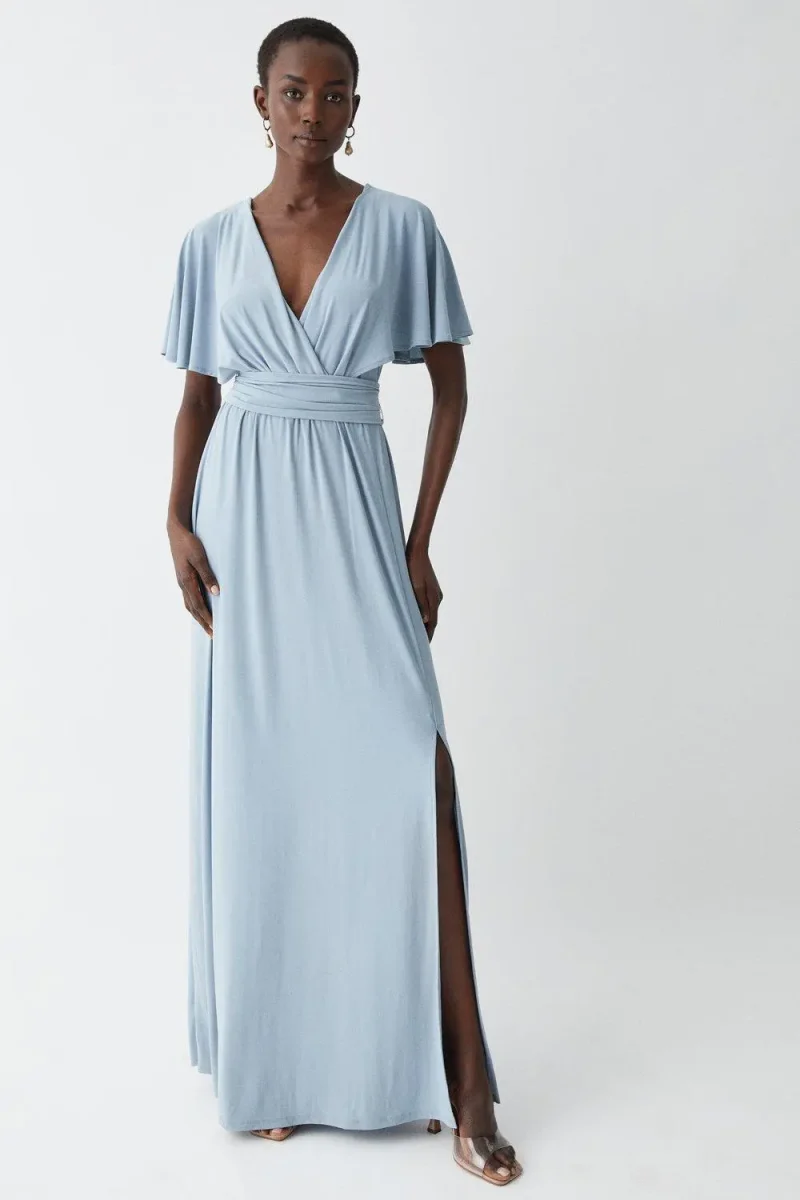 9. Cape arms baby blue bridesmaid dress – Coast
This dress has a simple but stylish design. It will suit most body shapes and sizes.
Size: 8 – 18 | Fabric: Jersey | Color: Pale Blue
STYLING GUIDE AND baby blue BRIDESMAID DRESSES FAQS
WHAT COLORS GO WELL WITH baby blue?
There are several colours that can complement and enhance the beauty of baby blue bridesmaid dresses. Here are some popular options:
White/Ivory: A classic and timeless combination, white or ivory accents can add elegance and sophistication to baby blue dresses. This can include accessories like pearl jewellery, white bouquets, or even white sashes or belts.
Silver/Gray: Soft silver or grey tones can create a chic and modern look when paired with baby blue. Consider silver or grey accessories, such as metallic shoes, jewellery, or even a silver belt to add a touch of glamour.
Blush Pink: Blush pink and baby blue can create a soft and romantic colour combination. Opt for blush pink bouquets, shoes, or even sashes to add a hint of warmth and femininity.
Mint Green: Mint green can create a refreshing and spring-like palette when paired with baby blue. Incorporate mint green accents through accessories, such as shoes, belts, or floral arrangements.
Lilac/Purple: Lilac or light purple hues can complement baby blue beautifully. This combination creates a soft and delicate pastel palette. Consider using lilac flowers or purple accessories to add a touch of contrast.
Metallic Accents: Adding metallic accents like gold or rose gold can provide a luxurious and glamorous touch to baby blue dresses. Consider metallic shoes, jewellery, or even metallic belts to elevate the overall look.
WHAT SEASON IS baby blue MOST POPULAR FOR?
Baby blue bridesmaid dresses are usually popular for spring and summer weddings. However, they can work well in multiple seasons with some thoughtful styling and accessorizing.
Here are some suggestions on how to make baby blue dresses work in each season:
Spring: Baby blue is naturally suited for spring weddings due to its light and airy feel. Emphasize the spring theme by incorporating floral accents and soft pastel colours. Consider adding floral crowns, bouquets, or hair accessories with delicate blooms in shades of pink, lavender, or yellow. Light and flowy fabrics like chiffon or tulle can also enhance the springtime vibe.
Summer: In the summer, baby blue can create a fresh and cool look. Opt for lighter fabrics that are breathable and comfortable, such as cotton or linen. Accessorize with silver or gold jewellery, and incorporate vibrant pops of colour through accessories like bright shoes or statement belts. Consider adding floral patterns or tropical prints to add a playful touch.
Fall: To transition baby blue into the fall season, pair it with richer and warmer hues. Deep jewel tones like burgundy, emerald green, or plum can create a striking contrast. Incorporate these colours through accessories like shawls, scarves, or jackets. Additionally, consider adding textures like lace or velvet to add depth and a cosy feel to the overall look.
Winter: Baby blue can evoke a serene and wintery ambience. Add warmth to the dresses with fur or faux fur stoles, shawls, or capes in complementary colours like ivory or silver. Incorporate metallic accents through accessories like silver or gold jewellery. Consider long-sleeved or full-length dresses to provide additional coverage and warmth.
WHAT IS THE BEST WAY TO STYLE baby blue BRIDESMAID DRESSES?
Here are some styling tips to enhance the look of baby blue bridesmaid dresses:
Consider Neckline and Silhouette: Choose neckline and silhouette options that flatter different body types and match the overall wedding style. For example, a sweetheart neckline can add a touch of romance, while a halter neckline can create a more modern and sophisticated look.
Accessorize Strategically: Select accessories that complement the baby blue color and enhance the overall aesthetic. Here are some ideas:

Jewellery: Opt for silver or white gold jewellery for a classic and elegant look. Delicate pieces with pearls or crystal accents can add a touch of sparkle.
Belts or Sashes: Consider adding a thin belt or sash in a complementary colour to define the waist and add visual interest.
Shoes: Nude or metallic shoes can elongate the legs and create a cohesive look. Alternatively, choose shoes in a colour that complements the overall wedding theme.

Bouquets and Floral Accents: Coordinate the bridesmaids' bouquets with the baby blue dresses. Choose flowers in shades that complement baby blue, such as soft pinks, whites, or lavender. Incorporate greenery or foliage to add texture and depth.
Hairstyles: Select hairstyles that suit the overall vibe of the wedding and the bridesmaids' preferences. Soft curls, updos, or braided hairstyles can enhance the romantic and feminine feel of baby blue dresses.
Makeup: Opt for soft and natural makeup looks that enhance the bridesmaids' features. Soft, pastel shades on the eyes and lips can complement the baby blue colour palette. Consider using a touch of shimmer to add a subtle glow.
Nail Polish: Choose a nail polish colour that complements the baby blue dresses. Light neutrals, soft pinks, or metallic shades can be good options.
Bridesmaid dress FAQs
WHO PAYS FOR BRIDESMAID DRESSES?
This is different depending on the country and also culture. In the UK is more common that the couple pays for the bridesmaid dresses. Usually, then the bridesmaid may be expected to pay for their makeup and accessories. A lot of the time the couple covers all expenses. I always say to my couples to offer what they can afford and be honest upfront when asking bridesmaids. Head here for all the details.
HOW MUCH DO BRIDESMAID DRESSES COST?
Again this depends, if you are budget minded or looking for the best quality you will find dresses for all price ranges. You can look at china or sale options for around £50, I would say the average cost is around £150 and if you are looking for high quality then around £300. Head here for some saving tips.
WHEN TO ORDER BRIDESMAID DRESSES?
If ordering from a boutique or made-to-measure you do need to give more time, 3 to 4 months. If ordering ready-to-wear dresses online I would still do it as early as possible. Do keep in mind if you have a pregnant bridesmaid you may need to order sooner or later for them.

More blogs you will love!