Modern lace, no net curtains here! Lace is a fabric that had been used in weddings for years. I love the modern take on it now showing through in fashion and even decor.
One of my favourite designers, self-portrait makes the most stunning lace dresses. I feel like it has had a modern revival lace, and I am here for it!
We are sharing all the best lace bridesmaid dresses you can buy right now. From full lace to lace detailing. Head to the bottom for our lace bridesmaid styling guide.
Where to buy Lace bridesmaid dresses?
| Shop | Best for | Price Range | UK Sizes |
| --- | --- | --- | --- |
| Coast | Modern affordable pieces | £100 – £300 | 4 – 26 |
| Reformation | Sustainable and stylish pieces | £300 – £500 | 4 – 28 |
| Asos | Budget and great sizing choices | £30 – £200 | 2 – 30 |
| Selfridges | Luxury brands | £70 – £500 | 6 – 24 |
| Oasis Fashion | Modern high-quality pieces | £80 – £200 | 6 – 24 |
| Ghost London | Fashion forward pieces | £150 – £250 | 6 – 16 |
| Needle & Thread | Embellished and pretty prints | £300 – £600 | 4 – 20 |
| Pretty Lavish | Affordable and lots of variety | £60 – £100 | 8 – 18 |
Modern Lace Bridesmaid Dresses for 2023
We are committed to providing unbiased, credible reviews so you can choose with confidence. We may earn commissions on purchases made from visiting our partner stores. Please see our policy here.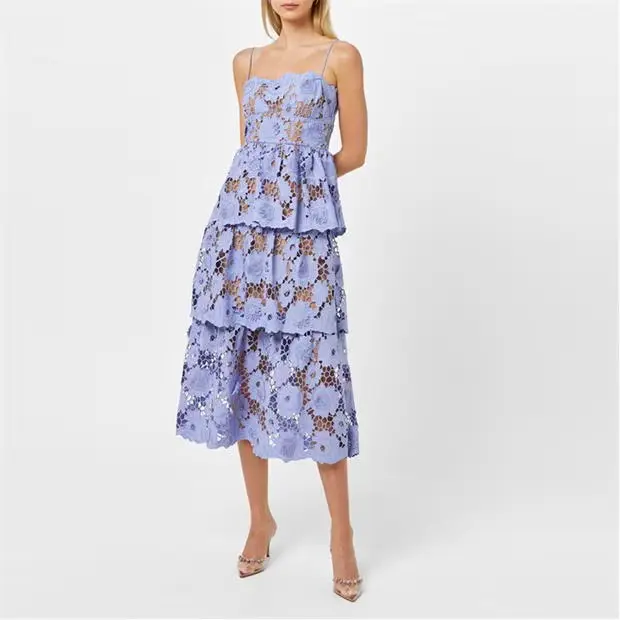 For me the king of lace for sure! This dress is stunning. The lace and layered skirt are a dream.
Grab it now on sale! (23/6/23)
Sizes: 6 – 18 | Fabric: Lace| Colour: Purple
2. ALL LACE LONG SLEEVE BRIDESMAID DRESS – COAST
I really like this lace dress. It comes in different colours and the fabric weight is great for creating and curve figure.
Size: 8 – 18 | Fabric: Lace | Color: Navy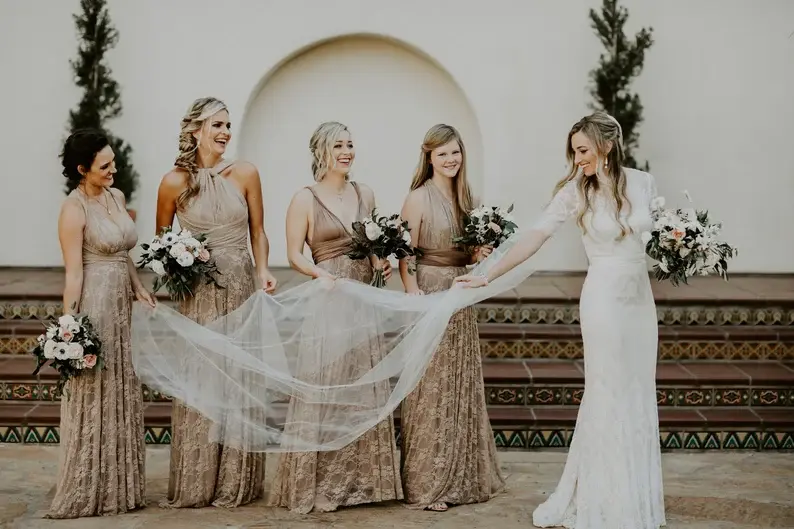 3. multi-way lace bridesmaid dresses – Coralie Beatrix
I say this a lot but multiway dresses are a great choice when you are struggling to find a dress that suits all your bridesmaids.
I love this lace option.
Sizes: Custom | Fabric: Lace | Colour: Champagne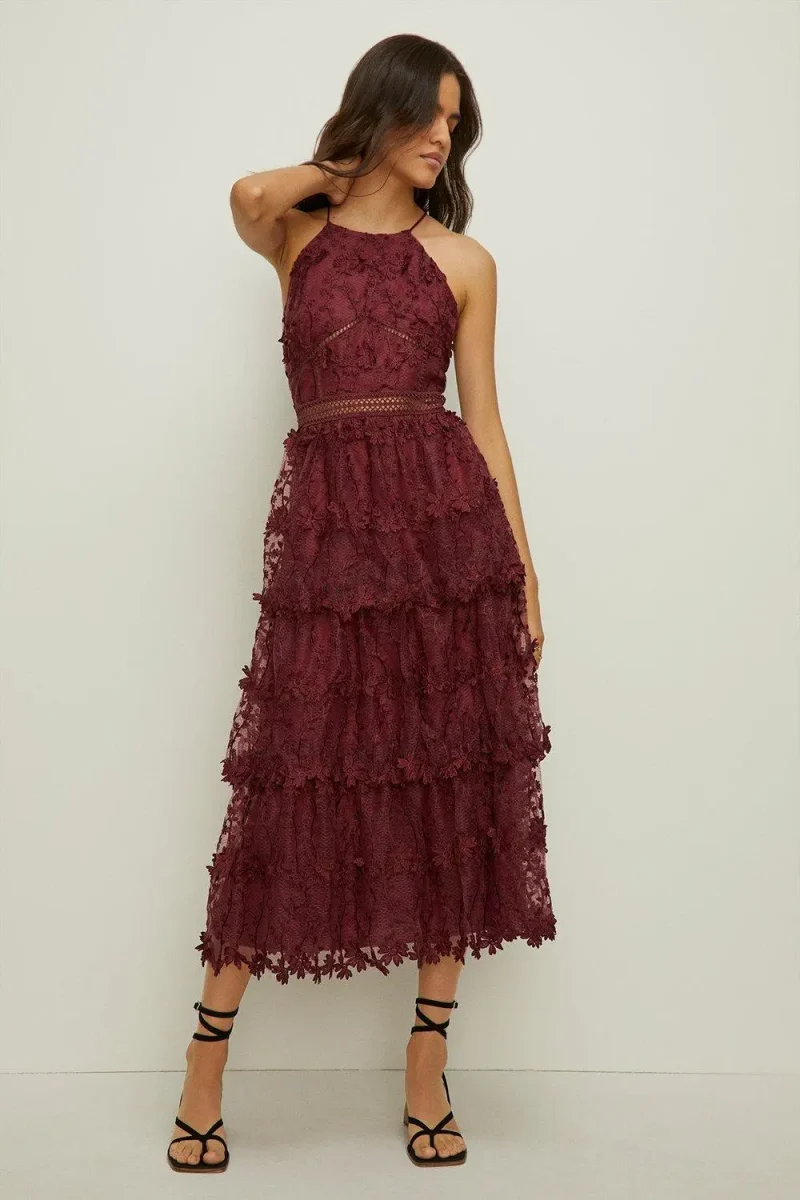 4. Best halter neck – Oasis
I have this dress and have worn it to a wedding. It fits so well and feels amazing on.
I like that it feels girly but also modern.
Sizes: 6 – 18 | Fabric: Lace | Colour: Berry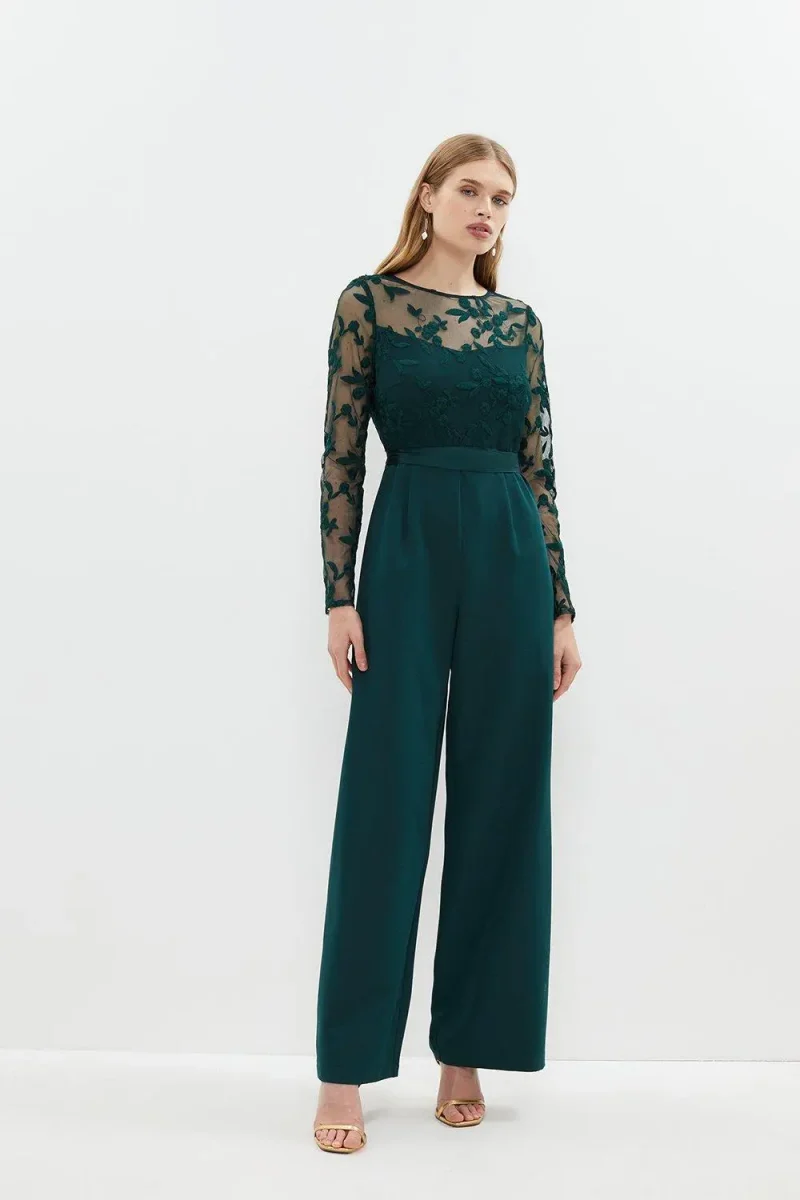 5. Lace bridesmaid jumpsuit –
As they have this in midi and mini dresses also I like that your bridesmaids can wear whatever style suits them but they all will match still.
Sizes: 8 – 18 | Fabric: Lace| Colour: Forest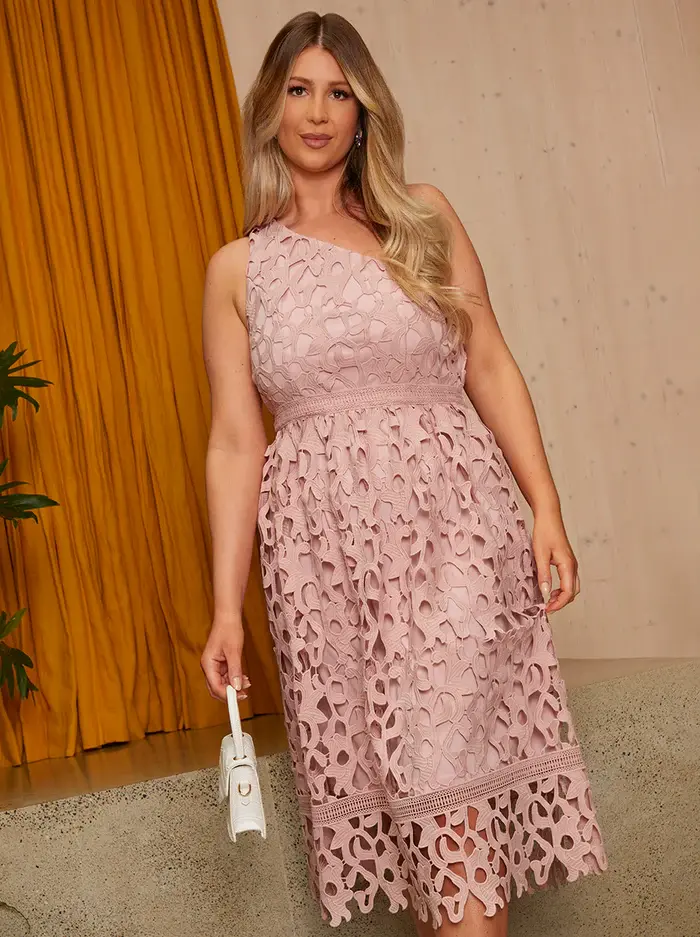 6. one shoulder lace bridesmaid dresses –
I love a one shoulder dress anyway. The lace on this dress just makes it wow.
Sizes: 6 – 16 | Fabric: Lace | Colour: Blush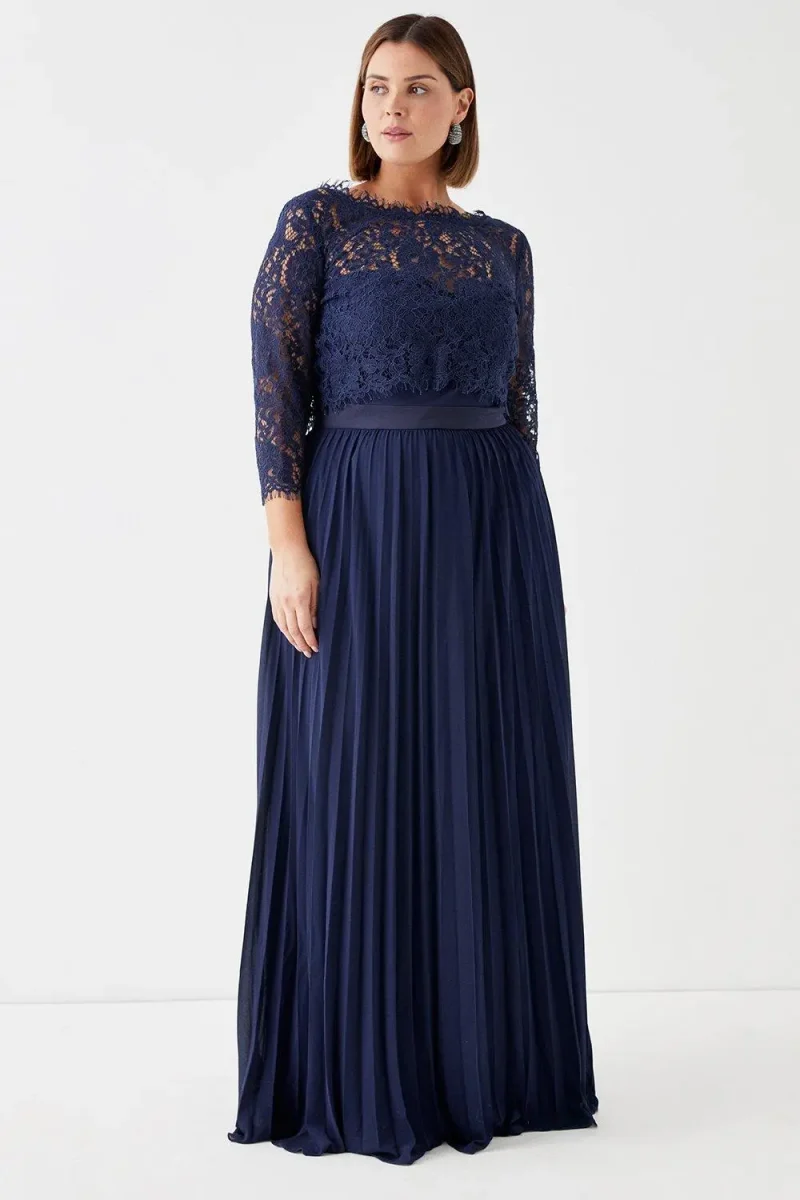 7. Detachable lace top – Coast
The lace top is detachable. Two looks for the price of one!
Great for outdoor or colder weather so bridesmaids can remove or add if needed.
Sizes: 6 – 26 | Fabric: Lace | Colour: Navy
Styling Lace Bridesmaid dresses
If your dress or the dresses you choose are full lace then remember that is already a lot of texture. I would keep all other accessories simple with no texture.
If you have only a small amount of lace detailing on the dresses then adding some more lace accessories will work well. Just don't go overboard with everything lace, to match matchy!
Shoes for lace bridesmaid dresses
It totally depends on the over style of your dress, the colour you have chosen, and the style and colours of the wedding. Here are some options that work well though.
Remember your first priory should be comfort, weddings are long days.
Nude or Neutral-toned Shoes: Nude or neutral-coloured shoes are versatile and tend to complement most lace dress colours. Beige, blush, or light brown shades are popular choices.
Metallic Shoes: Metallic shoes, such as silver, gold, or rose gold, can add a touch of glamour to lace bridesmaid dresses. They work well with both light and dark lace colours.
Bold Contrasting Shoes: For a more modern and unique approach, you can opt for a bold shoe colour that contrasts with the dress. For example, pairing a black lace dress with vibrant red or royal blue shoes can create a striking visual contrast.
Strappy Sandals or Pumps: Strappy sandals or classic pumps can work well with lace dresses, adding an elegant touch. Opt for styles with delicate straps or embellishments that won't overpower the lace detailing.
Accesoriesing a lace bridesmaid dress
As mentioned with shoes, keep the accessories to a minimum especially if your dress is all lace.
Jewellery: Delicate and dainty jewellery often works well with lace dresses, as it adds a touch of elegance without overpowering the intricate lace detailing. Consider wearing simple pendant necklaces, thin bracelets, or stud earrings. Pearls can also be a timeless choice that complements lace beautifully.
Hair Accessories: Lace dresses often have a romantic and feminine vibe, and you can enhance that with the right hair accessories. Consider adding a floral hairpin, a bejewelled hair comb, or a delicate lace headband to accentuate your hairstyle.
Belts or Sashes: Adding a belt or sash to a lace bridesmaid dress can provide definition to the waist and create a more polished look. Opt for a thin, embellished belt or a satin sash that complements the dress colour.
Clutch or Bag: A small clutch or bag can be a practical and stylish accessory. Choose a bag that complements the colour scheme of the dress or opt for a metallic or sparkly design to add a touch of glamour.
Wrap, Jacket or Shawl: If the wedding is taking place in a cooler season or climate then you really should consider something to keep bridesmaids warm. Look for options in lightweight fabrics if wearing all day or go for a fun modern personalised jacket.
Bridesmaid dress FAQs
WHO PAYS FOR BRIDESMAID DRESSES?
This is different depending on the country and also culture. In the UK is more common that the couple pays for the bridesmaid dresses. Usually, then the bridesmaid may be expected to pay for their makeup and accessories. A lot of the time the couple covers all expenses. I always say to my couples to offer what they can afford and be honest upfront when asking bridesmaids. Head here for all the details.
HOW MUCH DO BRIDESMAID DRESSES COST?
Again this depends, if you are budget minded or looking for the best quality you will find dresses for all price ranges. You can look at china or sale options for around £50, I would say the average cost is around £150 and if you are looking for high quality then around £300. Head here for some saving tips.
WHEN TO ORDER BRIDESMAID DRESSES?
If ordering from a boutique or made-to-measure you do need to give more time, 3 to 4 months. If ordering ready-to-wear dresses online I would still do it as early as possible. Do keep in mind if you have a pregnant bridesmaid you may need to order sooner or later for them.

More blogs you will love!