Practically perfect couple gifts. Getting a useful gift is not always glamorous but definitely always appreciated.
A practical couple's gift will mean something different to each couple. We have rounded up the most useful gifts nominated by couples.
We ask all our couples planning their wedding and newly and old-timer married couples for a full range of useful couple gift ideas.
Useful couples gifts for 2023 and beyond!
We are committed to providing unbiased, credible reviews so you can choose with confidence. We may earn commissions on purchases made from visiting our partner stores. Please see our policy here.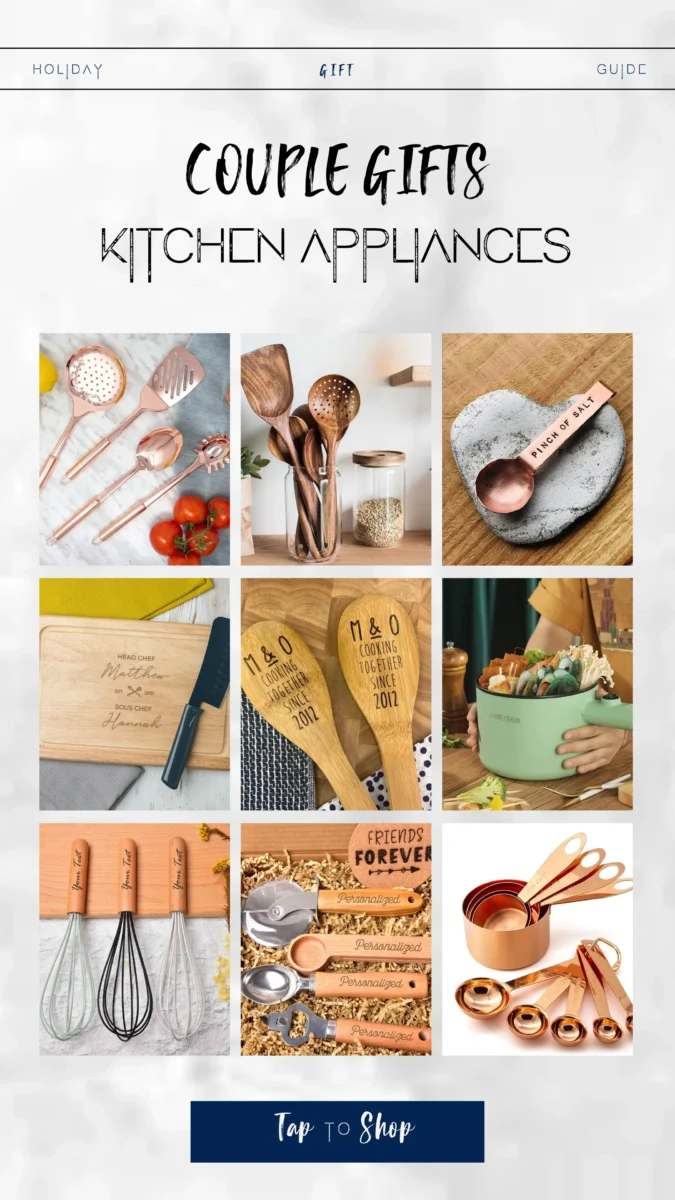 COPPER UTENSILS / WOODEN UTENSILS / SALT SPOON / CHOPPING BOARD / WOODEN SPOONS / RICE COOKER / PERSONALISED WHISKS / PERSONALISED PIZZA SET / COPPER MEASURING SET
Cooking Appliances
Consider gifting a practical cooking appliance like a high-quality blender, coffee maker, Instant Pot, or stand mixer.
These tools can make cooking together more enjoyable and efficient, allowing the couple to explore new recipes and create delicious meals with ease.
Subscription Services
A subscription to a meal kit delivery service, streaming platforms, or a magazine that aligns with their interests can be a thoughtful gift.
This kind of gift provides them with ongoing enjoyment and entertainment, ensuring they have something to look forward to regularly.
Couples' Experiences
For a memorable gift, think about giving them an experience they can enjoy together.
Consider options like a cooking class, wine tasting, dance lessons, or a weekend getaway.
These experiences not only create lasting memories but also strengthen their bond.
Home Organization Tools
Help the couple stay organized with practical home organization tools.
A label maker, storage containers, or a wall-mounted key holder can make their daily routines smoother and more efficient, ensuring that they can keep their living space tidy and well-managed.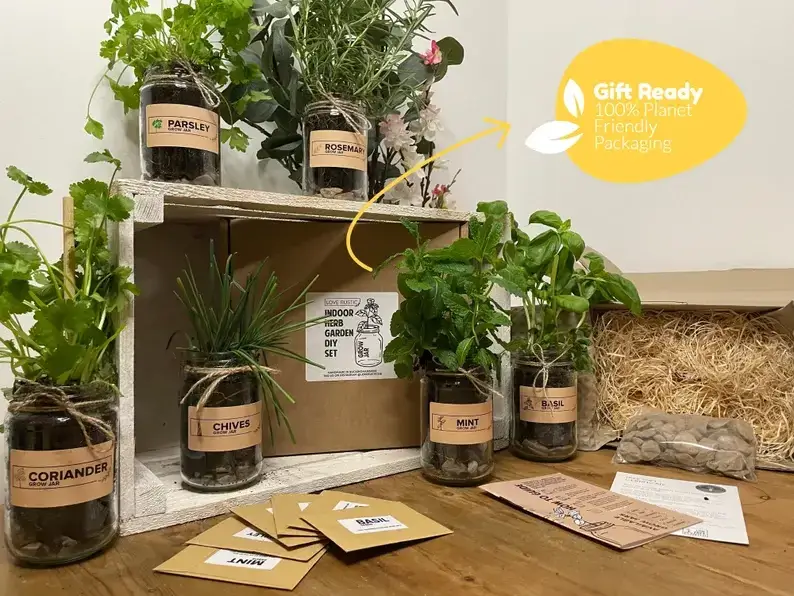 Personalized Home Decor
Add a personal touch to their space with personalized home decor items.
Customized wall art, throw pillows, or doormats featuring their names or a special date can enhance the aesthetic of their home and remind them of special moments.
Outdoor Equipment
If the couple enjoys spending time outdoors, consider gifting outdoor equipment.
A picnic basket, camping gear, or a set of outdoor games can provide them with the tools they need to make the most of their outdoor adventures.
Smart Home Devices
Enhance their home's convenience and security with smart home devices.
A smart thermostat, security camera, or voice-activated assistant can simplify their daily routines and give them greater control over their living environment.
Board Games or Puzzles
Encourage quality time together with engaging board games or challenging puzzles.
These types of gifts are perfect for cosy nights in, fostering laughter and friendly competition while strengthening their relationship.
Quality Cookware
Upgrade their kitchen with high-quality cookware sets. Consider items like a non-stick skillet, cast iron pan, or stainless steel pots.
These durable and versatile pieces can help them elevate their cooking skills and create delicious meals.
Home Spa Kit
Help the couple unwind and relax with a luxurious home spa kit.
Scented candles, bath salts, essential oils, and cosy bathrobes can transform their bathroom into a soothing retreat, allowing them to enjoy some pampering time together.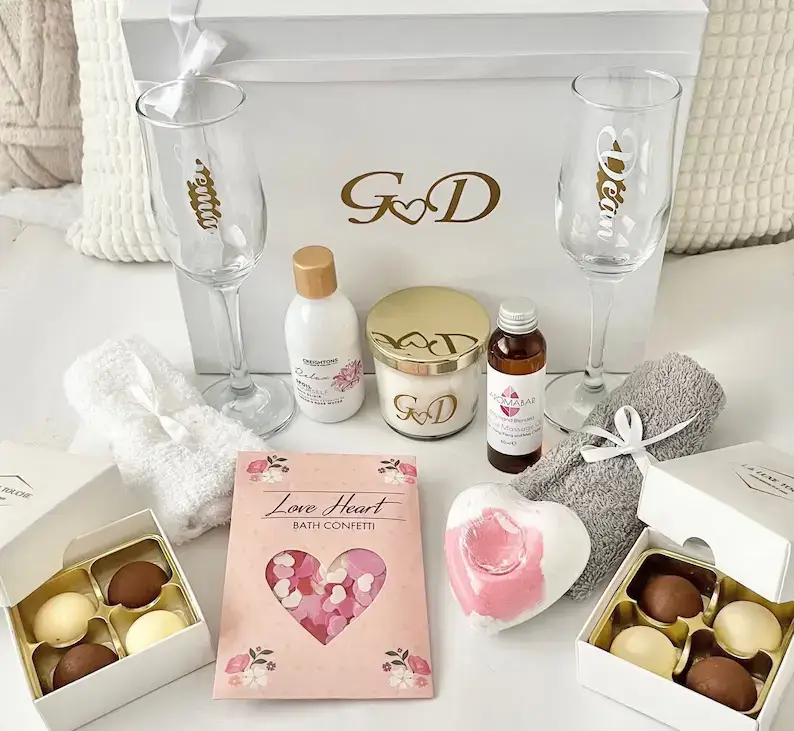 Personalized Cutting Board
Combine practicality with sentimentality by gifting a personalized cutting board.
Engraved with their names or a special message, this item serves as both a functional kitchen tool and a cherished keepsake.
Fitness Equipment
If the couple is into fitness, consider gifts like yoga mats, resistance bands, or dumbbells.
These fitness accessories can support their active lifestyle and encourage them to stay healthy together.
Cooking Classes
Give the gift of learning with a cooking class or workshop gift certificate.
This can be a fun and educational experience for the couple, allowing them to develop new culinary skills and create delicious dishes together.
Coffee or Tea Set
Elevate their daily rituals with a high-quality coffee or tea set. Whether they're coffee enthusiasts or tea lovers, these sets can enhance their enjoyment of their favourite beverages.
Travel Accessories
If the couple loves to travel, practical travel accessories make great gifts.
Luggage tags, travel pillows, or a compact travel charger can help them stay organized and comfortable during their adventures.
Financial Planning Tools
Consider gifts that support their financial well-being, such as a budgeting app subscription, a book on personal finance, or a session with a financial planner.
These gifts show that you care about their long-term stability and success.
Customized Calendar or Planner
Help the couple stay organized with a personalized calendar or planner.
Including special dates and memories, this practical gift can assist them in managing their schedules and responsibilities while cherishing important moments.
Indoor Plants
Bring a touch of nature into their home with indoor plants. A set of potted plants or a self-watering planter can not only enhance their living space aesthetically but also contribute to a healthier indoor environment.
Wine or Beer Tasting Kit
For couples who enjoy alcoholic beverages, a wine or beer tasting kit can be a delightful gift. These kits allow them to explore and savour different flavours together, creating enjoyable experiences at home.
Cookbook
Choose a cookbook that aligns with their culinary interests.
Whether they're into international cuisine or healthy eating, a cookbook can provide them with new recipes and cooking inspiration to enjoy as a couple.
More blogs you will love!