I personally believe every bridesmaid should have their dress altered. Dresses are made to fit a standard size and shape.
When you are part of a wedding, all eyes are on you and let's not forget the photos. You want a dress that fits you perfectly to feel your best.
Alterations can transform a dress that's just okay into the perfect dress for your body shape and size.
In this article, we'll cover everything you need to know about bridesmaid alterations, from the timeline and costs to common alterations and what to expect.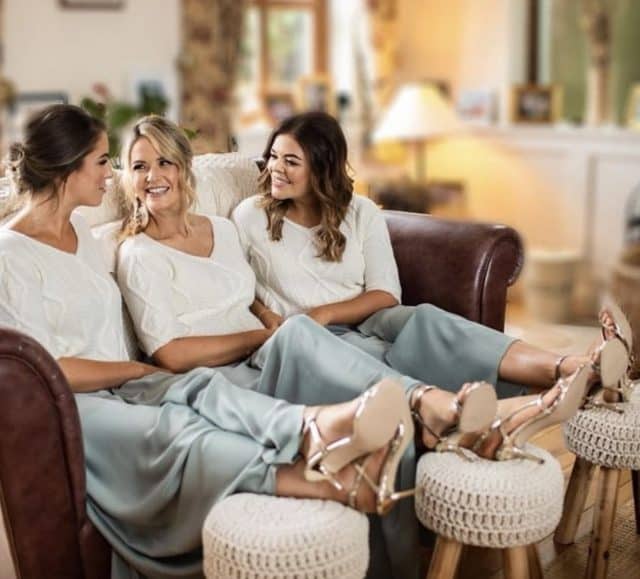 Bridesmaid alterations
Having a bridesmaid dress altered means making changes to the dress to ensure a better fit or a different style.
Alterations can involve adjusting the hemline, modifying the bodice, sleeves, or neckline, or taking in or letting out the seams to better fit the bridesmaid's body shape and size.
Alterations can also include adding or removing embellishments, changing the length or style of the sleeves, or creating a new neckline.
The goal of bridesmaid dress alterations is to ensure that each bridesmaid looks and feels her best in her dress on the wedding day.
Bridesmaid alteration costs
The cost of bridesmaid alterations can vary depending on the type and complexity of the alterations needed.
Hemline adjustments and minor alterations can be relatively inexpensive, while major alterations, such as bodice alterations, can be more costly.
On average, bridesmaid dress alterations can range from £50 to £300.
Who pays for the alterations, the bride or the bridesmaid?
It depends on the couple's preferences and the bridesmaids' financial situation. However, if the couple has a specific vision for the dresses, they may offer to cover the costs.
Check out our blog all about who pays for what.
Common bridesmaid alteration and their average cost
| Bridesmaid Alteration | Cost |
| --- | --- |
| Hemline adjustment | £20-£60 |
| Bodice adjustment | £30-£60 |
| Strap adjustment | £15-£35 |
| Sleeve adjustment | £20-£40 |
| Taking in or letting out seams | £20-£60 |
| Shortening straps | £15-£35 |
| Shortening sleeves | £15-£40 |
Note: These costs are estimates and can vary depending on the complexity of the alteration and the specific alteration service used. It's always best to consult with a professional alteration service to get an accurate quote for your specific dress alteration needs.
Timeline for bridesmaid dress alterations
When to Start Looking for Alteration Services
As soon as you receive your dress
6 months if possible
Give yourself plenty of time to find a good alteration service
Avoid waiting until the last minute
Ideal Time to Schedule a Fitting Appointment
Schedule a fitting appointment as soon as possible
At least 4-6 weeks before the wedding date
This will allow enough time for alterations to be made
Estimated Time Frame for Alterations to Be Completed
Typically, alterations can take 1-3 weeks
However, more complex alterations may take longer
It's important to factor in additional time for any unforeseen issues
Make sure alterations are completed well before the wedding day to avoid any last-minute stress
By following these guidelines, you'll ensure that you have enough time to find a good alteration service, schedule a fitting appointment, and have your alterations completed in a timely manner. This will help ensure that you have a perfectly fitting bridesmaid dress on the big day.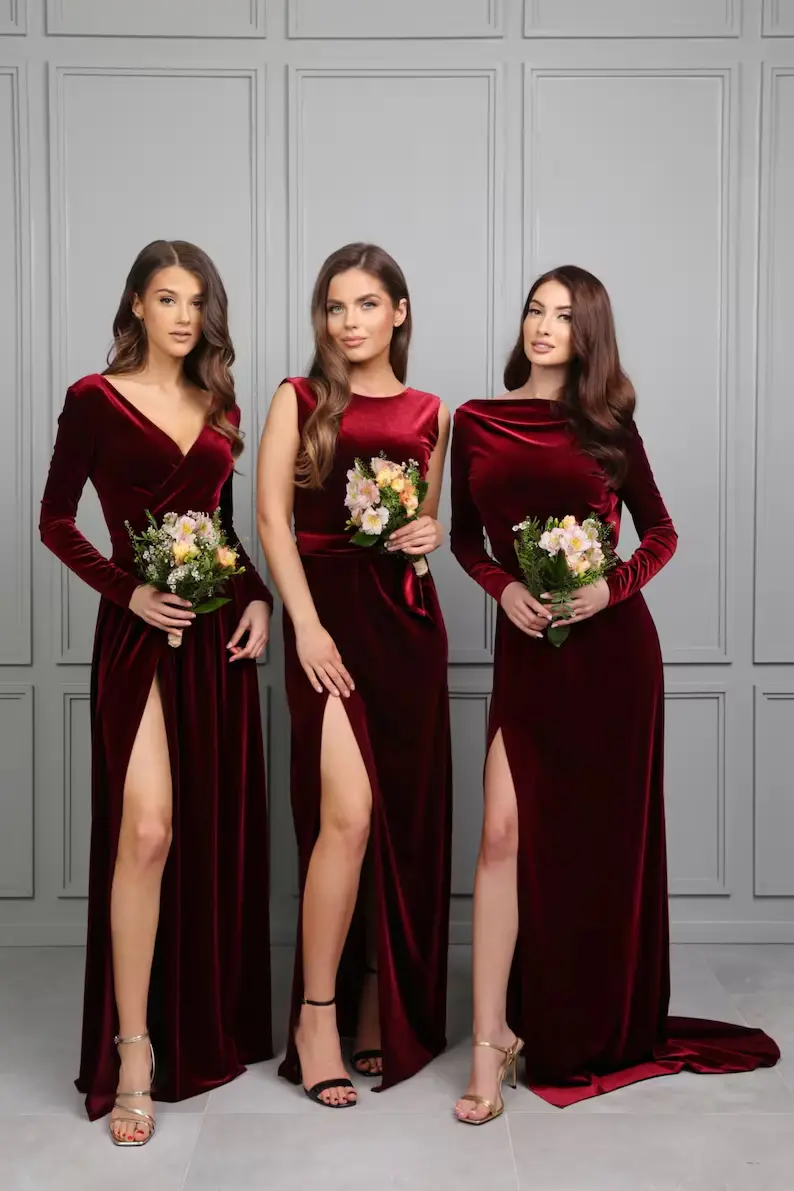 Bridesmaid Alterations appointments
When you attend a bridesmaid dress fitting, you can expect to meet with an alterations specialist who will assess your dress and discuss any desired alterations with you. Here's a breakdown of what typically happens during a fitting:
Meeting with the Alterations Specialist
The alterations specialist will take measurements of your body and assess the dress to determine what changes need to be made. It's important to bring the shoes and undergarments you plan to wear on the day of the wedding to ensure the dress fits properly.
Trying on the Dress
The dress will be pinned or clipped to better fit your body shape and size. You'll be able to see the dress in its altered state before the changes are made, giving you an idea of how it will look on the wedding day. Any additional alterations can be discussed and noted.
Fitting the Dress
After the alterations have been made, you'll try on the dress again to ensure it fits properly. The alterations specialist may make additional adjustments if needed. Once the dress fits perfectly, it will be pressed and prepared for the big day.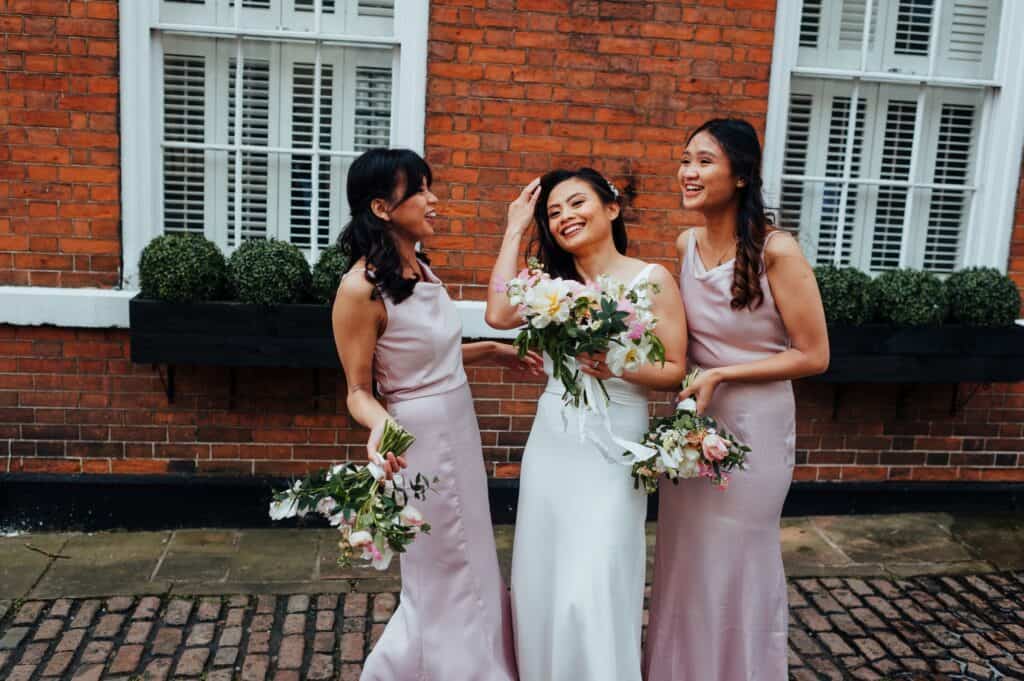 What to wear to a bridesmaid dress fitting
When attending your bridesmaid alteration appointment, it's important to come prepared with the right undergarments and shoes.
Wearing the proper undergarments can greatly affect the fit of your dress. For example, if your dress has a low back or a plunging neckline, you'll need a bra that's compatible with the dress style. Similarly, if your dress is form-fitting, you may want to wear shaping underwear to smooth any bumps or lumps.
Shoes are also an important consideration. The height of your shoes can affect the hemline of your dress, so it's important to bring the shoes you plan to wear on the wedding day. If you haven't purchased your shoes yet, bring a pair with a similar heel height.
In addition to undergarments and shoes, it's also important to wear something comfortable and easy to take on and off. During the fitting, you may need to try on the dress several times, so wearing something that's easy to change in and out of will make the process smoother and more comfortable.
Top tip, especially for the final fitting. Do your hair and make, and have the accessories you will wear on the day.
Making an effort so you feel your best can make all the difference in how you will feel in the dress after alterations. You want to feel good and confident.
Also, if your hair will be up, wear it up. You want to make sure you are confident it will look right on the day.
More blogs you will love!