Mint green is a beautiful and soothing colour. Mint green bridesmaid dresses are having a bit of a comeback. They work well alone but are perfectly matched we coral for a pop of colour or sage and other green for a stunning monochromatic look.
Mint green is characterized by its delicate balance of blue and green tones, resulting in a soft and pale shade reminiscent of a mint leaf or a light pastel green.
It often carries a hint of coolness and freshness, making it a popular choice for various applications, including fashion, home decor, and, of course, bridesmaid dresses.
In this blog post, we're here to share the secrets of where to snag the best mint green gems. Share some killer styling tips that will have your bridal squad looking like absolute rockstars. So, buckle up and get ready to explore the chic and trendy realm of mint green bridesmaid dresses – it's time to make a statement on your special day!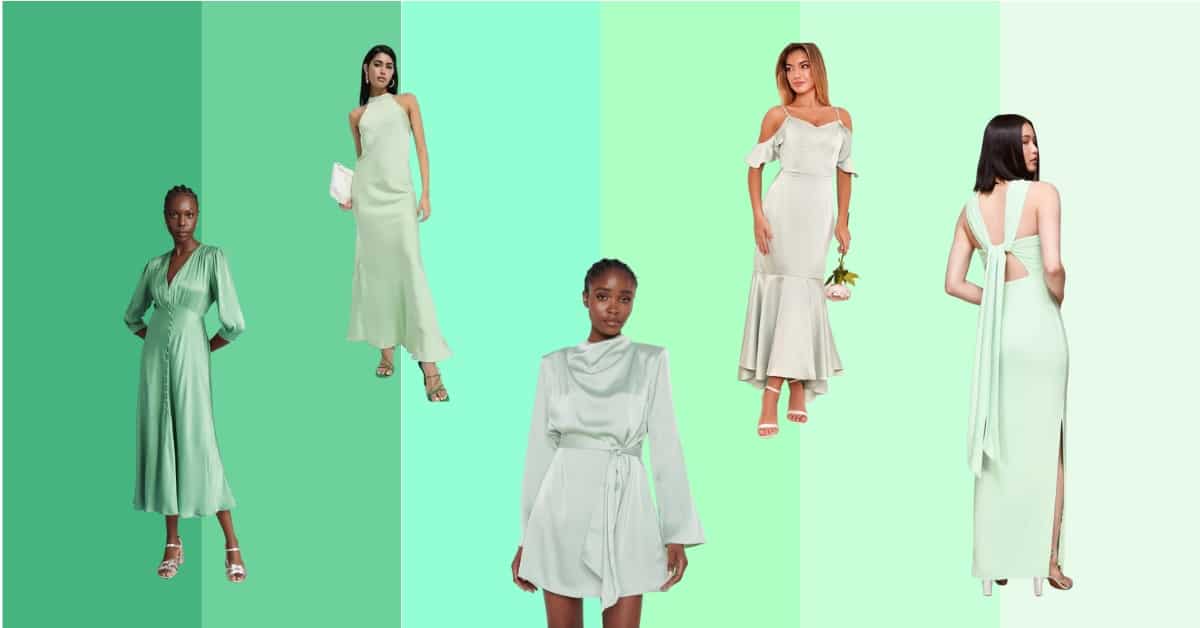 WHERE TO BUY mint green BRIDESMAID DRESSES
THE BEST mint green BRIDESMAID DRESSES
We are committed to providing unbiased, credible reviews so you can choose with confidence. We may earn commissions on purchases made from visiting our partner stores. Please see our policy here.
1. Urban editors' choice – Pretty Lavish
I love this dress! It is definitely for the alternative bridesmaid look.
But come on, how stylish would your crew look? The perfect summer city centre bridesmaid dress I would say!
Size: xSmall – xxLarge | Fabric: Satin | Color: Mint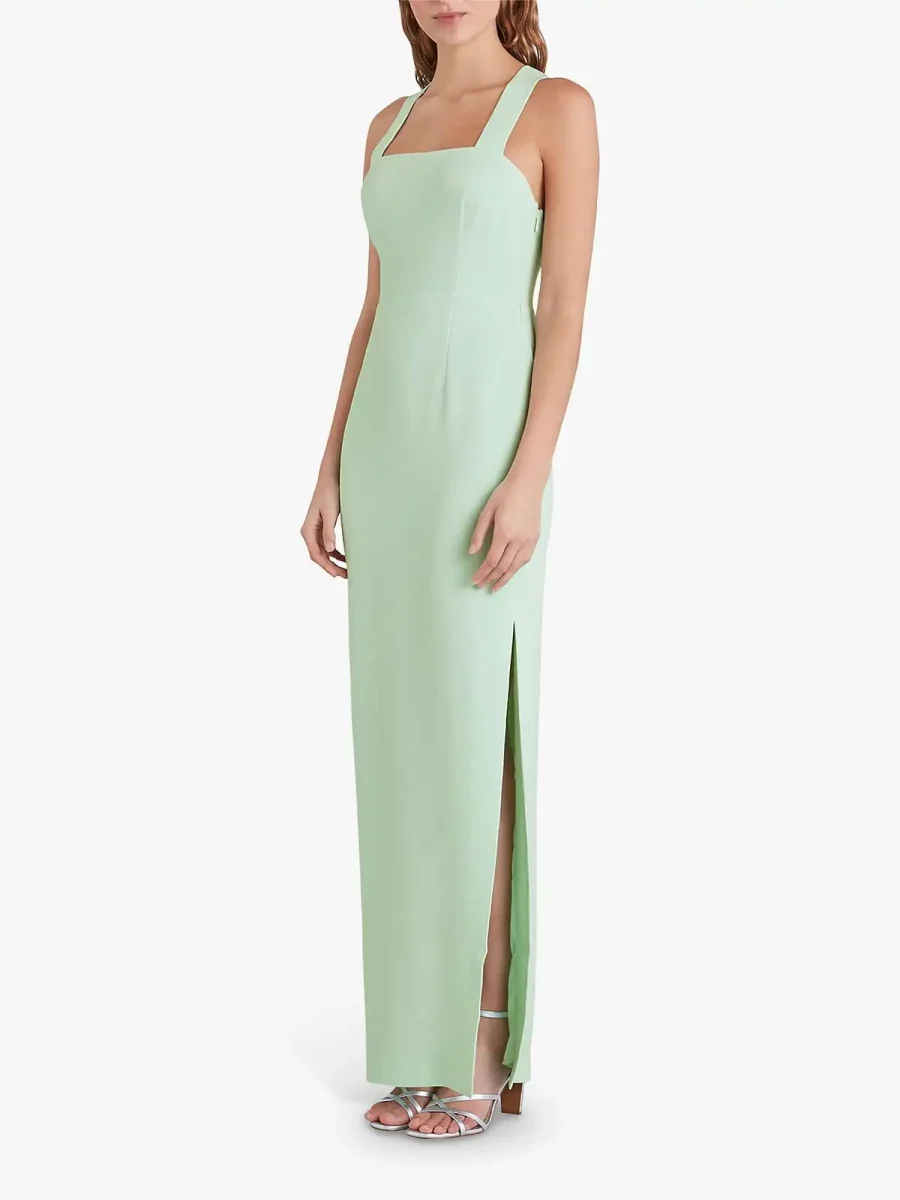 2. For the minimal bridesmaids – Whistles
Simple and stylish. Even though quite straight it fits really well and feels great on.
Perfect for a minimal bridesmaid look.
Size: 6 – 18 | Fabric: Polyester | Color: Mint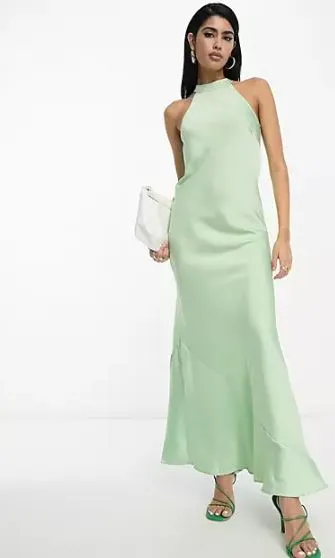 3. BEST mint green bridesmaid slip – Asos
Bridesmaid slip dresses are so popular. A halter neck slip is definitely one of my faves.
They look modern and stylish while simple in design.
Check the hottest bridesmaid slips.
Size: 6 – 18 | Fabric: Satin | Color: Cameo Green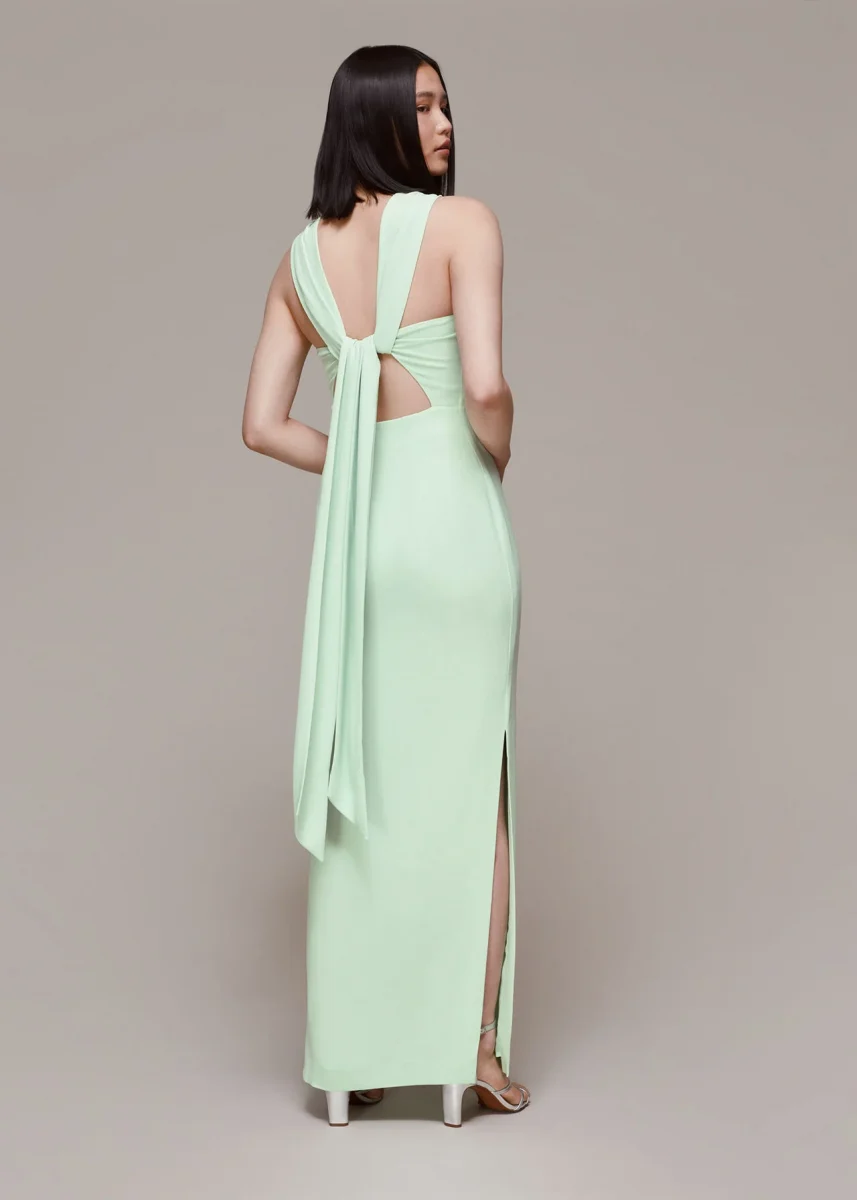 4. BEST back detail – Whistles
The front of this dress is a simple high neck. The back detail adds a little drama for when walking down the aisle.
Size: 4 – 20 | Fabric: Polyester | Color: Mint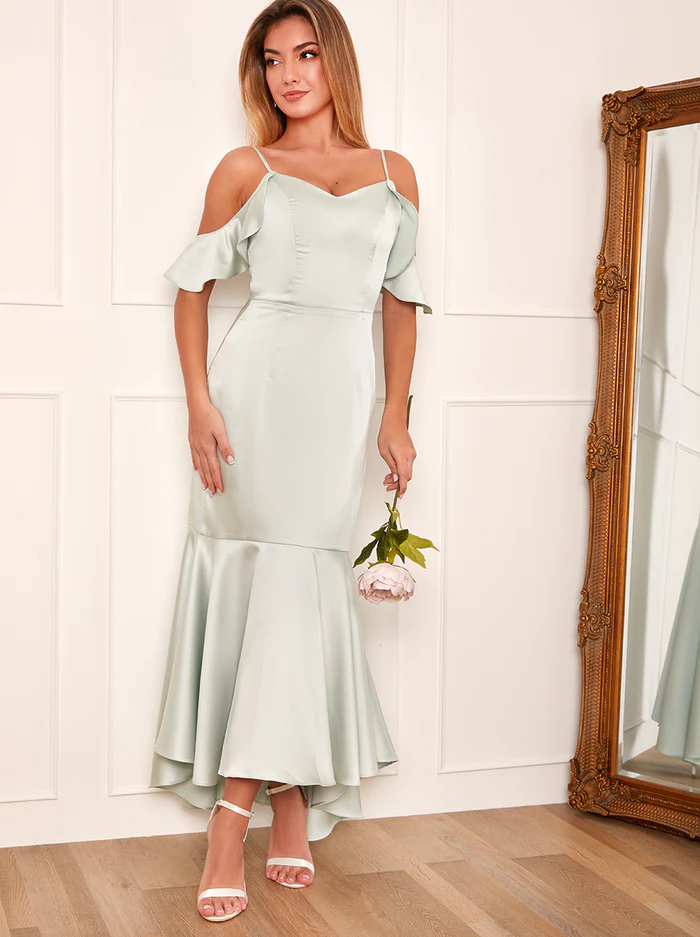 5. BEST fishtail – Chi Chi
This fishtail mint green bridesmaid dress is perfect for a formal wedding.
The flared bottom and cinched in waist gives you a lovely figure.
Size: 6 – 16 | Fabric: Satin | Color: Mint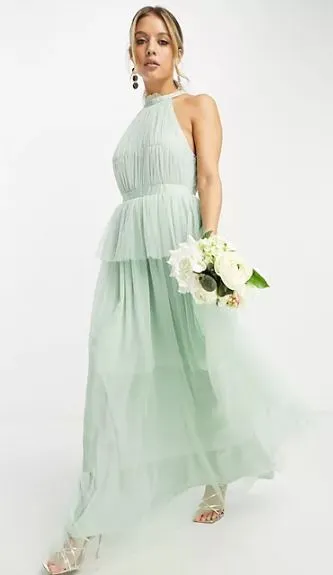 6. MOst Romantic – Asos
I love the romantic vibes of this ruffled skirt mint bridesmaid dress.
Size: 6 – 18 | Fabric: Chiffon | Color: Cameo Green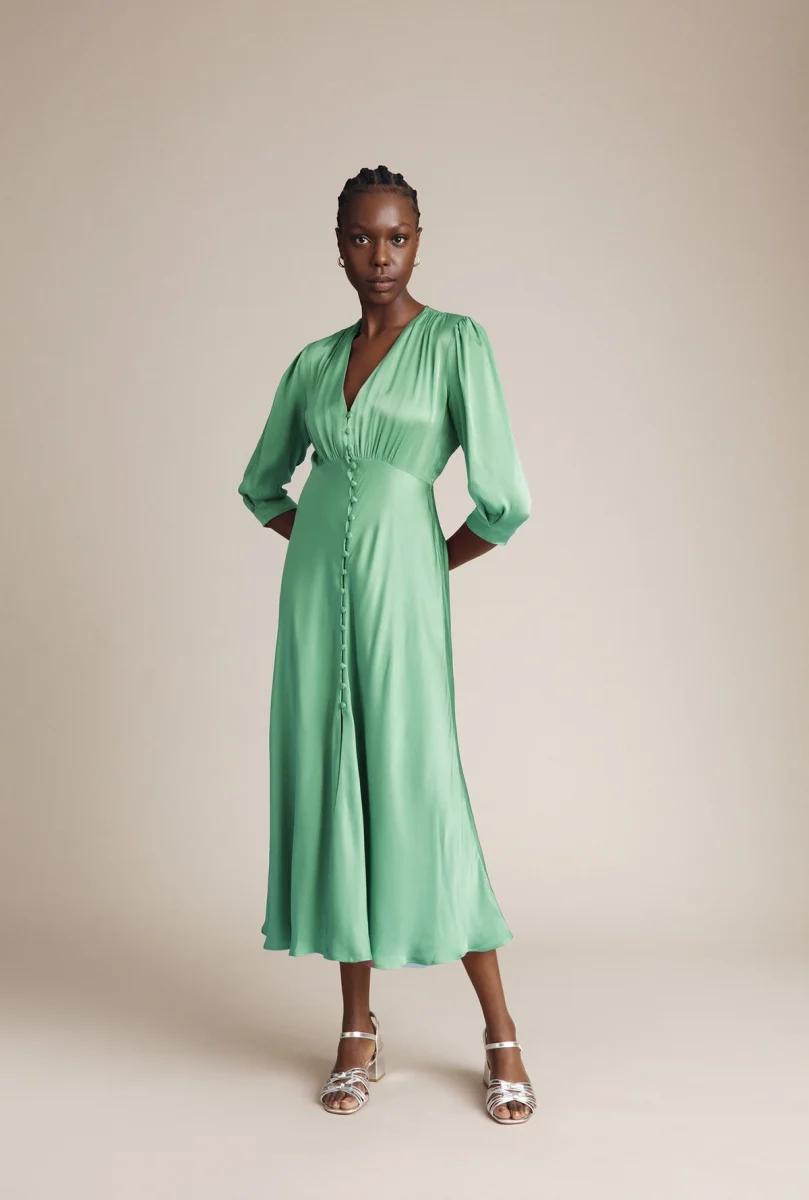 7. Best darker mint green – Ghost
I love the boho vibes of this relaxed floral light copper bridesmaid dress. The elastic chest makes it easy to wear and the tulle arms and a romantic detail.
Size: 8 – 16 | Fabric: Satin | Color: Jade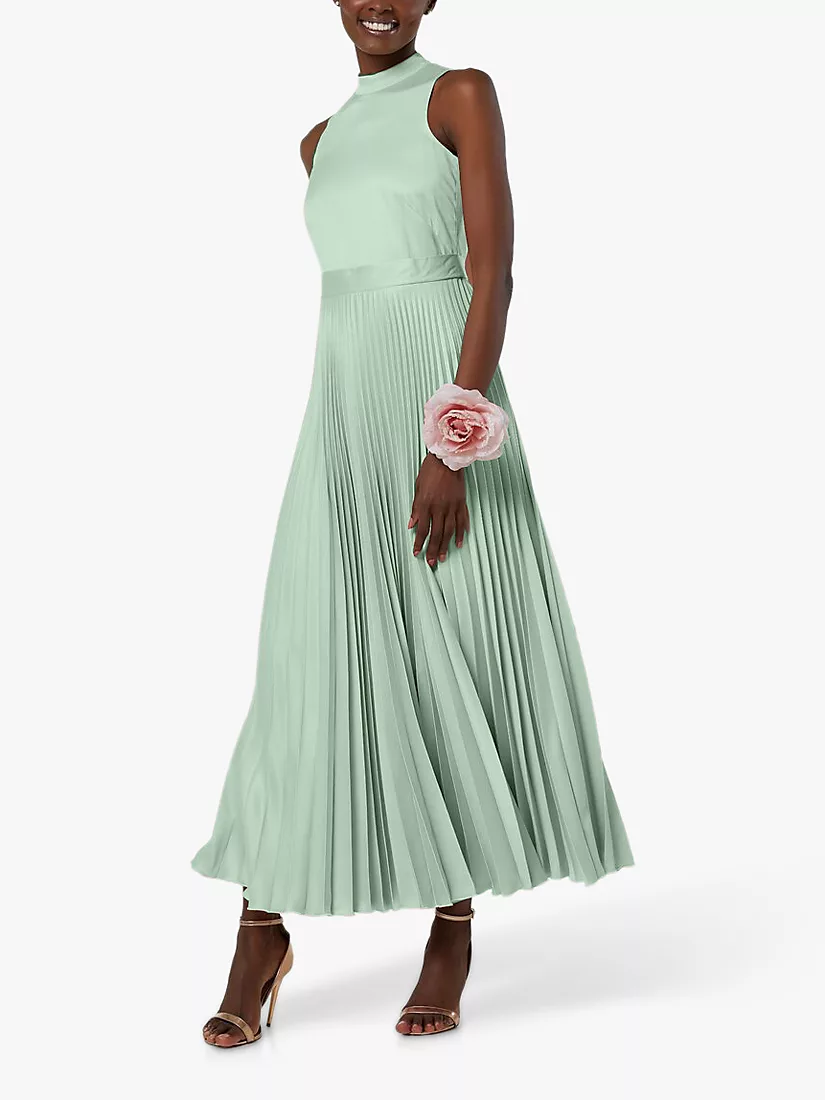 8. Best darker mint green – Closet London
I love the boho vibes of this relaxed floral light copper bridesmaid dress. The elastic chest makes it easy to wear and the tulle arms and a romantic detail.
Size: 8 – 16 | Fabric: Satin | Color: Mint
STYLING GUIDE AND mint green BRIDESMAID DRESSES FAQS
Mint green works well with neutrals or pastels and even bright pops of colour like coral. It totally depends on your overall wedding style for how to style your mint green bridesmaid dresses but here are my top styling tips to help.
WHAT COLORS GO WELL WITH mint green?
Blush Pink: Soft and romantic, blush pink complements mint green beautifully, creating an elegant and feminine palette.
Coral: If you're looking for a vibrant and cheerful combination, coral adds a pop of warmth and energy to mint green, resulting in a lively and tropical feel.
Gold: For a touch of luxury and sophistication, consider incorporating gold accents. Gold complements mint green with its richness and adds a glamorous touch to the overall look.
Navy Blue: Mint green and navy blue create a classic and timeless pairing. The deep, rich tones of navy blue provide a strong contrast to the softness of mint green, resulting in a visually striking combination.
Lavender: If you desire a dreamy and whimsical atmosphere, pairing mint green with lavender creates a soft and ethereal palette that evokes a sense of serenity and romance.
Ivory or Cream: For an understated and elegant look, ivory or cream shades work well with mint green. These neutral hues create a clean and sophisticated aesthetic, allowing mint green to take centre stage.
Coral: The combination of mint green and coral creates a vibrant and lively palette that is perfect for a fresh and tropical vibe. The softness of mint green beautifully balances the energetic warmth of coral, resulting in a visually appealing contrast.
WHAT SEASON IS mint green MOST POPULAR FOR?
Mint green bridesmaid dresses can be a versatile choice that works well in different seasons, depending on the overall aesthetic and theme of your wedding. Here are some suggestions for the best seasons to consider mint green:
Spring: Mint green is often associated with the freshness and renewal of spring. It perfectly captures the spirit of the season, making it an excellent choice for spring weddings. The soft and pastel hue of mint green complements the blooming flowers and the overall lightness of the season.
Summer: Mint green is a cool and refreshing colour, making it ideal for summer weddings. It evokes a sense of calmness and serenity, providing a soothing contrast against the vibrant colours of the season. Whether it's a garden wedding, a beach ceremony, or an outdoor celebration, mint green bridesmaid dresses can create a lovely and breezy ambience.
Autumn: To create a harmonious blend with the autumnal palette, consider combining a darker mint green with warm earth tones like burnt orange, mustard yellow, or deep burgundy. These colours will add depth and richness to the overall look, while the mint green adds a refreshing and unexpected element.
Winter: Mint green can also work beautifully in winter weddings, particularly when paired with other cool-toned colours. It brings a touch of freshness and lightness to the colder months, creating a stunning contrast against a winter wonderland backdrop. Consider incorporating silver accents or pairing mint green with icy blues for a dreamy winter wedding look.
WHAT IS THE BEST WAY TO STYLE COPPER BRIDESMAID DRESSES?
It really does depend on your overall wedding style and the style of the bridesmaid. Here are my top 5 tips to help you style a mint green bridesmaid dress.
Accessorize Wisely: Opt for accessories that complement the softness and elegance of mint green. Delicate silver or gold jewellery, such as dainty necklaces or earrings, can add a touch of sparkle without overpowering the dress. Consider incorporating accessories with hints of shimmer or crystal accents for a subtle glam factor.
Consider Metallic Accents: Mint green can beautifully pair with metallic accents like gold or rose gold. Choose metallic belts, shoes, or clutches to add a touch of glamour and sophistication to the overall look. Metallic elements can enhance the richness and modernity of mint green bridesmaid dresses.
Play with Contrasting Colors: Experiment with contrasting colours to create visual interest and depth. As mentioned earlier, colours like coral, blush pink, navy blue, or lavender can make striking combinations with mint green. Incorporate these contrasting hues through bouquets, shoes, or statement accessories to create a balanced and eye-catching ensemble.
Embrace Natural Elements: Mint green is a colour that harmonizes well with nature-inspired elements. Consider incorporating floral motifs, botanical prints, or even fresh flower crowns for a whimsical and romantic touch. It can add a touch of enchantment and organic beauty to the overall bridal party look.
Shoes and Bouquets: Choose footwear that complements the style of the dress and the overall wedding theme. Nude or metallic coloured heels or sandals can be a versatile choice. As for bouquets, consider options like white flowers, blush blooms, or even greenery arrangements to enhance the mint green colour and create a cohesive look.
Bridesmaid dress FAQs
WHO PAYS FOR BRIDESMAID DRESSES?
This is different depending on the country and also culture. In the UK is more common that the couple pays for the bridesmaid dresses. Usually, then the bridesmaid may be expected to pay for their makeup and accessories. A lot of the time the couple covers all expenses. I always say to my couples to offer what they can afford and be honest upfront when asking bridesmaids. Head here for all the details.
HOW MUCH DO BRIDESMAID DRESSES COST?
Again this depends, if you are budget minded or looking for the best quality you will find dresses for all price ranges. You can look at china or sale options for around £50, I would say the average cost is around £150 and if you are looking for high quality then around £300. Head here for some saving tips.
WHEN TO ORDER BRIDESMAID DRESSES?
If ordering from a boutique or made-to-measure you do need to give more time, 3 to 4 months. If ordering ready-to-wear dresses online I would still do it as early as possible. Do keep in mind if you have a pregnant bridesmaid you may need to order sooner or later for them.

More blogs you will love!