Moss green bridesmaid dresses are becoming more popular. Moss green is like most colours, everyone has a different colour in mind.
True moss green is not the colour people mean when they are talking about modern moss green, especially with weddings and bridesmaid outfits.
Moss green is an earthy green with a slight grey or brown undertone. Moss green can vary in intensity and hue, but it generally falls within the range of dark to medium green tones. It is often described as a rich, muted green that exudes a sense of natural elegance.
I think it is very similar to olive green, and looking for lighter olive green bridesmaid dresses you can find some moss shades. Also, darker or dusty sage green bridesmaid dresses can have a moss look.
WHERE TO BUY moss green BRIDESMAID DRESSES
| Shop | Moss colour names | Price Range | UK Sizes |
| --- | --- | --- | --- |
| Asos | Dusty Sage Green | £30 – £200 | 2 – 30 |
| Chi Chi | Green | £40 – £200 | 6 – 24 |
| Etsy | Eucalyptus, Moss | £80 – £200 | 6 – 24 |
THE BEST COPPER BRIDESMAID DRESSES
We are committed to providing unbiased, credible reviews so you can choose with confidence. We may earn commissions on purchases made from visiting our partner stores. Please see our policy here.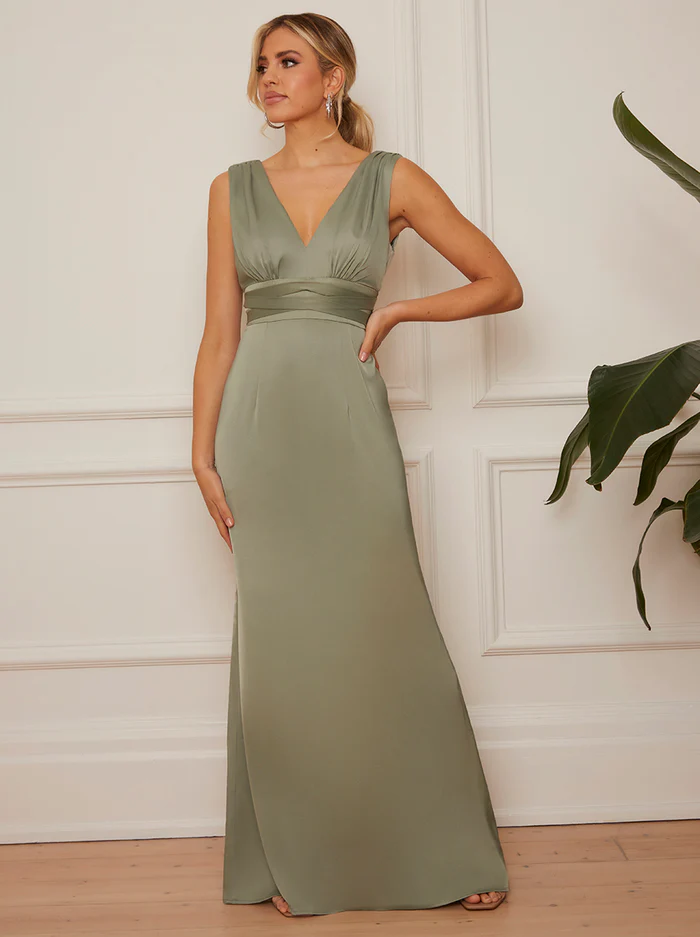 1. BEST satin moss green bridesmaid – Chi Chi
This satin moss green bridesmaid dress is stylish and simple and timeless.
The empire style waist detail is also the perfect tummy hider.
Size: 6 -18 | Fabric: Satin | Color: Green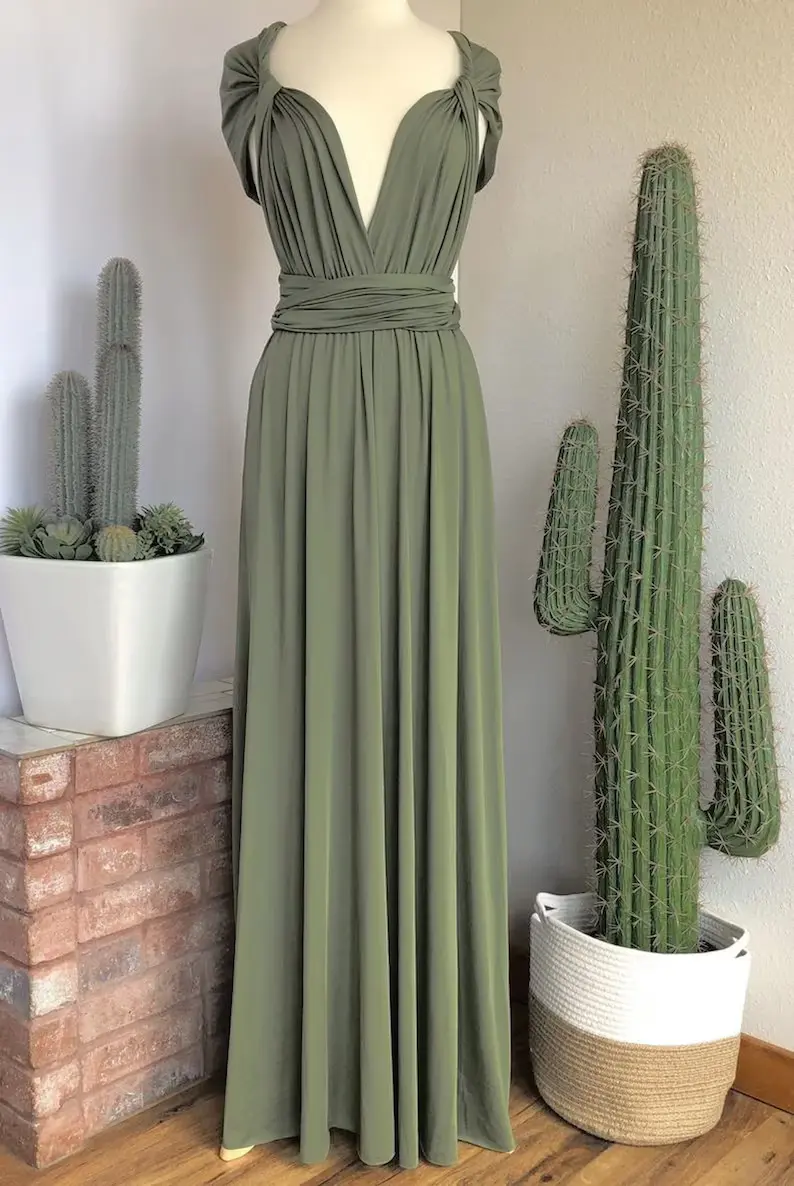 2. Multiway moss green bridesmaid – Radient Rooster
Multiway dresses are great when you have lots of shapes or styles to cater for.
I love this colour.
Size: One Size | Fabric: Stretch | Color: Eucalyptus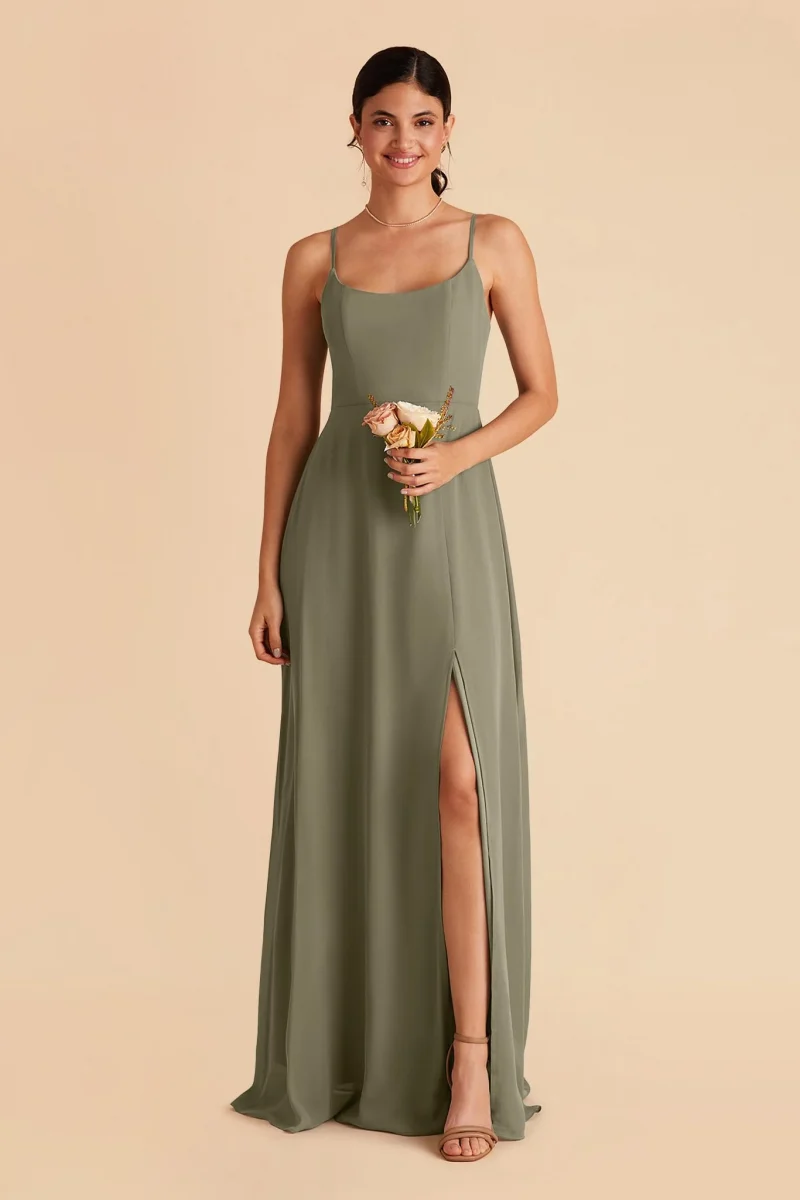 3. For lots of choices – Birdy Grey
Birdy Grey is US based but they do deliver to the UK. I could not include them as they have loads of styles and all fabrics in moss green.
If moss green is a must then they may be worth a look, even for my UK couples!
Size: xSmall – 3xLarge | Fabric: Chiffon | Length: Maxi | Color: Moss Green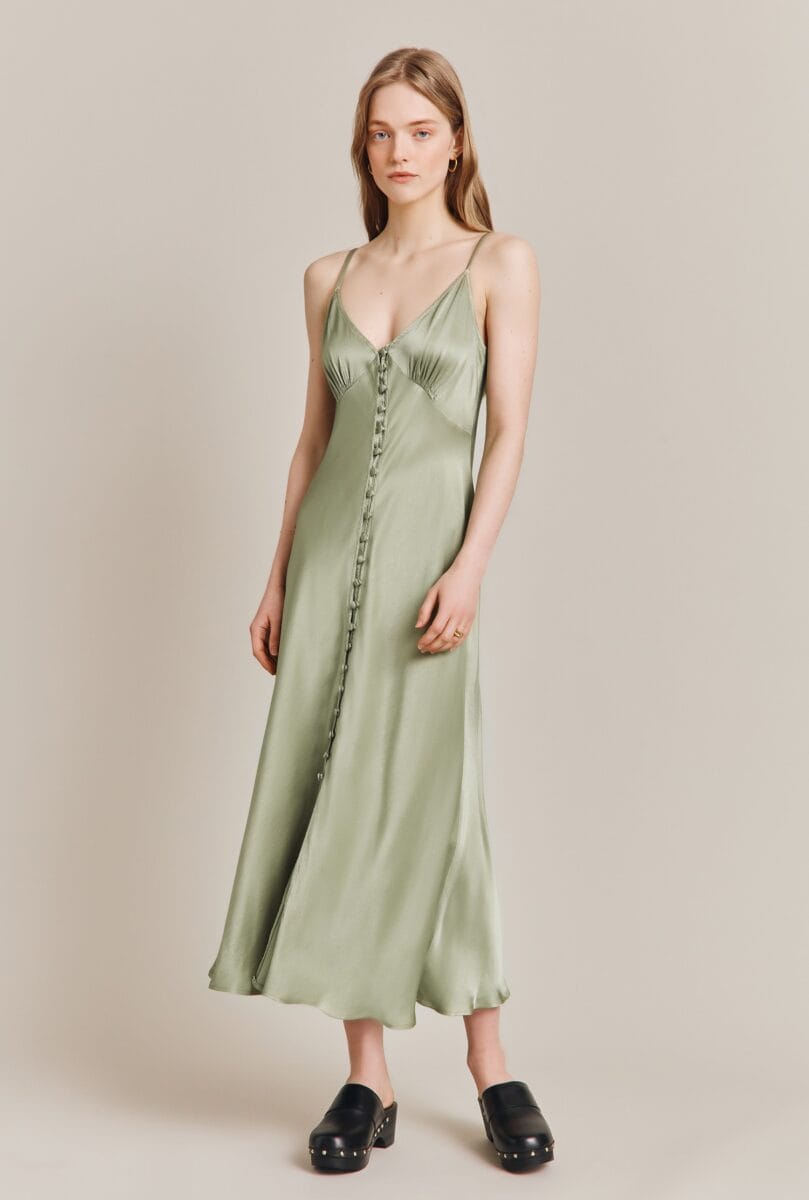 4. For a summer wedding – Ghost
This slip style dress is perfect for a wedding in warmer weather.
I love the button detail down the front!
Size: 8 – 20 | Fabric: Satin | Color: Willow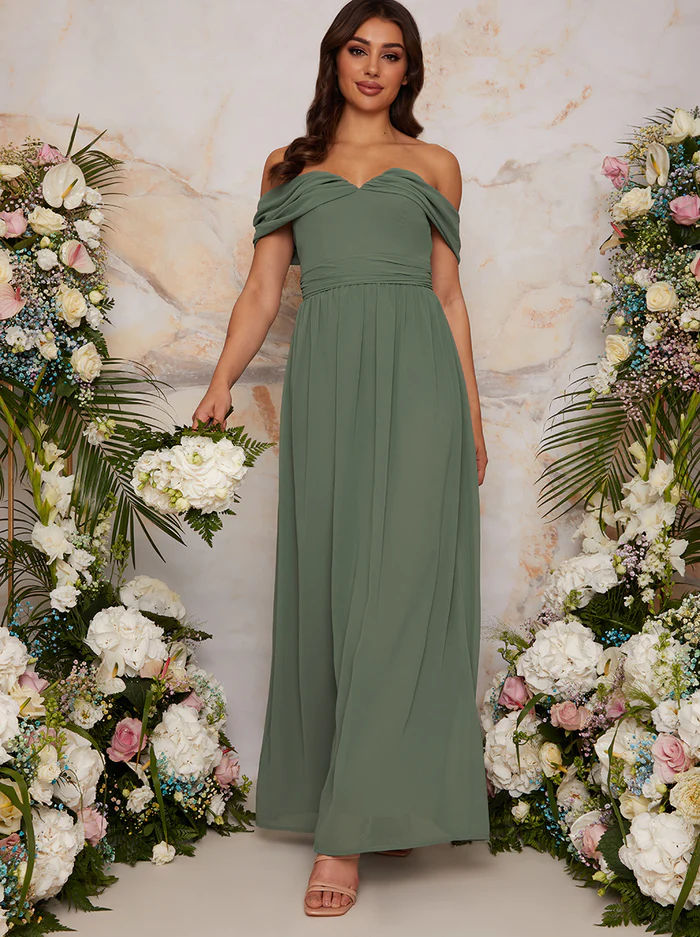 5. For a formal look – Chi Chi
The arms on this dress are gorgeous. They give it a formal feel.
Size: 6 – 18 | Fabric: Chiffon | Color: Green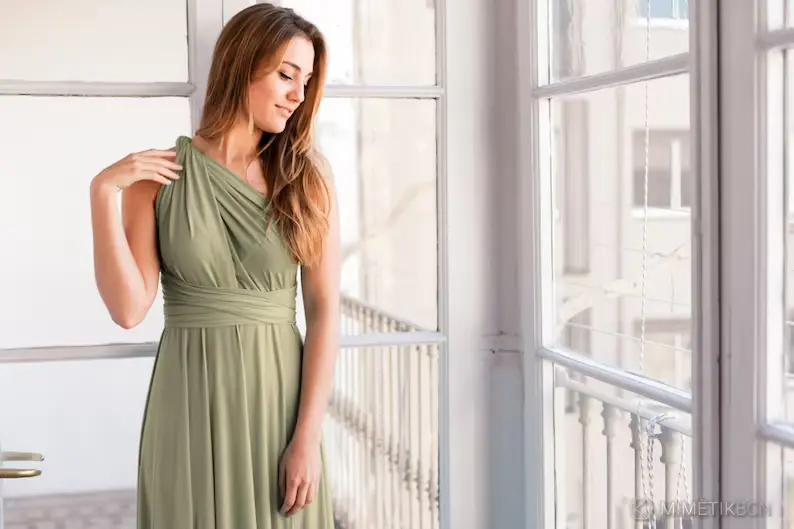 6. BEST to suit everyone – Mimetik
Sharing another but slightly lighter moss green multiway bridesmaid dress. They are a great choice so couldn't help myself!
Size: One Size | Fabric: Stretch | Length: Maxi | Color: Moss Green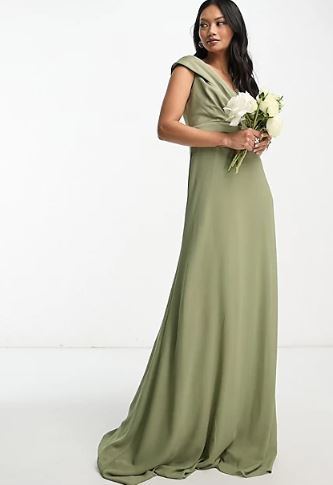 7. BEST Budget moss green bridesmaid – Asos
This dress looks so much more expensive than it is! The perfect budget friendly moss green dress. (only £40 29/6)
Size: 6 – 18 | Fabric: Satin | Length: Maxi | Color: Dusty Sage Green
STYLING moss green BRIDESMAID DRESSES
Think about the overall theme or style of the wedding. Is it rustic, bohemian, formal, or modern? Choose accessories and styling elements that align with the theme to create a cohesive look.
Accessorisng moss green bridesmaid dresses
Jewellery: Opt for delicate or statement jewellery, depending on the desired look. Gold or silver tones can work well with moss green, and consider incorporating gemstones that complement the colour palette.
Belts or sashes: Consider adding a belt or sash in a coordinating colour to define the waist and add visual interest.
Shoes: Choose footwear that complements the style of the dress and the overall theme. Neutral or metallic shades can be versatile options.
Hair accessories: Depending on the hairstyle, you can accessorize with hairpieces, floral accents, or decorative pins that match the colour palette and style of the wedding.
Makeup
The makeup can be tailored to the desired level of formality and the bridesmaids' preferences. Opt for a natural and fresh look with soft, earthy tones for a more bohemian or outdoor wedding. Alternatively, a more dramatic and glamorous makeup look can be suitable for a formal or evening affair.
What colours go with moss bridesmaid dresses?
Ivory or Cream: These neutral tones create an elegant and timeless combination when paired with moss green. They add a soft, romantic touch to the overall look.
Blush or Dusty Pink: These subtle pink hues create a delicate and feminine contrast with moss green. They add a touch of warmth and can create a romantic and ethereal feel.
Deep Burgundy or Wine: Rich, deep reds provide a striking contrast to moss green and can create a sophisticated and dramatic look.
Navy Blue: This deep, classic shade of blue pairs beautifully with moss green. It creates a sense of depth and adds a touch of formality to the colour palette.
Gold or Metallic Accents: Incorporating gold or metallic accents, such as gold jewellery or accessories, can add a touch of glamour and luxury to moss green bridesmaid dresses.
Earth Tones: Shades like taupe, beige, or warm browns can complement moss green by creating a natural and harmonious colour palette.
Soft Grey: A light or medium grey can provide a subtle contrast with moss green and create an understated, elegant look.
WHAT SEASON IS moss MOST POPULAR FOR?
The best thing about moss green is it really does work for any season. You can go for a light or darker shade if you like but most will work no matter the season.
Here are some suggestions for making moss green bridesmaid dresses suitable for different seasons:
Spring: In spring, you can pair moss green with lighter pastel shades to create a fresh and vibrant look. Consider adding floral accents, such as floral bouquets or hair accessories, in soft pinks, lilacs, or yellows to embrace the season's blooming ambience.
Summer: During summer, moss green can be complemented by brighter and bolder colours. You can incorporate vibrant pops of coral, turquoise, or sunny yellow in accessories like shoes, belts, or statement jewellery. Light, flowy fabrics and open-toe shoes can also enhance the breezy summer feel.
Autumn: Moss green naturally complements the warm tones of autumn. To adapt the dresses for this season, you can pair them with rich burgundy or burnt orange accessories. Consider incorporating autumnal elements like dried leaves, rustic textures, or warm-toned floral arrangements to enhance the fall aesthetic.
Winter: For winter weddings, you can create an elegant and cosy atmosphere by combining moss green with deep jewel tones like navy blue, burgundy, or emerald. Consider accessorizing with silver or gold accents to add a touch of winter sparkle. Faux fur wraps or velvet accessories can also enhance the winter vibe.
More blogs you will love!