Let me start by saying that like with every colour taupe comes in many different shades. I did find when looking though that some looked more champagne, brown or even lilac at one point!
So as we have blog posts on the ones above I tried to stick to taupe as best I could. But the thing is, what I think is taupe might not be what everyone else does. So I've kept to a range and hopefully, everyone can find the right dresses for them.

WHERE TO BUY Taupe BRIDESMAID DRESSES
My top tip would be to look in neutral, creams, beige and even brown selections of your favourite bridesmaid shop.
Some like to give them names so you may find the perfect taupe shade under any of these.
| Shop | Taupe colour names | Price Range | UK Sizes |
| --- | --- | --- | --- |
| Coast | Forest | £100 – £300 | 4 – 26 |
| Reformation | Buena, Forest | £300 – £500 | 4 – 28 |
| Asos | Forest, botanical green | £30 – £200 | 2 – 30 |
| Selfridges | Emerald (Jenny Yoo) | £70 – £500 | 6 – 24 |
| Oasis Fashion | Green | £80 – £200 | 6 – 24 |
THE BEST taupe BRIDESMAID DRESSES
We are committed to providing unbiased, credible reviews so you can choose with confidence. We may earn commissions on purchases made from visiting our partner stores. Please see our policy here.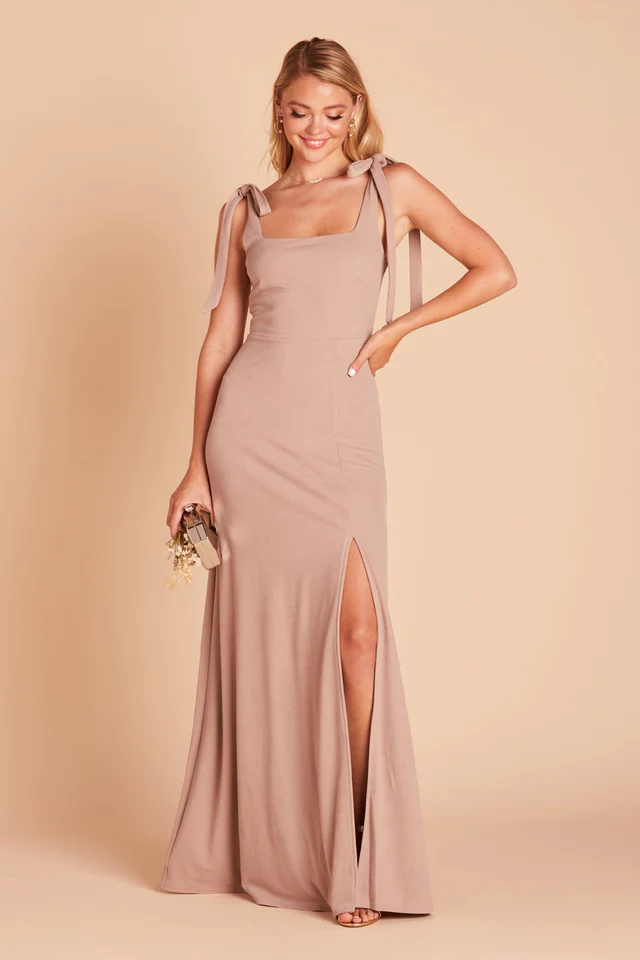 Birdy Grey had the nicest taupe colour I could find. It looks lovely in all the fabrics.
I know they are not UK based but if taupe is what you really want and you have the time it might be worth the wait.
You have to just make sure you get the sizing right when ordering from the US if in the UK. I would go a size up and pay for alterations as a safe bet.
Size: xSmall – 3xLarge | Color: Crepe Taupe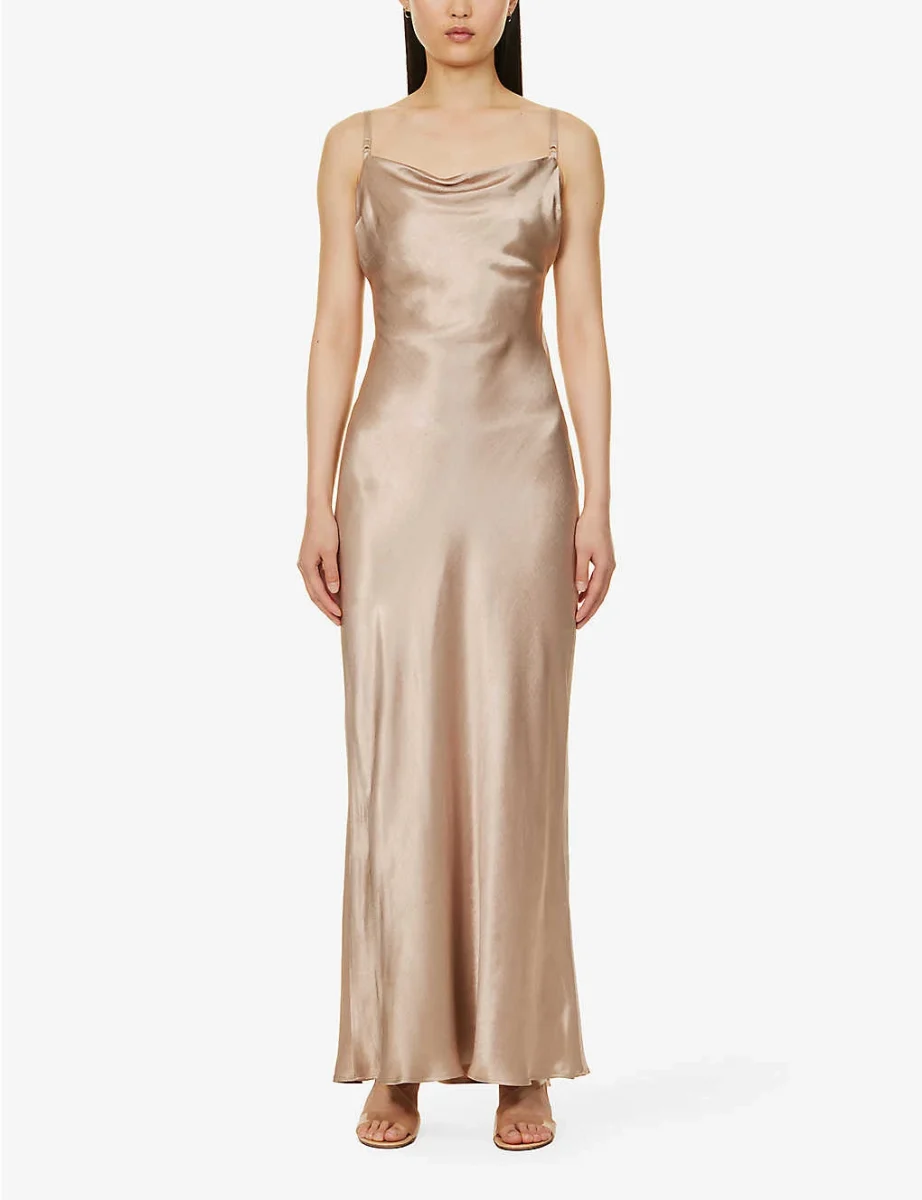 Taupe colour dresses in satin or any other kind of shiny fabric can have a champagne feel to the colour I think.
If you are after a muted, matt style taupe then I would look at chiffon or crepe.
Size: 6 – 16 | Color: Smoke Taupe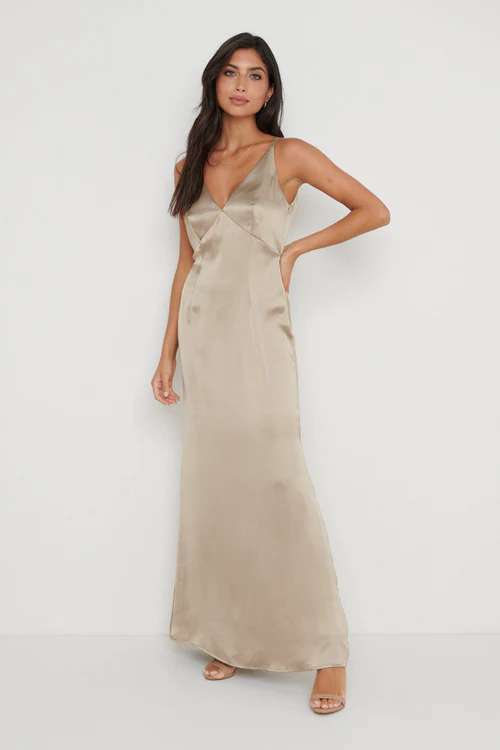 I really like this dress. I feel the colour is a little grey but still a stunning colour.
Size: 6 – 16 | Color: Taupe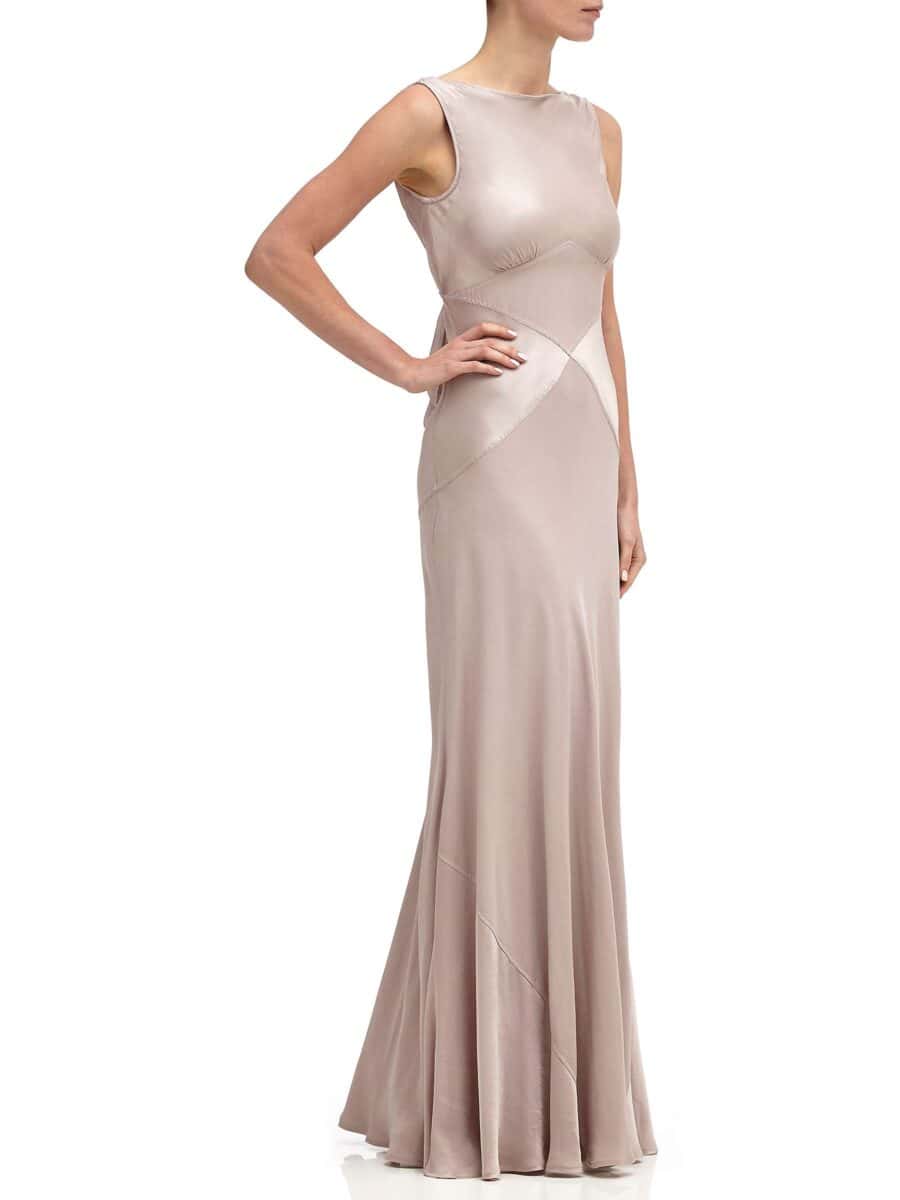 4. For a modern look – Ghost
I am sharing Ghost again but in their oyster colour. I think this is a lovely taupe colour.
I found lots of options in the oyster colour on the John Lewis website but not as many on Ghost.
Size: Small – xLarge | Color: Oyster
5. BEST Sequin – Asos
I do love a bit of sparkle! I really like this dress. I think if going tonal with your bridesmaid this would make a great maid of honour dress.
Size: Small – 3xLarge | Color: Taupe Blush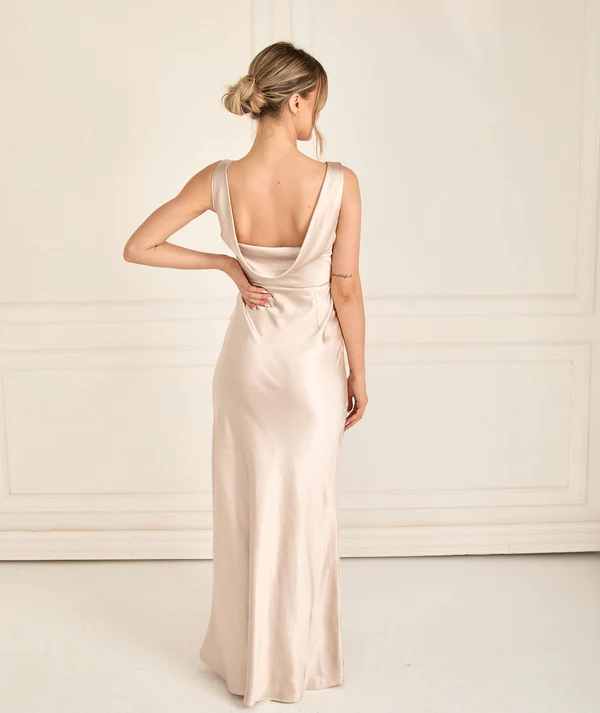 I love a bridesmaid dress with a nice back detail.
This dress is a lighter taupe shade and they have a few different styles of dresses in this colour.
Size: 6 – 18 | Color: Oyster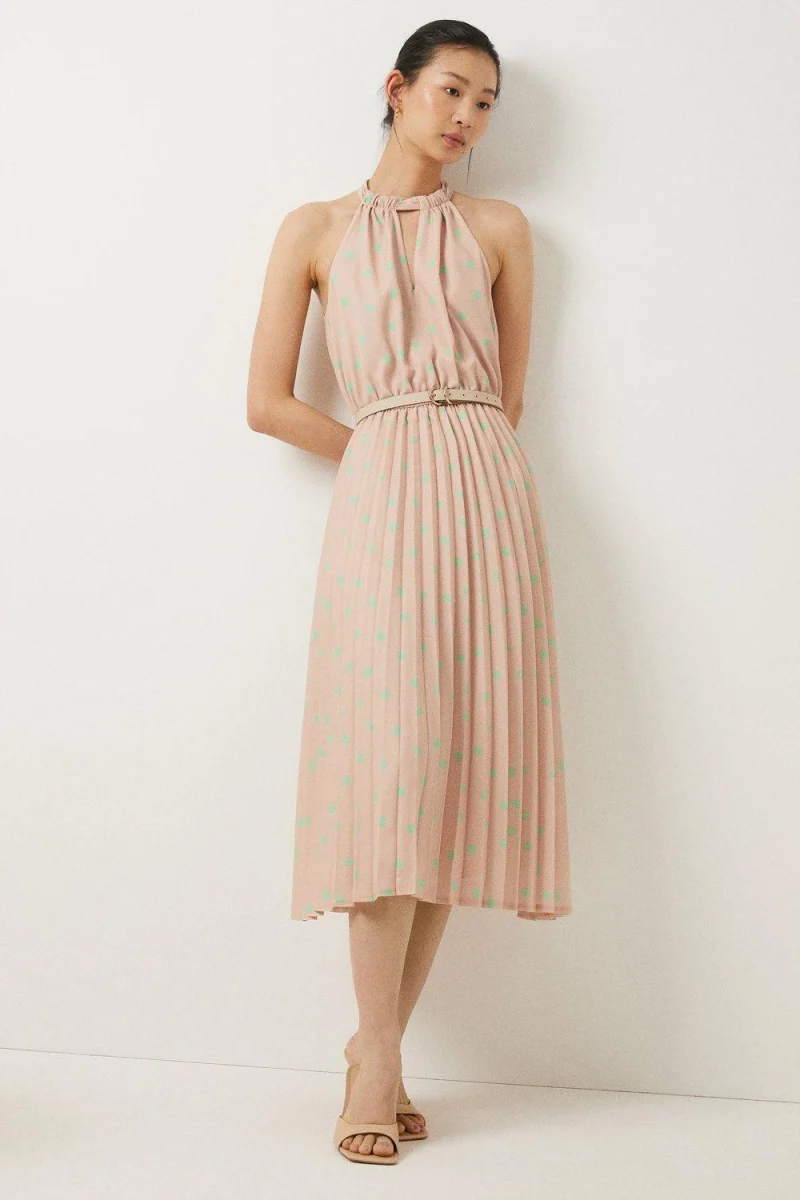 7. For a relaxed wedding – Oasis
This midi taupe bridesmaid dress is perfect for a more relaxed summer wedding vibe.
Size: 6 – 18 | Color: Taupe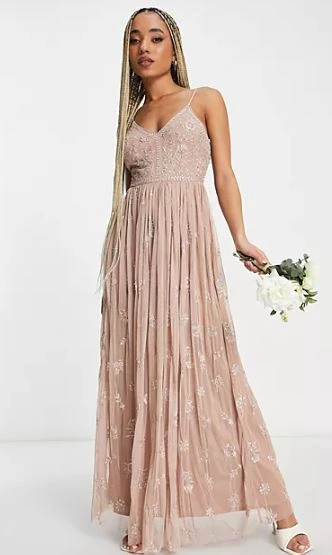 8. BEST embellished – Asos
This dress is so pretty and romantic. They have it a few different styles also.
The colour is taupe blush and it definitely has some pink tones.
Size: 16 -16 | Color: Taupe Blush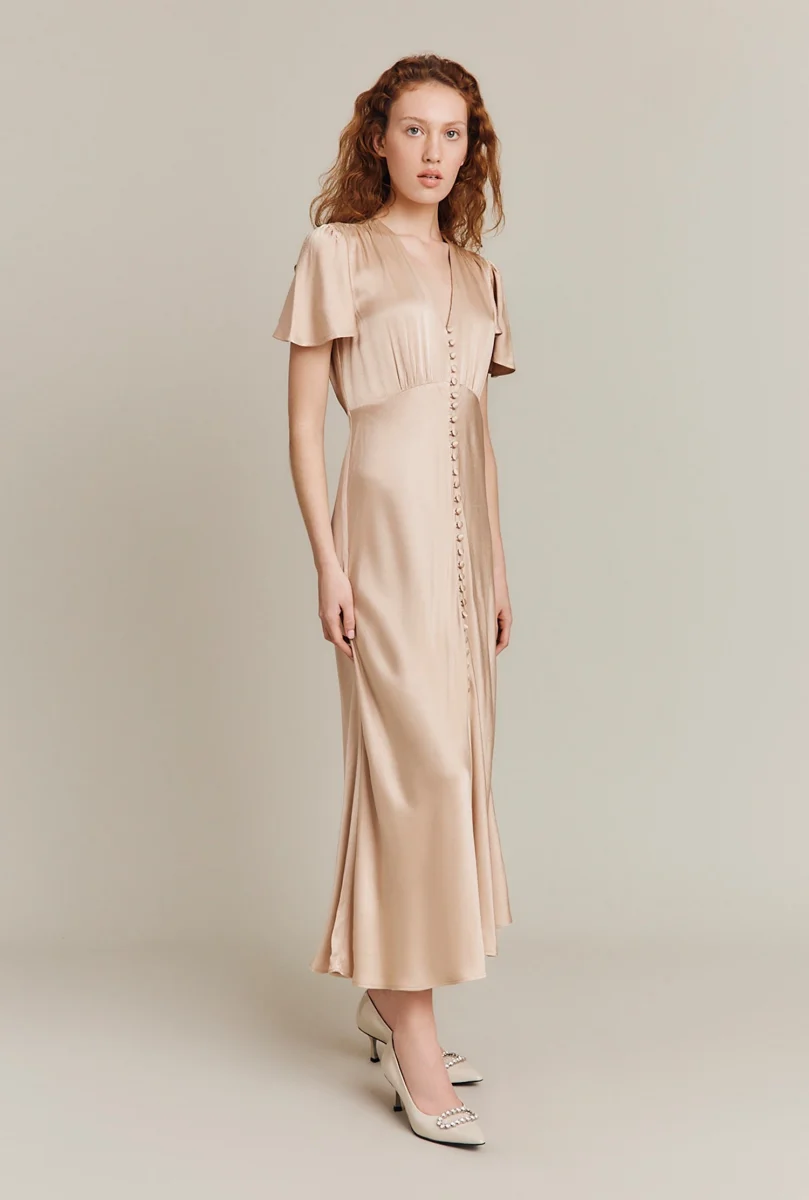 9. BEST vintage – Ghost
I love the vintage cut and silhouette of this taupe bridesmaid dress.
Size: 8 – 16 | Color: Stone
STYLING GUIDE AND taupe BRIDESMAID DRESSES FAQS
WHAT COLOuRS GO WELL WITH taupe?
Taupe is a neutral colour so works well with so many others. Here are some of my favourite colours when styling taupe bridesmaid dresses.
Soft Pastels: Light pink, blush, lavender, mint green, and powder blue are gentle and elegant choices that create a soft and romantic colour palette alongside taupe.
Jewel Tones: Deep and rich jewel tones like emerald green, sapphire blue, amethyst purple, and ruby red can add a touch of luxury and sophistication to taupe dresses.
Metallics: Silver, gold, and copper metallic accents can bring a glamorous and elegant vibe to the taupe dresses. You can incorporate these metallic hues through accessories like jewellery, shoes, or even bridesmaid sashes.
Earthy Tones: Incorporating earthy tones such as olive green, mustard yellow, burnt orange, or deep brown can create a warm and rustic atmosphere alongside taupe.
Neutrals: Sticking with a monochromatic or neutral palette can create an elegant and cohesive look. Shades like ivory, champagne, or light grey work well alongside taupe bridesmaid dresses.
WHAT SEASON IS taupe MOST POPULAR FOR?
The beauty of a neutral colour like taupe is it works in any season. Here are some of my top tips for each season.
Spring: Taupe can work well in a spring wedding, especially when paired with soft pastel accents like blush, lavender, or light blue. These combinations create a fresh and romantic atmosphere that complements the blooming flowers and the overall rejuvenation of the season.
Summer: Taupe can add a touch of elegance and sophistication to a summer wedding. It pairs well with vibrant and bold colours like coral, turquoise, or sunny yellow. These combinations can create a beautiful contrast and a summery feel.
Autumn: Taupe is a great choice for an autumn wedding. It harmonizes with the warm and earthy tones of the season. Pairing taupe dresses with rich jewel tones like deep burgundy, burnt orange, or olive green can create a stunning fall colour palette.
Winter: Taupe can bring a sense of warmth and cosiness to a winter wedding. Combining it with metallic accents like silver or gold can add a touch of glamour. Additionally, incorporating deep, dark hues like navy blue or emerald green can create an elegant and wintry ambience.
Bridesmaid dress FAQs
WHO PAYS FOR BRIDESMAID DRESSES?
This is different depending on the country and also culture. In the UK is more common that the couple pays for the bridesmaid dresses. Usually, then the bridesmaid may be expected to pay for their makeup and accessories. A lot of the time the couple covers all expenses. I always say to my couples to offer what they can afford and be honest upfront when asking bridesmaids. Head here for all the details.
HOW MUCH DO BRIDESMAID DRESSES COST?
Again this depends, if you are budget minded or looking for the best quality you will find dresses for all price ranges. You can look at China or sale options for around £50, I would say the average cost is around £150 and if you are looking for high quality then around £300. Head here for some saving tips.
WHEN TO ORDER BRIDESMAID DRESSES?
If ordering from a boutique or made-to-measure you do need to give more time, 3 to 4 months. If ordering ready-to-wear dresses online I would still do it as early as possible. Do keep in mind if you have a pregnant bridesmaid you may need to order sooner or later for them.

More blogs you will love!