If you're in the midst of planning your big day then choosing the perfect bridesmaid dresses is definitely on your mind.
Luckily, summer is the perfect time to experiment with fresh and vibrant colours, flowy fabrics, and playful prints.
So, whether you're looking for something classic and elegant, or trendy and unique, we've got you covered!
In this post, we'll be sharing the best summer bridesmaid dresses of the year, discussing the top colour options, giving styling tips, and answering some FAQs to make sure you find the perfect dresses for your bridal party.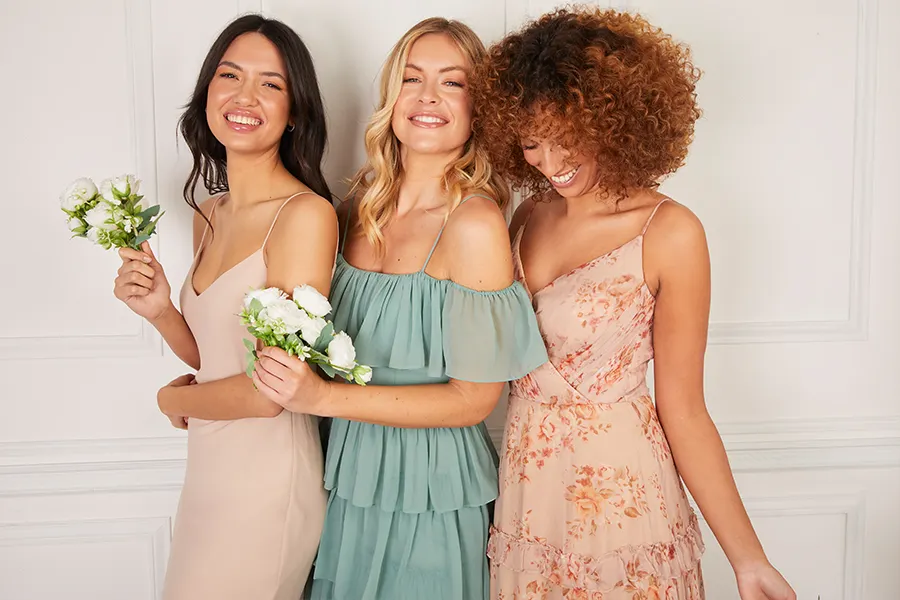 The best places to buy summer bridesmaid dresses and outfits
Summer bridesmaid dress colours
Summer is a season of vibrant colours, and when it comes to bridesmaid dresses, there are plenty of beautiful shades to choose from.
Some of the best colour choices for summer bridesmaid dresses include soft pastels like blush, peach, and lavender, which can create a dreamy and romantic atmosphere.
If you're going for a bold look, you can opt for bright and cheerful hues like coral, fuchsia, or sunny yellow.
And of course, you can't go wrong with classic summer shades like turquoise, sage green, or dusty blue.
When selecting colours for your bridesmaid dresses, it's important to consider your wedding theme and the overall colour scheme.
You can choose a single colour for all the dresses or mix and match different shades for a unique and personalized look. Whatever your style, there's a perfect colour for your summer bridesmaid dresses!
Summer bridesmaid styles
The bridesmaid slip dress: This is a huge trend right now. It looks modern and stylish and your bridesmaid will want to re-wear.
Two-Piece Sets: Two-piece sets are becoming more popular for bridesmaid attire. They're versatile and can be mixed and matched to create a unique and personalized look for each bridesmaid.
High-Low Hemlines: High-low hemlines are another trendy option for summer bridesmaid dresses. They offer a playful and stylish look that's perfect for outdoor weddings.
Jumpsuits: Jumpsuits are a modern and edgy alternative to traditional bridesmaid dresses. They're comfortable, easy to move in, and perfect for dancing the night away.
Flowy Midi Dresses: Flowy midi dresses are a timeless summer staple that never goes out of style. They're elegant, comfortable, and perfect for outdoor weddings.
The best summer bridesmaid dresses for 2023 and beyond
We are committed to providing unbiased, credible reviews so you can choose with confidence. We may earn commissions on purchases made from visiting our partner stores. Please see our policy here.
Related blog post: Bridesmaid dress alteration guide
Related blog post: How much do bridesmaid dresses really cost?
More blogs you will love!