Winter weddings are always super romantic. Fairy lights, lots of candles, just cosy and beautiful.
Finding the right bridesmaid dresses for a winter wedding can be a tricky one. You want gorgeous outdoor shots, maybe even some outdoor elements to the day. Then when inside with fires or heating on, it means dressing for two different temperatures.
That is why clever fabric choice or layering is the way to go with winter bridesmaid outfits.
We have some top tips and expert advice to get this right and we are sharing some of the hottest winter bridesmaid dresses and outfits for this season.
The best places to buy winter bridesmaid dresses
| Shop | Best for | Price Range | UK Sizes |
| --- | --- | --- | --- |
| Coast | Modern affordable pieces | £100 – £300 | 4 – 26 |
| Reformation | Sustainable and stylish pieces | £300 – £500 | 4 – 28 |
| Asos | Budget and great sizing choices | £30 – £200 | 2 – 30 |
| Selfridges | Luxury brands | £70 – £500 | 6 – 24 |
| Oasis Fashion | Modern high-quality pieces | £80 – £200 | 6 – 24 |
| Ghost London | Fashion forward pieces | £150 – £250 | 6 – 16 |
| Needle & Thread | Embellished and pretty prints | £300 – £600 | 4 – 20 |
| Pretty Lavish | Affordable and lots of variety | £60 – £100 | 8 – 18 |
Winter bridesmaid colours
There are so many stunning colour options for winter bridesmaid outfits. You can make most colours work but picking the right tone.
Here are some of our favourite winter colours:
Deep dark reds: Red is always a great winter colour choice. Works for a festive or normal wedding style.
Dark green: Green is always a go to wedding colour no matter the season. Dark greens like forest, emerald and hunter green. I even think dark olive green could work well.
Metallics: Metallics are a big yes for a winter wedding. I think silver and gold bridesmaid dresses look so stylish in winter.
Winter blues: I love a dusty blue in winter, dark blues like navy or even teal work really well also.
The best winter bridesmaid outfits for 2023
We are committed to providing unbiased, credible reviews so you can choose with confidence. We may earn commissions on purchases made from visiting our partner stores. Please see our policy here.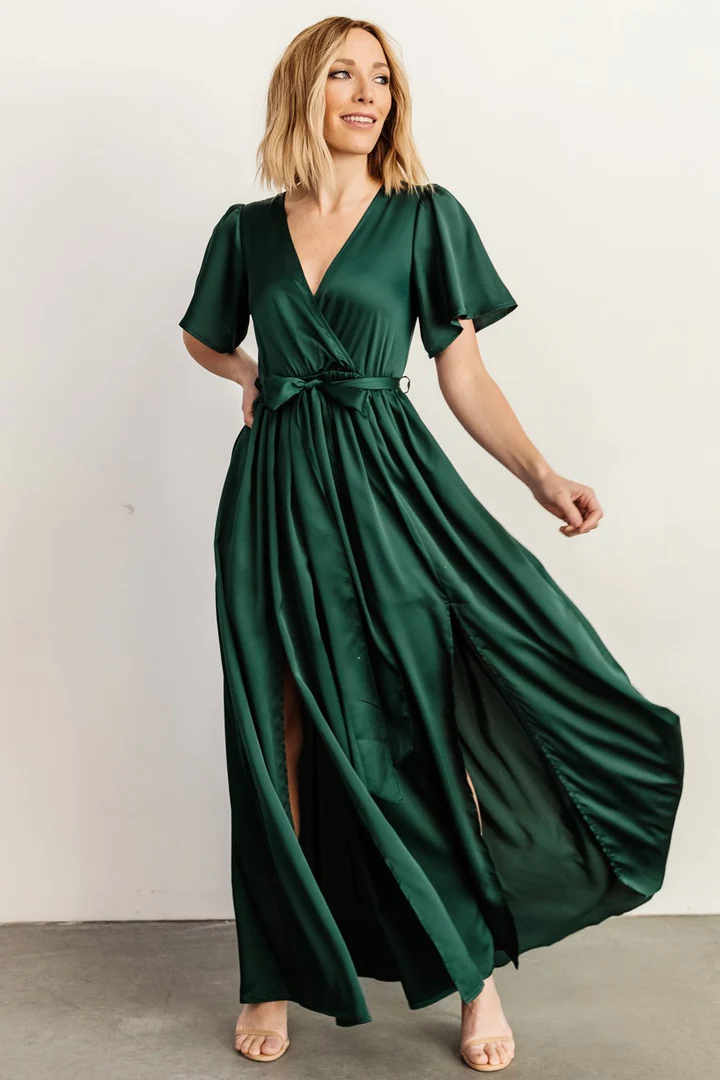 Wrap dresses are always great for mixed sized bridesmaids. With this one being a maxi dress and great top arm coverage everyone will feel comfortable wearing it.
Size: xSmall – 3xLarge | Fabric: Satin| Length: Maxi | Colour: Emerald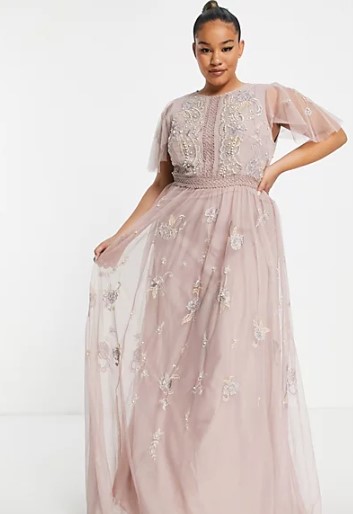 2. BEST Pearl detail – ASOS
The size range is this dress is great if you have lots of mixed shapes to cater for.
Size: 2 – 30 | Fabric: Tulle | Length: Maxi | Color: Rose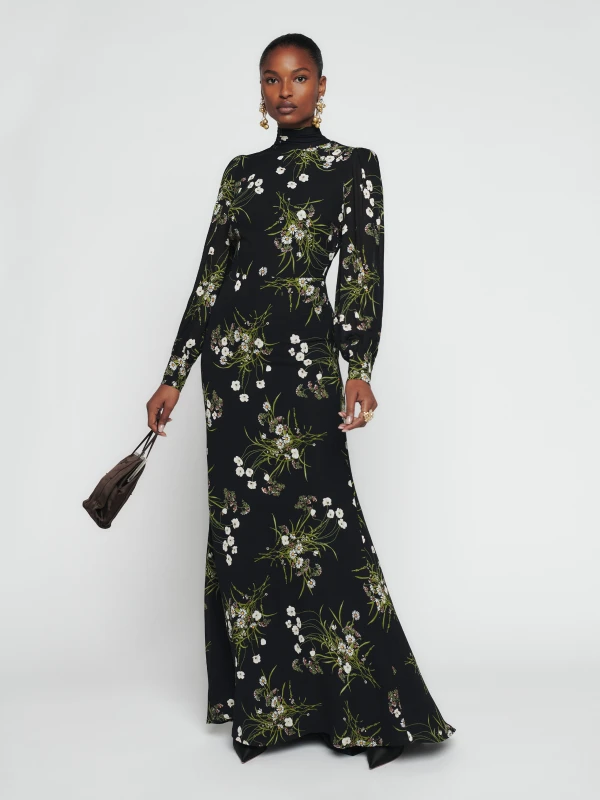 We have shared this pattern in another style on our black bridesmaid dress blog. I just love the pattern for a winter or autumn wedding. I think it could even work in summer mixed with some pink and green dresses!
Size: UK4 -14 | Fabric: Viscose | Length: Maxi | Color: Veuve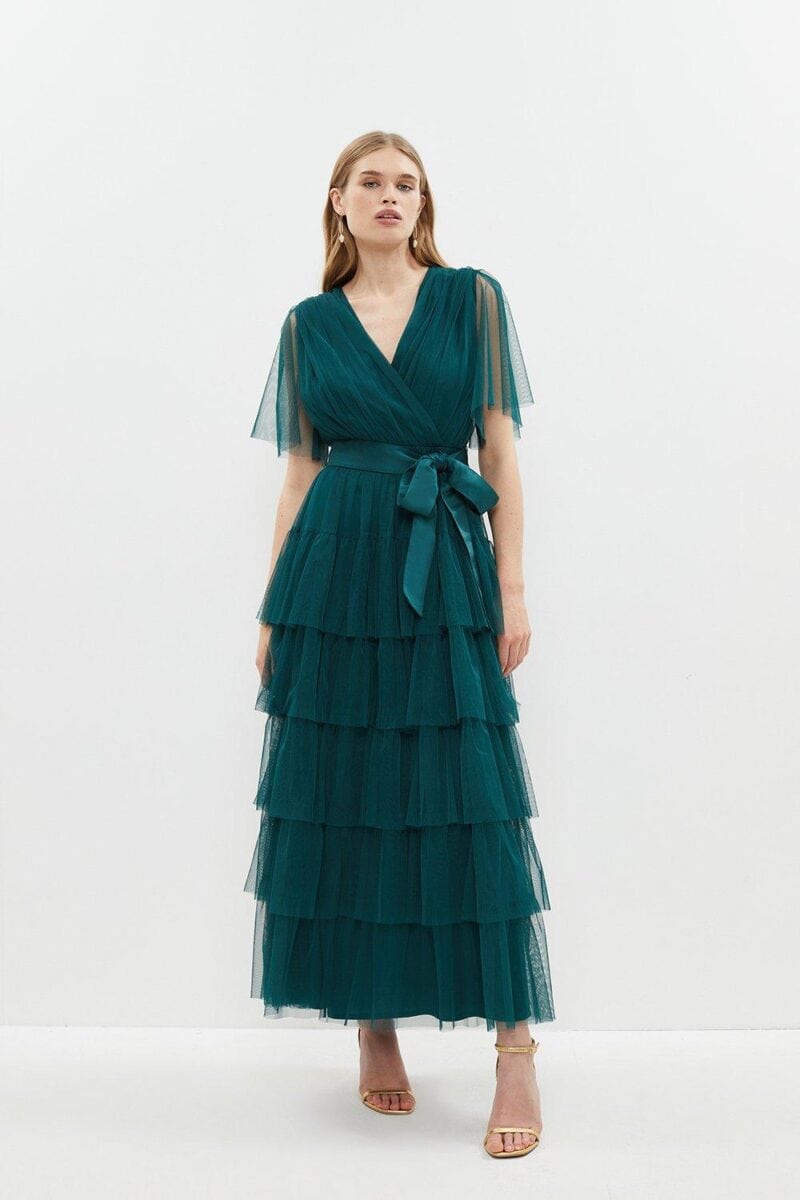 4. For the fashion forward bridal party – COAST
This dress is not your typical bridesmaid dress, probably why I love it so much!
It's fun. unique and right on trend!
Size: 8 – 26 | Fabric: Tulle | Length: Maxi | Color: Forest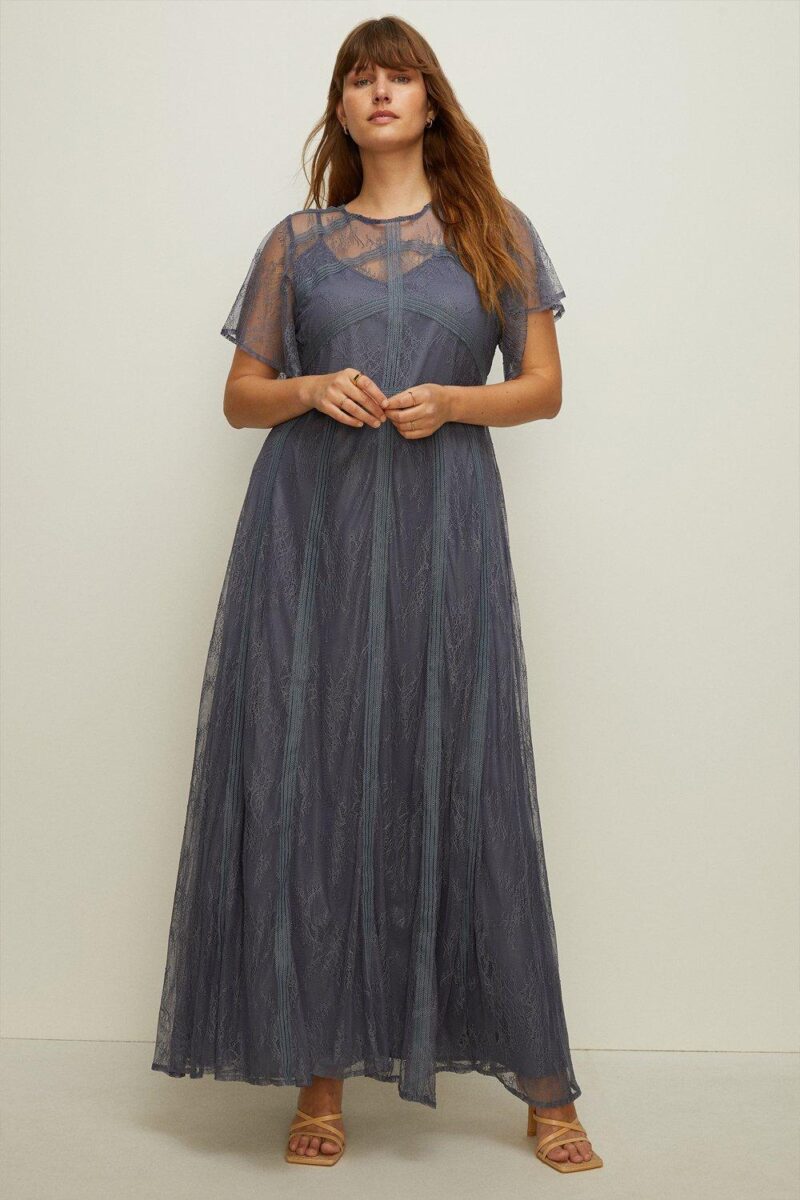 5. Best Lace – Oasis
The lace overlay on this dress is super pretty. The slip helps with creating a nice curvy silhouette.
Sizes: 18 – 24 | Fabric: Lace| Color: Slate Blue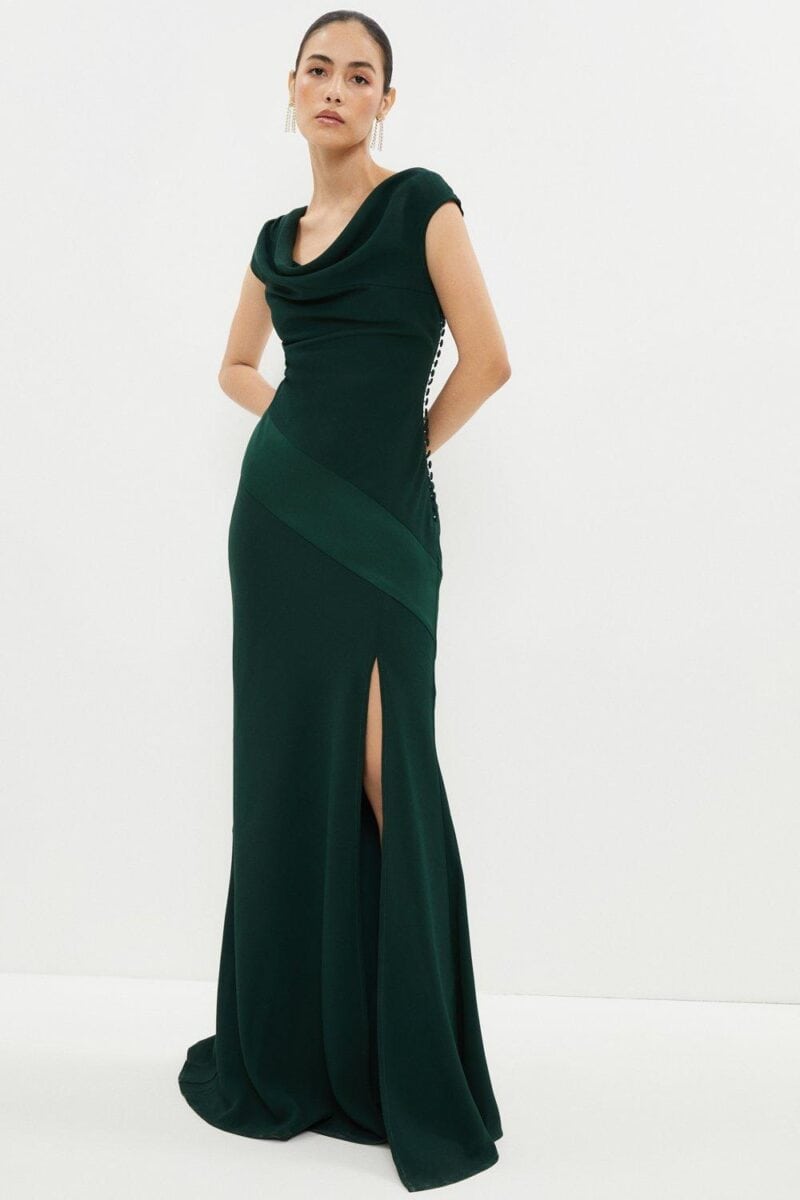 6. Dark green winter bridesmaid – COAST
I love the simple design of this dress. The cowl neckline and the button detail down the side add just enough uniqueness.
Size: 8 – 26 | Fabric: Satin | Length: Floor | Color: Forest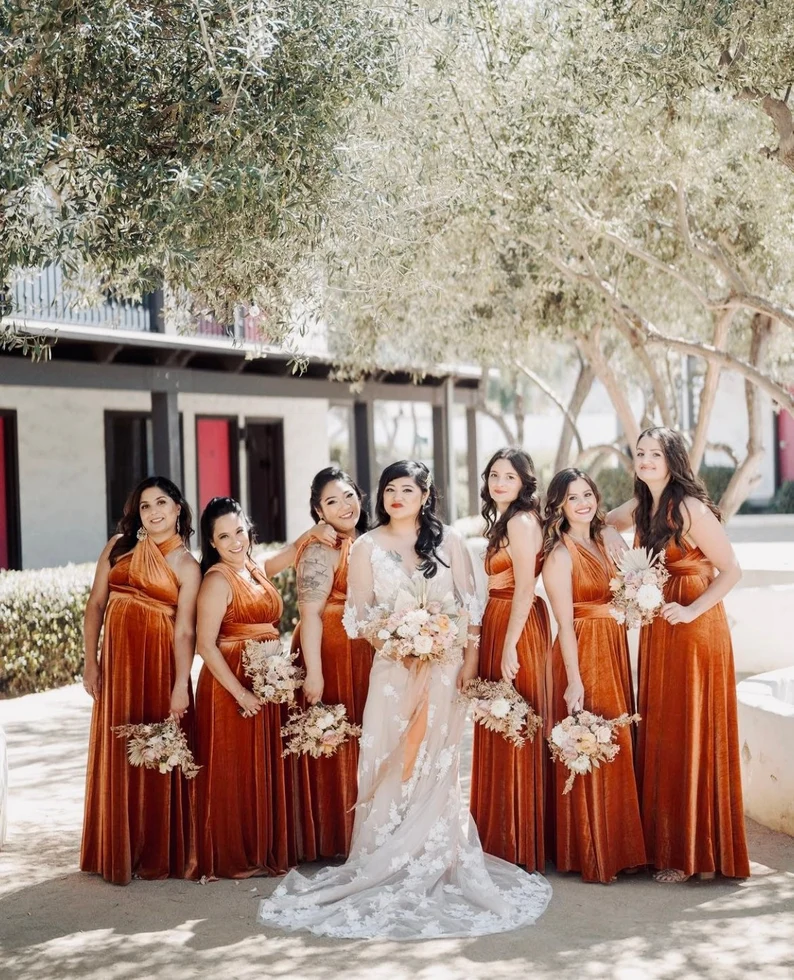 These velvet dresses are just perfect for a winter wedding!
Etsy is a great place for bespoke, handmade bridesmaid dresses. Check out some of our favourite items.
Size: 0 – 16 | Fabric: Velvet | Length: Maxi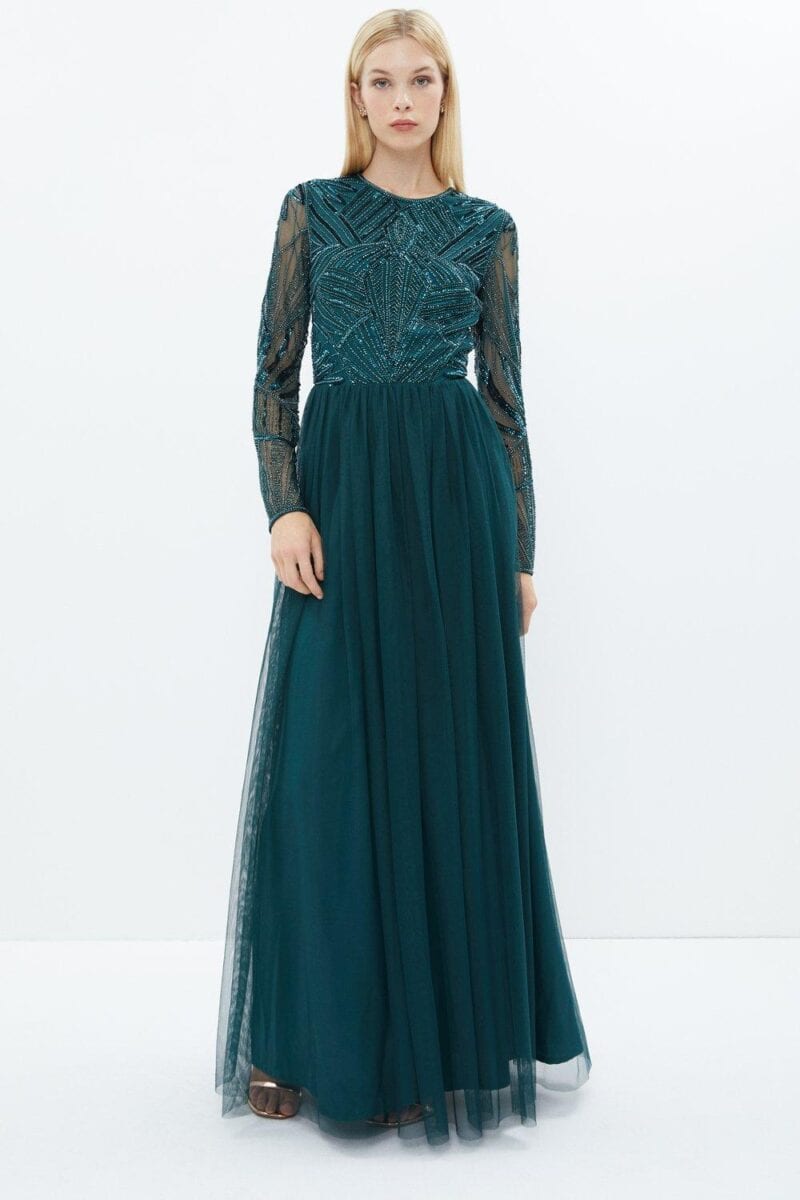 8. BEST long sleeve – COAST
The perfect forest green autumn bridesmaid dress. They have it in a shorter sleeve also.
Keep your bridal party warm and stylish!
Size: 8 – 18 | Fabric: Chiffon | Length: Maxi | Color: Forest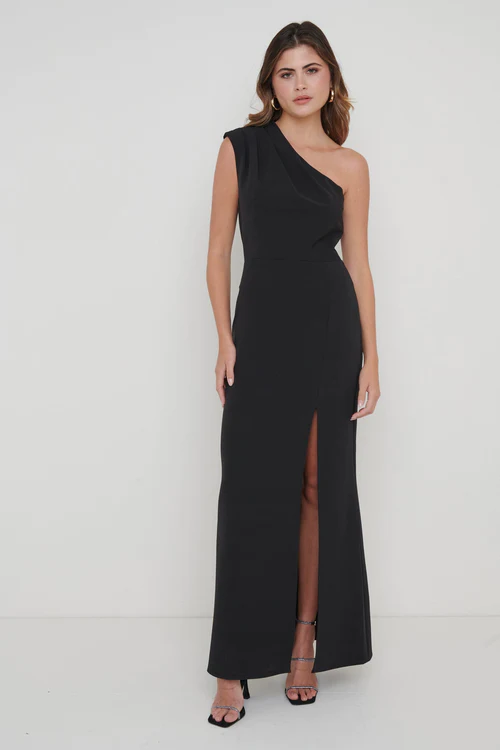 9. ONE SHOULDER BLACK BRIDESMAID DRESS
Lovely one shoulder black bridesmaid dress that feels great on.
sizes available: 6 – 16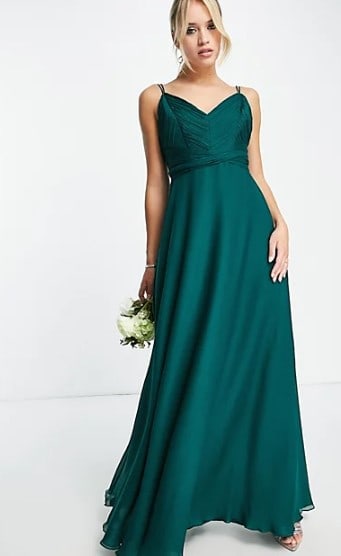 10. For a timeless look – ASOS
This dress is simple and stylish. It will never go out of fashion so perfect for a timeless look.
Size: 8 – 18 | Fabric: Satin | Length: Maxi | Color: Forest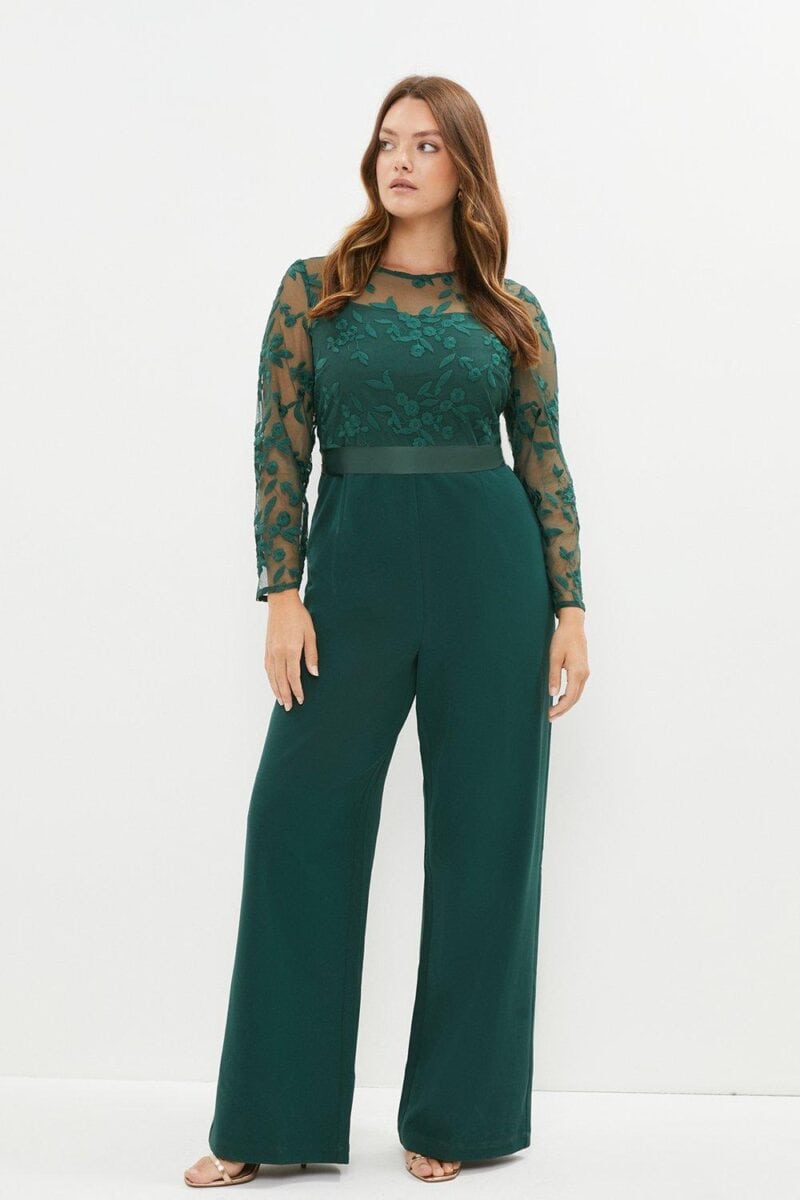 11. winter bridesmaid jumpsuit – Coast
I recommend this jumpsuit a lot. It comes in lots of colour choices and suits most body shapes and sizes.
Check out more bridesmaid jumpsuit options.
Sizes: 8 – 26 | Fabric: Lace
Fabrics for winter wedding dresses
All the standard bridesmaid dress fabrics can work for a winter wedding. You will just need to consider the style, maybe having long sleeves, full layered skirts. Also, you may need to consider accessories for keeping bridesmaids warm.
Velvet: Always a great choice for a winter wedding. As a heaver fabric, it will keep bridesmaids warm and look super stylish.
Crepe: This fabric is great for structure. As a heavier fabric again it is a good choice for winter.
Chiffon: a floaty lightweight fabric. If going with chiffon make sure the dress has layers and long sleeves or you may need to buy jackets.
Satin or silk: These are more suited to warmer wedding days. You can get long sleeve options but bridesmaids may need to layer up as the thin fabric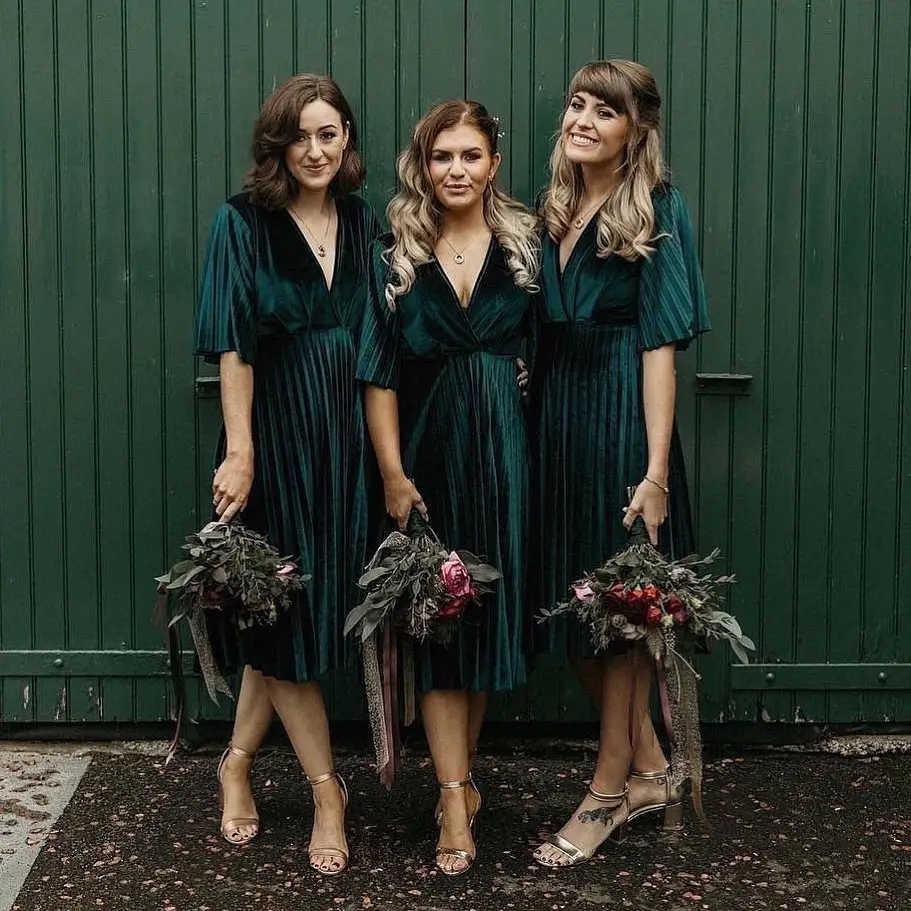 Winter wedding bridesmaid styles
Velvet as mentioned above is a great winter bridesmaid choice. You can get dresses, jumpsuits and even pantsuit options.
If that doesn't suit your wedding style though, long sleeve bridesmaid dresses are another great choice. You don't see them that often so can add a unique look to your wedding party.
Another unique choice, which is an on-trend bridal look, is turtle neck bridesmaid dresses. If long sleeve also is will keep bridesmaids warm and add a fashion forward feel to your bridal party.
Winter bridesmaid accessories
Layers, layers and more layers! This is definitely the best way to accessories bridesmaids in winter, especially if you have indoor and outdoor elements to the day.
It is also a great way to get creative, have some fun, and get some epic wedding images.
You also need to think about other accessories like shoes and jewellery. Just make sure they are weather appropriate and match the outfits.
Bridesmaid dress FAQs
WHO PAYS FOR BRIDESMAID DRESSES?
This is different depending on the country and also culture. In the UK is more common that the couple pays for the bridesmaid dresses. Usually, then the bridesmaid may be expected to pay for their makeup and accessories. A lot of the time the couple covers all expenses. I always say to my couples to offer what they can afford and be honest upfront when asking bridesmaids. Head here for all the details.
HOW MUCH DO BRIDESMAID DRESSES COST?
Again this depends, if you are budget minded or looking for the best quality you will find dresses for all price ranges. You can look at china or sale options for around £50, I would say the average cost is around £150 and if you are looking for high quality then around £300. Head here for some saving tips.
WHEN TO ORDER BRIDESMAID DRESSES?
If ordering from a boutique or made-to-measure you do need to give more time, 3 to 4 months. If ordering ready-to-wear dresses online I would still do it as early as possible. Do keep in mind if you have a pregnant bridesmaid you may need to order sooner or later for them.

More blogs you will love!